"She was kind enough to walk all the way up from the first to the 35th floor."
BY ANNE-MARIE LIM, 24 MAR 2022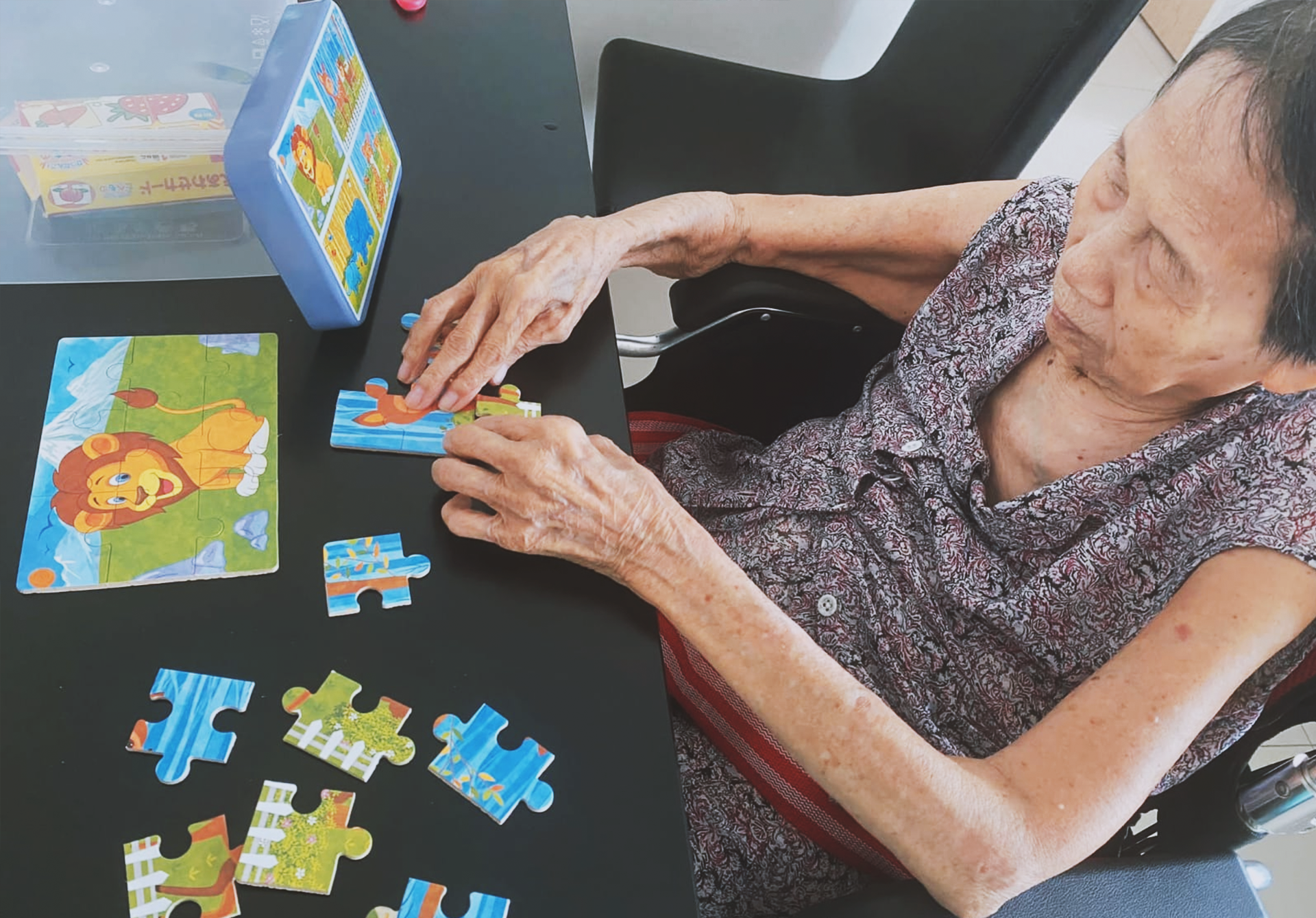 On-demand physiotherapy, nursing care, or just companionship - all from one local app
"A single injection to mum's abdomen, once a day, between 9am and 10am." That was the request made by Clement Chong to in-home caregiving service, Homage. 
So for six days a week over two months, a care professional (from a rotation of four) would, without fail, travel to Mdm Lim's apartment to perform this task - even on the one morning that the lift to her 35th floor apartment broke down.
"She was kind enough to walk all the way up from the first to the 35th floor. She went the extra mile and did it," Mr Chong recounted, still in awe at the care professional's dedication. 
His brother, who lives with 92-year-old Mdm Lim, works six days a week, and leaves the house as early as 7am to get to work. With Homage handling the injection, Mdm Lim can get extra hours of sleep in the morning, and both sons can go about their work day with peace of mind. 
"There is that level of trust that comes with using Homage," said Mr Chong.
Singapore's silver tsunami
Mdm Lim is among the 17.6% of Singapore's population, who are aged 65 and above. It's predicted that by 2030, this percentage will increase to 25%, or more than 900,000 senior citizens.
Many of these seniors - like Mdm Lim who has limited mobility and requires a wheelchair to get around - will require some form of care, be it from caregivers, or local community services. This places additional strain on healthcare resources as well as family caregivers. 
To meet the rising need, Homage, a healthtech social enterprise, offers a plethora of home care services like caregiving assistance, home nursing procedures, home rehabilitation services - for instance, physiotherapy, speech therapy and occupational therapy - as well as home medical services, all accessible on-demand through its app. 
Beyond the actual care they provide to recipients, their services also give caregivers some respite and peace of mind, knowing that their loved ones are in good hands. 
So far, Homage has a regional network of more than 8,000 licensed care professionals, and has recently surpassed more than a million hours of care rendered to clients. The business operates in Singapore, Malaysia and Australia. 
Drawn to a new hobby 
Working fulltime as an IT executive, Mr Chong admits it's difficult to spend as much time with his mother as he'd like. "As family members, we'd like to spend more time with them, but we're only able to do so during the weekends," he shared. 
That's why he finds it reassuring to have Homage's care providers help watch over and engage Mdm Lim almost daily.
"One does art, another does music and dancing, someone else tends to her medical needs by checking her vitals and massaging her limbs… My mum really enjoys this because every week, she gets to meet four different people who engage and speak to her," he said.
In fact, Mdm Lim has since unearthed a hidden talent and new hobby - art. 
Each time Mr Chong steps into her home, she excitedly shows off all the pieces she created. "My mum never did art, she usually sews clothes. I was so happy to see all sorts of artwork she created," he said.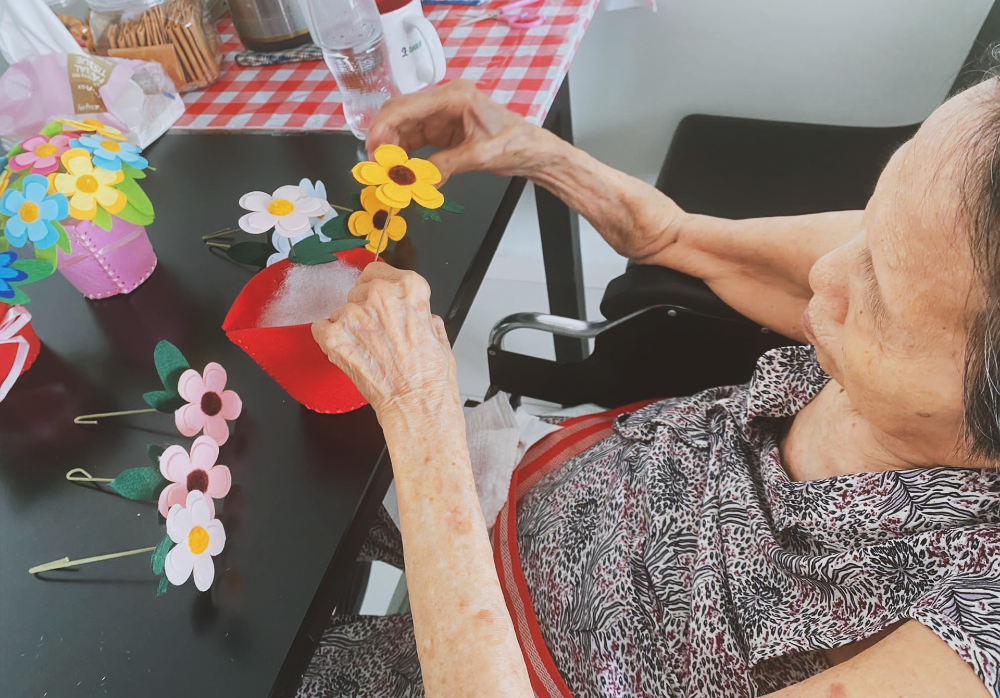 Mdm Lim creating a felt flower bouquet during a session with Homage.
To keep him in the loop, Homage's care providers provide an update via the app after each session. Mdm Lim often recounts her activity-filled days to him. 
"At this age, all I want is for her to be happy," he said. "I can tell how happy the social interactions make her. I'm really grateful for such a service like Homage - their care providers have such a big heart."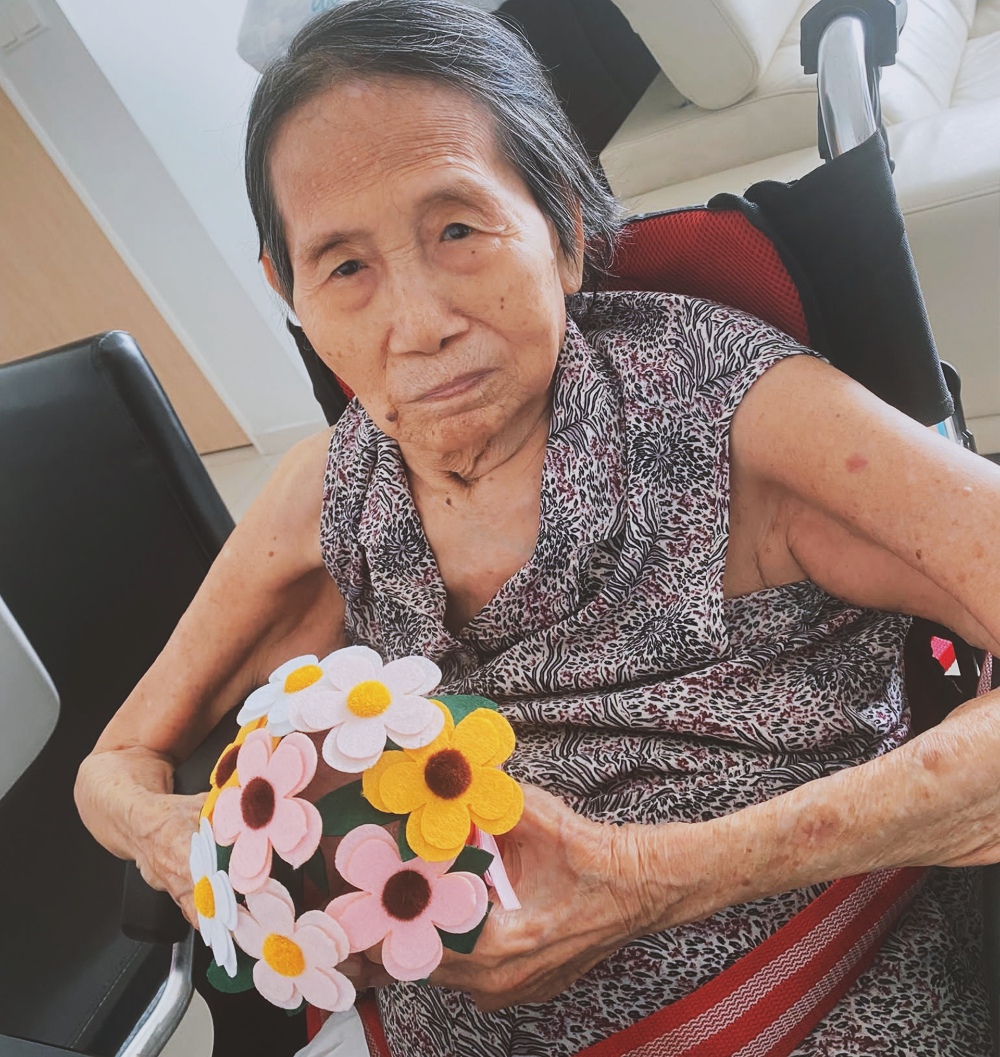 Mdm Lim with her completed bouquet.
Homage, founded by Gillian Tee, is a 2016 DBS Foundation Grant awardee. The social enterprise inspired the latest episode of DBS Sparks. 
Watch the episode here:
Recommended for you
Based on your read
Based on similar interests
Recommended
Popular
Latest
Last Read