All you need to know about FCNR Deposit interest rates
Reading Time: 3 Minutes
Key Takeaways: FCNR Fixed Deposits allow Non-Resident Indians to invest currency that they have earned overseas with banks in India. The interest rate on these deposits varies from one bank to the other, within the ceiling that may be mandated by the Reserve Bank of India[1].
A Foreign Currency Non-Resident fixed deposit allows Indians based around the world to invest the money that they earn overseas in the currency of their choosing. It gives Non-Resident Indians (NRIs) and Overseas Citizens of India (OCIs) the best of both worlds in terms of savings. It allows them to save their hard-earned income in a foreign currency of their choosing at an attractive FCNR interest rate in India while also providing them with full repatriability.
What is an FCNR fixed deposit?
FCNR fixed deposits provide NRIs with a tax-free investment option where the amount transferred to the bank in India is held for a pre-decided fixed term between 1 and 5 years. The fixed deposits can be made in major global currencies, and interest can be earned thanks to an attractive FCNR deposit interest rate.
The FCNR account comes with a long list of benefits, providing the term deposit holders privileges that other NRI accounts do not have. An attractive feature is that the deposit is protected from exchange rate fluctuations since the FCNR FD is held in the foreign currency of the account holder's choice. The interest income on FCNR accounts is also non-taxable in India. Both principal and interest are freely repatriable to the account holder's country of residence as well.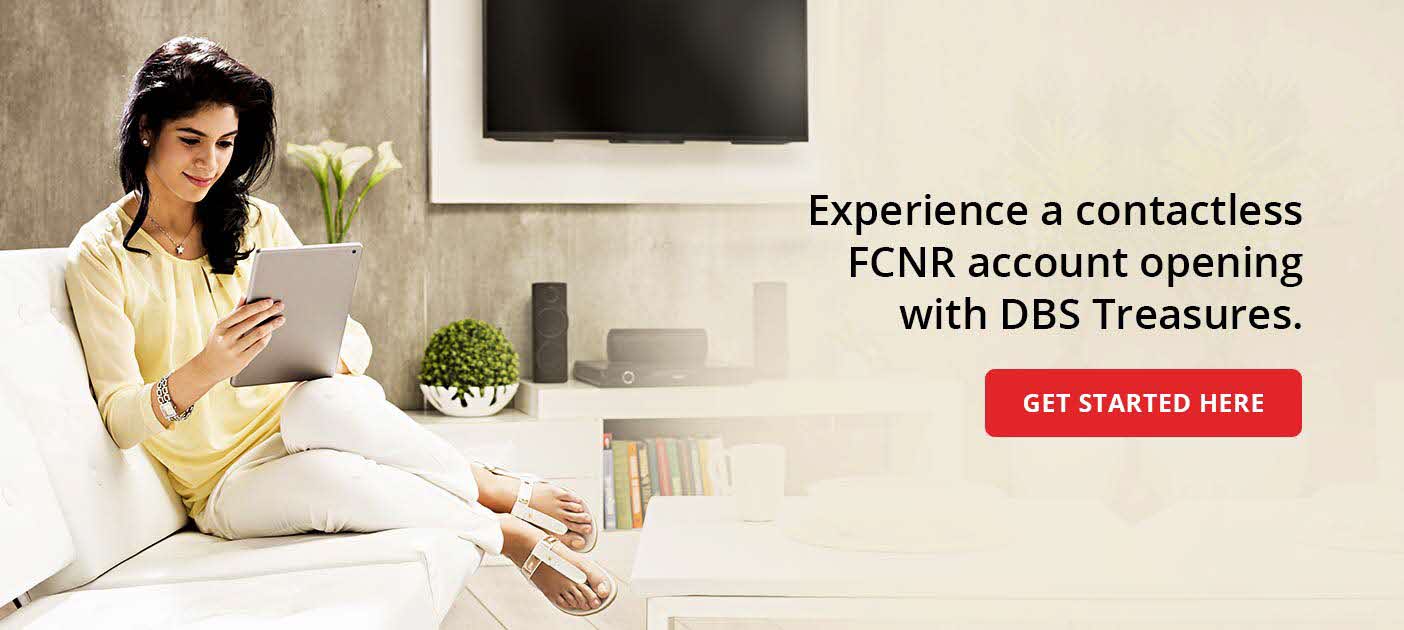 How to open an FCNR account
Opening an FCNR account online is easy and can be done instantly for existing NRE and NRO account holders with most banks. Alternatively, it can be done with assistance from a Relationship Manager at your bank.
The Reserve Bank of India allows banks to offer any foreign currency, which is freely convertible for FCNR fixed deposits. Banks offer attractive FCNR deposit rates on different currencies for FCNR deposits. Most major currencies such as the US Dollar, Pound Sterling, Japanese Yen, Australian Dollar, Swiss Franc, Singapore Dollar and Hong Kong Dollar can be held in the fixed deposits at universally applicable FCNR rates. The interest earned is paid out on the FCNR deposit rates agreed upon and in the same currency as the original deposit.
Who can open an FCNR FD?
If you are an NRI or hold an Overseas Citizen of India (OCI) card, you can take advantage of favourable FCNR deposit rates. The benefits of FCNR deposit rates can be availed either individually or jointly with other NRIs, PIOs or OCIs. You can also open FCNR accounts and avail attractive FCNR deposit rates jointly with Indian residents, but they should be close relatives.
FCNR deposit rates
FCNR deposit rates are subject to change from time to time and depend on several factors such as the type of currency in which the deposit is held, the term/duration of the deposit and the ceiling for such deposits as prescribed from time to time by the RBI[2] . However, once the FCNR fixed deposit is booked, the rate of interest is fixed as confirmed at the time of deposit booking.
Looking to apply for an FCNR deposit remotely from the comfort of your home? Choose DBS Treasures