The Covid-19 pandemic does not only affect the health condition of the world, but also hits the economic welfare. Large scale social restrictions (PSBB) or partial lockdown implemented by many cities in Indonesia has been intended to block the spread of the coronavirus by forcing people to stay home, work and learn from home. The consequences for street vendors who lost their customers have been devastating.
Foodbank of Indonesia (FOI) is a civil society organization, which strives to ease the burden of those working in the informal sector, like the street vendors. FOI goal is to achieve Zero Hunger as it stated as one of the 17 Sustainable Development Goals. This goal is part of a global commitment to not only fight hunger, but also to achieve food resilience, improve nutrition, and the promotion of sustainable agriculture. When Covid-19 pandemic hit Indonesia, FOI has doubled its endeavor to support the most vulnerable group of people, including the street vendors, by realizing its slogan of "Food for Hope, Food for All."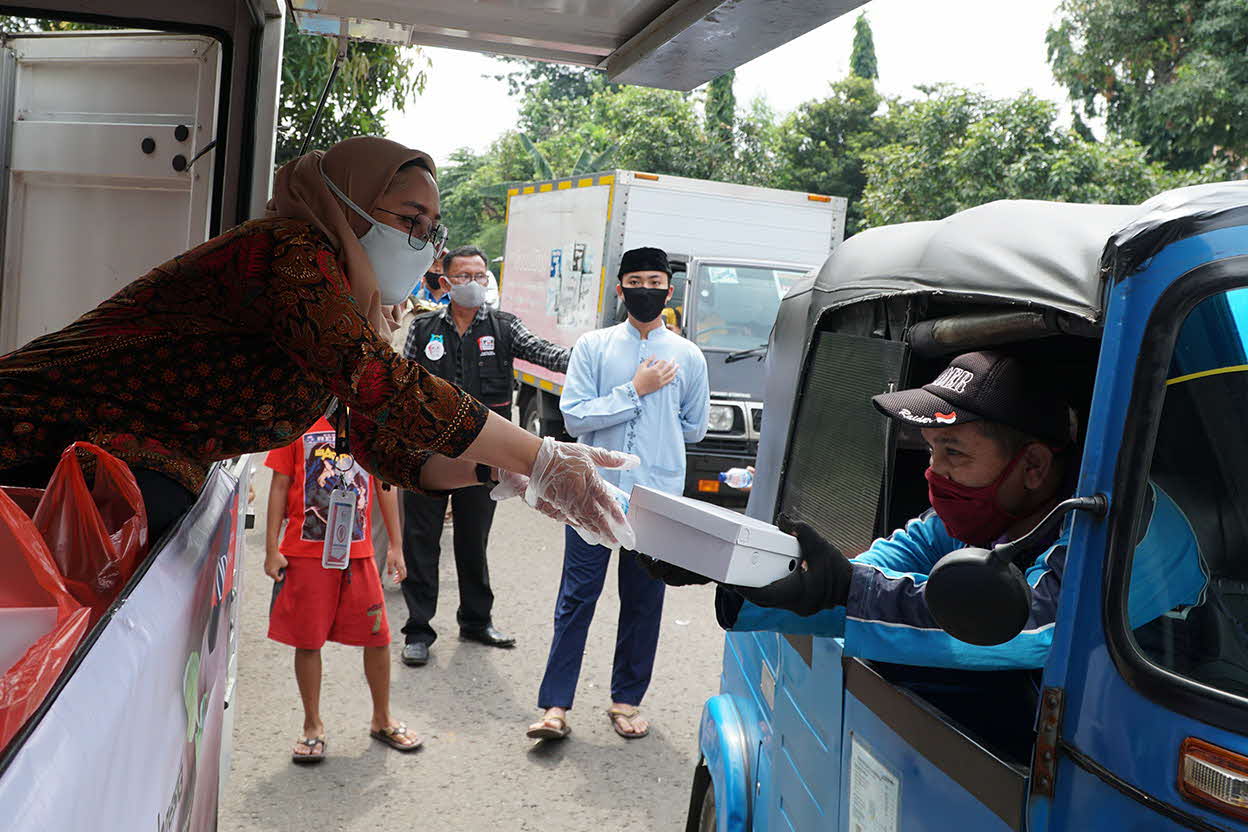 Bank DBS Indonesia, in collaboration with Temasek Foundation, appreciates the work of FOI and supports them in providing prepared meals for laborers and daily workers under the Stronger Together Fund program. "We understand that to deal with the impact of this pandemic we must forge collective actions. DBS Group corporate spirit of 'Stronger Together' has been translated into a form of collaboration and sharing to ease the negative impact of Covid-19 pandemic," President Director PT Bank DBS Indonesia Paulus Sutisna said. "Let us get together to distribute helps to the daily laborers, who are facing tough challenges during this crisis," he stressed further.
Similar expectation was stated by Temasek Foundation International Chief Executive Benedict Cheong: "We must be united during these uncertain times to help those impacted by Covid-19. We appreciate this opportunity to work with Bank DBS Indonesia, Foodbank of Indonesia, and Konfederasi Serikat Buruh Seluruh Indonesia labor union in a meaningful way. Through this collective effort we can ease the burden of the people getting through these difficult times."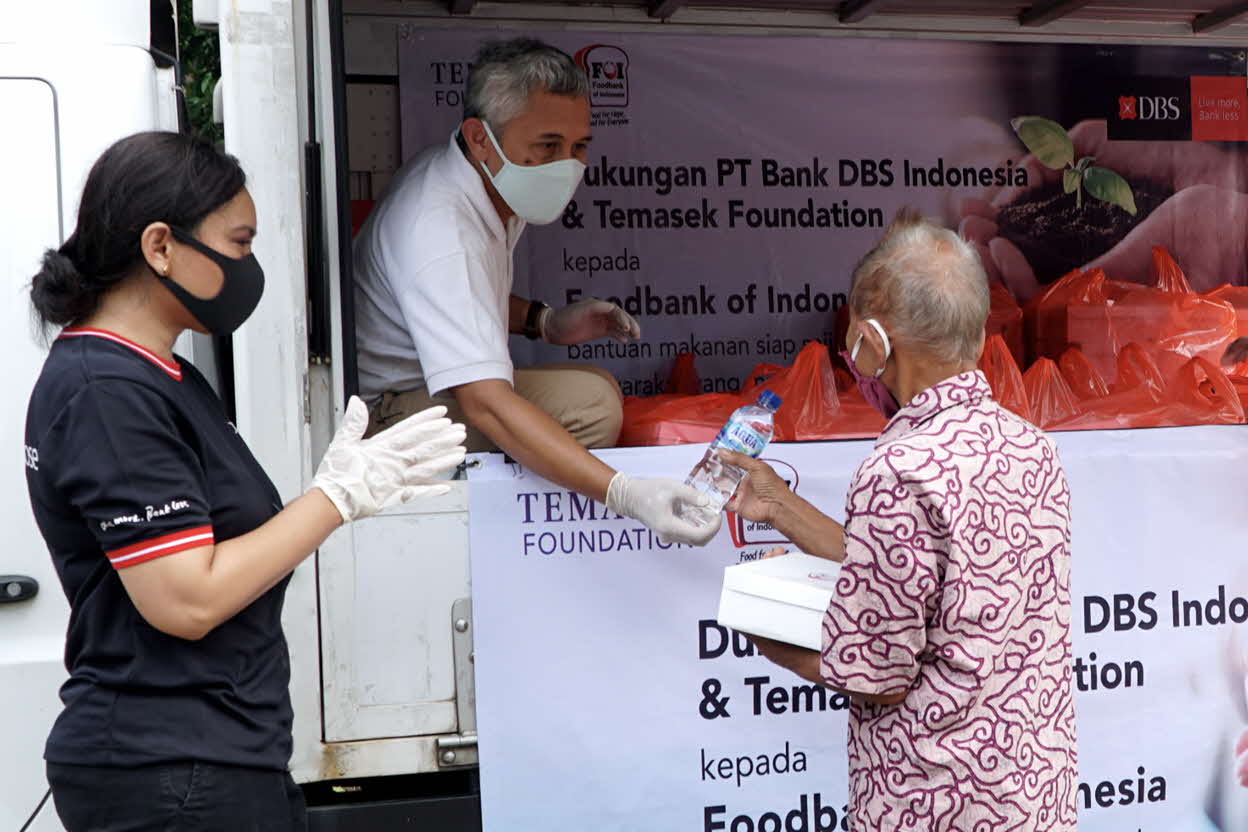 The support provided by Temasek Foundation and Bank DBS Indonesia are useful for those who have lost their jobs and customers. FOI appreciated the trust placed in them to secure the access to food for those most vulnerable. This is the essence of "They Need Us" movement, which is being voiced by FOI, as it mentioned by the founder of Foodbank of Indonesia Hendro Utomo: "This collaboration is a partnership model between neighboring countries, from the people of Singapore, represented by Temasek Foundation, the private sector as represented by DBS Indonesia, and civil society organization like FOI, to collectively resolve social issues during this time and also in the future."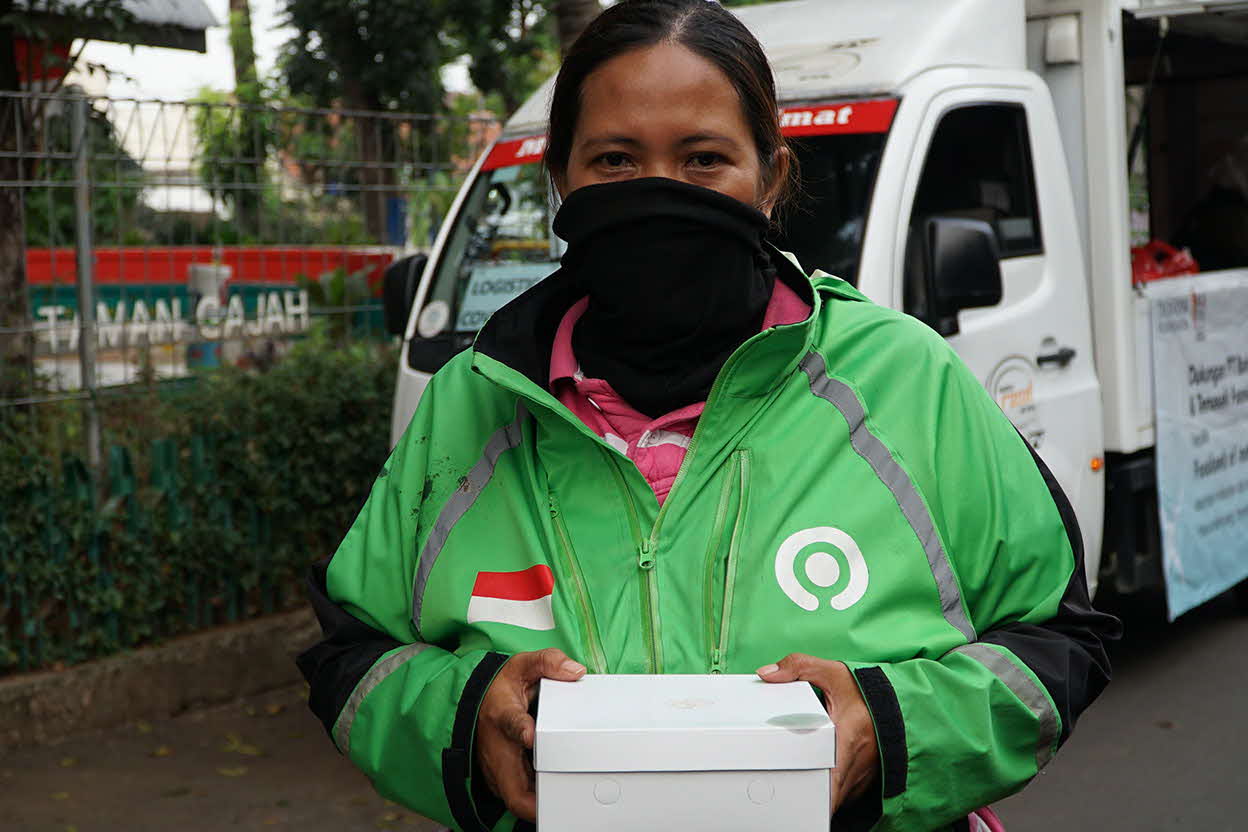 Many informal sector workers benefited from this program. One of them is Tembem, an online ojek (bike-taxi) driver. "Riding the ojek is my main source of income, and I must keep doing it even during this difficult time. I can only get 3 passengers a day. That is why this meal distribution program is helpful because I don't need to spend anything for lunch. I can bring home all I earned during the day for my family," Tembem said. "Thank you Temasek and DBS. I hope this program continues." Then he carries on riding his ojek: Keep moving, keep hoping.
---