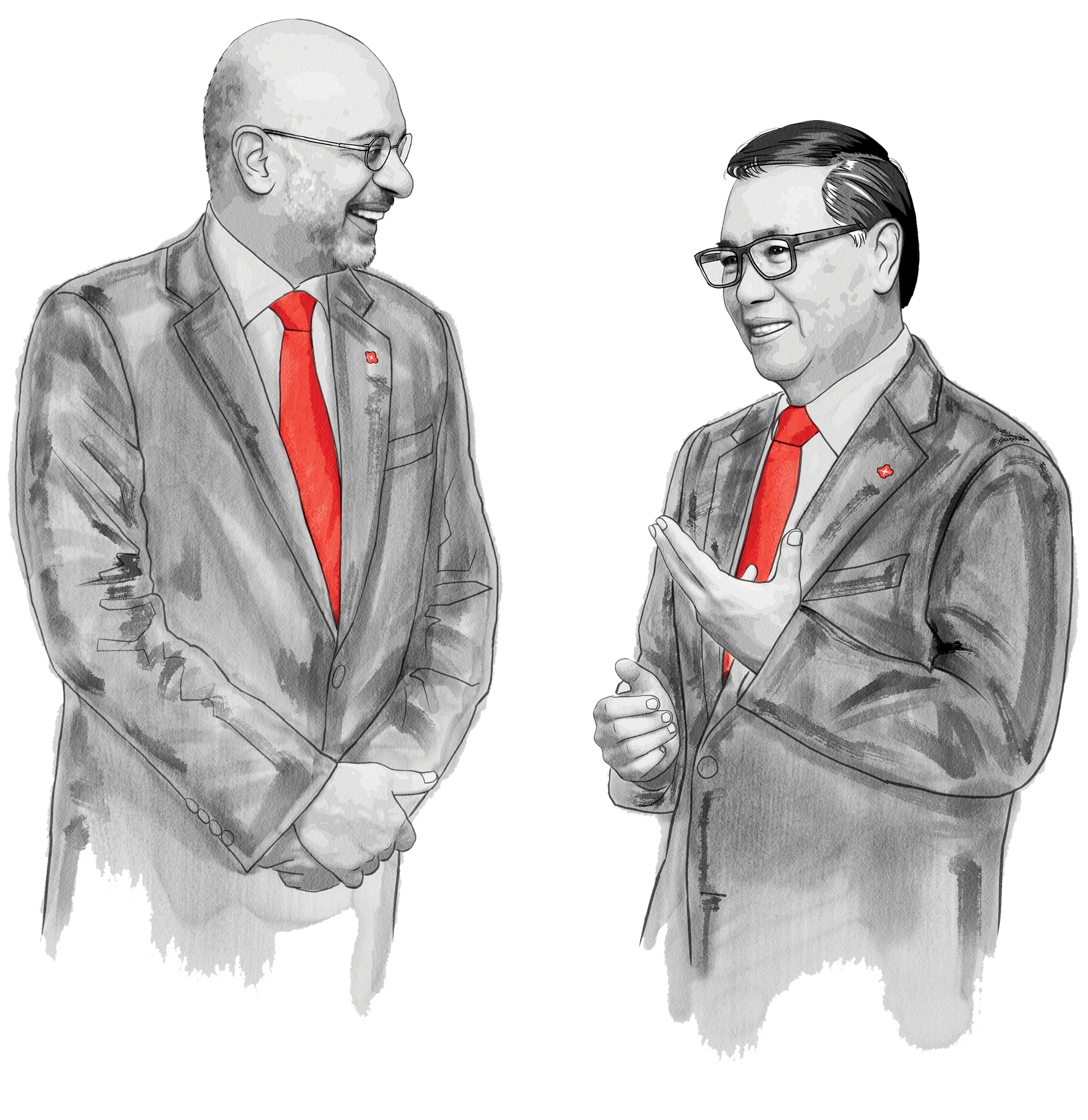 "Having built strength and resilience into our franchise over the past decade, we were able to navigate challenges in the 2019 operating environment, continue our digital leadership, ramp up our sustainability efforts, and still turn in a record year."
Peter Seah
Chairman, DBS Bank
"Apart from efforts to improve lives and livelihoods, in the past year, we also continued to actively advance the sustainability agenda by nudging customers, the community and the public to come onboard the sustainability journey with us."
Piyush Gupta
Chief Executive Officer, DBS Bank
2019 was a challenging year for the global economy. Deepening trade frictions and geopolitical tensions weighed on global growth, which at 2.3% was the slowest in a decade. With a synchronised slowdown taking hold across the globe, many central banks eased rates to buttress their economies. Among them was the US Federal Reserve. Having raised rates four times in 2018, it went into reverse and made three rate cuts, reducing the policy rate by a total of 0.75 percentage point. Monetary easing also took place across Asia. Despite this, Hong Kong went into a recession while Singapore – our home market – narrowly averted one.
On the societal and environmental front, the world also came under pressure. Social angst, fuelled by issues of inequality, was on full display with more civic protests in 2019 than in any year since the late 1960s. At the same time, a multitude of costly weather events – whether the Australia bushfires, Venice floods or Europe heatwave – underlined the urgency of tackling the climate crisis.
Against this backdrop, sustainability conversations increasingly dominated global forums. The role of business in leading change also became mainstream. In August 2019, nearly 200 CEOs representing the largest US companies agreed at the annual Business Roundtable that the purpose of a corporation was not just to serve the interests of shareholders, but also that of customers, employees, suppliers and communities.
Larry Fink, CEO of BlackRock, the world's largest investor, gave notice to CEOs to embrace a purpose beyond profit maximisation. After a decades-long focus on "shareholder capitalism", there was a distinct shift towards the importance of embracing "stakeholder capitalism" or "conscious capitalism" instead.
The notion that companies should be purpose-driven, and the need to consider stakeholder interest and not just shareholder interest, has always been intrinsic to DBS. Much of this can be traced to our roots as the Development Bank of Singapore and the key role we had to play in support of nation building, whether through the creation of jobs, enabling of home ownership or financing of businesses. Since purpose is at the heart of sustainability, our longstanding belief in the raison d'etre of business – namely to achieve sustainable growth while creating value for all – positions us well to be relevant for future generations.
A banner year
Having built strength and resilience into our franchise over the past decade, we were able to navigate challenges in the 2019 operating environment, continue our digital leadership, ramp up our sustainability efforts, and still turn in a record year.
In particular, notwithstanding slowing global growth and widespread monetary easing, which impacted loan growth and net interest margin, total income reached a new high of SGD 14.5 billion. Net profit increased 14% to a record SGD 6.39 billion, and return on equity was at 13.2%, an all-time high.
Strong performers included our wealth management, cash and treasury markets franchises. Wealth management income grew by 16% on the back of rising assets under management and improved relationship manager productivity. In cash management, our digital capabilities continued to set us apart from other banks, winning us large cash mandates across the region. Trading income also grew significantly.
The solid results were achieved without compromising the long-term investments we continued to make to entrench our presence in Asia. In India, with wholly-owned subsidiary status, we opened 21 new branches, with a brick-and-mortar presence complementing our digital strategy, enabling us to serve small and medium-sized enterprises (SMEs) and wealth customers better. Notwithstanding the ongoing trade war and Hong Kong unrest, we also made headway in building our Greater Bay Area business.
SGD
14.5

billion

Total income

Total income reached a record, bolstered by growth in loans and fee income.
SGD
6.39

billion

Net profit

Net profit and return on equity were at new highs.
SGD
1.23
Dividend
We proposed a final dividend of 33 cents per share, bringing the full-year ordinary dividend to SGD 1.23 per share. Barring unforeseen circumstances, the annualised dividend going forward will be SGD 1.32 per share.
Becoming a technology company
Being digital to the core
In pursuing digital transformation, one of our focus areas has been to be digital to the core by rearchitecting our technology stack. In recent years, we have invested in a cloud infrastructure and rearchitected our applications to be cloud ready. These moves have enabled us to increase our compute power while shrinking the size of our data centres in markets such as Singapore, Hong Kong and India. In the process, we not only reduced fixed infrastructure costs but also significantly increased our energy efficiency and meaningfully reduced our carbon footprint.
The new architecture allows us to leverage Application Programming Interfaces (APIs) to enable simple and speedy connectivity. In 2017, we launched the world's largest API platform for a bank to enable developers and brands to plug into our technologies. Today, more than 400 partners are plugged into us via our API platform. This allows us to not just provide better business solutions, but also to drive sustainability through financial inclusion.
In China, for example, we launched a multi-tier financing facility on a logistics blockchain platform that allows SMEs to get faster access to trade financing. Leveraging the bank's APIs, DBS is able to offer digital trade financing services to SMEs in the ecosystem within 24 hours. This is significant as more than half of SMEs globally tend to face rejection by financial institutions for their trade finance needs, contributing to the world's trade finance gap of USD 1.3 trillion.
In 2019, we also made headway in becoming more data-driven, with the bank running over 150 projects leveraging advanced analytics. Some of these projects include using data to offer contextual marketing or hyper-personalisation, as well as performing sentiment analysis so we can understand our customers better. In places like India and Indonesia, we have also introduced data-driven algorithmic credit underwriting models. This has allowed us to approve small ticket-sized loans to individuals at a faster pace, making access to finance easier.
Embedding ourselves in the customer journey
Another longstanding focus area has been to embed ourselves in the customer journey through digital innovation or ecosystem partnerships, so that banking is simple, seamless and effortless.
With this effort, we continue to see more product purchases done digitally as we reach out to customers where they are. In 2018, one in four new mortgages was closed online; this has risen to one in three mortgages. In 2019, three in four credit cards were applied for online, and more than one in two deposit accounts was opened digitally. We saw good momentum in eChannels adoption, with DBS Remit on the digibank app enjoying growth in transaction volume of more than 50% year on year, and DBS having the highest market share for PayNow retail signups.
The focus on the customer journey not only improves customer experience, it also allows us to create simple, suitable products for the mass market, products which would have been bespoke to affluent customers in the past. Take for example DBS digiPortfolio, a hybrid human-robo investment solution that retail investors can access for as little as SGD 1,000. Democratising access to financial investments is key not only to reducing the wealth inequality gap but also ensuring the communities we are in are well-covered for retirement as lifespans increase. In a similar vein, we now provide digital insurance solutions, making it easy for customers to obtain cover for important areas of their lives with minimum fuss. One such area is cancer cover, which can be purchased online without the need for a health check.
In India and Indonesia, we have 3.25 million digibank customers – customers who opened accounts with us using their smartphones. The ability to offer banking in a phone aids financial inclusion, especially in large geographies, where many remain underbanked.
Becoming a 28,000 person startup
One of the success areas in our digital transformation has been our ability to change culture, to create an environment that embraces experimentation, and where innovation is mainstream. We have been committed to the idea that we have to take all our employees along on this journey. For this, investment in our people is imperative and re-training is key.
With new ways of serving customers better, including via our social media and live chat channels, call volumes fell 8% in 2019. In our Singapore customer centre, we have reskilled over 500 employees to take on 13 new job roles including content creators, live chat agents and customer experience designers. At the 2019 National Day Rally, the most important political speech by the Singapore Prime Minister, DBS was applauded for the reskilling of our workforce.
We are also committed to diversity, which we believe is a source of strength. As an example, we have been recruiting more female talent in technology – an area that is conventionally male-dominated – through targeted hackathons.
Other sustainability initiatives
Apart from efforts to improve lives and livelihoods, in the past year, we also continued to actively advance the sustainability agenda by nudging customers, the community and the public to come onboard the sustainability journey with us.
To create social impact, the DBS Foundation reached out to more than 25,000 stakeholders including social enterprises, students, government agencies, tertiary institutions, SMEs and clients to build a vibrant social enterprise community that can help the sector to thrive. We also launched the second season of the DBS Sparks mini-series, which is inspired by true stories – with a spotlight on sustainability.
We partnered MSCI to integrate their ESG rating data into our investment products platform, helping customers who want to invest in ESG-products make better decisions. As part of our ongoing efforts in promoting responsible financing, we also became the first bank headquartered in Southeast Asia to adopt the Equator Principles.
During the year, we made a pledge to cease financing new coal-fired power plants after honouring existing client commitments. While our coal portfolio is already relatively small (less than 1% of our total Institutional Banking credit exposure), we expect to see this shrink as new commitments are eliminated. In lieu of coal, we have stepped up our green and renewable financing initiatives. In 2019, DBS closed about SGD 5 billion in sustainable finance transactions(1), which is 60% more than what the bank did in 2018. This includes over a dozen wind and solar projects, as well as the first sustainability-linked loan(2) in Taiwan (AU Optronics) and the first sustainability-linked loan in Singapore for an SME (Chew's Agriculture).
To lower our own carbon footprint, we also pursued more green initiatives internally, and 100% of our Singapore retail branches are now BCA Green Mark certified.
Global recognition
In a feat unmatched by other banks globally, DBS became the first bank to concurrently hold three global best bank awards. This was achieved after we were named "World's Best Bank" by leading global financial publication Euromoney. This follows the bank's wins of Global Finance's "Best Bank in the World" in August 2018 and The Banker's "Bank of the Year – Global" in November 2018.
In its awards citation, Euromoney singled out our digital leadership as well as commitment to sustainable banking for why we were deserving of the win.
It said: "DBS was chosen for our awards because it represents what we believe a bank should look like today. No other institution has worked so hard to embrace and lead digital disruption, and while some banks demonstrate their technological prowess with impressive apps, DBS does so by embedding digital innovation into everything it does – with a tangible positive impact on the bottom line. It has achieved this with a clear-sighted focus on sustainability that positions it well for the years ahead."
Harvard Business Review also featured DBS among the top 10 business transformations of the decade, together with the likes of Netflix, Amazon, Microsoft, Tencent and Alibaba. Companies which made the list had excelled in the development of new products, services and business models; repositioning their core business and financial performance. DBS was recognised for "transforming from a traditional regional bank to a global digital platform company, around a culture-based vision of becoming a 27,000-person startup".
As a testament to the strides we are making in sustainability, we made it to the Dow Jones Sustainability Index (Asia-Pacific) for the second consecutive year, as well as the Bloomberg Gender-Equality Index and the FTSE4Good Global Index for the third consecutive year.
Acknowledgements
We would like to express our gratitude to Nihal Kaviratne and Danny Teoh, who are stepping down as board members in March 2020, for their invaluable contributions over the years. Danny has been an outstanding Audit Committee chairman at DBS for over eight years, while Nihal has provided extensive counsel to the Board with his expertise in the consumer goods sector since being a Board member in 2011. Both have also served as members of the Board of the DBS Foundation since its establishment in February 2014.
At the same time, we would like to thank our shareholders and customers for their continued support, and to acknowledge our employees and the Board for their hard work throughout the year.
Dividend
The Board has proposed a final dividend of 33 cents per share for approval at the forthcoming annual general meeting. This will bring the full-year ordinary dividend to SGD 1.23 per share. Barring unforeseen circumstances, the annualised dividend going forward will be SGD 1.32 per share.
Going forward
We expect the outlook to be challenging, given continued macroeconomic and geopolitical headwinds. At the time of writing, the unfolding Covid-19 situation is also creating some uncertainty. There are, however, a couple of positives. The US economy has remained remarkably resilient, and following nearly two years of trade war, the world's two biggest economies reached a Phase 1 agreement in January this year.
As we navigate the choppy waters of 2020, some priorities remain a constant. Among them, continued digital transformation and pursuing the sustainability agenda are foremost. In Singapore and Hong Kong, virtual banking licences are being given out, attracting new players into our space. At the same time, however, incumbent banks like ourselves are stepping up our game. While we have had a headstart in reinventing ourselves digitally, we need to remain unrelenting in harnessing areas like Big Data, artificial intelligence/ machine learning, and blockchain to deliver a differentiated customer experience.
On sustainability, providing leadership on global challenges will continue to be an imperative.
As we look back on 2019, we are honoured by the global recognition we have received. We are also cognisant that being in a place of leadership requires us to be at the forefront of change, driving innovation, stewarding resources and creating social impact, for the greater good.
(1)Refers to sustainability-linked loans, renewable and clean energy-related loans and green loans
(2)Sustainability-linked loans are structured to enable customers to pay less interest when they achieve a set of pre-agreed ESG performance targets which are validated by an independent ESG rating agency or verification party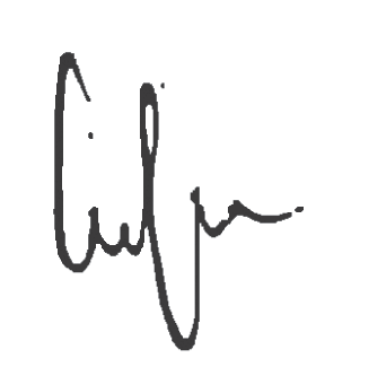 Peter Seah Lim Huat
Chairman
DBS Group Holdings
Piyush Gupta
CEO
DBS Group Holdings