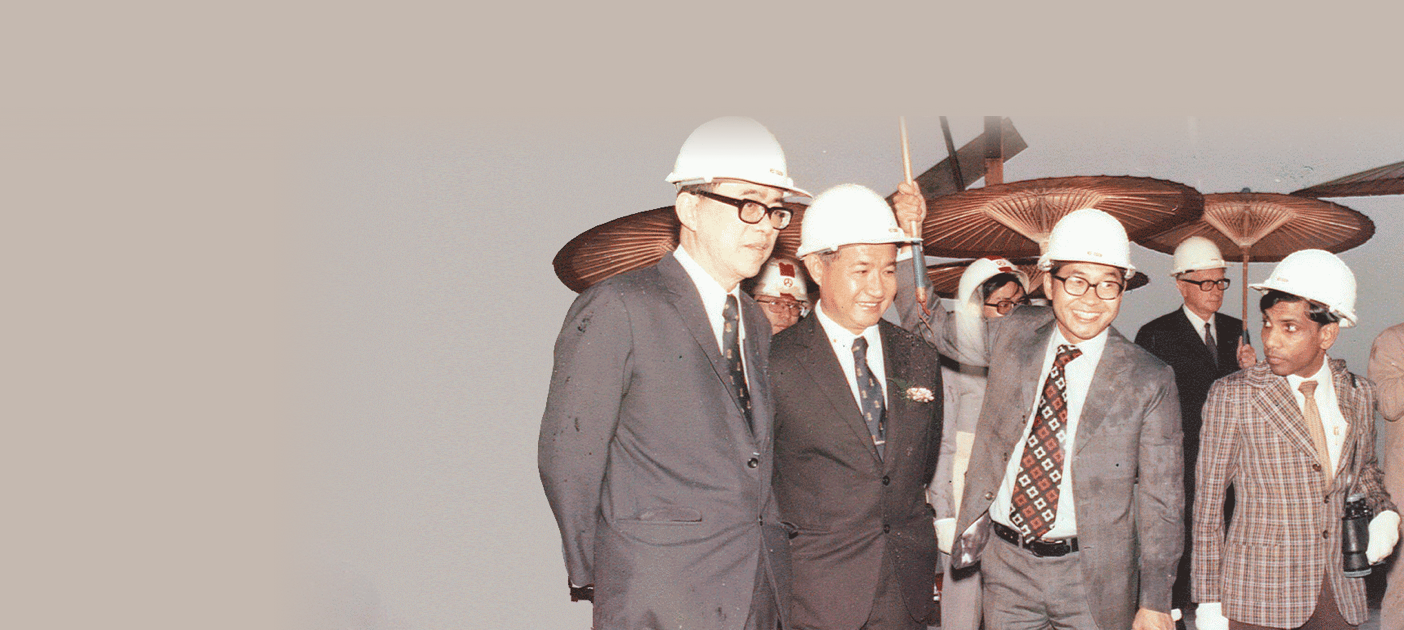 Early Years
1968 - 1979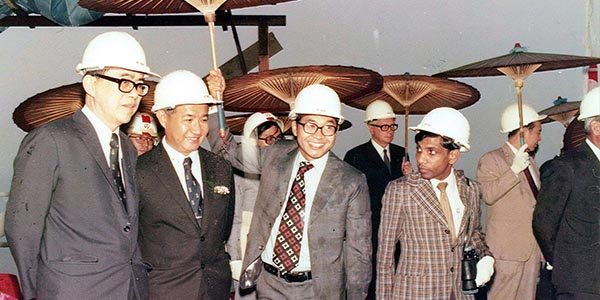 1968
DBS is established
As a young nation strove to forge its path in the 1960s, a small group of people were tasked with the unique responsibility of financing Singapore's fledgling industries and growing new ones.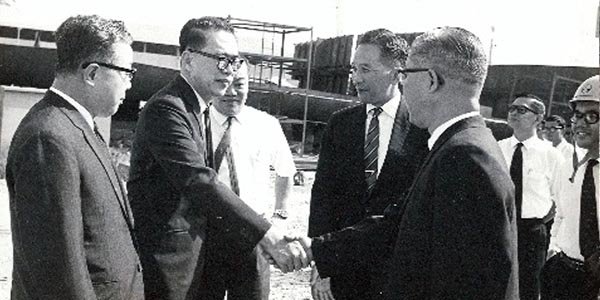 1968
Hon Sui Sen is DBS' first chairman and president
Mr Hon joined DBS from the EDB in 1968, expanding our services beyond development financing to a full-fledged financial institution.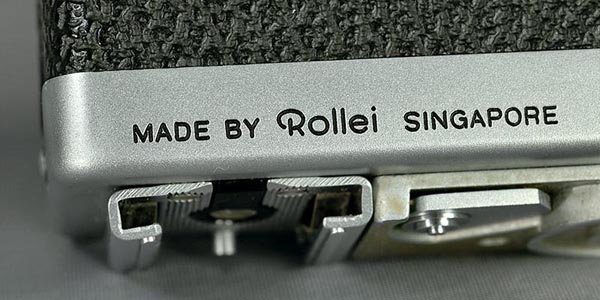 1971
DBS buys into Rollei
Photography aficionados, here's one for the books: Rollei cameras, believed to be among the best in the world in the 1970s, were made in Singapore! The German manufacturer had a factory here. Cameras were proudly engraved with "Made by Rollei Singapore".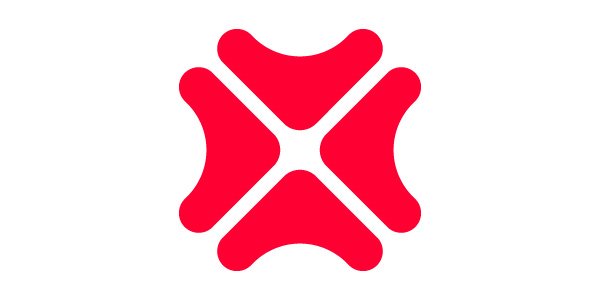 1972
DBS logo makes its appearance
Did you know: our logo was modelled after the caissons of the DBS Building foundation! Since making its first appearance in 1972, our logo has evolved through the years as we sought to showcase the spark within the bank.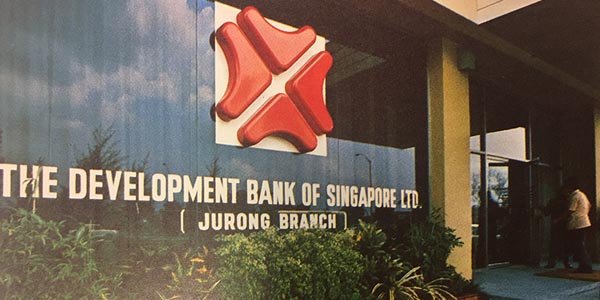 1972
DBS opens first branch in Jurong
Stallholders depositing paper bags of cash each morning. Gimson, our first and only watchman and carpark attendant, directing customers' cars to the lots. These were some common sights at our very first branch in Jurong.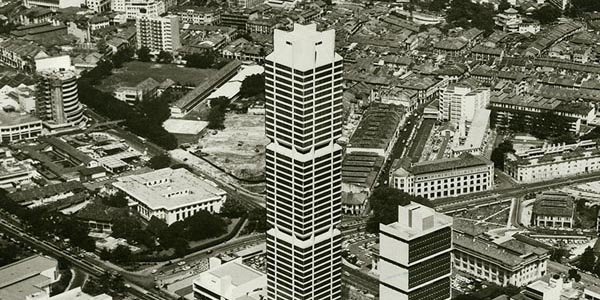 1975
DBS Building is completed
Our staff certainly had a great view! Standing 50 stories high, DBS Tower One broke the glass ceiling for the construction of office blocks then and was the tallest building in Singapore when it was completed.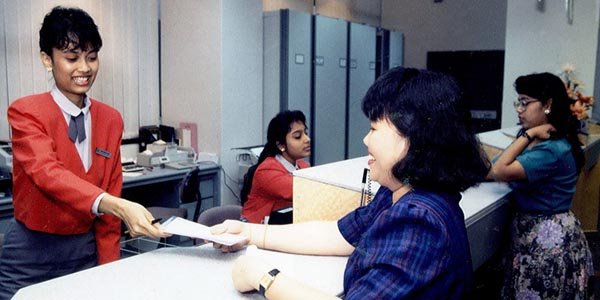 1975
DBS first to extend banking hours on Saturdays
The first three branches to offer Saturday afternoon banking: Katong, Toa Payoh and Orchard Road.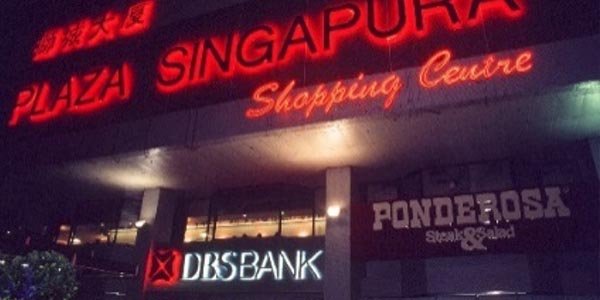 1975
DBS opens Plaza Singapura
Raise your hands if you used to queue at Plaza Singapura's Yaohan for its delicious "an-pan", or enjoyed a meal at Swensons or Ponderosa restaurant after your weekly music lessons at Yamaha.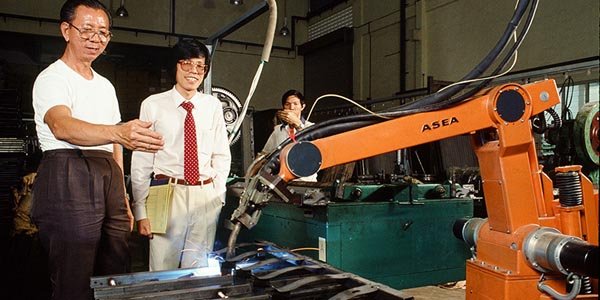 1976
DBS co-launches the Small Industries Finance Scheme
True to our mission as a development bank, we focused on helping others grow even while we were a young bank and new player in the banking scene.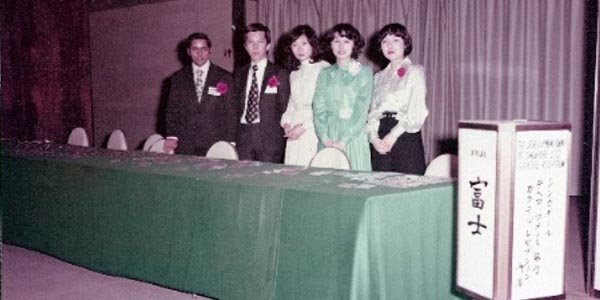 1976
DBS opens first overseas representative office in Tokyo
Never one to shy away from challenges, we marked our foray outside of Singapore with our first overseas representative office in Tokyo despite not speaking the local language!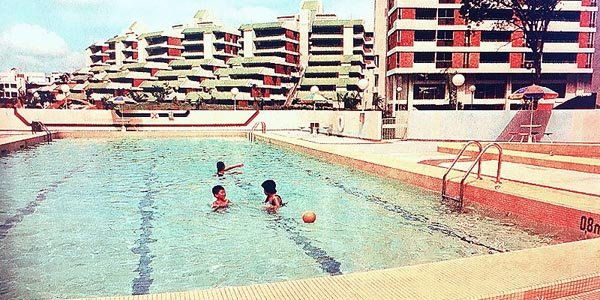 1977
DBS launches Pandan Valley condominium
When launched, Pandan Valley condominium was Singapore's largest condominium and one of its first.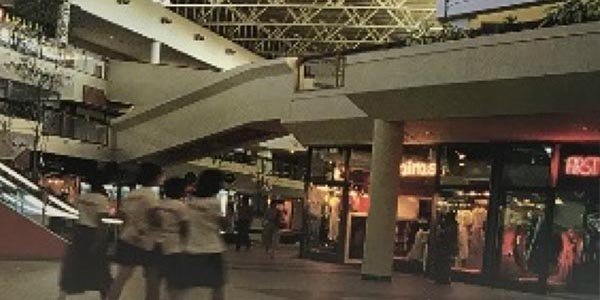 1979
DBS opens Thomson Plaza
Affectionately known by many as "Thomson Yaohan", Thomson Plaza boasted a Yaohan departmental store, The Wonderful World of Whimsy arcade and Yamaha music store.


 
Spreading Our Wings
1980 - 2000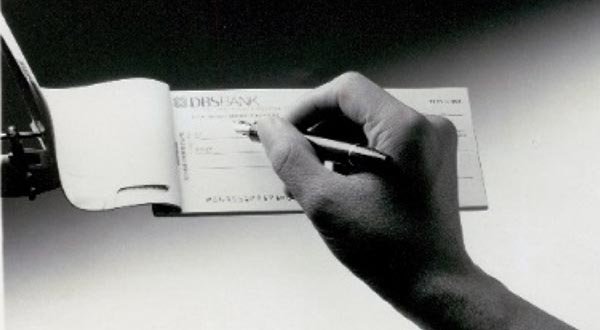 1980
DBS launches Autosave
Back in the 1970s, customers with a checking accounts could not earn interest, while those with a current account did not have checking facilities. To make life simpler, we broke new ground and launched DBS Autosave in 1980 - the first interest-bearing current account in Singapore.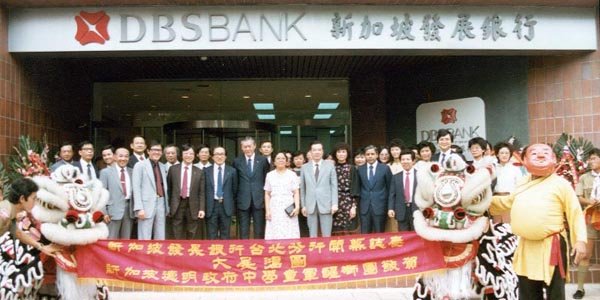 1983
DBS opens first Taiwan branch in Taipei
The Taiwan branch, our seventh office internationally, would contribute to trade activities in the Republic of China-US-Japan trade triangle and facilitate trade between the Republic of China, Singapore and ASEAN countries.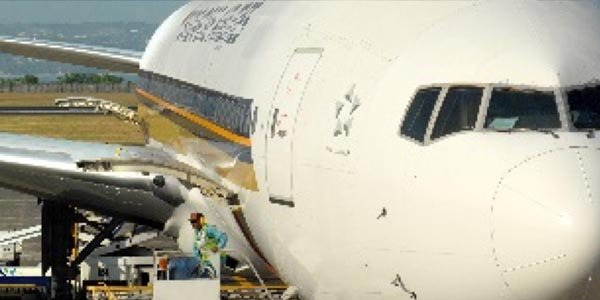 1985
DBS is lead manager for SIA IPO
While Singapore Airlines (SIA) flew its customers across the world, we were helping SIA go global in a different way!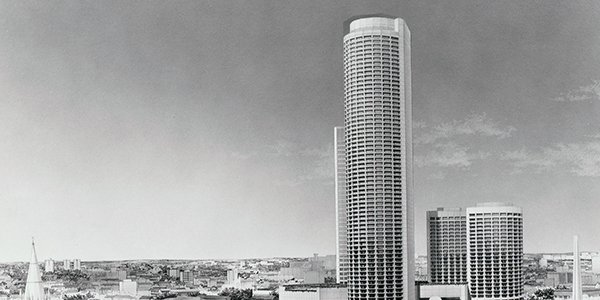 1986
DBS launches Raffles City
Did you know it took us over 17 years to plan and build Raffles City? We wanted to bring life to the CBD area after working hours and grow tourism in Singapore.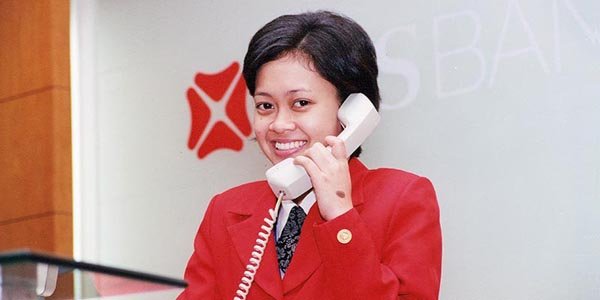 1989
DBS opens representative office in Jakarta
Our expansion across Asia continued with the opening of a representative office in Jakarta. We also obtained approval to establish a joint-venture bank in Jakarta.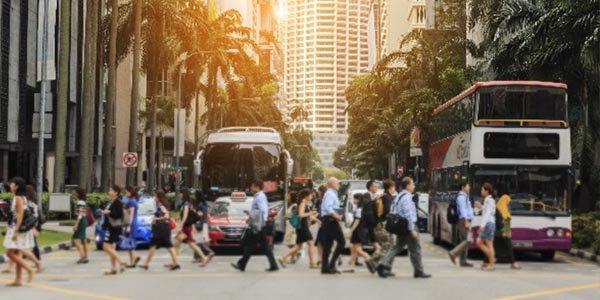 1993
DBS lead manages Singtel IPO
A nation of investors was birthed with the Singapore Telecom (Singtel) IPO. We lead-manged the milestone SGD 4.3 billion IPO jointly with a consortium of local banks.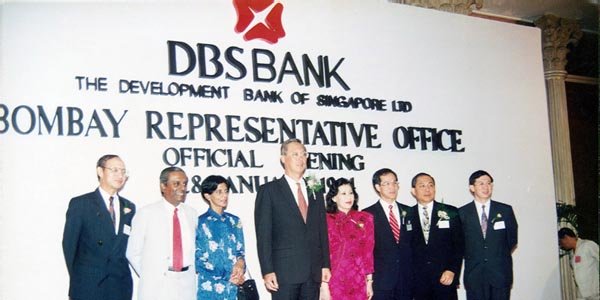 1994
DBS sets up representative office in India
The start of a long-standing strategic presence in India: we were the first Singapore bank to set up a representative office in India in 1994, upgrading it to a formal bank branch a year later.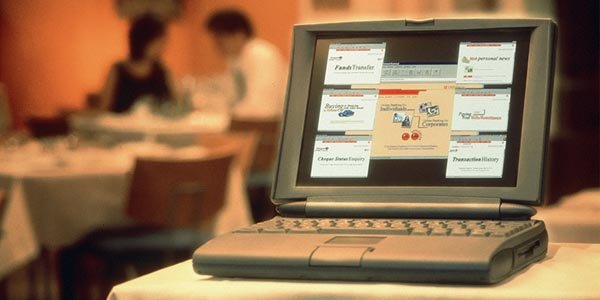 1997
DBS launches comprehensive internet banking
Remember the days of Netscape Navigator and dial-up Internet? Right from the early days of the World Wide Web, we recognised how this could make banking simpler for you.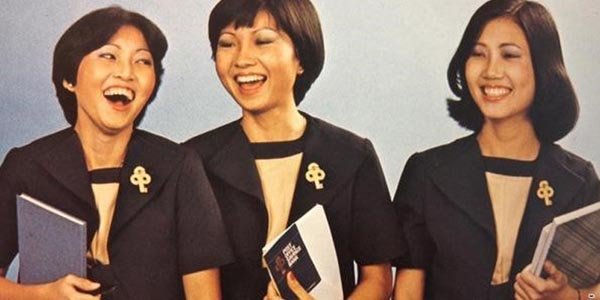 1998
DBS acquires POSB
We acquired POSB, a move in line with the government's call for local banks to merge so as to create fewer, but larger and stronger banks that are able to compete on the international stage.
 
Entrenching Ourselves in Asia
2001 - 2010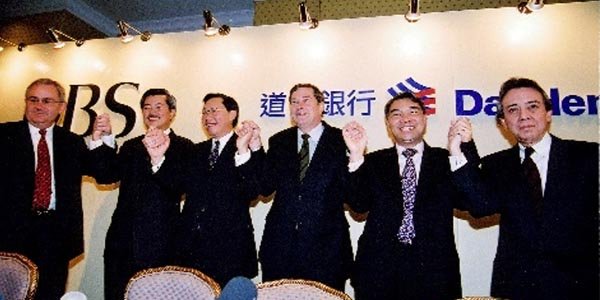 2001
DBS acquires 100% interest in Dao Heng bank
In line with our pan-Asian strategy, we acquired 100% interest in Dao Heng bank and its subsidiary Overseas Trust bank.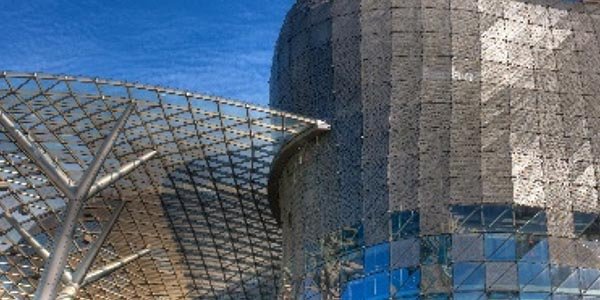 2002
DBS launches first REIT in Singapore
DBS is a pioneer in the REITs space, having successfully launched CapitaMall Trust, the first REIT in Singapore, in 2002. We have not looked back since.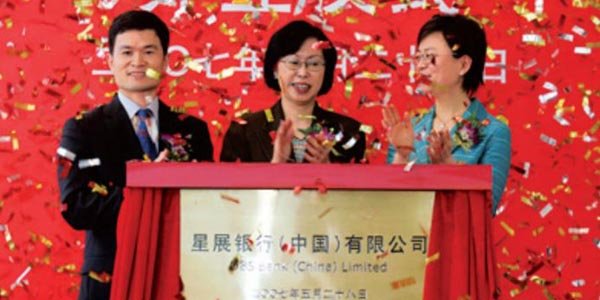 2007
DBS is first Singapore bank to incorporate in China
Headquartered in Shanghai, we were one of the first few foreign banks, and the first Singapore bank, to incorporate a fully owned local subsidiary in China.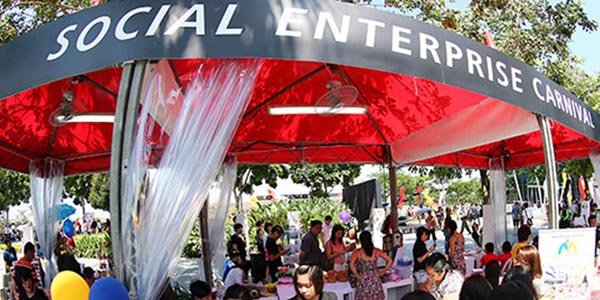 2008
DBS launches industry-first banking package for social enterprises in Singapore
We believe in supporting businesses that seek to address social needs, so that the larger society and in particular, those in need can benefit.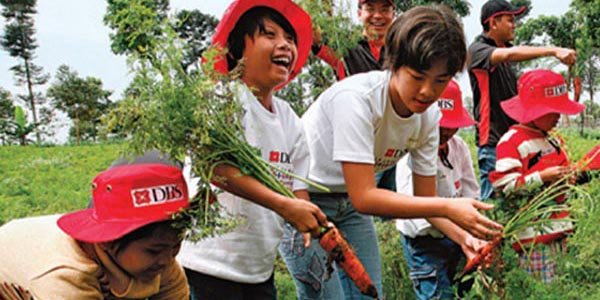 2008
DBS celebrates 40th anniversary with project to help the children of Asia
A basketball court for primary school children in the remote village of Juara in Malaysia. Lessons to children in a Cambodia village school about sanitation. These were some of the projects our employees completed as part of our 40th anniversary celebrations.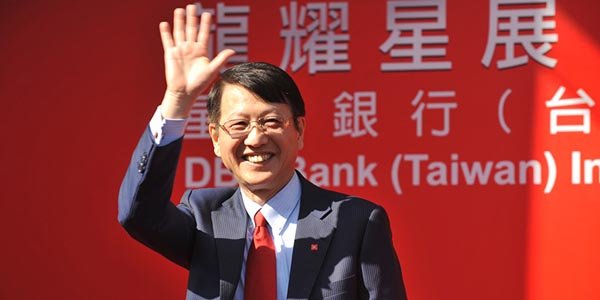 2008
DBS acquires "good bank" assets of Bowa Bank
Further expanding our footprint across Asia, we acquired the "good bank" assets of Bowa Bank and grew our presence in Taiwan.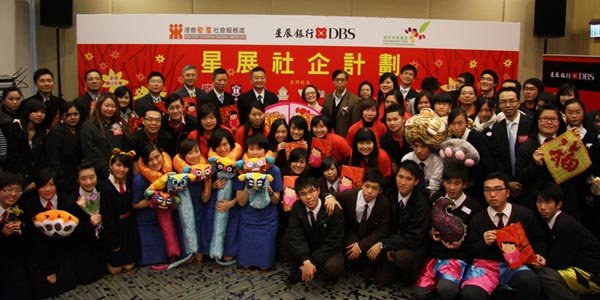 2009
DBS Hong Kong launches social entrepreneurship platform
Continuing our support of social entrepreneurship, DBS Hong Kong launched its flagship community programme, "DBS Social Enterprise Experience", to provide a learning platform for youths to hone their business skills and cultivate social entrepreneurship.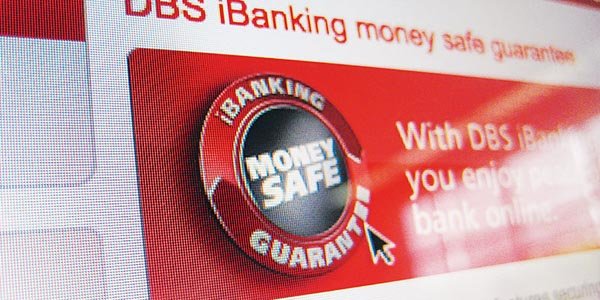 2010
DBS launches industry first "money safe" guarantee
It's important our customers have peace of mind. So for those worried about transacting over the internet, despite high security standards held by the industry, we took the lead and introduced an industry-first "money safe" guarantee.
 
Becoming the World's Best
2011 - Present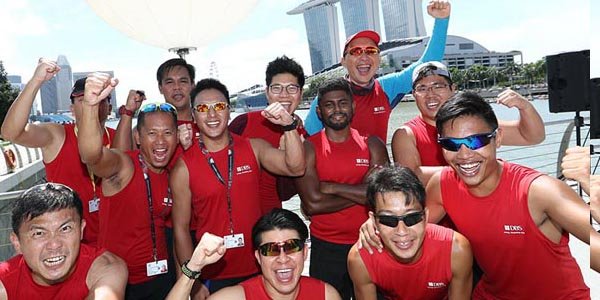 2012
DBS launches Marina Regatta
We launched the inaugural Marina Regatta to bring life to the Marina Bay area.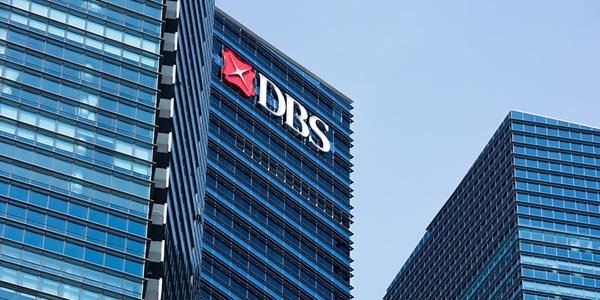 2012
DBS moves to MBFC Tower 3
It was a moment marked with excitement, pride and nostalgia as we bade farewell to our Shenton Way headquarters of 38 years and made the historic move to our new head office at Marina Bay Financial Centre Tower 3.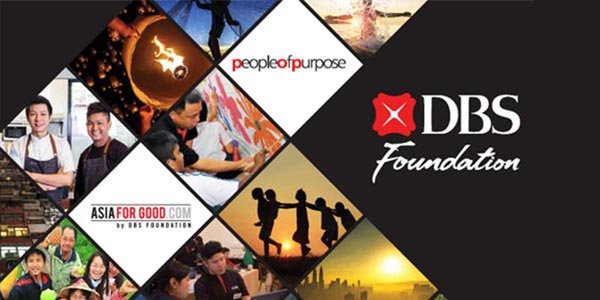 2014
DBS launches DBS Foundation
To play our part in shaping a better future for Asia, we cemented our committment to social enterprises with the launch of our SGD 50 million foundation.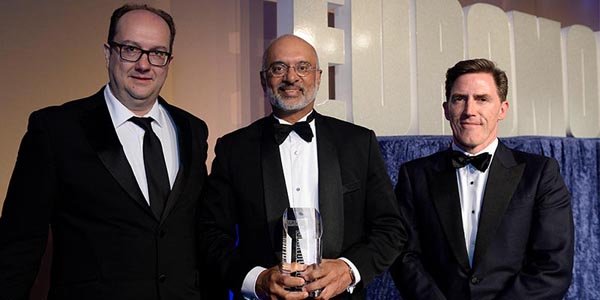 2016
DBS is World's Best Digital Bank
We believe that banks tomorrow will look fundamentally different from banks today. That's why DBS is deeply immersed in the digital agenda.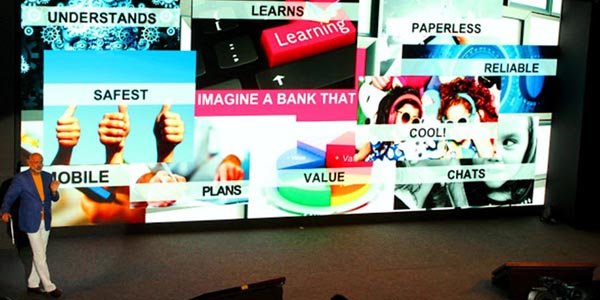 2016
DBS launches digibank India
Digibank India was the first mobile-only, paperless, signatureless and branchless bank incorporating ground breaking technology, from biometrics to artificial intelligence.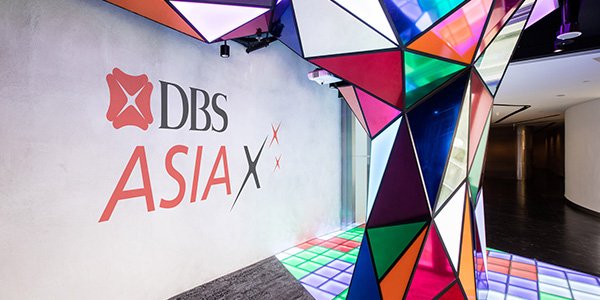 2016
DBS launches DAX
We further our commitment to shape the future of banking with the launch of a new innovation facility, DBS Asia X, in Singapore.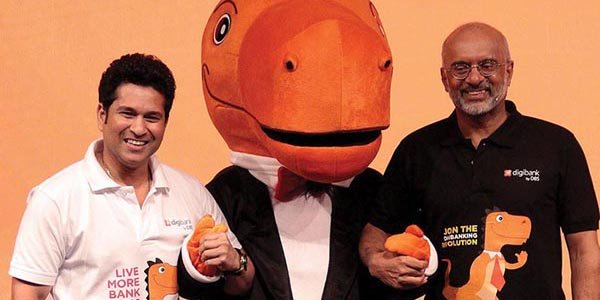 2017
DBS receives approval to establish wholly-owned subsidiary in India
The approval to establish a locally incorporated wholly-owned local subsidiary in India a year after we launched digibank was another milestone in our journey in India.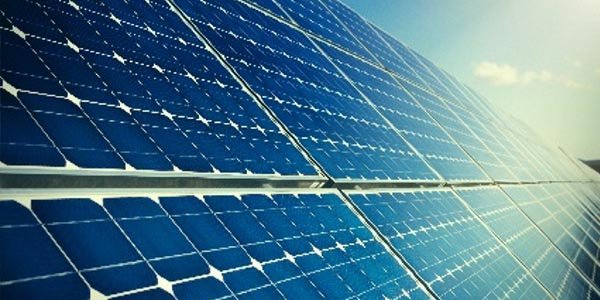 2017
DBS joins RE100
Climate change is one of the biggest challenges facing mankind and we are committed to taking a leadership role in promoting sustainable development.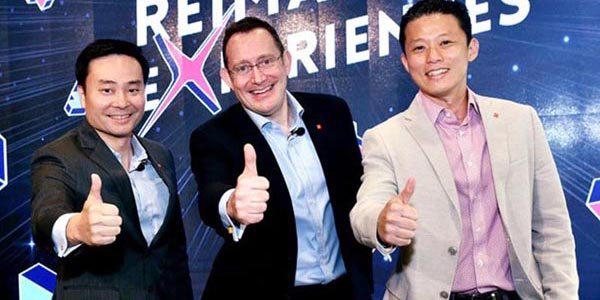 2017
DBS launches world's largest banking API platform
From McDonald's to PropertyGuru to Homage - a wide range of companies have hopped onto our API platform to develop solutions that will bring more convenience and value to our customers.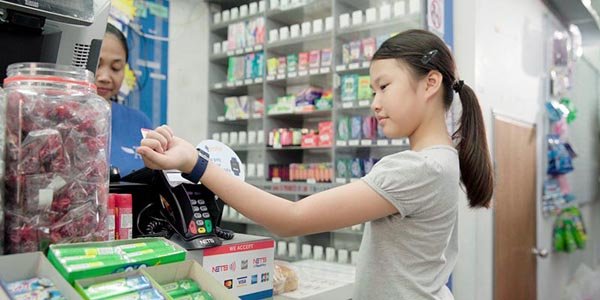 2017
DBS launches POSB Smart Buddy
In line with Singapore's Smart Nation agenda, we started getting children future-ready by introducing POSB Smart Buddy, the world's first in-school wearable tech savings and payments programme.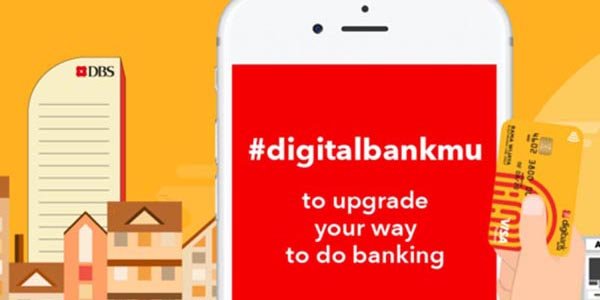 2017
DBS launches digibank in Indonesia
Following our successful launch in India, we brought digibank to Indonesia in 2017. The groundbreaking mobile-led bank is paperless and signatureless, bringing together an entire suite of innovative technology so customers can enjoy a whole new way of banking.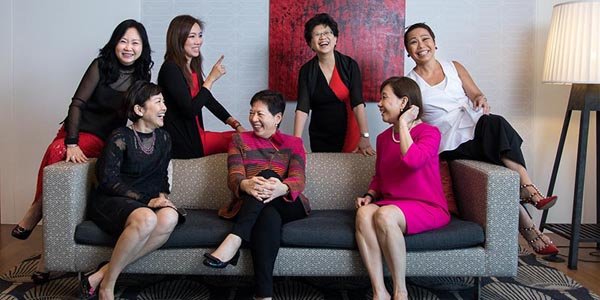 2018
DBS recognised for gender equality
We're proud to have been named to Bloomberg's 2018 Gender-Equality Index, and recognised for our leadership among firms worldwide in creating a work environment that supports gender equality.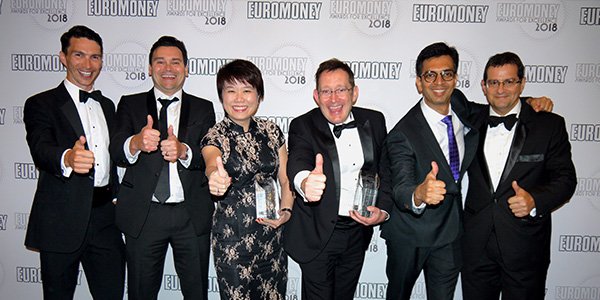 2018
World's Best Digital Bank, World's Best bank for SMEs
DBS is recognised by Euromoney as the World's Best Digital Bank for the second time. In a first for the bank, DBS is also named by Euromoney as the World's Best Bank for SMEs.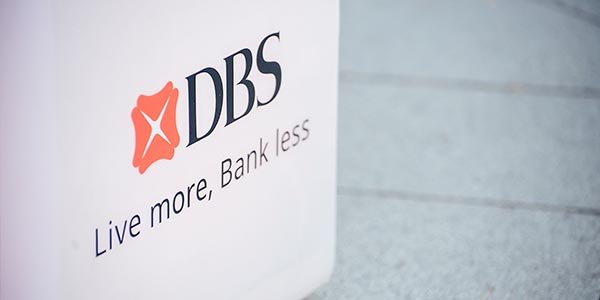 2018
DBS is Best Bank in the World
In a first for a Singapore and Asian bank, DBS Bank has overtaken larger, more established banks to be named Best Bank in the World. The prestigious top award was conferred to DBS by Global Finance in its World's Best Global Banks 2018 Awards.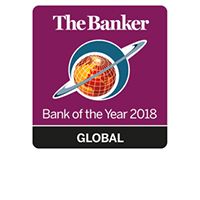 2018
DBS is Global Bank of the Year
Cementing its position at the top of the global class, DBS is named Global Bank of the Year by The Banker, a leading publication of the Financial Times.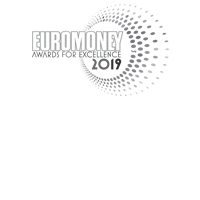 2019
DBS is the World's Best Bank
In a feat unmatched by other banks globally, DBS becomes the first bank to concurrently hold three global best bank awards. This was achieved after DBS was named "World's Best Bank" by leading global financial publication Euromoney in its 2019 Awards for Excellence.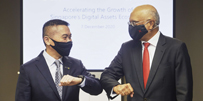 2020
DBS launches full-service Digital Exchange
The digital exchange enables us to leverage blockchain technology to provide an ecosystem for fund raising through asset tokenisation and secondary trading of digital assets including cryptocurrencies.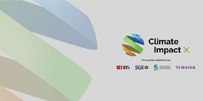 2021
DBS launches Climate Impact X (CIX)
We further our commitment to Singapore's Green Plan with CIX, a Singapore-based global carbon exchange and marketplace that leverages satellite monitoring, machine learning and blockchain technology to enhance the transparency, integrity and quality of carbon credits.
Thank you. Your feedback will help us serve you better.
Was this information useful?
Thank you for your feedback
Let us know how this article helped:
We're sorry to hear that.
We're sorry to hear that

Enter only letters, numbers or @!$&-/()',.