DBS private bank appoints Jeremy Parlons as UK Market Wealth Management Head

***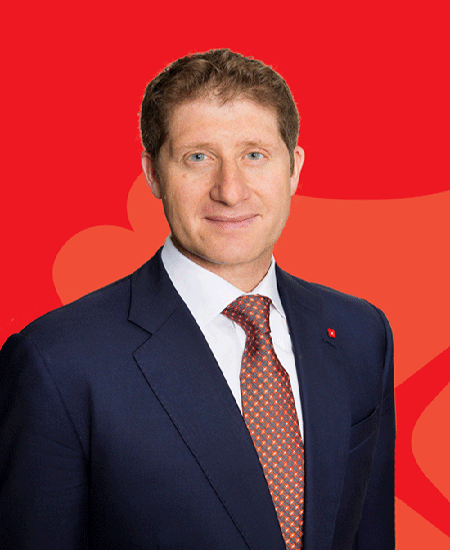 SINGAPORE,12 July 2016
-
DBS Private Bank, Singapore's largest bank and the only Singaporean bank among the top six wealth managers in Asia, announced today that Jeremy Parlons has been appointed as the UK Market Wealth Management Head.

Jeremy will be heading up a new wealth management office, based in London, which will serve ultra high net worth (UHNW) clients and family offices who are looking to Asia for an edge to both their business and investment needs. Through DBS' focus on digital innovation and its one-bank approach across wealth management, corporate banking and capital markets, the team will be able to leverage the best of the bank to deliver an integrated and efficient client-focused solution.
"Over the years, we have made significant strides in our wealth management franchise. We continuously strive to leverage the best of DBS and combine our wealth management solutions with our clients' wealth creation needs. Our strong corporate and commercial banking franchise in Asia allows us to provide our clients with regional connectivity and understanding of all our major Asian markets. Our expansion into UK makes us an attractive option for clients who are looking at Asia as an investment destination, coupled with our in-depth bank-wide expertise, and heritage and reputation as Asia's safest bank," said Tan Su Shan, Group Head of Consumer Banking & Wealth Management, DBS Bank.
DBS Private Bank has grown to become the sixth largest wealth manager in Asia Pacific. According to an April 2016 ranking released by Asian Private Banker, a wealth management industry publication, it is the only Singaporean bank in the top six and the latest ranking brings the bank to within a whisker of its aim of being among the top five wealth managers in the region.

The growth of DBS' wealth management franchise is robust, fuelled by the organic growth of emerging Asian new wealth and also by its successful execution of a wealth continuum. After the successful acquisition of Société Générale Private Banking Asia in 2014, DBS Private Bank continues to grow from strength to strength. It has also consistently achieved growth of about 20% annually since 2010.
As of March 2016, DBS' high net worth assets under management (HNWIs with more than SGD1.5 million each in investible assets) and assets under management for all wealth customers stood at SGD101 billion and SGD147 billion respectively. In 2015, DBS Private Bank was named the world's 'Most Innovative Private Bank' by three of the industry's leading journals. Most recently, DBS was named the 'Best Asian Private Bank' by FinanceAsia and 'Best Wealth Manager, Asia' by The Asset, and more notably, as the 'World's Best Digital Bank' by Euromoney, the first time an Asian bank has been awarded in a global category by this publication. These accolades are an endorsement of DBS' strong culture of innovation and client focus.
Jeremy specialises in managing wealth for the UHNW community and brings on board close to two decades of banking experience, offering both traditional services and bespoke solutions to many prominent individuals, family offices and investment boutiques.
He has spent the last four years building RBC Wealth Management London's exposure to UHNW and Family Office clients as well as working on several cross-banking client transactions and collaboration committees. Prior to this he spent nine years with Credit Suisse Private Banking (London) where he achieved several "One Bank" awards for his client work with Investment Banking and Asset Management divisions. Jeremy started his banking career in the private client division of Morgan Stanley, London.
Jeremy holds the Chartered FCSI designation and a Masters in International Business from Université Blaise Pascal, Clermont-Ferrand, France.
[END]
About DBS
DBS - Living, Breathing Asia
DBS is a leading financial services group in Asia, with over 280 branches across 18 markets. Headquartered and listed in Singapore, DBS has a growing presence in the three key Asian axes of growth: Greater China, Southeast Asia and South Asia. The bank's capital position, as well as "AA-" and "Aa1" credit ratings, is among the highest in Asia-Pacific. DBS has been recognised for its leadership in the region, having been named "Asia's Best Bank" by The Banker, a member of the Financial Times group, and "Best Bank in Asia-Pacific" by Global Finance. The bank has also been named "Safest Bank in Asia" by Global Finance for seven consecutive years from 2009 to 2015.
DBS provides a full range of services in consumer, SME and corporate banking. As a bank born and bred in Asia, DBS understands the intricacies of doing business in the region's most dynamic markets. The bank is also at the forefront of leveraging digital technology to shape the future of banking. DBS is committed to building lasting relationships with customers, and positively impacting communities through supporting social enterprises, as it banks the Asian way. It has also established a SGD 50 million foundation to strengthen its corporate social responsibility efforts in Singapore and across Asia.
With its extensive network of operations in Asia and emphasis on engaging and empowering its staff, DBS presents exciting career opportunities. The bank acknowledges the passion, commitment and can-do spirit in all of our 22,000 staff, representing over 40 nationalities. For more information, please visit www.dbs.com.