DBS ushers in Deepavali with DBS QR gift
Singapore, 01 Oct 2019 - Those celebrating Deepavali this year have a digital option for the customary gifting of Deepavali packets. Starting today, uniquely designed DBS QR Gift cards that reflect the festive spirit of Deepavali will be available to all at DBS/POSB branches across Singapore, subject to availability. Festive DBS QR Gift cards – the world's first loadable QR solution – were also distributed during Hari Raya and Chinese New Year in Singapore this year.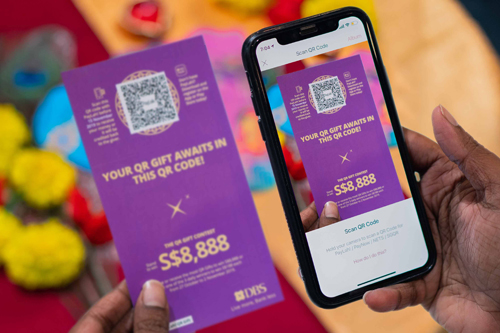 Said Jeremy Soo, Managing Director and Head of Consumer Banking Group (Singapore), DBS Bank, "Deepavali is a deeply meaningful festival which unites all Hindus in celebration of important values. It's also a joyous time when people from all walks of life can experience the splendour and richness of Hindu culture. In the spirit of celebrating Deepavali, we are distributing a festive edition of DBS QR Gift so customers can enjoy the benefits of going digital, even as they retain the familiar tradition of gifting and exchanging Deepavali packets among families and loved ones."
How DBS QR Gift works
Using DBS PayLah!, customers simply need to scan a unique QR code on a DBS QR Gift card to 'load' a cash value of up to SGD 999. They may then present the DBS QR Gift card to their family and friends, who can scan the same QR code with their own DBS PayLah! app to receive the loaded amount. Givers may start loading their desired cash values onto the DBS QR Gift cards from 1 October 2019 to 14 November 2019. Receivers will need to scan the QR code with their DBS PayLah! app before 15 November 2019 to receive their funds, or it will be credited back to the giver. Watch
this short video
on how the DBS QR Gift works.
DBS and POSB Deepavali Packets
Customers making cash withdrawals at all DBS/POSB branches will receive two sets of DBS or POSB Deepavali packets.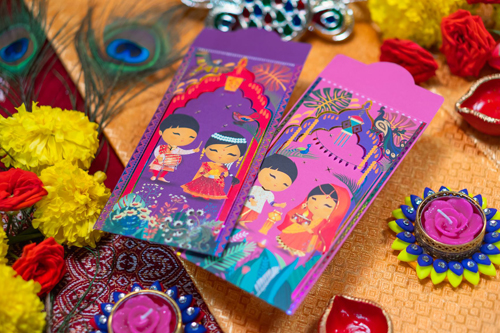 This year's DBS Deepavali packets feature a lush backdrop of nature elements, with DBS' iconic Girl and Boy, Xing and Jaan, carrying traditional musical instruments, and a lamp and lantern, to commemorate traditional Deepavali celebrations. POSB Deepavali packets feature Singapore's beloved Smiley bearing a colourful oil lamp, against a vibrant and intricate backdrop.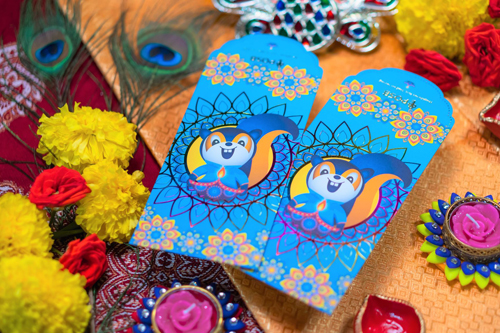 In addition, the DBS and POSB Deepavali packets are multi-purpose: they can be reused to create paper lantern decorations to brighten up homes, so customers can "Live more, Waste less". The reverse side of the packets reveal patterns that can be cut into strips and folded into a lantern.
Grand prize of SGD 8,888 in DBS QR Gift Contest
Those who successfully send or redeem a DBS QR Gift are eligible to participate in the DBS QR Gift Contest.
• 1 October to 2 November 2019: The person with the highest cumulative number of qualifying DBS QR Gift transactions
[1]
stands to win the grand prize of SGD 8,888.
• 27 October to 2 November 2019: During this period, three people who make a qualifying transaction on each day stand to win a daily prize of SGD 188 each.
To find out more about the DBS QR Gift Contest and DBS QR Gift, please visit:
go.dbs.com/sg-QRgift
.
[1] A qualifying transaction is defined as a successful DBS QR Gift transaction between a unique giver-receiver pair; multiple transactions between the same giver-receiver pair are counted as one transaction
.
[End]
About DBS
DBS is a leading financial services group in Asia with a presence in 18 markets. Headquartered and listed in Singapore, DBS is in the three key Asian axes of growth: Greater China, Southeast Asia and South Asia. The bank's "AA-" and "Aa1" credit ratings are among the highest in the world.
Recognised for its global leadership, DBS has been named "
World's Best Bank
" by Euromoney, "
Global Bank of the Year
" by The Banker and "
Best Bank in the World
" by Global Finance. The bank is at the forefront of leveraging digital technology to shape the future of banking, having been named "
World's Best Digital Bank
" by Euromoney. In addition, DBS has been accorded the "
Safest Bank in Asia
" award by Global Finance for ten consecutive years from 2009 to 2018.
DBS provides a full range of services in consumer, SME and corporate banking. As a bank born and bred in Asia, DBS understands the intricacies of doing business in the region's most dynamic markets. DBS is committed to building lasting relationships with customers, and positively impacting communities through supporting social enterprises, as it banks the Asian way. It has also established a SGD 50 million foundation to strengthen its corporate social responsibility efforts in Singapore and across Asia.
With its extensive network of operations in Asia and emphasis on engaging and empowering its staff, DBS presents exciting career opportunities. The bank acknowledges the passion, commitment and can-do spirit in all of our 27,000 staff, representing over 40 nationalities. For more information, please visit
www.dbs.com
.