DBS to proactively re-skill 1,500 employees to equip them with new skills and competencies to be future-ready
First bank in Singapore to enhance the competencies of its existing employees under Workforce Singapore's Professional Conversion Programme
Singapore, 31 Oct 2017 - In an all-out effort to help its employees obtain the necessary knowledge and competencies to sharpen their competitiveness and deepen their skillset, DBS Bank today announced that it will proactively re-skill 1,500 employees in the next 18 months. These employees will be re-skilled under the bank's proactive Professional Conversion Programme (DBS PCP).
In a first for a Singapore bank, DBS has proactively mapped out eight job roles to help employees in these roles obtain the necessary knowledge and competencies to take on new or enhanced roles within the bank after being re-skilled.
The roles identified are from departments across the bank, such as back-end operations in Consumer Banking and Institutional Banking and client-facing ones in branches.
For example, a Branch Service Executive whose current job is to serve customers' banking needs over the counter, can be re-skilled to help the bank raise awareness of its latest self-service options. In another example, a Customer Service Officer (CSO) currently stationed at the Customer Centre could be re-skilled to do more than just answering incoming calls. A CSO's role can be enhanced to also serve customers through new digital channels such as live chat, video teller machines (VTM), emails and even social media.
Nahariah Mohd Nor, now 45 years old, joined DBS for the second time in 2008
[1]
. As a Service Executive, her role was to serve customers' banking needs over the counter at the branch and help them with account opening, cash deposits and withdrawals. This year, after close to nine years as a Service Executive with DBS, Nahariah wanted to try her hand at a new role and specifically requested to do something related to technology and banking.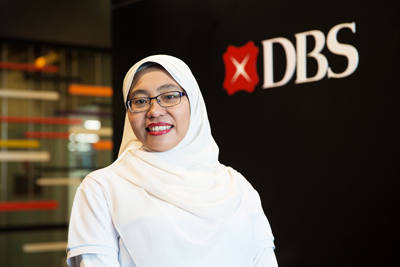 After speaking with her manager, Nahariah underwent six weeks of intense classroom training and started her on-the-job training stint at the DBS Customer Centre as a Customer Service Officer. In this new role, she uses her 20 years of branch banking knowledge to help answer customers' queries virtually through a VTM.
Nahariah said, "The banking industry is changing so fast and I kept reading about all these digital trends in banking. I'm glad that I took the leap to re-skill myself because I now feel more confident to face the future where technology is changing the way customers bank and transact. My new colleagues and supervisors are very supportive and my new role gives me a greater sense of ownership and empowerment. I am always delighted when customers are happy with my service. And I love it when they take selfies with me after I successfully help them through a transaction or query!"
Another example is Ratna Manoharan, now 51 years old. Ratna joined DBS in 1985 as a branch employee processing more than a thousand cheques a day. Today as an Assistant Service Manager, she is empowered to take a more proactive role in helping customers with their banking needs.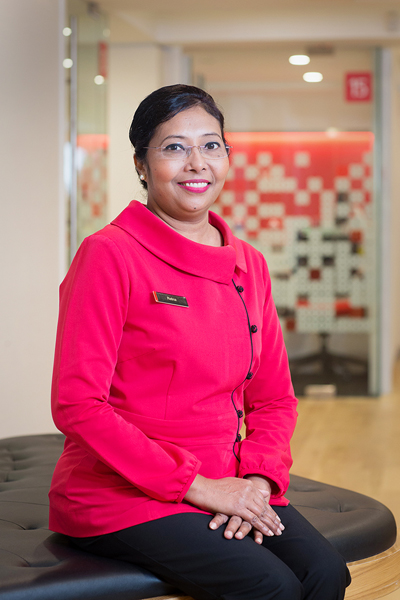 Ratna said, "With the training that DBS has equipped me with, I feel confident when taking on new opportunities and challenges that come with working in the banking industry. With these new skills, what's most important is that I'm also able to advise customers to make banking simpler and more convenient for them."
To fund the Bank's proactive Professional Conversion Programme, DBS will receive partial funding from Workforce Singapore (WSG), with the balance of the re-skilling costs borne by the bank. Employees who are on the programme will undergo classroom training ranging from five days to a month and six months of on-the-job training.
Lee Yan Hong, Group Head of Human Resources, DBS Bank said: "DBS is committed to building a future-ready workforce that will boost our ability to spearhead the transformation of banking in a fast-changing business environment. With our customers' banking preferences changing and technology transforming the way financial services are provided and delivered, over the next five years, DBS aims to re-skill our employees to equip them with the relevant skills to stay ahead in a dynamic financial industry."
In recognition of DBS' commitment to building a future-ready workforce, earlier this month, DBS was recognised by Aon Hewitt as 'Best Employer in Asia Pacific' for the second year running. The bank was also the first-ever company to be awarded 'Best of the Best Employers' in three countries – Singapore, Indonesia and Taiwan – in the same year.
Across the region, DBS was recognised as 'Best Employer' in Singapore, Hong Kong, Indonesia and Taiwan, while DBS Hong Kong, China and Indonesia won special awards for 'Commitment to Engagement', 'Digital HR' and 'Best Employer for Women' respectively.
Lee said: "Our employees are the heart of our organisation and we are committed to honing an engaged and empowered employee base. Our key focus is to future-proof our people and equip them with the necessary skills and abilities, to stay ahead of the curve and create better business outcomes for our customers."
DBS is also one of 14 organisations in Singapore to be conferred the inaugural SkillsFuture Employer Award in recognition of the bank's support for the SkillsFuture movement. The SkillsFuture Employer Award also recognised the bank's investments in employees' skills development, which include initiatives such as DBS Academy, DBS SkillsFlex, Internal Professional Conversion Programme and Young Talent Pipeline Programmes.
[1]
This is Nahariah's second stint with DBS. She first joined the bank in 1992 and subsequently left in 1994 but re-joined DBS in 2008.
[End]
About DBS
DBS is a leading financial services group in Asia, with over 280 branches across 18 markets. Headquartered and listed in Singapore, DBS has a growing presence in the three key Asian axes of growth: Greater China, Southeast Asia and South Asia. The bank's "AA-" and "Aa1" credit ratings, is among the highest in the world.
DBS is at the forefront of leveraging digital technology to shape the future of banking, and has been named "
World's Best Digital Bank
" by Euromoney. The bank has also been recognised for its leadership in the region, having been named "Asia's Best Bank" by several publications including The Banker, Global Finance, IFR Asia and Euromoney since 2012. In addition, the bank has been named "
Safest Bank in Asia
" by Global Finance for nine consecutive years from 2009 to 2017.
DBS provides a full range of services in consumer, SME and corporate banking. As a bank born and bred in Asia, DBS understands the intricacies of doing business in the region's most dynamic markets. DBS is committed to building lasting relationships with customers, and positively impacting communities through supporting social enterprises, as it banks the Asian way. It has also established a SGD 50 million foundation to strengthen its corporate social responsibility efforts in Singapore and across Asia.
With its extensive network of operations in Asia and emphasis on engaging and empowering its staff, DBS presents exciting career opportunities. The bank acknowledges the passion, commitment and can-do spirit in all of its 22,000 staff, representing over 40 nationalities. For more information, please visit
www.dbs.com
.