DBS to launch Singapore's first mobile-based QR payment collection solution to improve cash flows for SMEs
DBS MAX is an easy-to-use mobile app to encourage SMEs to adopt digital payment solutions
Singapore, 08 Nov 2018 - In an all-out push to get small and medium enterprises (SMEs) to adopt digital payment solutions, DBS will be launching Singapore's first mobile-based QR payment collection solution that will enable SMEs to receive funds instantly from their customers and vendors. The solution named DBS MAX will be available to all DBS SME and corporate customers from 26 November.
According to the 2017 SME Development survey, more than one in three SMEs in Singapore face finance-related issues. Of these, more than eight in 10 attribute their finance woes to cash flow issues resulting from delays in customer and vendor payments.
DBS MAX addresses these concerns by enabling SMEs to receive payment from their customers and vendors through a mobile app in real-time. This does away with the need for businesses to wait two working days for cheques and credit card payments to be cleared. SMEs, in turn, enjoy better cash flow and benefit from a more efficient working capital cycle.
Jasmin Ng, Group Head of Cash Product Management at DBS Bank, said, "Cash flow is the lifeblood of a SME. It is also critical to their success and overall viability. Apart from developing solutions to help our clients deliver an enhanced customer experience, we also look at ways to optimise their cash flows and improve their working capital management. This is important as SMEs form the backbone of Singapore's economy, employing two-thirds of our workforce and contributing more than half of our GDP."
How DBS MAX works
DBS MAX was designed to be easy for a busy SME owner or frontline staff to understand and adopt in four simple steps. Once the DBS MAX app is installed onto their business' mobile device, all a business owner and/or employee needs to do is to generate a QR code on his/her mobile device before letting the customer scan it, and the transaction is complete when a payment notification is received. The funds received from the transaction would then be credited to the business' bank account instantly, and all sales will be automatically consolidated in a report at the end of each day.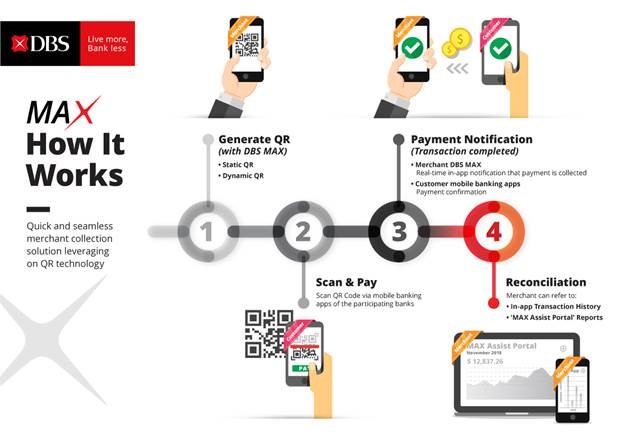 Key benefits to SMEs
•
Removes the need for payment terminals and automates book-keeping.
As it is designed as a mobile app, DBS MAX removes the need for different physical payment terminals at payment counters, allowing SMEs, especially those in the retail and services industries, to better utilise their counter space with promotional goods and special offers. For businesses with multiple outlets across Singapore, DBS MAX also updates their headquarters of funds received in real-time across the entire franchise. All sales information is also collated into an end-day report, automating the book-keeping process for SMEs.
Ms Wong Mee Ching, Director, Cristofori Music Pte Ltd, said, "We currently have in place numerous point-of-sale terminals at our customer counters in each school. With DBS MAX, we can eliminate all that clutter and save on the rental cost of physical payment terminals. The automated end-of-day reconciliation is also a key benefit that we are looking forward to. That way, our centre managers can spend more time talking to their customers and less time on administrative duties."
•
Provides SME owners with flexibility on-the-go.
When SMEs face a sudden surge in customer traffic due to special offers or when their business takes them to a trade fair, they can simply download the DBS MAX app onto their mobile device to open up an additional counter instantly, wherever they are. This provides them with the flexibility to scale up their point-of-sale counters instantly, at no cost. Notably, travel agencies are expected to be a key beneficiary of DBS MAX as they frequently participate in offsite travel fairs where it can be cumbersome to set up and rent physical payment terminals.
Leading Singapore-based travel agency, Chan Brothers Travel Pte Ltd, said, "We think that DBS MAX is a truly mobile solution which is not tied down by wires or terminals and allows us to be creative with how we complete transactions with our customers. Especially for events like travel fairs, where speed and convenience are key, we foresee ourselves delivering an enhanced customer experience so that our customers can get onboard their dream vacation even faster. We look forward to getting onboard when the solution goes live this month."
•
Integrated with PayNow.
As DBS MAX is integrated with PayNow, the majority of Singapore consumers and businesses can simply scan and make payment to SMEs with ease.
Solution developed by harnessing SME customer feedback
During the pilot phase of the DBS MAX project, the bank enrolled close to 1,000 businesses with the objective of gathering their feedback to create an easy-to-use payment collection solution. One pilot participant is homegrown SME, Happy Fish Swim School, which offers swimming lessons to children and adults of all ages.
Mr Jay Tan Jian Yong, Director and Founder of Happy Fish, said, "DBS worked with us to understand the pain-points in our business during the process of designing DBS MAX. Our usual mode of payment collection was done via bank transfers and cash, which can be a hassle for our customers. But with DBS MAX, we are now able to collect payments instantly, helping us improve our cash flow and automatically reconcile our books at the end of each day, which is a win-win for us. The solution also reduced the administrative nature of manual payments so that our staff can focus more on providing a better service experience to our customers."
To find out more about how DBS MAX has benefited Happy Fish, watch this.
Next steps
Following the launch of DBS MAX in Singapore later this month, the bank will roll out the solution in its next largest market, Hong Kong, by December this year. The objective is to reach over 6,000 SMEs over the next six months, with plans to implement the solution in the bank's other key markets in the coming year.
To experience DBS MAX, DBS will also be offering demonstrations on how the solution works at its booth at the
Singapore FinTech Festival
on Wednesday, 14 November.
[End]
About DBS
DBS is a leading financial services group in Asia, with over 280 branches across 18 markets. Headquartered and listed in Singapore, DBS has a growing presence in the three key Asian axes of growth: Greater China, Southeast Asia and South Asia. The bank's "AA-" and "Aa1" credit ratings are among the highest in the world.
Recognised for its global leadership, DBS has been named "
Best Bank in the World
" by Global Finance. The bank is at the forefront of leveraging digital technology to shape the future of banking, having been named "
World's Best Digital Bank
" by Euromoney. In addition, DBS has been accorded the "
Safest Bank in Asia
" award by Global Finance for ten consecutive years from 2009 to 2018.
DBS provides a full range of services in consumer, SME and corporate banking. As a bank born and bred in Asia, DBS understands the intricacies of doing business in the region's most dynamic markets. DBS is committed to building lasting relationships with customers, and positively impacting communities through supporting social enterprises, as it banks the Asian way. It has also established a SGD 50 million foundation to strengthen its corporate social responsibility efforts in Singapore and across Asia.
With its extensive network of operations in Asia and emphasis on engaging and empowering its staff, DBS presents exciting career opportunities. The bank acknowledges the passion, commitment and can-do spirit in all of our 26,000 staff, representing over 40 nationalities. For more information, please visit
www.dbs.com
.