DBS to double wealth business in Thailand by 2023
Singapore, Regional
.

18 Sep 2019
DBS Private Bank and DBS Vickers Securities (Thailand) announce partnership to provide first-in-market fully integrated onshore and offshore wealth proposition
Aims to double wealth assets under management and RM headcount in Thailand by 2023
Singapore, Regional, 18 Sep 2019 - DBS Bank, Southeast Asia's largest bank, today announced a partnership between DBS Private Bank and DBS Vickers Securities (Thailand), with plans to double its wealth assets under management in Thailand from SGD 4 billion to SGD 8 billion by 2023. Targeting Thailand's growing pool of high-net-worth individuals (HNWIs) who are increasingly looking to diversify their portfolios and access investment opportunities overseas, the partnership seeks to provide wealth clients in Thailand with seamless access to a fully integrated onshore and offshore wealth management proposition – the first in Thailand to do so. To cater to rising demand, DBS also aims to double its headcount for wealth relationship managers (RMs) in Thailand by 2023.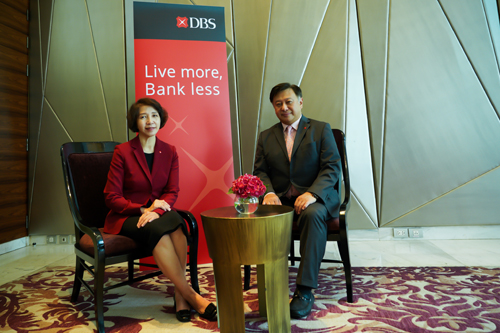 Thailand's wealth population has shown rapid growth over the years. The nation is home to over 122,000 HNWIs
[1]
as of 2017, almost equal to the number of HNWIs in Singapore. Thai wealth assets under management have grown at a robust compound annual growth rate (CAGR) of 12.7% between 2010 to 2017
[2]
. Today, much of Thai wealth is held in family-owned businesses, which are key drivers of Thailand's economy – accounting for more than 80% of the nation's GDP and over one-third of listed firms on the Stock Exchange of Thailand
[3]
. DBS believes that these family businesses will be well-served by the bank's unique "one-bank" proposition, which provides access to offerings across wealth management, retail, investment and corporate banking.
The partnership brings together the best of both entities: DBS Vickers Securities (Thailand)'s comprehensive onshore offering across funds, equities, structured notes and bonds, as well as strong Thai market advisory, will be complemented with DBS Private Bank's global wealth expertise, extensive Asian network and full suite of offshore wealth management solutions and platform – all seamlessly delivered to clients via their RM, who will serve as a single point of contact. This first-in-market "one-stop" proposition enables DBS' wealth clients in Thailand to conveniently access and manage their investments in one place. In contrast, existing market practices require investors to go through separate entities for their investment needs – one for onshore and another for offshore.
Said Sim S Lim, Group Head of Wealth Management and Consumer Banking, DBS Bank, "This partnership represents our commitment to growing our business in Thailand. We believe the Thai wealth market holds immense potential, having witnessed Thai investors' growing sophistication and receptiveness to investment ideas, and the Bank of Thailand's encouraging regulatory stance towards offshore investments. We've served Thai investors for over two decades through our securities business and understand their needs and preferences. With our strong Asian expertise and connectivity, leading digital capabilities, and reputation as Asia's safest and the world's best – we seek to become a trusted partner by providing customers with seamless access to opportunities and wealth management solutions both within and beyond Thailand's shores."
Said Pattera Dilokrungthirapop, CEO, DBS Vickers Securities (Thailand), "HNWIs in Thailand are relatively conservative with offshore investments, but this is beginning to change. As their personal wealth grows, we're seeing corresponding demand for holistic wealth management services and global investment strategies. Today, what they want is a 'one-stop shop' that provides trusted advisory, wealth products and solutions, and a seamless onshore and offshore experience – a gap that DBS can effectively fill through this partnership."
DBS has been operating a securities business in Thailand since 1998. Today, DBS Vickers Securities (Thailand) holds a full securities licence and has established its position as a leading securities company in Thailand. In 2018, DBS Private Bank was awarded "Best Private Bank in Asia-Pacific" by Global Finance and "Best Private Bank for Innovation" by Private Wealth Management/ The Banker. For more information, please visit
http://go.dbs.com/thailand
.
[1] HNWIs are defined as those having investable assets of USD 1 million or more, excluding primary residence, collectibles, consumables, and consumer durables.
[2] Capgemini (2018), Asia-Pacific Wealth Report 2018. Retrieved from https://www.capgemini.com/news/asia-pacific-wealth-report-2018
[3] PwC. (2019). Thailand Family Business Survey 2019. Retrieved from https://www.pwc.com/th/en/services/epb/thailand-Family-Business-survey-2019.html
[END]
About DBS
DBS is a leading financial services group in Asia with a presence in 18 markets. Headquartered and listed in Singapore, DBS is in the three key Asian axes of growth: Greater China, Southeast Asia and South Asia. The bank's "AA-" and "Aa1" credit ratings are among the highest in the world.
Recognised for its global leadership, DBS has been named "
World's Best Bank
" by Euromoney, "
Global Bank of the Year
" by The Banker and "
Best Bank in the World
" by Global Finance. The bank is at the forefront of leveraging digital technology to shape the future of banking, having been named "
World's Best Digital Bank
" by Euromoney. In addition, DBS has been accorded the "
Safest Bank in Asia
" award by Global Finance for ten consecutive years from 2009 to 2018.
DBS provides a full range of services in consumer, SME and corporate banking. As a bank born and bred in Asia, DBS understands the intricacies of doing business in the region's most dynamic markets. DBS is committed to building lasting relationships with customers, and positively impacting communities through supporting social enterprises, as it banks the Asian way. It has also established a SGD 50 million foundation to strengthen its corporate social responsibility efforts in Singapore and across Asia.
With its extensive network of operations in Asia and emphasis on engaging and empowering its staff, DBS presents exciting career opportunities. The bank acknowledges the passion, commitment and can-do spirit in all of our 27,000 staff, representing over 40 nationalities. For more information, please visit
www.dbs.com
.