DBS launches industry-first solution to transform B2B payments and collections landscape in Singapore
F&B industry to pilot solution – with leading F&B heavyweights such as SG5 and Huber's Butchery signing up for the trial
Solution to be rolled out to wider F&B ecosystem, logistics and trading sectors by year-end
Singapore, 20 Jan 2020 - Paying suppliers and vendors with cash could soon be a thing of the past for Singapore's 28,000 coffee shops, hawker centres and restaurants
[1]
. DBS has launched an industry-first solution to transform the largely cash and paper-based B2B payments and collections landscape for businesses in Singapore. DBS' QR-code based solution is powered by DBS RAPID
[2]
and DBS MAX
[3]
and addresses Singapore's aim of enhancing productivity by eliminating cheques by 2025 and going cashless.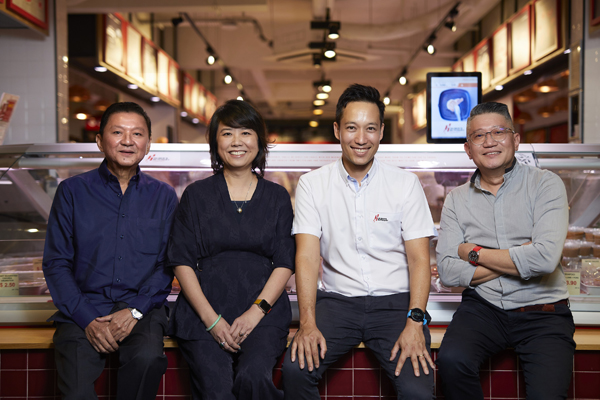 (From left to right) SG5 Chairman Lee Hong Kiat, DBS' Group Head of SME Banking Joyce Tee, Huber's Butchery's Executive Director Andre Huber and SG5 CEO Alvin Chua.
The B2B payments and collections solution was developed after close to 20 digital workshops with F&B operators to map their payments journey and pain points. The workshops which were run by DBS also uncovered that on average, close to nine in 10 B2B payments in the F&B industry are still cash-based or done through bank transfers. The new solution which facilitates cashless and faster F&B payments is an end-to-end QR collection enabled platform that enables instant payments with automated accounts reconciliation functionalities in the backend.
Unlike other solutions in the market, customers can also consolidate multiple invoices into one QR-code based transaction. They also have the flexibility to make full or partial payments for one or multiple invoices, and in turn suppliers now have the option of enhancing credit terms for each invoice instantly. To bring customers greater convenience, suppliers can also send a QR code requesting for payment to their customers who are not on-hand to receive the goods in-person.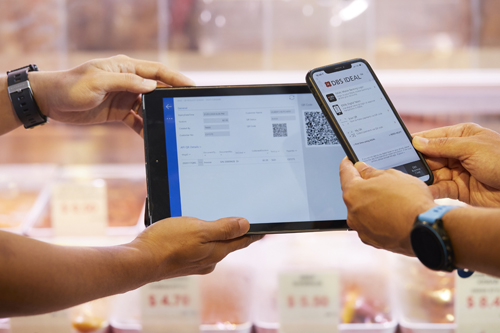 DBS' new payment solution allows businesses such as Huber's Butchery to make QR payments easily
SG5, the main distributor for Asia Pacific Breweries Singapore, is one of the first F&B operators to pilot the solution. The company, a wholesale distributor of beer and stout supplies about 5,600 F&B retailers from coffee shops to large chains such as Huber's Butchery. Through this solution, SG5 believes the company will save up to 3,300 manhours a month.
Digitalising payments for F&B players is the first step in transforming the cash-intensive B2B payments and collections landscape, said Joyce Tee, Group Head of SME Banking, DBS Bank. "Many SMEs we speak to want to realise productivity gains by becoming more digital but they don't have the expertise or infrastructure to do so. By understanding their pain points and then laying the foundation for enhanced payments capabilities one sector at a time, DBS aims to lead the way in digitalising and streamlining the payments landscape in Singapore. Our aim is to enable our SMEs' time-strapped workforce to be able to spend more time serving their customers and exploring new business opportunities."
SG5 CEO Alvin Chua is looking forward to utilising the 3,300 manhours saved on accounting and administrative tasks every month. "On average, our frontline staff spend around 3.5 hours every day traveling to different parts of the island to collect cash and cheque payments. With the new payments solution and precious man-hours saved, I hope to be able to upskill my staff so that we can work together to bring the business to new heights. It will also be a boon to our cashflow as we will be able to receive payments instantly upon delivery of goods."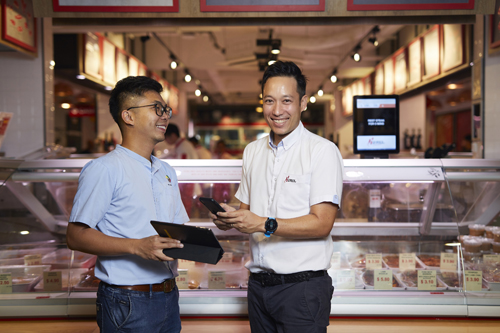 Andre Huber (right), Executive Director of Huber's Butchery, using DBS' new QR payment solution to pay for APB goods from SG5
Huber's Butchery is a family-run business specialising in manufacturing and processing gourmet meat products for hotels, restaurants, marine and aircraft suppliers and caterers. In addition, it also has a consumer-facing retail shop and bistro. Together with SG5, Huber's is one of the first F&B retailers to adopt the solution. "Consumers today are digitally-savvy and we have equipped our frontline staff with digital payments systems. Similarly, our business partners are learning to harness technology for greater efficiencies so that as an industry, we can all experience greater productivity. We are excited to work with DBS and SG5 on this new payment solution. It'll definitely allow our employees to spend more time delighting our customers," said Andre Huber, Executive Director of Huber's Butchery.
DBS' B2B payments and collections solution currently facilitates payments through PayNow in Singapore. Through a series of digital workshops with clients from different industries, DBS plans to introduce the solution to the wider F&B ecosystem, logistics companies and import/export merchants later this year.
[1] Source: Euromonitor, from DBS Group Research report - https://www.dbs.com/aics/pdfController.page?pdfpath=/content/article/pdf/AIO/102019/191022_insights_fnb.pdf
[2] DBS RAPID is an API solution that enables DBS corporate customers to integrate their systems with the bank's so as to access real-time banking services seamlessly https://www.dbs.com.sg/corporate/cash/electronic-banking/rapid
[3] DBS MAX is Singapore's first mobile-based QR payment collection solution that enables SMEs to receive funds instantly. https://www.dbs.com/newsroom/DBS_to_launch_Singapores_first_mobile_based_QR_payment_collection_solution_to_improve_cash_flows_for_SMEs

[END]
About DBS
DBS is a leading financial services group in Asia with a presence in 18 markets. Headquartered and listed in Singapore, DBS is in the three key Asian axes of growth: Greater China, Southeast Asia and South Asia. The bank's "AA-" and "Aa1" credit ratings are among the highest in the world.
Recognised for its global leadership, DBS has been named "
World's Best Bank
" by Euromoney, "
Global Bank of the Year
" by The Banker and "
Best Bank in the World
" by Global Finance. The bank is at the forefront of leveraging digital technology to shape the future of banking, having been named "
World's Best Digital Bank
" by Euromoney. In addition, DBS has been accorded the "
Safest Bank in Asia
" award by Global Finance for 11 consecutive years from 2009 to 2019.
DBS provides a full range of services in consumer, SME and corporate banking. As a bank born and bred in Asia, DBS understands the intricacies of doing business in the region's most dynamic markets. DBS is committed to building lasting relationships with customers, and positively impacting communities through supporting social enterprises, as it banks the Asian way. It has also established a SGD 50 million foundation to strengthen its corporate social responsibility efforts in Singapore and across Asia.
With its extensive network of operations in Asia and emphasis on engaging and empowering its staff, DBS presents exciting career opportunities. The bank acknowledges the passion, commitment and can-do spirit in all of our 28,000 staff, representing over 40 nationalities. For more information, please visit
www.dbs.com
.