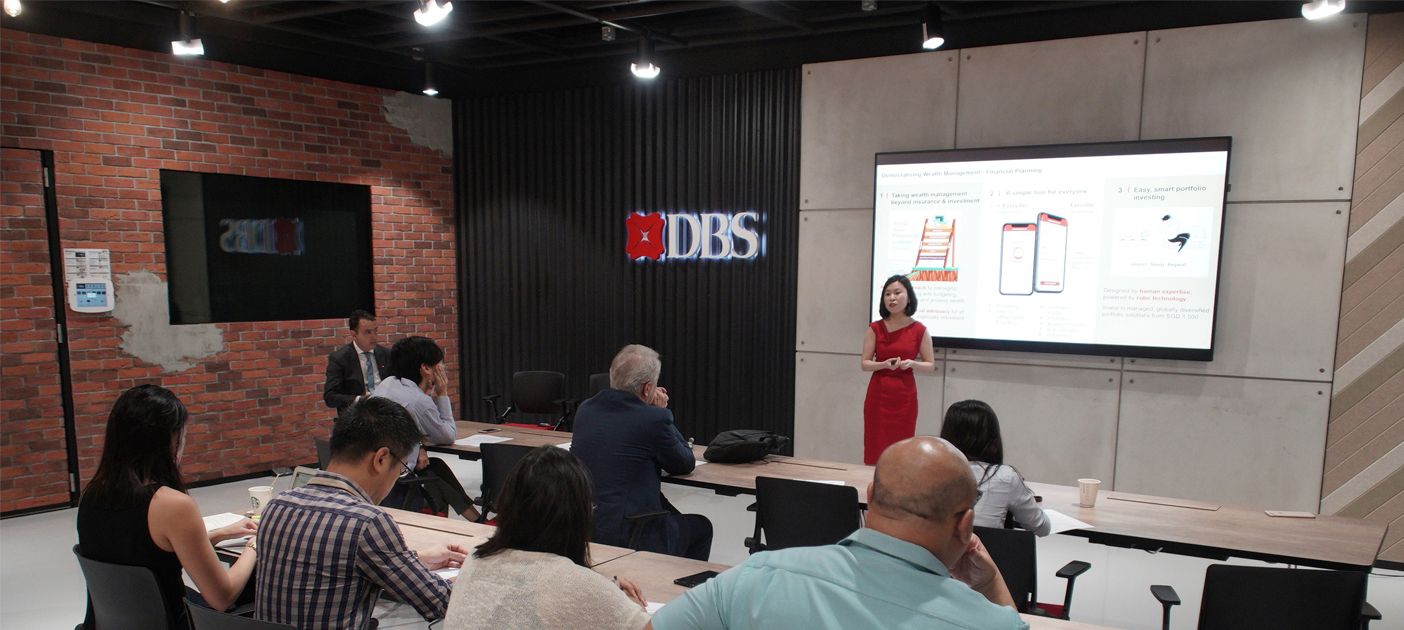 DBS introduces first-of-its-kind portfolio solution for beginner investors
DBS digiPortfolio is a hybrid human-robo investment solution for retail investors to tap on investment strategies from DBS' wealth management team
Only bank in Singapore to provide inhouse robo investment solution; also makes available portfolio of SGX-listed ETFs to investors for the first time
Singapore, 02 Sep 2019 - Investors in Singapore can now sign up for early access to DBS digiPortfolio (
http://go.dbs.com/sg-digiportfolio
or
http://go.posb.com.sg/digiportfolio
), a hybrid human-robo investment solution developed by DBS Bank. The one-stop portfolio solution combines the expertise of DBS' Wealth Management investment strategists with the efficiencies of robo technology. DBS is the only bank in Singapore to provide an inhouse robo investment solution, and the proposition also makes available a portfolio of SGX-listed ETFs to investors for the first time. The portfolio can be purchased by customers with no prior investment experience.
With a minimum investment sum of SGD 1,000 or USD 1,000, DBS digiPortfolio gives investors instant access to a collection of four to seven Exchange Traded Funds (ETFs) representing between 200 and 13,000 holdings in a single transaction. A flat annual management fee of 0.75% is charged in return for the portfolio construction, monitoring and rebalancing services. The use of robo technology allows the bank to drive speed, scale and efficiencies for investors at lowered costs – there are no further sales charges, platform fees or transaction fees. Finally, investors are not subjected to a lock-in investing period, though they are encouraged to take a long-term approach with their investments.
Leveraging the bank's Wealth Management investment expertise, the portfolios offered in DBS digPortfolio are constructed with carefully selected ETFs and are reviewed quarterly. Rebalancing is initiated when necessary to ensure the portfolios remain resilient to market volatility, provide optimal returns, and remain aligned to the DBS Chief Investment Office's views.
"DBS digiPortfolio is part of a holistic view we take towards financial planning and personal investing. Our broader goal is to provide customers with the right tools and knowledge that will allow them to achieve all of their life goals," said Jeremy Soo, Head of Consumer Banking Group (Singapore), DBS Bank. "With DBS digiPortfolio, we lowered the barriers to personal investing by creating a portfolio accessible to all customers, and that is watched over by our experienced investment specialists and adjusted to remain optimal in changing market conditions. This gives investors a simple way to get invested safely and securely with us."
Said Chan Kum Kong, Head of Analysis and Research, SGX, "We applaud DBS for stepping up to provide an accessible and low-risk investment solution for Singapore retail investors, which includes SGX-listed ETFs. Investors can instantly gain access to a diversified portfolio that provides exposure to various stock markets and asset classes – all with a low initial investment amount. DBS' solution presents investors a simple way to kick start their investing journey."
The bank is introducing DBS digiPortfolio to retail customers as part of its commitment to democratising access to financial expertise. With robo technology, DBS is able to provide specialised services and expertise traditionally limited to private banking customers to its retail clients. Its first-phase launch in March this year to wealth customers was met with strong response, and the solution proved to be highly effective in motivating customers to start on or resume their investment journey: 40% of DBS digiPortfolio wealth customers had not made an investment-related decision in the past 12 months.
Investors will be able to choose from two portfolio options when DBS digiPortfolio is launched on the bank's online banking platform:
Asia Portfolio

With a minimum investment sum of SGD 1,000, investors can enjoy instant access to the Asia Portfolio, which comprises SGX-listed ETFs that provide the investor with Singapore, China and India exposure. The portfolio is made up of 'Excluded Investment Products (EIP)', which makes it accessible to all customers regardless of investment experience, thus significantly lowering the barriers to entry to investing.
Global Portfolio


For USD 1,000, investors can invest in the Global Portfolio, which consists of UK-listed ETFs providing global exposure. For those seeking global diversification in their investment portfolio, the Global Portfolio provides hyper-diversification for robust risk management, as well as exposure to the U.S., Europe, and Asia (ex-Japan).
Each portfolio is available at varying risk levels: from "Slow n steady", "Comfy cruisin'" to "Fast n furious". This allows investors to opt for the risk level that best suits their personal risk tolerance, financial situation and investment goals.
The early access sign-up for DBS digiPortfolio will open on 2 September and close on 30 September . Customers who have indicated their interest to invest will receive a notification once they receive access to DBS digiPortfolio. For more information, please visit (
http://go.dbs.com/sg-digiportfolio
or
http://go.posb.com.sg/digiportfolio
).
1
– ETFs are investment funds that aim to track the returns of a stock or commodity index. They offer investors several benefits, such as exposure to an index without having to invest in all its component stocks, and dividend pay-outs that come with the stocks held within the funds.
2
– Excluded Investment Products (EIPs) are investment products which have terms and features that are generally understood by retail investors, and the classification of an EIP is determined by its complexity, and not its risk level.
3
– Closing date may be subject to change.
[END]

About DBS
DBS is a leading financial services group in Asia with a presence in 18 markets. Headquartered and listed in Singapore, DBS is in the three key Asian axes of growth: Greater China, Southeast Asia and South Asia. The bank's "AA-" and "Aa1" credit ratings are among the highest in the world.

Recognised for its global leadership, DBS has been named "World's Best Bank" by Euromoney, "Global Bank of the Year" by The Banker and "Best Bank in the World" by Global Finance. The bank is at the forefront of leveraging digital technology to shape the future of banking, having been named "World's Best Digital Bank" by Euromoney. In addition, DBS has been accorded the "Safest Bank in Asia" award by Global Finance for ten consecutive years from 2009 to 2018.

DBS provides a full range of services in consumer, SME and corporate banking. As a bank born and bred in Asia, DBS understands the intricacies of doing business in the region's most dynamic markets. DBS is committed to building lasting relationships with customers, and positively impacting communities through supporting social enterprises, as it banks the Asian way. It has also established a SGD 50 million foundation to strengthen its corporate social responsibility efforts in Singapore and across Asia.

With its extensive network of operations in Asia and emphasis on engaging and empowering its staff, DBS presents exciting career opportunities. The bank acknowledges the passion, commitment and can-do spirit in all of our 27,000 staff, representing over 40 nationalities. For more information, please visit www.dbs.com.