DBS enables digital payments for one in three Singapore pre-schools
In partnership with LittleLives, over 160,000 parents can now make payments on the go
Singapore, 16 May 2019 - Over 160,000 young parents in Singapore will soon be able to purchase uniforms, pay for field trips and sign up for extra-curricular classes for their pre-school children through a mobile payment platform gateway developed by DBS. DBS has partnered with EduTech company, LittleLives, to enhance their app-based pre-school management system with real-time payment features. The app is used by one in three pre-schools
[1]
in Singapore.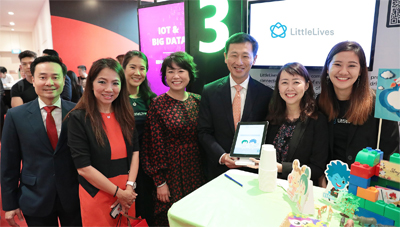 The enhanced LittleLives app, which helps pre-school teachers update parents on their child's development, was officially launched at the DBS Auditorium, with Minister for Education, Mr Ong Ye Kung as the Guest of Honour.
In Singapore, the early childhood education sector is still dependent on cash despite school fees being paid via GIRO or Child Development Accounts (CDA). For example, when paying for excursions, school uniforms or learning resources, parents often make payments using cash or cheques and the school then makes arrangements to pay third-party vendors.
With payment functions built into the LittleLives app, pre-school operators can save up to 40 manhours per month on administrative tasks such as payments reconciliation, allowing them more time to engage with parents and their children. This addresses a recent DBS survey that revealed that one in four SMEs are looking to develop their digital business capabilities to improve productivity.
Eliminating these payment pain points is the first step in digitalising payments in the early childhood education sector, said Joyce Tee, Group Head of SME Banking, DBS Bank. "By partnering LittleLives, we hope to take the hassle out of payments so pre-school operators can better manage their cash flow. By building payments capabilities into the app, we have made banking invisible and seamless, so pre-school operators can channel their energy and resources back into building their business," she said.
The LittleLives app is used by over 750 pre-schools in Singapore. The app can now enable pre-schools to generate invoices and parents to make payments through PayNow and DBS PayLah!. Receipts will be generated automatically after payments are made. With access to real-time payment reports such as daily settlement and auto-reconciliation, pre-schools can better manage their finances more accurately and securely.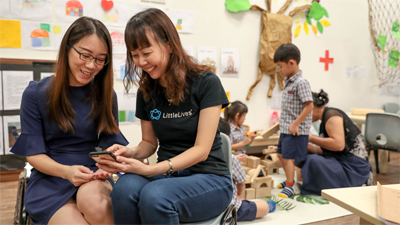 Sun Ho, Founder of LittleLives, showing Chua Chai Yun, Principal of E-Bridge Pre-School (Bukit Panjang), how to use the LittleLives app
"Many young parents are time-strapped and juggling multiple responsibilities at work and at home. By enabling parents to conduct payments on the go, quickly and safely, they have more time to nurture and care for their children," said Sun Ho, founder of LittleLives.
"Partnering a powerhouse like DBS will help us create a super app that will transform how pre-schools are managed. LittleLives can then create an amazing childhood education experience for both children and parents," she said.
Pre-schools, such as E-Bridge Preschool, have reaped the benefits of using the enhanced LittleLives app. "With the new payments and auto-reconciliation features, we've saved around five working days a month. We can use this time to better engage with parents and their children," said Chua Chai Yun, Principal of E-Bridge Pre-School (Bukit Panjang).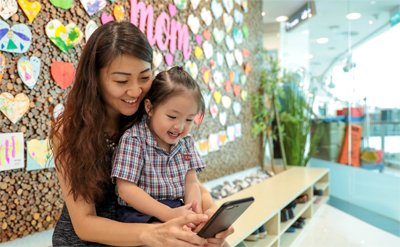 As a working mum juggling a full-time job, Eileen Yeo says the enhanced LittleLives app has saved her time and made her life easier.


Eileen Yeo is a 36-year-old mother of two young children, both of whom attend E-Bridge Pre-School (Bukit Panjang). As a working mother juggling a full-time job as a property agent while managing her family's business, she appreciates the new payments feature on the LittleLives app. "The payment system is so easy to use, I don't have to worry about issuing cheques or dealing with the embarrassment of making a late payment. It's made my life easier, and I appreciate how I can manage my kids' pre-school needs on the go," she said.
DBS and LittleLives have plans to roll out this payments gateway to other markets such as Brunei, Cambodia, China, Malaysia and Vietnam. This is made possible with DBS IDEAL RAPID
[2]
, an API-enabled solution, that allows the bank and its partners to scale their services quickly and seamlessly.
[1]
According to data.gov.sg, there are over 2,000 kindergartens and childcare centres. https://data.gov.sg/dataset/list-of-childcare-centres, https://data.gov.sg/dataset/list-of-kindergarten-services
[2]
DBS IDEAL RAPID is a solution by DBS, enabling its corporate customers to access banking services seamlessly and in real-time with the use of Application Programme Interface (API). The banking services offered include bank account verification, account balance enquiry, as well as payment and collection services.
[End]
About DBS
DBS is a leading financial services group in Asia with a presence in 18 markets. Headquartered and listed in Singapore, DBS is in the three key Asian axes of growth: Greater China, Southeast Asia and South Asia. The bank's "AA-" and "Aa1" credit ratings are among the highest in the world.
Recognised for its global leadership, DBS has been named "
Global Bank of the Year
" by The Banker and "
Best Bank in the World
" by Global Finance. The bank is at the forefront of leveraging digital technology to shape the future of banking, having been named "
World's Best Digital Bank
" by Euromoney. In addition, DBS has been accorded the "
Safest Bank in Asia
" award by Global Finance for ten consecutive years from 2009 to 2018.
DBS provides a full range of services in consumer, SME and corporate banking. As a bank born and bred in Asia, DBS understands the intricacies of doing business in the region's most dynamic markets. DBS is committed to building lasting relationships with customers, and positively impacting communities through supporting social enterprises, as it banks the Asian way. It has also established a SGD 50 million foundation to strengthen its corporate social responsibility efforts in Singapore and across Asia.
With its extensive network of operations in Asia and emphasis on engaging and empowering its staff, DBS presents exciting career opportunities. The bank acknowledges the passion, commitment and can-do spirit in all of our 27,000 staff, representing over 40 nationalities. For more information, please visit
www.dbs.com
.