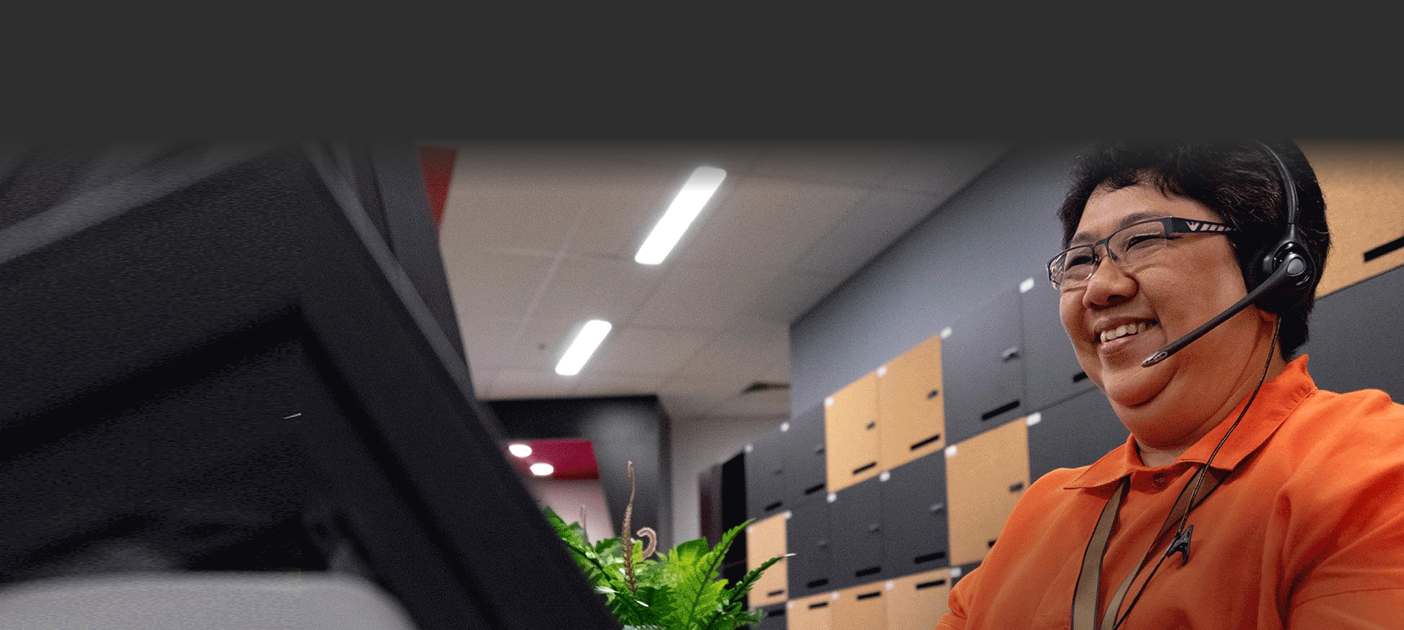 DBS creates Customer Centre of the future
Transformation has involved reskilling over 500 Customer Centre employees to take on 13 new job roles
Singapore, 02 May 2019 - Voice biometrics specialists, live chat agents and customer experience designers. These are among the 13 new job roles1 that DBS has introduced in recent years, four of them in the past 18 months alone, as it creates the customer centre of the future to serve customers better. In the process, it has upskilled and retrained over 500 customer centre employees, and eliminated traditional customer pain-points such as long wait times to speak to customer service officers (CSOs).
Customer Centres are traditionally labour-intensive departments. At DBS Singapore, the Customer Centre processes over four million inbound customer calls every year. But with new ways of serving customers better, call volumes have dropped 12% over the last year, and the bank expects call volumes to drop by a further 20% over the next three years.

Jobs of the future, today
With customers becoming more digitally-savvy, DBS has expanded its service channels online and on social media to engage and serve its customers in a way that is relevant to them.

DBS Contact Centre has also incorporated technologies such as voice biometrics, chatbots and data analytics so that callers can enjoy shorter call waiting times and opt to resolve their banking queries independently via the bank's website, on their mobile banking app or through the bank's Facebook or Twitter channels. CSOs have been trained in these new areas.

Geeta Sreeraman, DBS' Head of Customer Centre, Singapore said that DBS' Customer Centre transformation is an example of how the bank has invested in its employees, as well as in technology, to improve the overall customer experience. "By investing in our people, we have been able to transform from a labour-intensive department with a high turnover rate to one that is technology-enabled where employees are more fulfilled and armed with future-forward skills."
Building a digitally-ready workforce to create a better banking experience for customers is a priority for DBS, and this echoes Minister Heng Swee Keat's recent comment about Singapore companies taking innovation and technology seriously, adapting to change quickly and not leaving any employee behind. "Our goal is to make our customers' lives easier, especially when their lifestyle habits and expectations of how they would like to be served have changed. To do so, we need to ensure our employees have the skills and resources to better serve them," Sreeraman added.

Using voice biometrics to expedite customer identification even more securely
DBS is using voice biometrics to verify customers' identities through a system that digitises a person's speech2. This is possible as the human voice is as unique as the fingerprint. This allows CSOs to automatically verify customers when they call in and customers no longer need to reveal personal information such as their date of birth or identity number when they are out in public. Automatic verification through voice biometrics also reduces the time taken to verify customers by up to 40 seconds from the usual average time of 80 seconds.

DBS' voice biometrics is an opt-in programme and around half a million customers have been onboarded onto the service. The bank expects one in seven customers to be enrolled by the end of this year.

Chatbots and 'live' chat functions
With customers becoming more comfortable with communicating with the bank digitally, they now want service at their fingertips and through social media channels that they are familiar with. DBS has taken that feedback seriously.

A 'live' chat and chatbot function has been built into the DBS and POSB's website and mobile banking app. Customers are benefitting from access to chatbots that can answer simple but popular banking questions such as "How do I check my bank account balance?" and "What is my credit card bill for this month?" in a few seconds. This function has proven to be popular among customers, and DBS is seeing a 10% increase in the number of chatbot engagements every month.

Using predictive data analytics to anticipate customers' needs
Data and digital dashboards are also used to map a customer's journey with the bank. For example, by using behavioural and device performance data, the Customer Centre team can anticipate and solve potential issues - such as failed card transactions or having their card retained in an ATM – by assisting the customer via SMS, email or chatbot. Building on DBS' predictive analytics model and using customers' transaction patterns, the team will also be able to predict the services callers want by the second half of this year.

After 13 years as a CSO, Lee Pei Ying underwent two half-day training sessions to learn how to engage with customers through DBS' 'live' chat function. Having to communicate with customers through a new medium was initially stressful, but she learned to overcome challenges quickly. "I want to continue growing and developing my skills as a frontline employee, and I'm thankful that DBS is an employer that is committed to retraining its staff. The only constant is change, and the best thing I can do for myself is to keep learning and adapting to new environments," she said.

In 2017, DBS committed to investing SGD 20 million over five years to equip employees with digital skills to become a future-ready workforce. Since then, the bank has rolled out Singapore's first company-led Professional Conversion Programme (PCP), an AI-based learning tool available 24/7, and scholarships that encourage peer-to-peer learning.

The bank has also been conferred the inaugural CSISG (Customer Satisfaction Index of Singapore) Award, presented to the company with the best customer service in the Finance and Insurance sector over the last decade. In addition, DBS has been lauded for its digital transformation journey and was named World's Best Digital Bank by Euromoney twice in three years, a first for an Asian and Singapore bank.

1New roles in DBS' Contact Centre
1. Social media relations manager – DBS was the first bank in Singapore to introduce this role. As a social media relations manager, customer service officers manage customer reviews and feedback on DBS' social media channels.
2. 'Live' chat agents – CSOs who manage 'live' chats with customers via the DBS and POSB website and mobile banking app.
3. Customer experience designer – Creates a more thoughtful user experience by analysing the customer's interaction with the bank's contact centre services.
4. Demand managers – Forecast, plan for and manage the demand for products and services using a planning methodology.
5. Mobile app developer – Create applications for Android, iOS and Windows mobile platforms.
6. Business intelligence lead – Leads the planning, design, development, implementation and maintenance of new reporting and analytical applications.
7. Content creators –Creates self-help guides to help customers find answers to general enquiries. These guides are posted on the DBS website.
8. Knowledge platform designers – Create the bank's Help and Support page.
9. Voice biometrics specialists – Manages the process of call authentication, security and identifying and storing voice prints.
10. Natural language processing engineer – Analyses and generates language that people naturally use to interface with artificial intelligence.
11. Scrum masters – Institutionalise the agile methodology within the department
12. Digital evangelists – Lead the promotion of digital channels to customers through outbound calls and monthly roadshows at community centres or DBS/POSB branches.
13. VTM managers – Team managers leading customer service officers who are available via DBS' video teller machines.
2Voice biometric technology reduces each spoken word to segments. Each segment contains several tones. These tones collectively identify the speaker's unique voice print.


[END]

About DBS
DBS is a leading financial services group in Asia with a presence in 18 markets. Headquartered and listed in Singapore, DBS is in the three key Asian axes of growth: Greater China, Southeast Asia and South Asia. The bank's "AA-" and "Aa1" credit ratings are among the highest in the world.

Recognised for its global leadership, DBS has been named "Global Bank of the Year" by The Banker and "Best Bank in the World" by Global Finance. The bank is at the forefront of leveraging digital technology to shape the future of banking, having been named "World's Best Digital Bank" by Euromoney. In addition, DBS has been accorded the "Safest Bank in Asia" award by Global Finance for ten consecutive years from 2009 to 2018.

DBS provides a full range of services in consumer, SME and corporate banking. As a bank born and bred in Asia, DBS understands the intricacies of doing business in the region's most dynamic markets. DBS is committed to building lasting relationships with customers, and positively impacting communities through supporting social enterprises, as it banks the Asian way. It has also established a SGD 50 million foundation to strengthen its corporate social responsibility efforts in Singapore and across Asia.

With its extensive network of operations in Asia and emphasis on engaging and empowering its staff, DBS presents exciting career opportunities. The bank acknowledges the passion, commitment and can-do spirit in all of our 27,000 staff, representing over 40 nationalities. For more information, please visit www.dbs.com.