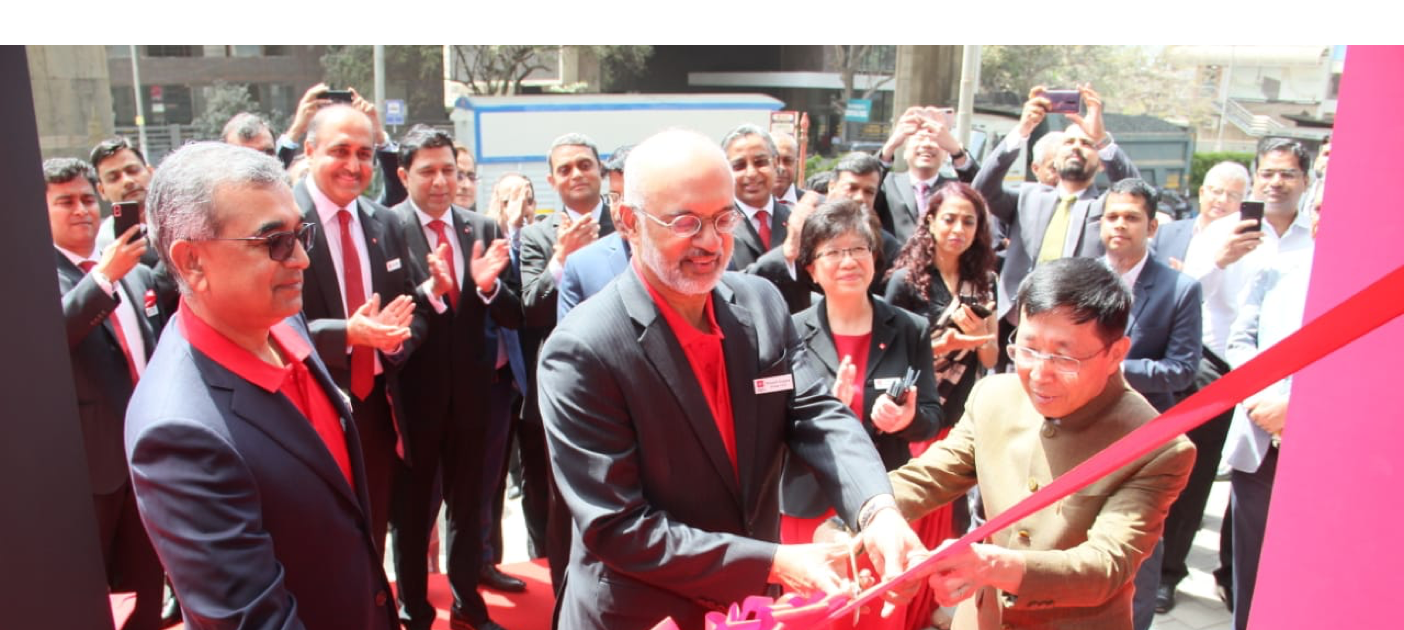 DBS Bank to expand in India with establishment of wholly-owned subsidiary
Singapore, India
.

04 Mar 2019
Targets to establish over 100 physical touchpoints in 25 cities
Singapore, India, 04 Mar 2019 - Underlining its commitment to India, DBS Bank officially announced the launch of its locally incorporated wholly owned subsidiary, DBS Bank India Limited (DBIL) today.
This marks a key milestone for the bank, which has been present in India for 25 years. DBS set up a representative office in India in 1994 and opened its first bank branch in 1995. It currently operates in 12 cities: Delhi, Mumbai, Bengaluru, Chennai, Kolkata, Pune, Nashik, Surat, Kolhapur, Salem, Cuddalore and Moradabad.
With DBIL, DBS will accelerate its growth plans, expand its operations and build greater scale in India through a "phygital" model to further serve large corporates, small and medium enterprises (SMEs) and individual customers.
DBIL intends to establish over 100 customer touchpoints – a combination of branches and kiosks – across 25 cities in the next 12-18 months. This month, DBIL will open nine new branches and extend its reach to Hyderabad, Ahmedabad, Coimbatore, Vadodara, Indore and Ludhiana. In addition, it will expand within cities where it is already present in, opening branches in Andheri in Mumbai, as well as Gurugram and Noida in the National Capital Region. It will also open five branches in unbanked rural centres.
Commenting on the launch, DBS Bank India CEO Surojit Shome said, "This is a significant milestone for DBS India as it enables us to deepen and embed our commitment to growing our franchise in India in a sustainable manner. Over the last few years, we have harnessed the power of technology to reimagine banking and provide innovative banking solutions for individuals as well as business customers. The launch of DBIL will enable us to further build our relationship with our customers and create differentiated offerings as financial services continues to transform rapidly with changes in technology and consumer preferences".
Piyush Gupta, Group CEO of DBS said, "As an Asian bank, it is imperative that we take a long-term view of the region. We believe it is important to continue investing in Asia's two biggest markets – China and India. In 2016, we launched digibank, a groundbreaking mobile-only offering, in India. We recently started piloting data-driven lending solutions for small and medium enterprises. The creation of a full-fledged subsidiary in India allows us to scale up further and bring to customers a more compelling proposition."
DBS, which was named Best Bank in the World in 2018, has been on an ongoing journey to shape the future of banking. Since the launch of digibank by DBS nearly two years ago, the bank has acquired over 2.5 million digibank customers in India. In addition to savings accounts, digibank also offers unsecured loans and is the first to offer paperless onboarding for mutual fund investments from multiple fund houses. DBS India was also the first to offer the choice of multiple life insurance providers based on an analytics-driven platform. For businesses, the bank launched a first-of-its-kind connected banking platform, integrating its e-banking solution with one of India's leading accounting and ERP software platforms.
To further advance its digitalisation and innovation thrust, the bank established its largest technology and operations hub outside Singapore, DBS Asia Hub 2 in Hyderabad, in 2016.
[END]
About DBS
DBS is a leading financial services group in Asia with a presence in 18 markets. Headquartered and listed in Singapore, DBS is in the three key Asian axes of growth: Greater China, Southeast Asia and South Asia. The bank's "AA-" and "Aa1" credit ratings are among the highest in the world.
Recognised for its global leadership, DBS has been named "
Global Bank of the Year
" by The Banker and "
Best Bank in the World
" by Global Finance. The bank is at the forefront of leveraging digital technology to shape the future of banking, having been named "
World's Best Digital Bank
" by Euromoney. In addition, DBS has been accorded the "
Safest Bank in Asia
" award by Global Finance for ten consecutive years from 2009 to 2018.
DBS provides a full range of services in consumer, SME and corporate banking. As a bank born and bred in Asia, DBS understands the intricacies of doing business in the region's most dynamic markets. DBS is committed to building lasting relationships with customers, and positively impacting communities through supporting social enterprises, as it banks the Asian way. It has also established a SGD 50 million foundation to strengthen its corporate social responsibility efforts in Singapore and across Asia.
With its extensive network of operations in Asia and emphasis on engaging and empowering its staff, DBS presents exciting career opportunities. The bank acknowledges the passion, commitment and can-do spirit in all of our 26,000 staff, representing over 40 nationalities. For more information, please visit
www.dbs.com
.