DBS Bank (Hong Kong) Limited and Postal Savings Bank of China Co. Ltd announce partnership under Wealth Management Connect Scheme
Singapore, 19 Oct 2021 - DBS Bank (Hong Kong) Limited ("DBS Bank (Hong Kong)") and Postal Savings Bank of China Co. Ltd (PSBC) today announced a partnership to participate in the Wealth Management Connect scheme. Both parties believe that the partnership will contribute to the acceleration of economic development in the Greater Bay Area (GBA), as they join hands to help customers meet their financial goals by providing them access to diversified investment products and solutions, and digital banking capabilities.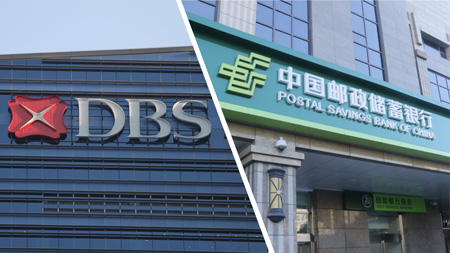 DBS Bank (Hong Kong) is DBS Bank's largest franchise outside of Singapore where it is headquartered. With its vast Asian connectivity and strong wealth management capabilities, DBS Bank (Hong Kong) offers a comprehensive wealth management platform for customers in the GBA. DBS Bank (Hong Kong) is at the forefront of leveraging digital innovations to make everyday banking easy and seamless.
PSBC is one of the largest state-owned banks in China, targeting 'Sannong customers' (agriculture, rural areas and farmers), urban and rural residents, as well as small and medium-sized enterprises. It is a leading retail bank in China, committed to providing customers with high quality, speedy and diverse banking services.
By leveraging the unique positioning and strategic advantages of both banks, the partnership aims to bring more investment opportunities and exceptional wealth management experiences to GBA customers.
Sebastian Paredes, Chief Executive Officer of DBS Bank (Hong Kong) Limited, said, "We are excited to partner with PSBC to develop a unique wealth management proposition for GBA customers. This strategic partnership creates mutually beneficial collaboration between PSBC and DBS Bank (Hong Kong). At the same time, it allows us to grow our GBA franchise, especially through PSBC's extensive network in Guangdong. We expect to combine DBS' strong Asian connectivity and digital capabilities to provide customers with a more diversified and holistic range of investment choices to achieve their financial goals."
A spokesperson of Postal Savings Bank of China, said, "The Wealth Management Connect Scheme opens up a broader asset allocation market and brings in a new wave of business growth to the region's banking and finance industry. Our partnership with DBS Bank (Hong Kong) is in accordance with the guidance requirements of the "Implementation Rules for the Guangdong-Hong Kong-Macau Greater Bay Area 'Cross-Border Wealth Management Connect Pilot Scheme'" issued by the People's Bank of China Guangzhou Branch, the Central Sub-Branch in Shenzhen and other regulatory bodies. Both banks will jointly provide more unique investment products for individual investors in GBA, contributing to the development of financial markets in the region."
DBS Bank (Hong Kong) and PSBC were confirmed by the Hong Kong Monetary Authority and People's Bank of China respectively as the participating banks of Wealth Management Connect today.
[END]
About DBS
DBS is a leading financial services group in Asia with a presence in 18 markets. Headquartered and listed in Singapore, DBS is in the three key Asian axes of growth: Greater China, Southeast Asia and South Asia. The bank's "AA-" and "Aa1" credit ratings are among the highest in the world.
Recognised for its global leadership, DBS has been named "
World's Best Bank
" by Euromoney, "
Global Bank of the Year
" by The Banker and "
Best Bank in the World
" by Global Finance. The bank is at the forefront of leveraging digital technology to shape the future of banking, having been named "World's Best Digital Bank" by Euromoney and the world's "
Most Innovative in Digital Banking
" by The Banker. In addition, DBS has been accorded the "
Safest Bank in Asia
" award by Global Finance for 13 consecutive years from 2009 to 2021.
DBS provides a full range of services in consumer, SME and corporate banking. As a bank born and bred in Asia, DBS understands the intricacies of doing business in the region's most dynamic markets. DBS is committed to building lasting relationships with customers, and positively impacting communities through supporting social enterprises, as it banks the Asian way. It has also established a SGD 50 million foundation to strengthen its corporate social responsibility efforts in Singapore and across Asia.
With its extensive network of operations in Asia and emphasis on engaging and empowering its staff, DBS presents exciting career opportunities. For more information, please visit
www.dbs.com
.
About Postal Savings Bank of China (PSBC)
The postal savings business in China traces its beginnings to 1919 and has a history of over 100 years. In March 2007, based on the reform of the previous postal savings management system, Postal Savings Bank of China Limited was officially established. In January 2012, the Bank was transformed into a joint stock limited liability company. In December 2015, the Bank introduced ten strategic investors from at home and abroad. In September 2016, it went public and was listed on the Hong Kong Stock Exchange. In December 2019, it was listed on the Shanghai Stock Exchange, having successfully accomplished the three-step reform, namely "joint stock reform, introduction of strategic investors and initial public offerings of A share and H share".
With approximately 40,000 outlets and services covering over 600 million personal customers, PSBC leverages its unique model featuring directly-operated outlets and agency outlets to serve Sannong customers, urban and rural residents and SMEs. It has superior asset quality and today is a leading retail bank in China.