Chew's Agriculture signs Singapore's first SME sustainability-linked loan with DBS
Chew's Agriculture aims to meet Humane Farm Animal Care standards to benefit from lower interest rates
Singapore, 29 May 2019 - DBS today announced that Chew's Agriculture, a leading egg producer in Singapore, has signed a 10-year, SGD 27 million sustainability-linked loan with the bank. This marks a milestone for sustainable development in Singapore – it is the nation's first sustainability-linked loan for an SME.
The loan was evaluated based on a series of environmental, social and governance (ESG) performance metrics. Chew's will use the loan for the construction of a new farm with larger cage-free facilities so that hens
[1]
which lay eggs on the farm will continue to be housed in the most optimum conditions, such as larger litter areas and elevated perches.
Under the terms of the loan, Chew's will enjoy lower interest rates if it meets Humane Farm Animal Care (HFAC) standards
[2]
such as providing livestock access to wholesome and nutritious feed, appropriate environmental design, caring and responsible planning and management of livestock, and skilled, knowledgeable conscientious animal care, factors which contribute to more nutritious eggs.
As a supplier of 500,000 eggs a day, where 95% of eggs produced is distributed in Singapore, Chew's is committed to renewing and securing the HFAC certification
[3]
.
Mr Edvin Lim, director of Chew's Agriculture, said that eggs are an economical and nutritious staple in most diets and consumers these days are becoming more health and eco-conscious. "As a result, the demand for nutritious eggs produced in the right environment has become even more important. By providing products that are responsibly produced and ethically-farmed, we can ensure that our business keeps up with the expectations of our diverse customer base.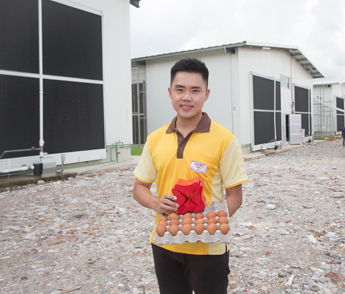 Through incorporating HFAC standards, we are not only ensuring the well-being of our layer hens but improving the quality of the eggs that they produce. It is a win-win solution that definitely sets a new benchmark for how we run our business."
Ms Joyce Tee, Head of SME Banking, DBS Group said that Chew's is paving the way for SMEs to incorporate sustainable business practices into their daily operations. DBS expects sustainability-linked financing to increase in the SME sector especially since these financing options incentivise and reward companies to advance their sustainability agenda.
"With growing awareness of the importance of sustainability, we continue to integrate responsible financing principles into our credit assessment processes and lending activities. We are so encouraged that companies such as Chew's are building businesses that will leave a lasting impact for the future."
For DBS Bank's sustainability-linked loans, corporates are evaluated based on an annual sustainability review report typically assessed by an external independent party, tracking the performance of corporates in terms of governance, environmental and social criteria. When the borrower meets or exceeds pre-determined ESG targets, the interest rate will then be reduced. Borrowers not only share their commitment to sustainability but are also entitled to a competitive interest rate.
In 2018, DBS became the first bank in Southeast Asia and one of five Singapore-listed companies to be included in the DJSI Asia Pacific. The DJSI Asia Pacific serves as a valuable reference point for investors and companies and consists of businesses that have committed to corporate sustainability practices, and which seek to create long-term stakeholder value.
[1]
Layer chickens are a species of hens. They start laying eggs commercially from 18-19 weeks of age.
[2]
https://certifiedhumane.org/wp-content/uploads/Std14.Chickens.2A-4.pdf

[3]
Humane Farm Animal Care is a non-profit charity whose mission is to improve the lives of farm animals by providing viable, credible, duly monitored standards for humane food production and assuring consumers that certified products meet these standards. The Humane Farm Animal Care Standards have been developed to provide only approved standards for the rearing, handling, transport and slaughter of laying hens for use in the Certified Humane® programme.
[End]
About DBS
DBS is a leading financial services group in Asia with a presence in 18 markets. Headquartered and listed in Singapore, DBS is in the three key Asian axes of growth: Greater China, Southeast Asia and South Asia. The bank's "AA-" and "Aa1" credit ratings are among the highest in the world.
Recognised for its global leadership, DBS has been named "
Global Bank of the Year
" by The Banker and "
Best Bank in the World
" by Global Finance. The bank is at the forefront of leveraging digital technology to shape the future of banking, having been named "
World's Best Digital Bank
" by Euromoney. In addition, DBS has been accorded the "
Safest Bank in Asia
" award by Global Finance for ten consecutive years from 2009 to 2018.
DBS provides a full range of services in consumer, SME and corporate banking. As a bank born and bred in Asia, DBS understands the intricacies of doing business in the region's most dynamic markets. DBS is committed to building lasting relationships with customers, and positively impacting communities through supporting social enterprises, as it banks the Asian way. It has also established a SGD 50 million foundation to strengthen its corporate social responsibility efforts in Singapore and across Asia.
With its extensive network of operations in Asia and emphasis on engaging and empowering its staff, DBS presents exciting career opportunities. The bank acknowledges the passion, commitment and can-do spirit in all of our 27,000 staff, representing over 40 nationalities. For more information, please visit
www.dbs.com
.