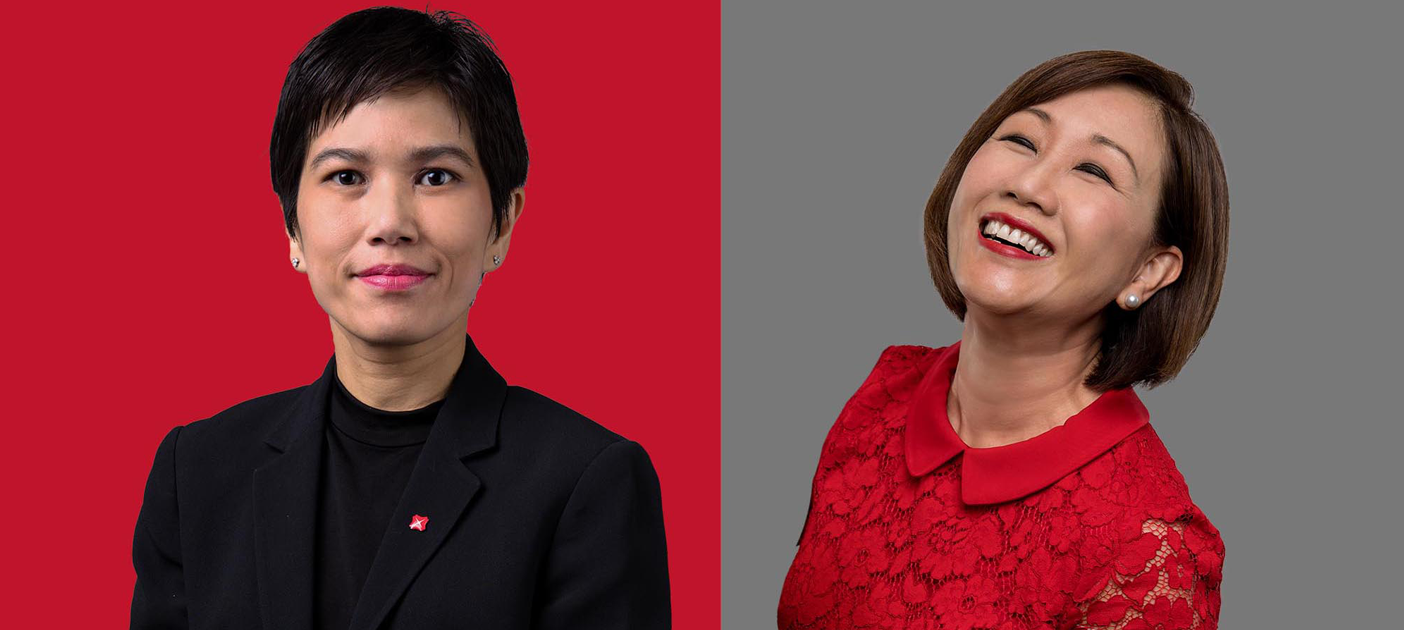 Two of DBS' women leaders: (from left) Soh Siew Choo, Managing Director and Head of Consumer Banking and Big Data Analytics Technology, and Lee Yan Hong, Managing Director and Head of Group Human Resources.
Two women leaders at DBS share their views on the value of innovation and women leadership
Gender diversity is a source of strength for DBS. Recognised for our leadership in creating a work environment that supports gender equality, the bank was one of two Singapore companies named to Bloomberg's inaugural 2018 Gender-Equality Index.
Here, we speak to two women leaders in the bank, Soh Siew Choo, Managing Director and Head of Consumer Banking and Big Data Analytics Technology, and Lee Yan Hong, Managing Director and Head of Group Human Resources, for their take on the value of innovation and women leadership. Apart from actively driving digital transformation projects within the bank, they have also seen the launch of the highly successful recruitment drive Hack2Hire, which is now in its third year. This year's recruitment drive aims to hire more talents, for new roles such as chaos engineers and security engineers, while DBS will also continue to hire mobile app developers, data engineers, full stack developers, DevOps engineers, QA engineers, UX/UI developers and scrum masters.
1. What's your approach to innovation?
Siew Choo (SC): Innovation shouldn't be seen as a side job or something reserved for special occasions. We need to constantly think about it and practise it in our daily lives. We should be thinking of how we can perform our roles in the most innovative way.
Yan Hong (YH): My personal mantra is to always challenge the status quo. I will want to ask if there is a better way, ask 'Why' and 'Why Not', focus on possibilities and not harp on the problems, think out of the box and practise, practise, practise. I believe we should practise innovation all the time rather than as a special project. Embrace it, see it as an enabler and enjoy the experience.
Read more: DBS Imaginarium: learning how Amazon Innovates
2. How can we encourage people to be more innovative?
SC: When you can find fun and infuse your passion and dreams into something, it makes it easier to motivate others. For me, it's important to lead by example, to show others how I can create innovative solutions that also incorporate fun and ideally, fulfil passions and dreams even in small ways.
YH: We can do it through collaborating, welcoming diverse ideas and having fun. An example is our inaugural HR Break-a- thon. All our HR colleagues across the world connected virtually to brainstorm and create new ideas to make banking joyful, and challenged ourselves by pushing the boundaries on HR processes and policies. The top teams from each location then competed virtually for the top prize. It was indeed a great, fun way for team-building and driving innovative solutions.
3. How has your field evolved through technology and innovation?
SC: Working in technology and software application development, we've witnessed a tremendous transformation in the last decade. In the past, departments such as ours would have been seen as cost centres. Today, technology is considered a core product and we're constantly creating and developing new services to help the bank.
Lee Yan Hong, Managing Director and Head of Group Human Resource
YH: We've introduced digital engagement tools across the bank and we're experimenting with human capital analytics to enhance recruitment processes such as MAckathon, Hack2Hire and Pymetrics to improve staff retention and raise productivity.
We were also the first in Singapore to integrate hackathons into our talent development programmes to equip our employees with skills and knowledge to shape the future of banking.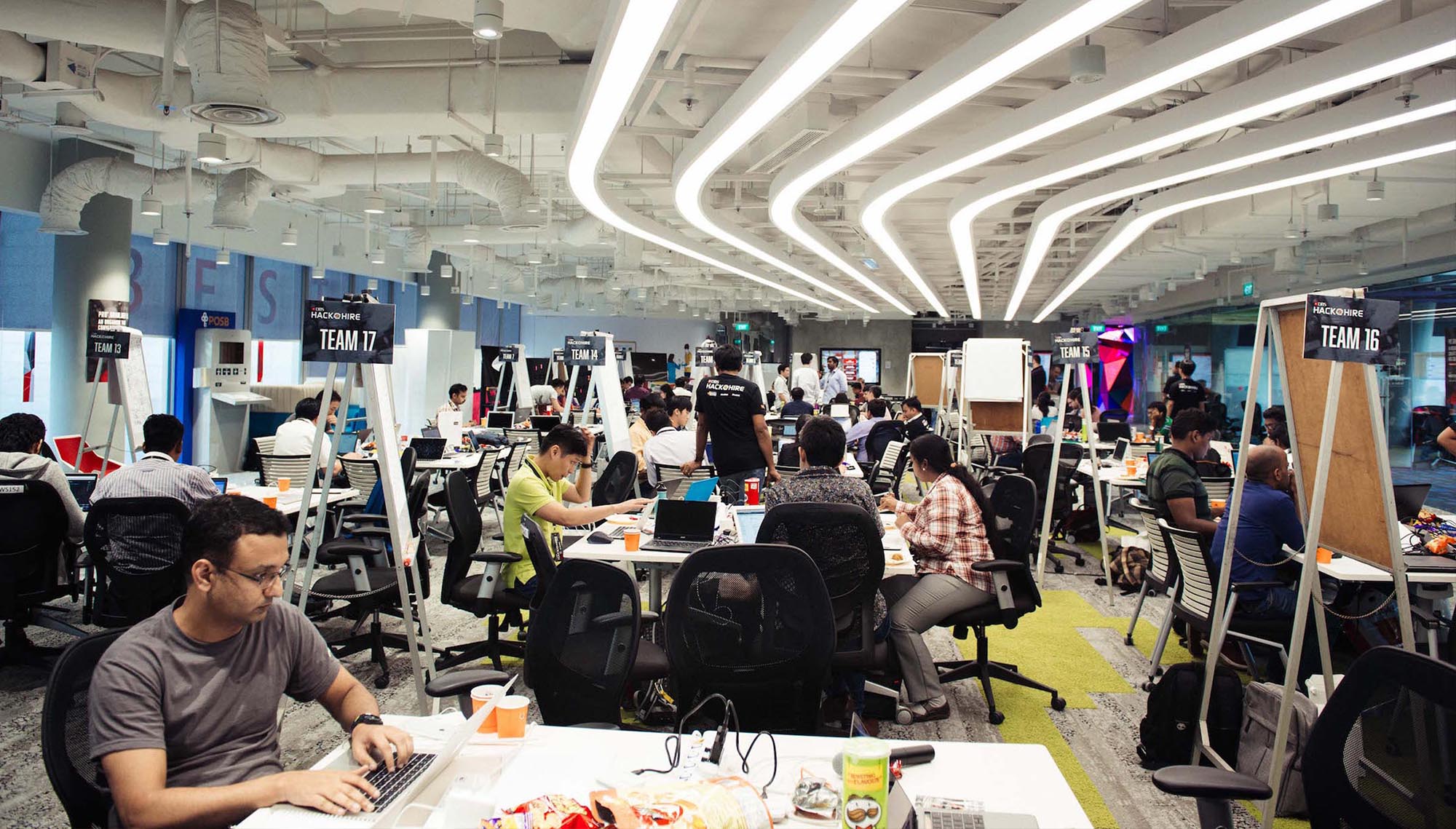 Read more: DBS Hack2Hire: Can developers really be hired through a hackathon?
4. What innovation project are you most proud of having been a part of?
SC: We ran a very successful recruitment programme via hackathon in 2017, Hack2Hire, the first of its kind in Southeast Asia by a bank, if not globally. The tech, finance and recruitment communities responded really well to this and commended us on the creativity of the approach. In total, we received over 26,000 applications which was far beyond what we had imagined.
YH: Personally, the journey of making banking joyful for our employees has been truly exhilarating. I'm proud of numerous projects in recruitment (e.g. MAckathon, Hackathon, Pymetrics. Recruitment AI, Seamless Onboarding, ITQ) that the team worked on over the years. What is most heartening is to have staff come up and say they see the transformation in HR.
5. Do you think a barrier to female leadership exists?
SC: In my own personal experience, I've never felt any barrier to leadership due to my gender. Being a leader means being able to inspire and earn the respect of others. The bar is the same regardless of gender.
YH: Some could be self-imposed. I have seen many eminently qualified women not raising their hands for senior roles or hesitate when offered senior roles. Women may be more cautious and feel that they have to be 100% ready before they say "YES".
Juggling work and family are real issues that many women have to deal with too.
6. How are you helping to pave the way for more female leaders to emerge (this can be within DBS, the industry or even in other fields)?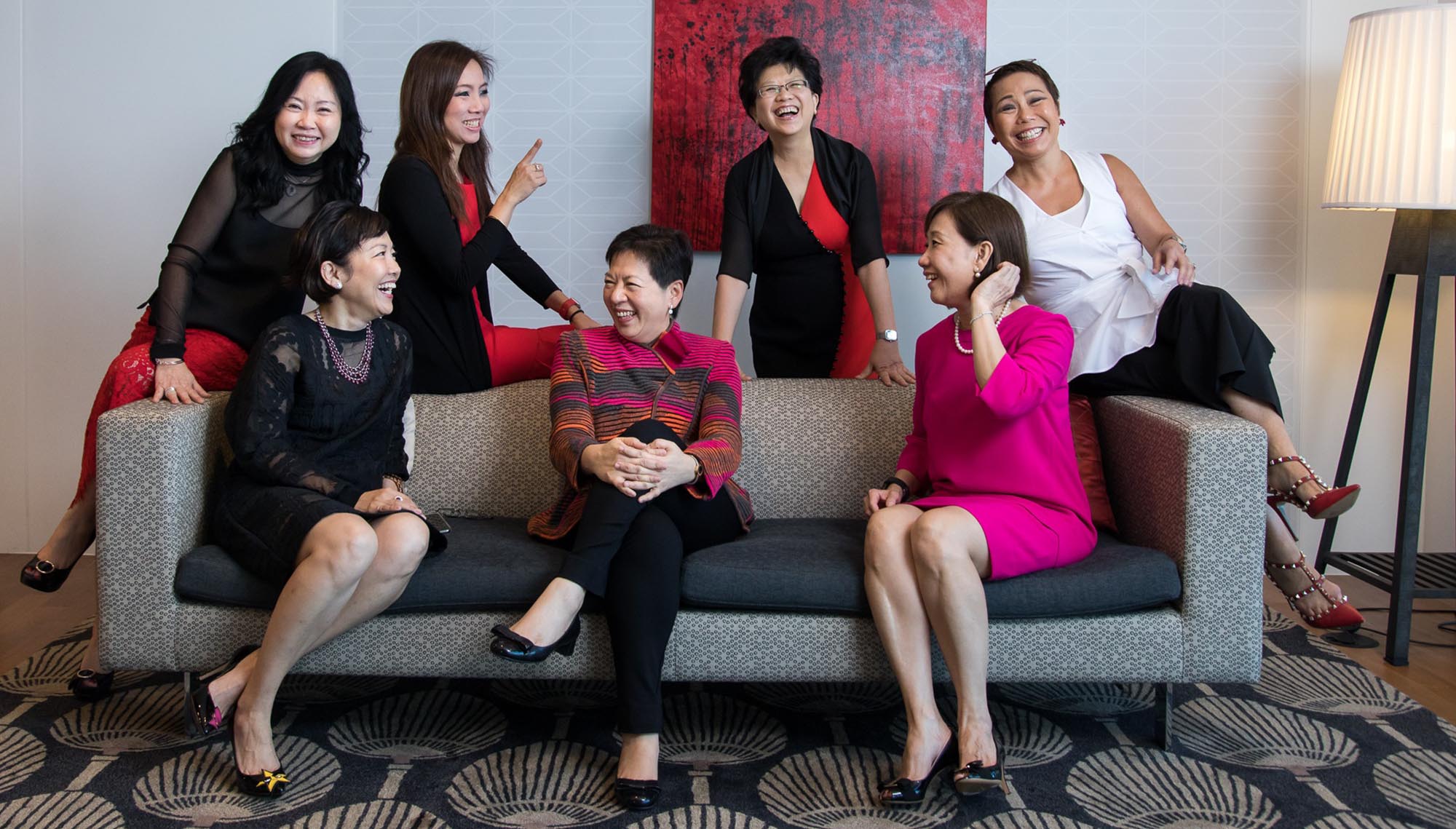 The women of DBS' Group Management Committee, who make up 30% of its members. From left: Eng-Kwok Seat Moey, Head of DBS' Capital Markets Group; Pearlyn Phau, Deputy Group Head of DBS' Consumer Banking & Wealth Management; Tan Su Shan, Group Head of DBS' Consumer Banking & Wealth Management; Jeanette Wong, Group Executive, Head of DBS' Institutional Banking Group; Chng Sok Hui, DBS' Chief Financial Officer; Lee Yan Hong, Head of DBS' Group Human Resources; Karen Ngui, Head of DBS' Group Strategic Marketing and Communications.
YH: At DBS, we empower everyone to take charge of their learning and development. We provide coaching, mentorship programmes and offer cross-border opportunities as part of their career development. In addition, we offer flexible work arrangements such as flex hours, part-time and work- from-home schemes, where appropriate. I would like to see more networks for women to share their stories.
7. Do you have a role model / mentor that has had a tremendous impact on you as a leader? Could you share more about that person and how has he/she influenced your leadership style?
SC: My parents are my role models. My upbringing had a great influence on my leadership style today. From my parents, I learnt the virtue of integrity, courage, authenticity, being bold to stand up for what you believe in, and serving others. These values are ingrained in my leadership style.
YH: That's easy. My mother. From her, I learnt to start with a grateful heart because it changes your attitude, brightens your outlook and broadens your perspectives. When you think positively, it enables you to focus on possibilities and not harp on the problems.
8. What advice would you give to women who are on the path to becoming female leaders?
SC: Go after your dreams and passion. Never have a moment of doubt. Believe in yourselves.
YH: Be authentic, be bold, be curious and network to broaden your perspectives.
9. What do you think will be the biggest challenge for the upcoming generation of women?
Frankly, I believe the upcoming generation of women are luckier. The world emphasises creating great experiences which is something I believe plays to the strength of women.
Soh Siew Choo, Managing Director and Head of Consumer Banking and Big Data Analytics Technology
SC: Generally, women perform better than men when it comes to taking the softer approach and paying attention to details — prime elements of creating great user experiences. Even Jack Ma said he wishes he could be born as a woman in his next life.
YH: There will still be challenges of balancing work and family. But it'll be easier as technology becomes more pervasive and enables us to do things faster, and work anywhere and at any time.
The 2019 edition of Hack2Hire will take place in March. To attract the best and brightest tech talent, DBS has partnered with ThoughtWorks, Girls in Tech and Coding Girls to increase its outreach to female communities. Amazon Web Services, Cloudera and Pivotal will continue to extend their support as a platform partner. DBS Hack2Hire-Her will be held in conjunction with International Women's Day this year, with a two-week festival featuring talks and events on gender diversity. Find out more. You can also sign up for the Hack2HireHer festival here.