It was the summer of 1998. I was 16 and on a school excursion to the Sydney Opera House. My best mate Duncan asked me, "Neil, what do you want to do when you grow up?"
"I want to go back to Thailand to help protect the forest," I replied.
I asked him the same question. He said, "I want to open a school in Africa for underprivileged children."
Ten years later, despite studying Environmental Engineering and Economics at the University of Melbourne, I found myself working in investment banking, giving financial advice to large corporate CEOs.
The work was challenging. I learnt a lot. Yet something was missing.
One day, I opened a newsletter from my high school – and saw a photo of Duncan surrounded by many young African children. My friend had followed his dream, moved to Africa and opened a school for underprivileged children.
The fire inside me was lit again. The very next day, I quit my job and started pursuing the journey of a lifetime.
Launching Siam Organic
I enrolled for an MBA at the Sasin School of Management in Bangkok, and while there, co-founded social enterprise Siam Organic in 2011 with my best friend Pornthida "Palmmy" Wongphatharakul.
We wanted to use business as a force for good, to solve social problems in a sustainable and scalable manner.
That year, there was huge news in Thailand about a rice pledging scheme which cost the economy billions of dollars in damages. We delved deeper into this and found there were up to 17 million Thai farmers living in poverty. In particular, rice farmers were earning just USD 0.40 a day, six times below the poverty line.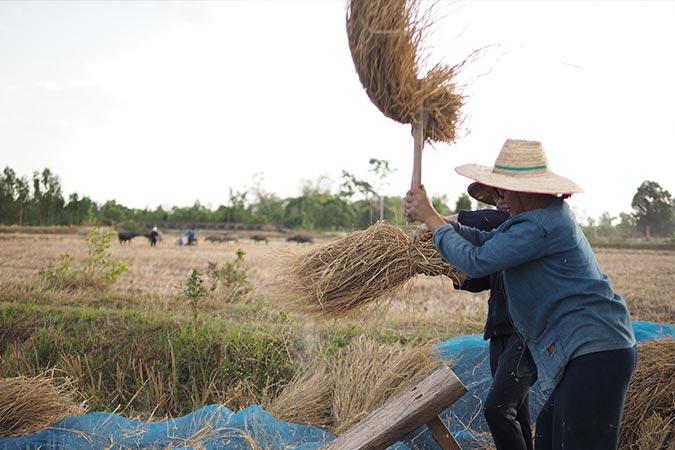 Our idea was simple: through crop innovation and organic farming systems, we would help farmers increase their yield, reduce their cost and guarantee a higher-value market.
This would improve small-scale farmers' livelihood in a sustainable and scalable manner, and create innovative, delicious and healthy organic products for consumers.
We met a rice scientist at a Thai University who specialised in cross-breeding existing rice varieties, and we worked together with a common goal of helping farmers. Together, we developed Jasberry® rice, which is a special variety of non-GMO whole grain rice with 40 times more antioxidants than brown rice, four times more antioxidants than quinoa and seven times more antioxidants than kale.
As part of our business plan, we would give these seeds to farmers – who would undergo internationally-certified organic standards training – and help the farmer cooperative develop their milling facility to process the rice. The rice could then be sold domestically and internationally.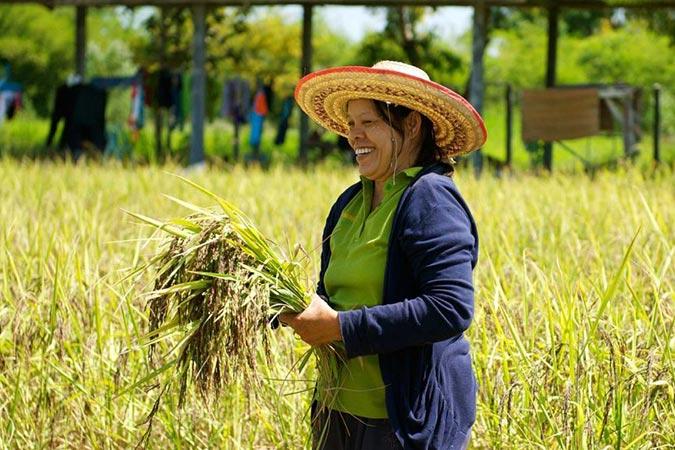 Our idea was solid, but execution was extremely difficult.
Many farmers had already lost faith in a system that kept them in poverty for generations and were less than enthused about our proposal. Fortunately, we were able to start work with 25 farmers in 2011. They would eventually become the foundation to build trust in Siam Organic.
The first three years of business were challenging on many fronts. We had to do everything ourselves – I mean EVERYTHING!
We trained farmers in a remote northeastern part of Thailand, carried heavy bags of rice, drove the delivery vehicle to each supermarket outlet and stood 10 hours a day promoting our rice inside the outlet.
Friends from the business school didn't understand what we were trying to do.
"Why would you do an MBA and go sell rice?"
"Is your job part-time?"
"When are you going to get a job?"
In fact, my friends and family, except for my incredibly supportive mother, opposed the idea and thought we were going to fail.
It was tiring working 24/7. I would lose track of time and won't know what day it was.
Weekend or weekday, it made no difference. In fact, weekends were even busier as I had to set up a small tasting booth inside the supermarket from 9am to 9pm! After which, I would pack all the goods and drive home to do more work on the computer. The next day, I'd repeat the same routine.
On top of this, Palmmy and I had put our life savings into this venture. We didn't get paid for the first six months and paid ourselves minimal wages thereafter.
One night at about 1am, I left the office to withdraw money from an ATM to buy dinner.
I pressed 1,000 baht (about SGD 40). The machine said I didn't have enough money. I had 217 baht (about SGD 9) left in my account.
I withdrew 200 baht and bought noodles, then returned to office and thought long and hard about my future.
It is moments like this that I will never forget.
I believe it's our struggles that make us who we are. Most importantly, I didn't give up.
Taking the next step
We started to gain some momentum. After four years, Jasberry rice was everywhere and we were breaking even. Still, no one knew about Siam Organic because we didn't market ourselves in the social enterprise circle.
We noticed many social businesses winning grants and awards. So, in 2015, we entered our first competition, the DBS-NUS Social Venture Challenge Asia (SVCA) in Singapore.
Unfortunately, despite gaining financial success with strong quantifiable social impact, we were underprepared. We thought the judges would understand our business model and how our market-driven solution to poverty worked. They didn't. We made the finals (12 teams) but didn't win anything. We were disappointed – not because didn't win, but because we didn't do our best.
We wanted to represent our farmers' stories the right way on an international stage. This failure drove us to do better.
We met IIX Foundation (Shujog at the time) during this event. Six months later, they conducted an assessment to help us understand how to more effectively monitor our social impact.
The next year, we re-entered SVCA with Palmmy representing us. Guess what? We won SVCA 2016!
For the first time since starting this crazy journey, we felt accepted.
Since then, we have gone on to win multiple international social enterprise awards such as the Chivas Venture, Global Entrepreneurship Summit in the US, ASEAN Impact Challenge Singapore, Social Entrepreneur Asia Award and Global Innovators as a part of Expo Live (Expo2020).
I had the privilege of sharing my journey with many people whom I look up to.
I presented in front of Facebook co-founder Mark Zuckerberg, Google CEO Sundar Pichai and former US president Barack Obama. The opportunities were beyond my wildest dreams.
We now work with more than 2,500 farmers, who earn approximately 11 times more than an average Thai rice farmer. We started exporting our products just a little over two years ago.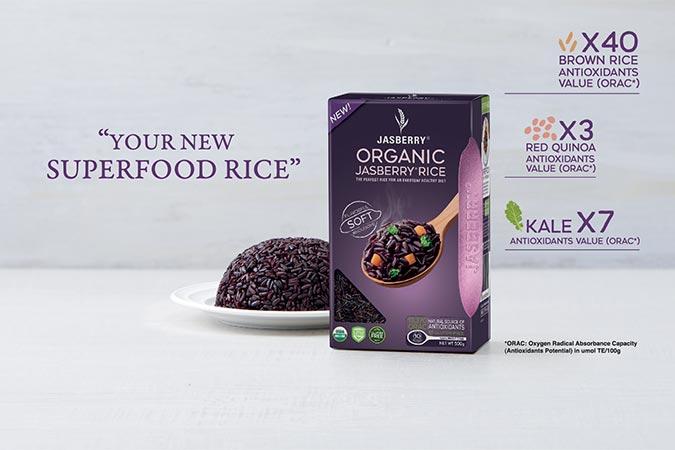 We continue to face challenges. Marketing and branding are extremely difficult. We have little budget and little marketing skills. We need partners to help tell our story as we enter the Singapore, US, Germany, UAE and NZ markets.
Siam Organic has been the most adventurous and fulfilling journey of my life so far. I couldn't have done without my team, Palmmy, and many others. Our partners in Singapore such as DBS Foundation, the National University of Singapore and Cedele have helped us tremendously.
I hope to inspire young entrepreneurs with my story. I hope they choose the most fulfilling and impactful path however difficult it may be.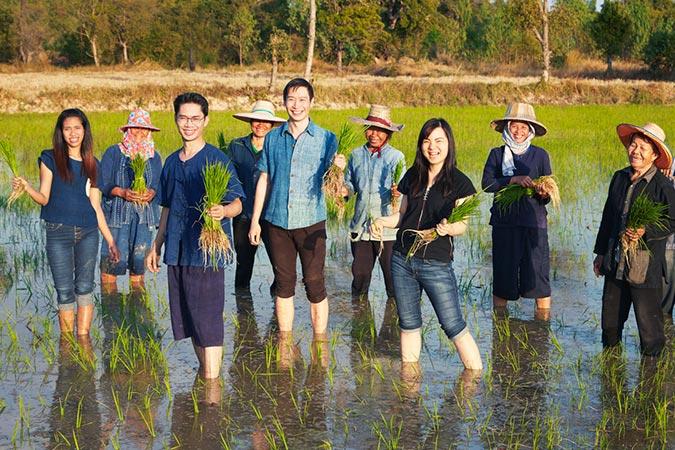 Siam Organic is a social enterprise that aims to solve farmer poverty through innovative organic products with global appeal, starting with Jasberry rice. It was the grand prize winner of the 2016 DBS-NUS Social Venture Challenge Asia.