Don't just use your cutlery, eat it
BY DBS, 11 NOV 2021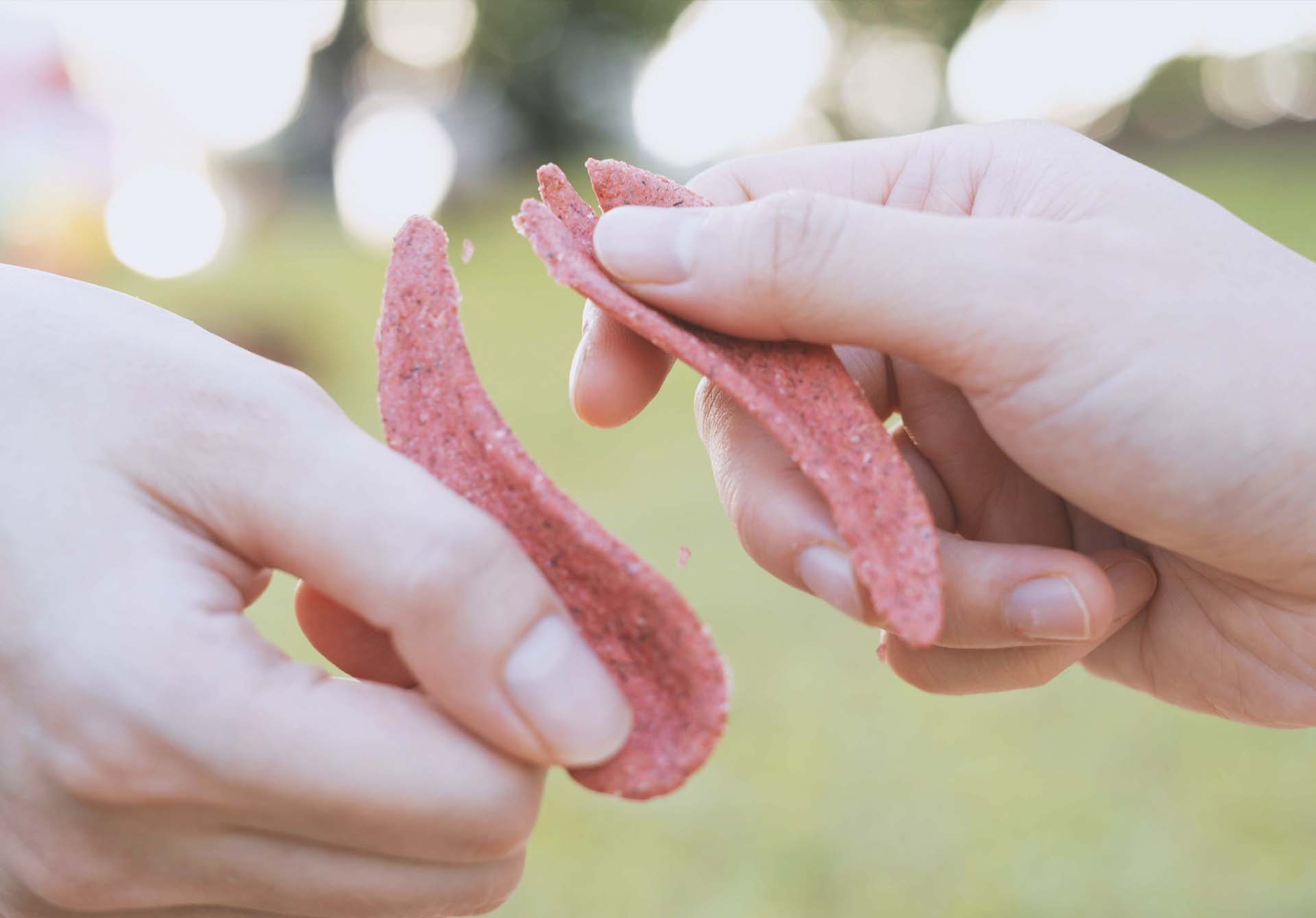 What does a good business mean to a new breed of entrepreneurs?
Ever feel peckish after having your healthy soup or salad for lunch? If you're using Crunch Cutlery, that snack you're reaching for is already right there in your hands.
Crunch Cutlery, co-founded by Anna Lam, 31, Sean Neo, 27 and Ezra Chan, 30, creates cutlery shaped biscuits that you can munch on to finish your meal. They come in a range of flavours to suit all palates such as dessert-flavoured strawberry, soup and salad-friendly chili, and even breakfast-focussed banana goji.
While the company's early mission was to reduce the use of plastic, the company eventually realised it could tackle another serious urban problem at the same time – poor nutrition, from consuming unhealthy food and overeating. 
"Hence, the Crunch Cutlery mission to make a product that is better for consumers and the planet was born," Lam said. 
Crunch Cutlery now produces cutlery that has eight diverse sources of fibre, and contains Vitamins C and D. By 2030, the company aims to cut the use of 300 million plastic cutleries and reduce 720,000 kg of CO2 emissions. With the nutritional quality of its multi-purpose cutlery, Crunch Cutlery intends to improve the lives of 4 million people. 
For its innovative invention, Crunch Cutlery was one of the winners of the DBS Social Impact Prize at the Singapore University of Social Sciences (SUSS) Impact Startup Challenge.
The two other winners were active ageing proponents Strong Silvers, and EdTech company Edsy Bitsy.
Led by Junus Eu, 33, Zavier Chan, 27, and Fardiana Nahar, 26, Strong Silvers is a platform that helps brands to reach the silver market. Their big dream is to change the face of ageing.
"Candidly, we were testing a few concepts on how to both engage our seniors and also help them with financial productivity. We believe that our seniors are assets to the society, and not a burden, and our first minimum viable product (MVP) of engaging silver influencers seemed to tick both boxes."
That MVP is a platform that empowers their community of 'Silvers' with the ability to become content creators and influencers. They currently represent more than 500 senior creators who are online savvy, and well-placed to be brand champions.
Strong Silvers also believes that the market will soon be ready to accept these different faces as key opinion leaders since 39% of consumers in Singapore will be Silvers themselves by 2030. 
From the future of the elderly to that of the young – Edsy Bitsy is the last winner of the DBS Social Impact Prize.
Co-founders Edwin Ho, 29 and Deevak Premdas, 26, are currently trialling their product, an alternative smart school solution for rural education, in Africa.
With an off-line first approach, the solution requires 200 times less memory and 100 times less data than typical web-based digital learning software. This is especially useful where connectivity might not be stable or unlimited for households.
It's housed in a mobile app that lets teachers design digital lessons for their students and has been adopted by about 350 users in Kenya, Uganda and South Africa.
In creating profitable solutions to environmental and social problems, social entrepreneurs are changing what doing good business means. Beyond sustaining a company and its business, they're contributing to a more sustainable future too.
Recommended for you
Based on your read
Based on similar interests
Recommended
Popular
Latest
Last Read