DBS to transform iconic Newton building into lush green net-zero energy building powered fully by solar panels on its roof
BY ZHANGXIN ZHENG, FIRST PUBLISHED IN MOTHERSHIP, 26 JUL 2021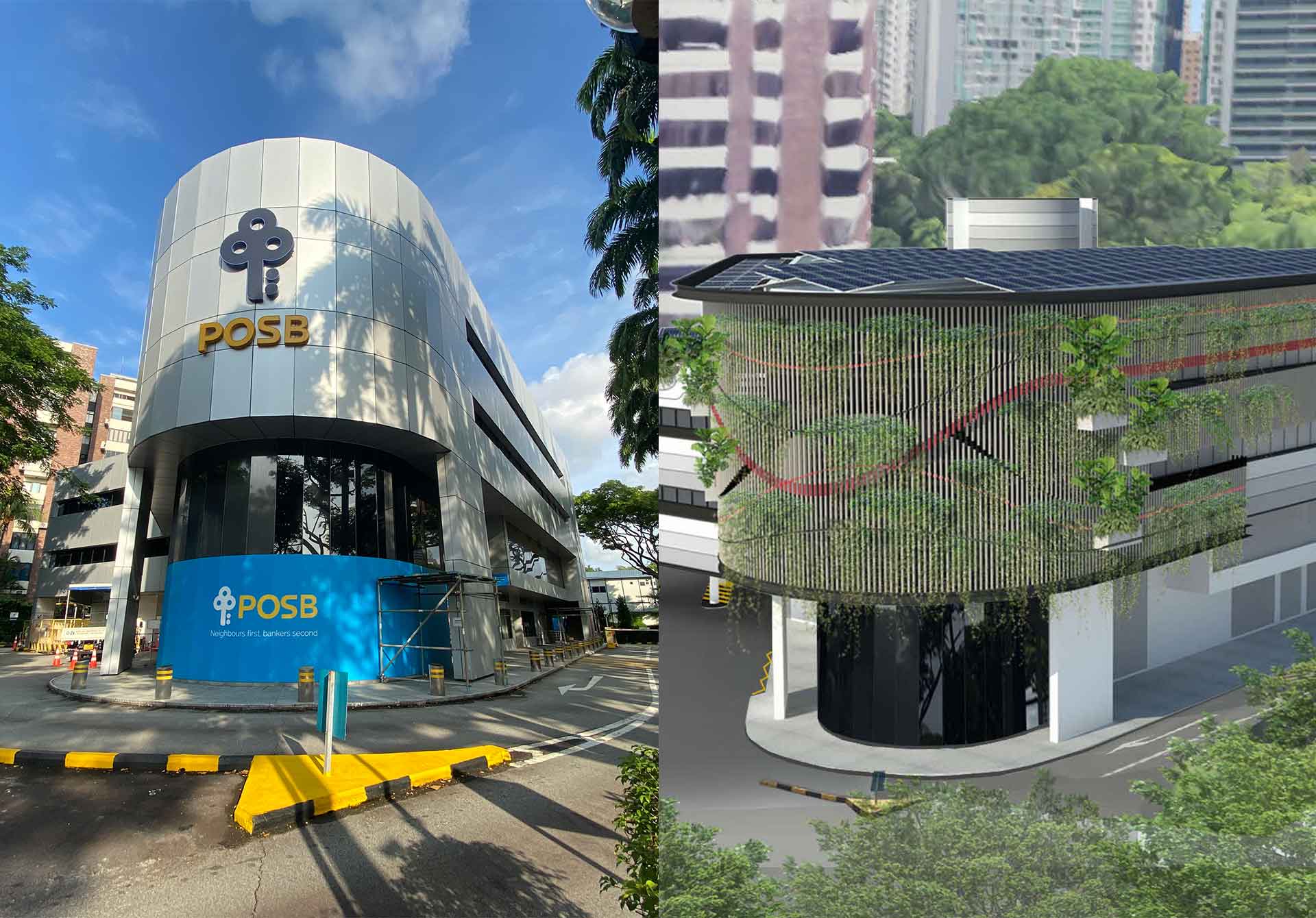 Breathing life into a building of heritage value.
Tucked away at the corner of two busy roads and located near the Central Expressway (CTE), the former POSB banking branch building is a recognisable landmark for those familiar with the Newton area.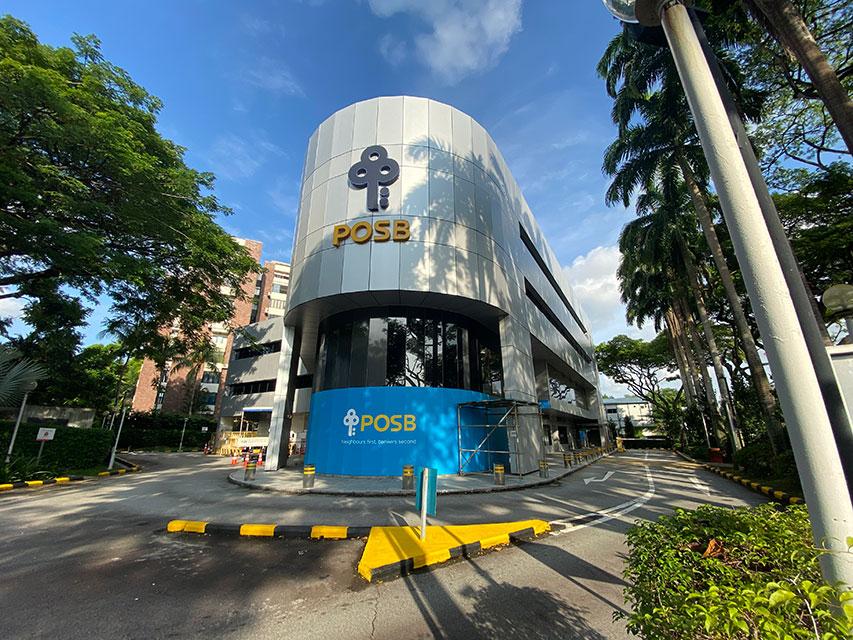 You might have noticed it on your commute to Newton Food Centre or into Orchard Road. But few will realise what history and memories are held within the walls of the four-storey building which is now DBS' Newton office building.
In fact, this building has been an iconic building in the Newton area since the 80s.
A landmark in Newton Circus
A quick throwback to the 80s, this was how it looked: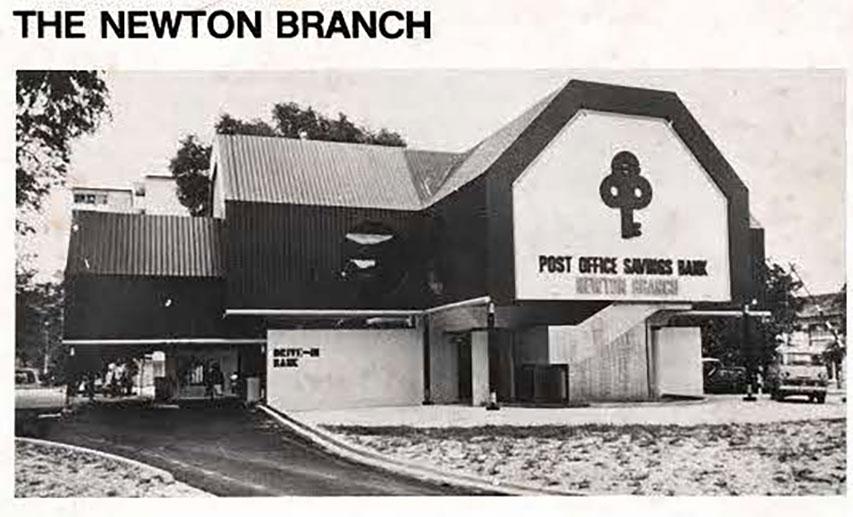 It was also one of the first drive-in banking branches for POSB.
Have you heard of a drive-in at a banking branch before?
Some senior cabbies might remember doing basic transactions via this drive-in service where they can withdraw or deposit money with the help of a teller.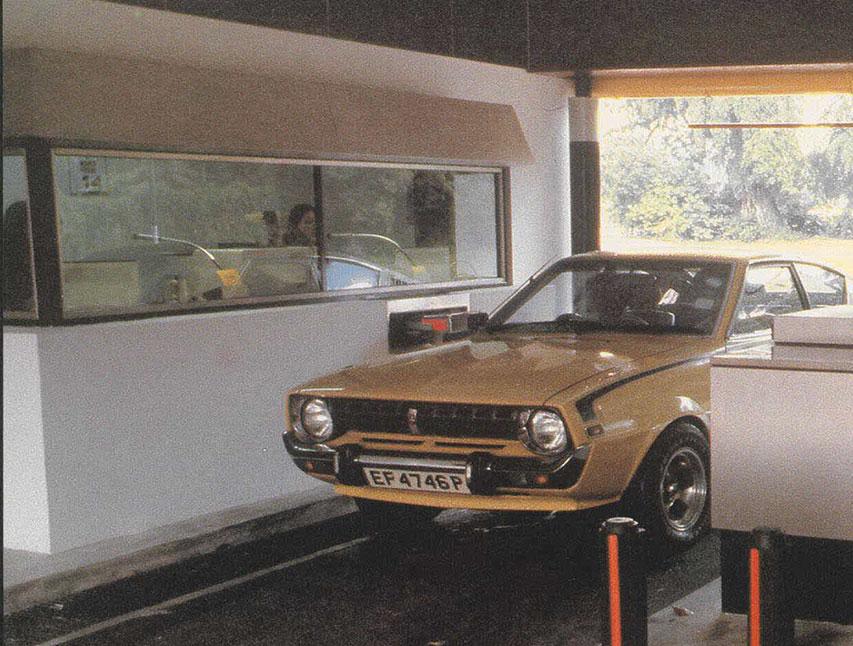 A former branch manager at the Newton branch, Karen Theresa Ow, explained to Mothership that to communicate with drivers in their cars, the teller would have speak into a microphone in the drive-in counter.
Given its convenience, it was understandably a popular service among motorists so much so that Ow remembered staff members once had to stop drivers from entering during the Chinese New Year period as the queue was extending out of the bank's premises.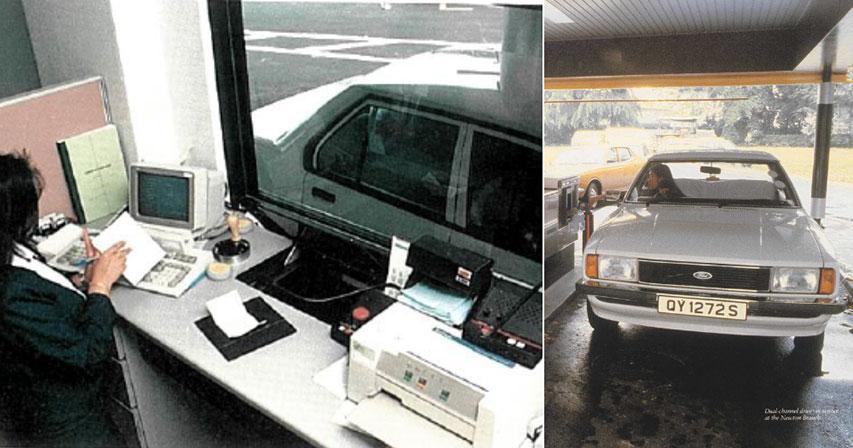 However, the drive-in ceased sometime around 2001 as it did not offer the full range of transaction services, and as business grew, customers were often redirected to the service counters for more complicated transactions.
The icon we know today
Today, the building stands out for its brutalist architecture, similar to other buildings of its time like Golden Mile Complex, People's Park Complex and Shaw Tower.
Built in 1991 by Singaporean architect Aloysius Chua, the building is cladded in aluminium and has a rounded corner facing the road.
When asked about the Brutalist style, which is aesthetically striking in modern days, Chua surprised me with his reply.
"We don't go for trends, but logic," he said, explaining that it was never about making the building look good.
Instead, he had focused on the functional needs of the building, including having features to serve persons with disabilities better.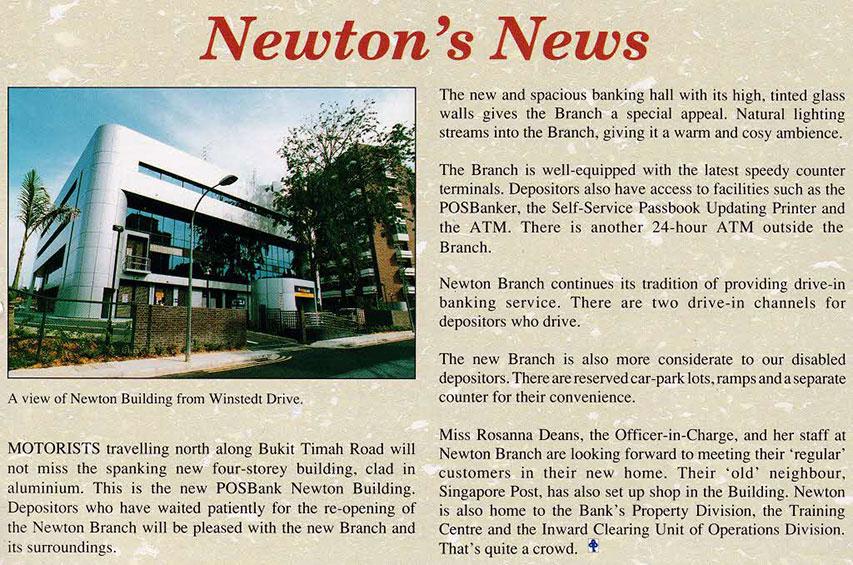 What's unique about the building goes beyond its facade as many fond memories were made in this building.
Modern banking with a kampong spirit
The office felt more like a home than a workplace or a passing roadside landmark for many staff members.
Former Branch Service Manager Lilian Yeo, who has since retired, exuberantly recalls how some customers would buy lunch for the staff, knowing that it was pretty inconvenient for them to get food. Some would even bring their grandchildren to visit.
A decade after Yeo's retirement, she still keeps in touch with some of her old customers and colleagues.
"Modern banking with a kampong spirit" is how Yeo summarised her time at the Newton building.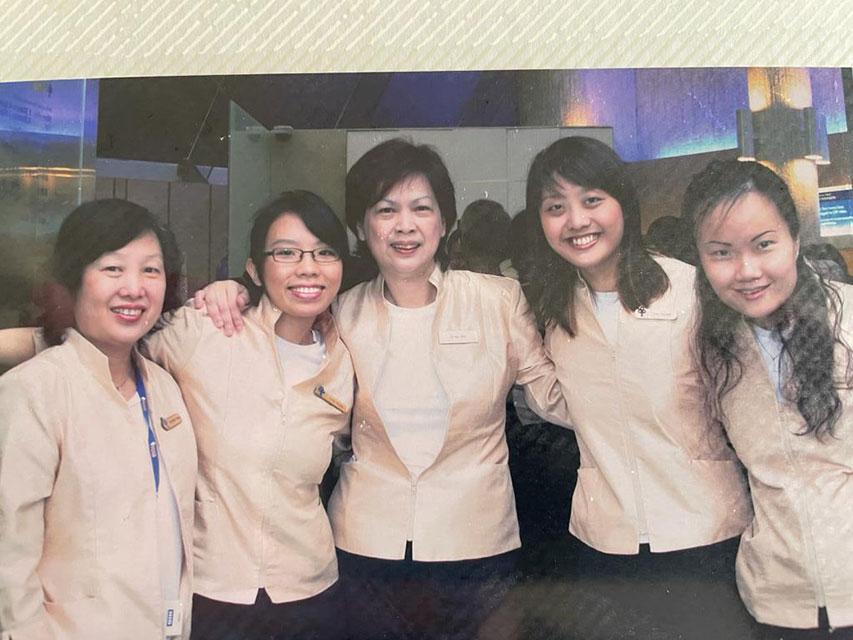 Ow, who has been with POSB/DBS for about 40 years also reminisced about a time when a regular customer baked muffins for the staff members and described the place as very "cosy" as compared to other branches that she's worked at.
A Timeless Testament
With a refreshing green facade, DBS will be transforming the building of heritage and sentimental values into a sustainable, net-zero energy building by early 2022.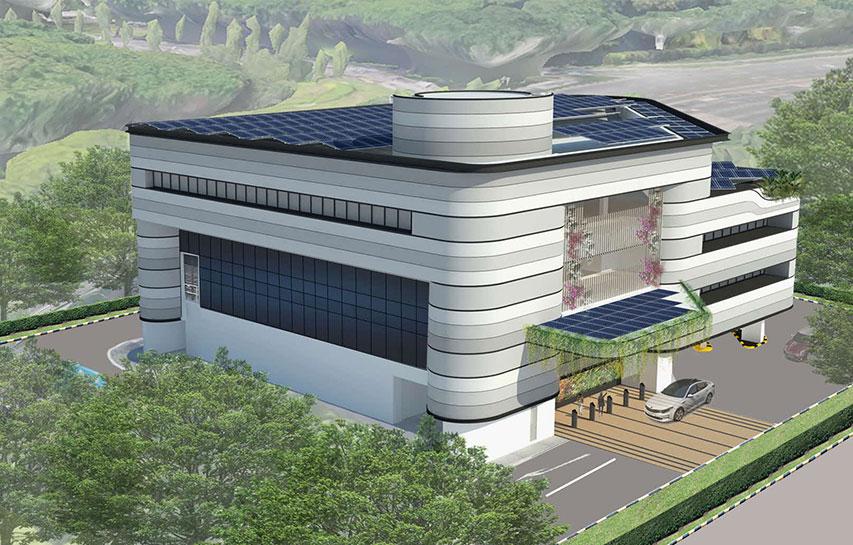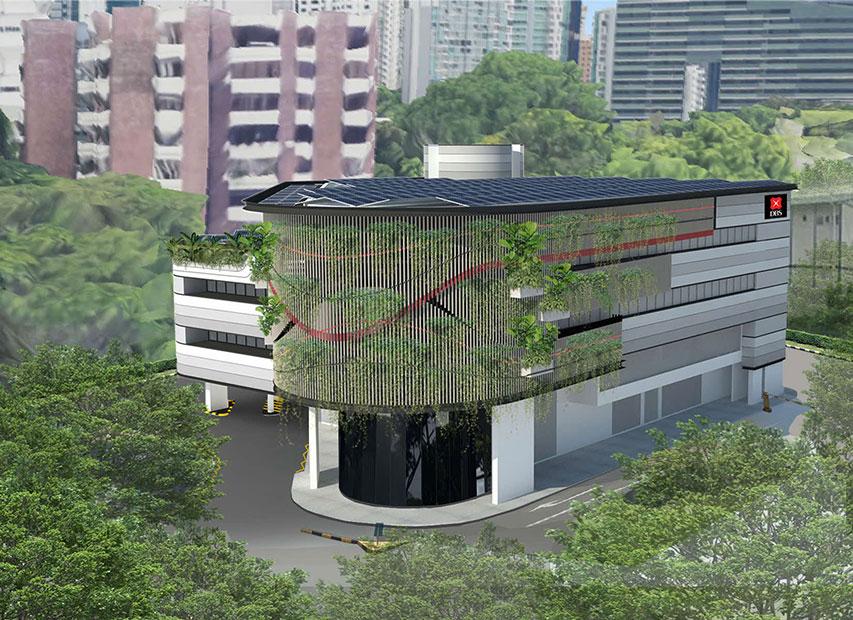 The retrofitted building will be Singapore's first net-zero development by a bank, and is part of DBS' commitment to achieve net-zero operational carbon emissions by 2022, DBS announced on July 8.
This is also a meaningful step towards Singapore's ambitions to green 80 per cent of its buildings by 2030, as part of the national Singapore Green Building Masterplan.
It will cost over S$5 million to retrofit the office building, a portion of which will be covered by a grant awarded by the Building and Construction Authority (BCA).
As compared to constructing a brand new building from scratch, retrofitting old buildings with sustainable features is a challenge, but also a worthwhile endeavour to preserve the heritage and memories of such landmarks.
Prescott Gaylord, Head of Sustainability, Corporate Real Estate Strategy and Administration at DBS, said:
"Existing buildings are always more of a challenge than a newly designed and constructed building. While we love the history of our building, we have to work with what is there structurally that cannot be altered such as the orientation, window ratios and ceiling heights to name a few, and make it as energy efficient as we can."
Fully powered by solar energy
For the uninitiated, net-zero energy buildings are buildings that produce enough energy for their own consumption, with energy production typically coming from renewables.
In this case, the refurbished Newton building will have an overhang which expands the rooftop space to house 1,000 square metres of solar panels.
To maximise the use of solar energy, bi-facial modules will be deployed to harvest sunlight that is reflected off the roof surface too. Adding on to that, solar optimisers with the Internet of Things components will be incorporated into the solar panel array.
This should provide enough energy to meet all the operational needs at the building, Gaylord told Mothership.
Reduce energy consumption of the building
The overhanging roof will also provide additional shade to shield the building from direct sunlight.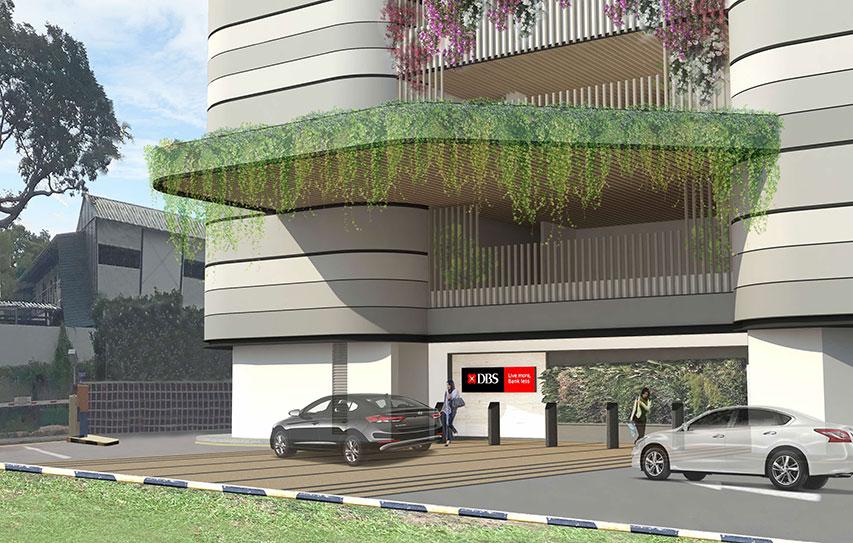 Furthermore, vertical greenery will cover more than half of the building's perimeter, to reduce the heat gain of the building, and energy needed to cool it.
There will be a mix of plants that are drought tolerant and plants that are "friendly to local threatened butterflies and birds", curated in consultation with the Nature Society of Singapore.
Two examples of native plants that wildlife in the vicinity can use as a "small urban refuge" are Aristolochia and Parsonsia.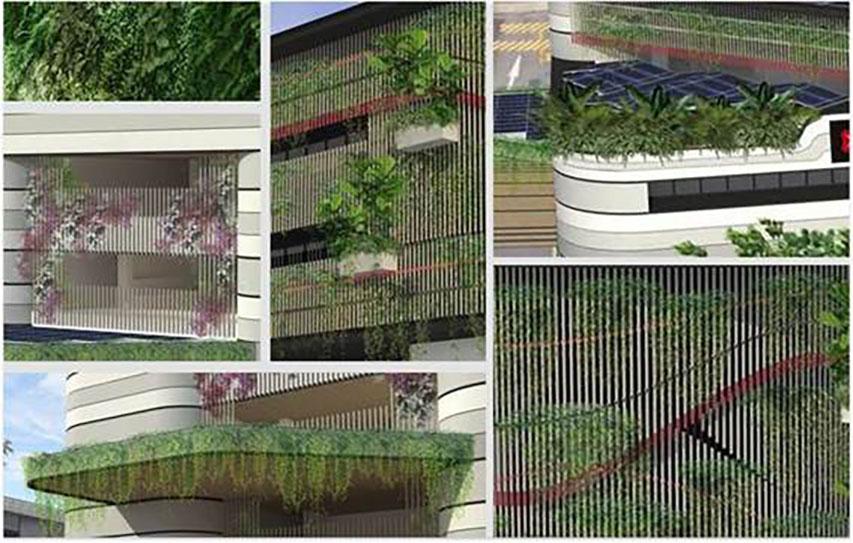 In addition, condensation from the building's air conditioning system will be used to water the plants on the facade.
"It is a prime design concept to never waste anything – and use what you have," Gaylord said.
Other energy saving features include intelligent occupancy-based lighting and air-conditioning systems and energy-efficient appliances. Some spaces will also become naturally ventilated instead of air conditioned.
Overall, the technologies and techniques deployed should reduce the building's energy use by more than half; from 845,000 kWh per year to around 300,000 kWh per year.
The future of offices
What is being piloted at the Newton building is a significant demonstration of how existing buildings can become sustainable with the aid of technologies.
"As a purpose-driven company, in everything we do, we ask ourselves if we're making a positive impact. With this as our guiding principle, we quite naturally landed on a net zero design when we drew up plans to retrofit our Newton development," said Erwin Chong, Group Head of Corporate Real Estate Strategy and Administration at DBS, explaining the decision to retrofit the Newton building into a net-zero energy building.
When completed, DBS' building at Newton will join the ranks of just over 500 net zero commercial buildings in the world, according to estimates by the World Green Building Council. Hopefully, this might spur more building owners in Singapore to consider net zero designs.
Chong added:
"We believe that the future of the office needs to be sustainable, and our aim is to eventually scale these innovative technologies across the rest of our offices, branches and lobbies."
Recommended for you
Based on your read
Based on similar interests
Recommended
Popular
Latest
Last Read