One victim was held under house arrest by her husband and mother-in-law, treated like a prisoner for a year. Another was tortured by her husband and had a knife used against her, intimidated into silence and afraid to reach out for help from anyone.
It was in interviewing family violence victims that Darren Chan learned of the disturbing circumstances they survive, and the mental distress that perpetuates their state of isolation.
"The COVID-19 pandemic exacerbated these issues, which remain relevant post-pandemic. This was why our team came up with a solution to empower family violence victims to take action by addressing both their legal and non-legal needs."
Darren's team, LAB Legal Tech formulated a tech-driven solution as part of the inaugural "Hackathon for a Better World", presented by DBS and the Singapore Judiciary.
For two and a half months from July 2020, 37 teams in the legal community (including law firms, State Courts and law schools) took part in the hackathon, which departed from the usual hackathon format where participants solve problem statements over a few hours or a few days.
Before they began their extensive research and investigations, DBS conducted a design thinking masterclass around the bank's in-house 4D (Discover, Define, Develop, Deliver) problem solving methodology for participants. The teams were then equipped with the basic tools to derive and synthesise insights for developing their proposals.
They went on to build, test and reiterate their solutions, based on these challenge statements.
1. What role can the legal profession play to help everyone in the society have better access to justice?
2. How can businesses and the legal system collaborate to provide easier access to justice and improve customer experiences?
3. How can the justice system become more agile, responsive and flexible to meet the needs of a rapidly evolving society?
The top six finalists eventually presented their ideas at 2020's virtual TechLaw Fest, vying for only four distinguished awards.
The panel of judges, made of Mr Tan Ken Hwee, Chief Transformation and Innovation Officer, Singapore Judiciary, Debbie Lam, Head, Group Legal, Business Compliance and Secretariat, DBS, and Mark Evans, Head of Experience Strategy, Transformation Group, DBS, had the tough time of picking the awardees.
Presenting the winners and finalists:
1. Award: Most Human-Centred – Getting supervised law students to empower those who cannot afford legal representation
From the State Courts, Team Aid-in-Person wanted to ensure that every accused person who wants legal representation but cannot afford it, will be provided some form of assistance to empower them in their case.
Their solution of harnessing community resources like law students, who are supervised in this work, help the accused navigate the Criminal Justice System, is two-fold. Not only will the person seeking aid gain clarity on the system, the law students will also gain valuable experience, as a pro bono ethos is instilled in the future generation of lawyers.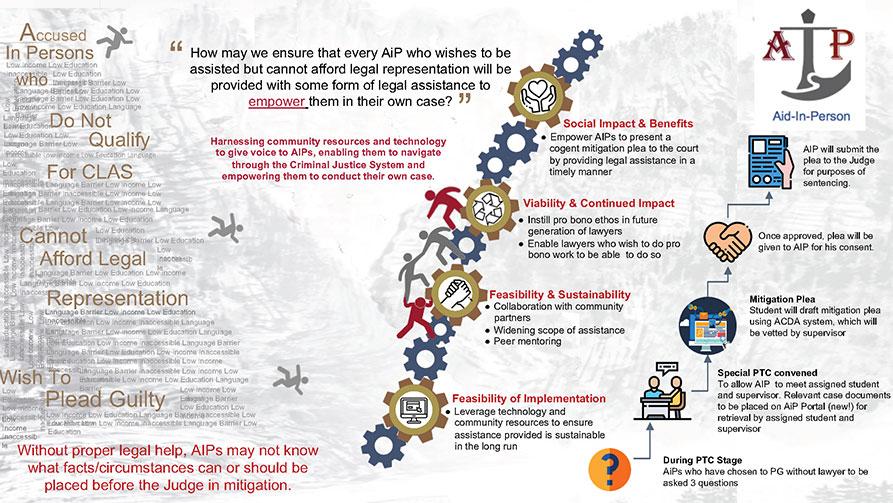 2. Award: Most Life-Changing – An online platform that consolidates basic legal information and resources in the native languages of migrant workers
Team Access and Opportunity from law firm Allen & Overy LLP, investigated a way to help migrant workers understand their legal rights better.
Their hackathon envisioned an online platform available in both text and audio, in the native languages of migrant workers. In easy-to-understand explanations, the platform will house their basic legal rights and recourses should they run into problems and consolidate the necessary resources for them.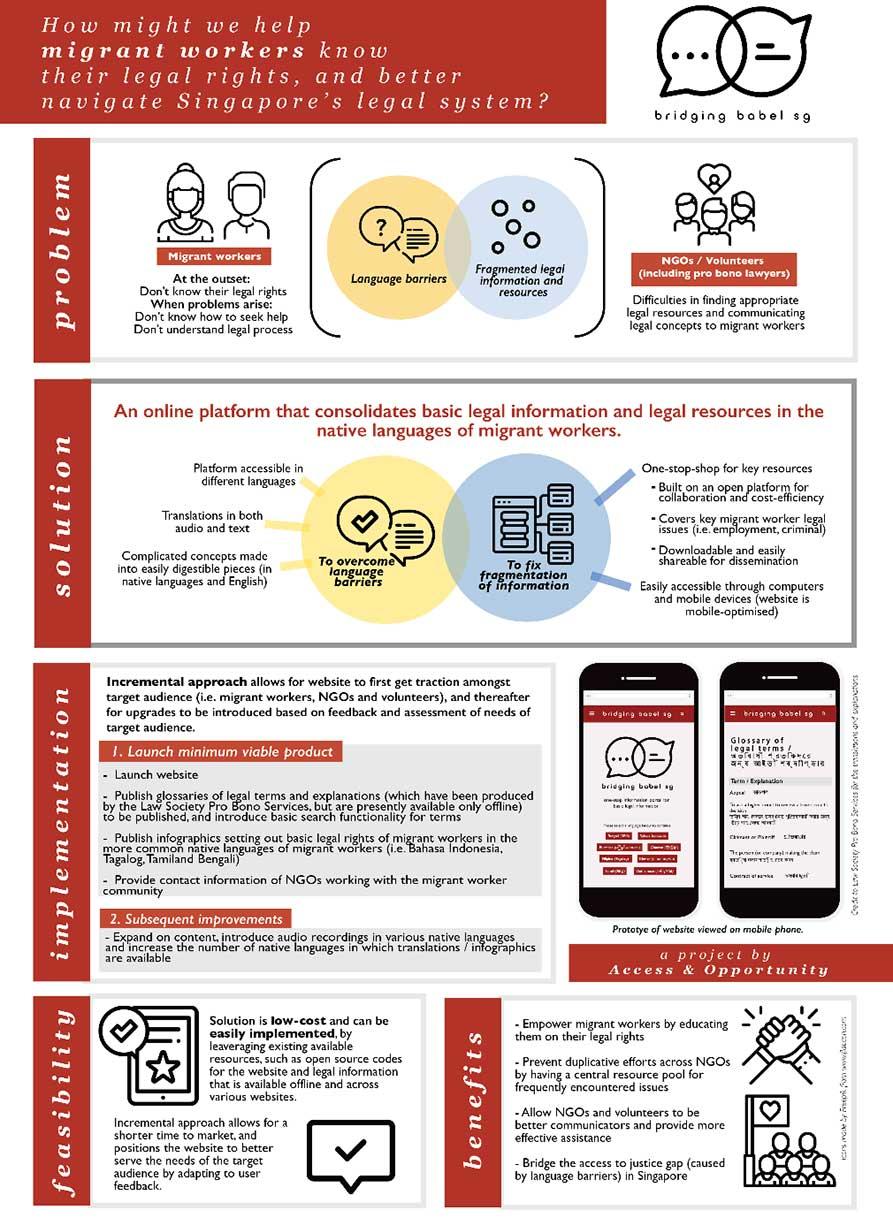 3. Award: Most Feasible – Ensuring wives are empowered with knowledge to protect themselves in the face of family violence
Team LAB Legal Tech from Legal Aid Bureau want to see a web-based app help those who might be facing family violence, and are unsure about what to do or where to seek help.
The app would provide them with self-help tools and guidance on navigating the legal process and even in seeking support from the social services.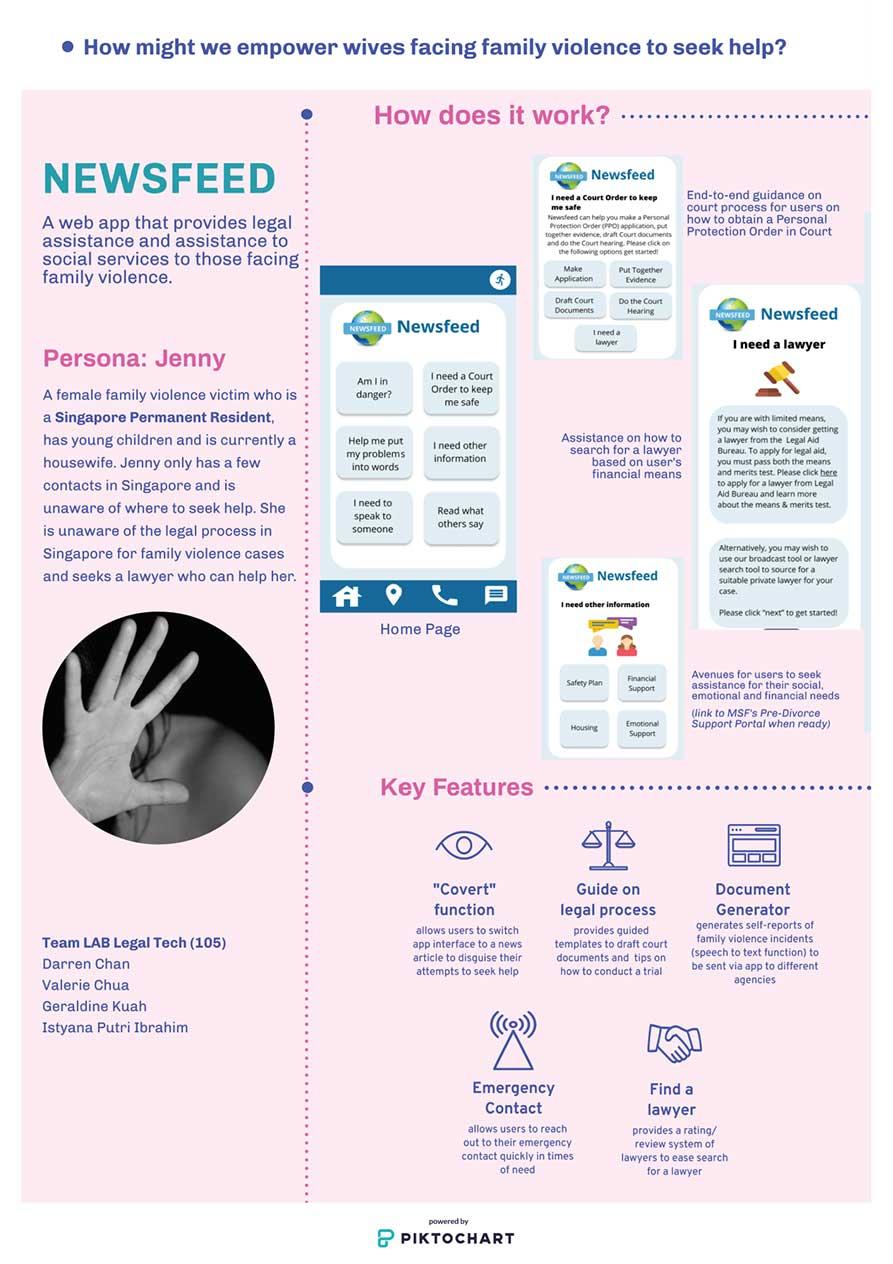 4. Award: Most Innovative – A one-stop process for next-of-kin to access and distribute a deceased's assets
From DBS, Team White Hat Hackers understand that dealing with the death of a loved one can be very traumatic, and the process of handling their assets can cause even more worry.
Instead of the next-of-kin having to pay multiple visits to different financial institutions to verify original documents, their solution will have everything verified on one consolidated digital platform that can remove the tedium of an already emotional time.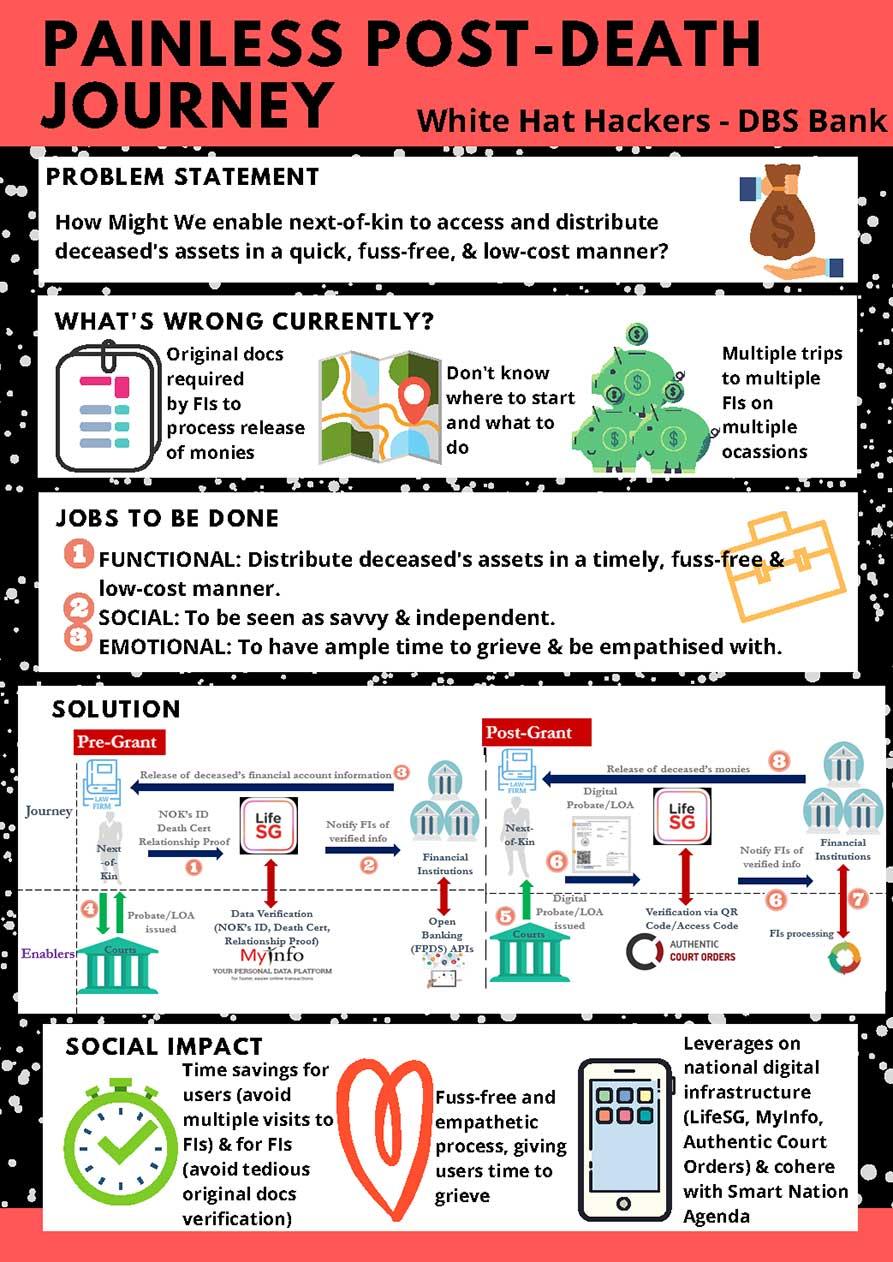 5. Finalist – A payment middleware for parties to litigation to provide a seamless experience through machine-executable judgments
Programmatic payments from Team JustPay!, made of parties from Supreme Court, DBS and LegalFAB is at the heart of this solution, which aims to reduce the amount of manual touchpoints in payments for parties to litigation.
The payment middleware they're envisioning will enable a seamless litigation experience, connecting all parties so that there's only one touchpoint which pulls in digital identities, relevant departments, and court orders, for fast and painless transactions.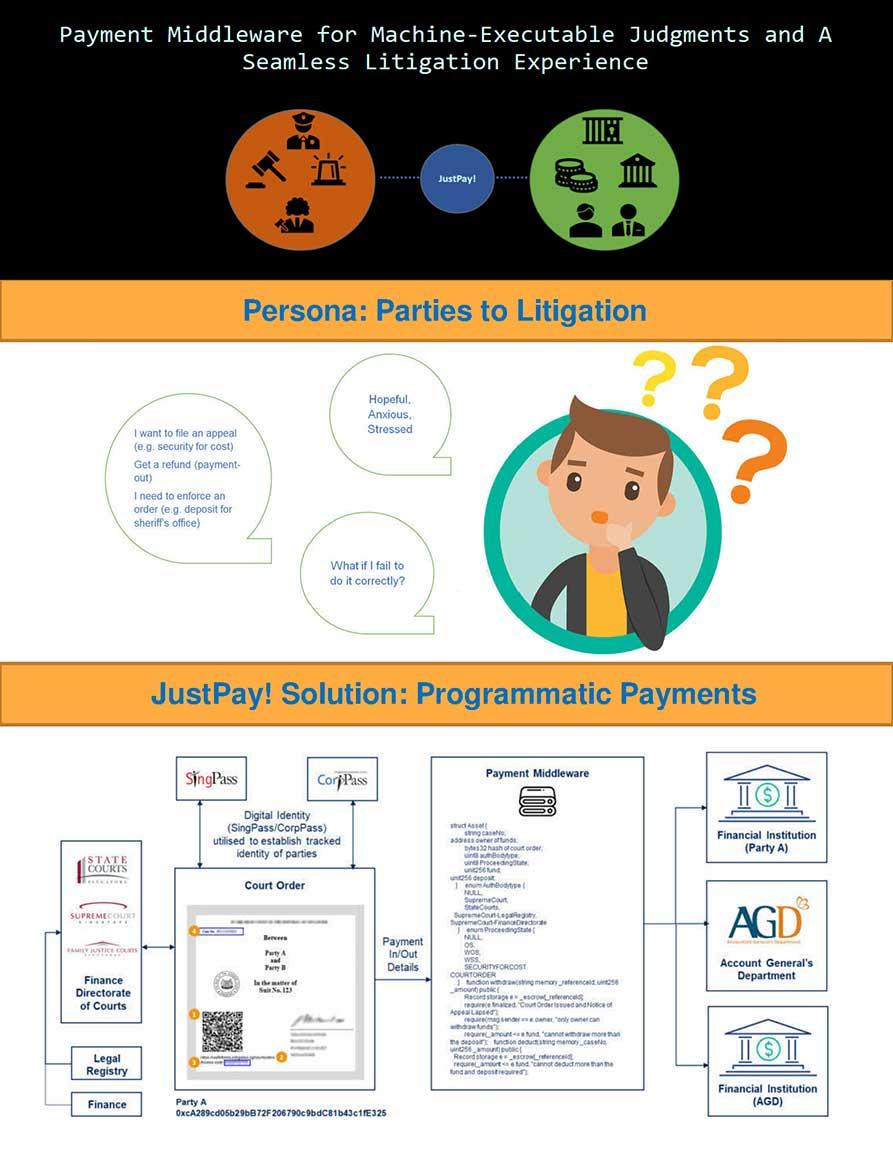 6. Finalist – An app to assist elderly court users and connect them with e-Service ambassadors
Team The Silver Age from the State Courts want to make the elderly's journeys through the courts as painless as possible. With their Buddy app, the elderly can be guided throughout their online court experience with their language of choice.
Where required, they can also make a video call through the app so an e-Service ambassador may help them with customised assistance.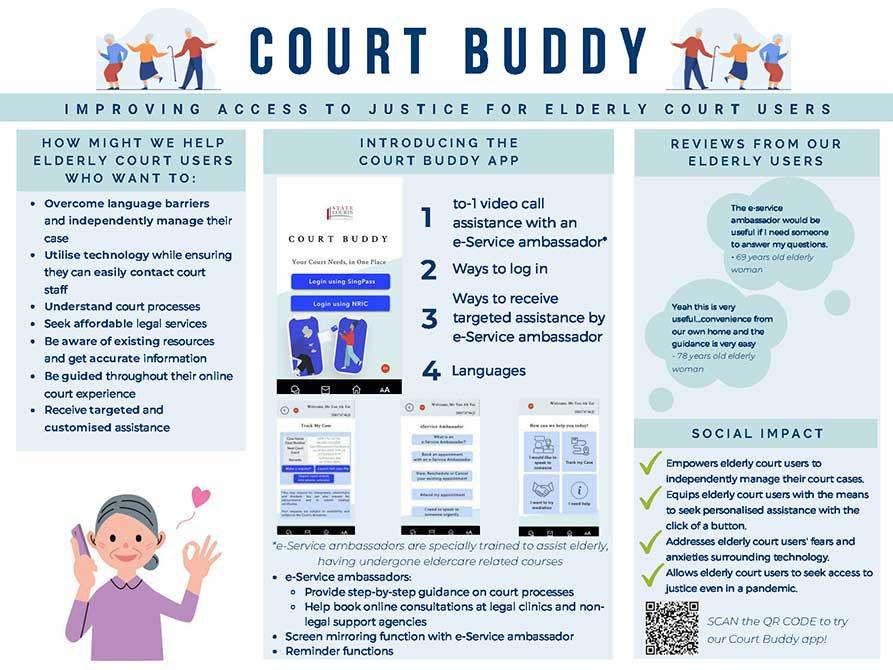 A huge congratulations to White Hat Hackers, LAB Legal Tech, Access & Opportunity and Aid-in-Person! We hope your life-changing solutions find a way to reality soon.
On the role of technology in the legal industry, Mr Tan Ken Hwee said, "Transforming court processes through innovation can certainly enhance access to justice for the man in the street. We have learnt a lot from the participants in this hackathon. Speaking for myself, I am humbled by the opportunity to learn and work with DBS as they generously shared with us their innovation methodologies and provided training and guidance to the participants."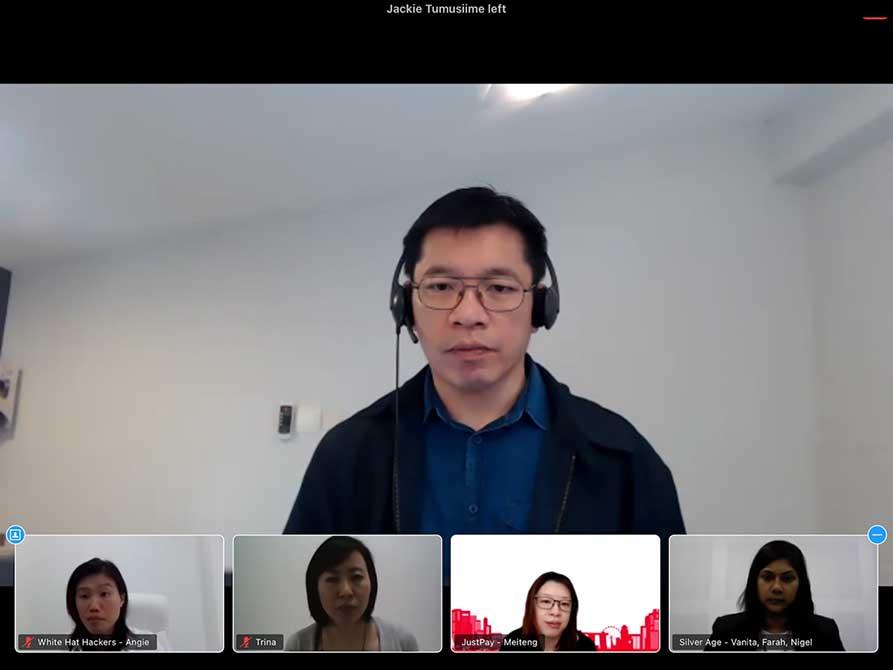 Which idea would you like to see roll-out in Singapore first?