By May 2019, every Singapore household will be able to pick their own electricity retailer on the Open Electricity Market (OEM).
First piloted in Jurong (postal codes 60–64) in April 2018, the OEM promises more competitive pricing and innovative offers for consumers. The OEM allows one to pick and choose from various price plans offered by 13 approved retailers that would best suit their needs. Previously, consumers would only get their electricity from SP Group, which is priced according to a quarterly-reviewed regulated tariff.
According to the Energy Market Authority (EMA), more than 30 per cent of consumers in Jurong switched from SP Group by end-September. These consumers also managed to trim their electricity bills by about 20 per cent, said the statutory board.
Looking to switch to a new electricity retailer? Here are five things you should know before you make the switch.
1. When can I switch?
Phase one of the nationwide launch began on 1 November for postal codes that begin with 58 to 78. These include districts such as Choa Chu Kang and Yishun. The OEM will be progressively rolled out island-wide over the next six months.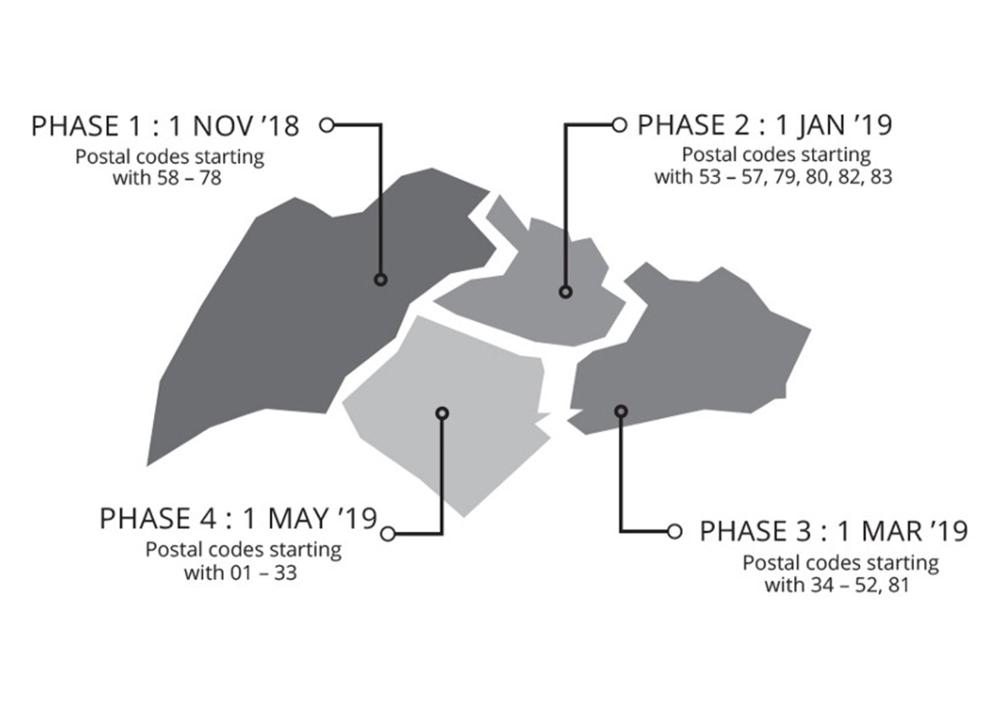 2. What kind of plans are there?
There are two types of plans available: Fixed Price Plan and Discount-Off-The-Regulated-Tariff Plan.
Fixed Price Plans essentially allow you to pay the same rate across the entire duration of your contract with the retailer regardless of changes in the regulated tariff.
Meanwhile, Discount-Off-The-Regulated-Tariff Plans give you a discount (in percentage) off the prevailing regulated tariff.
Here's a hypothetical scenario to illustrate the difference between the two: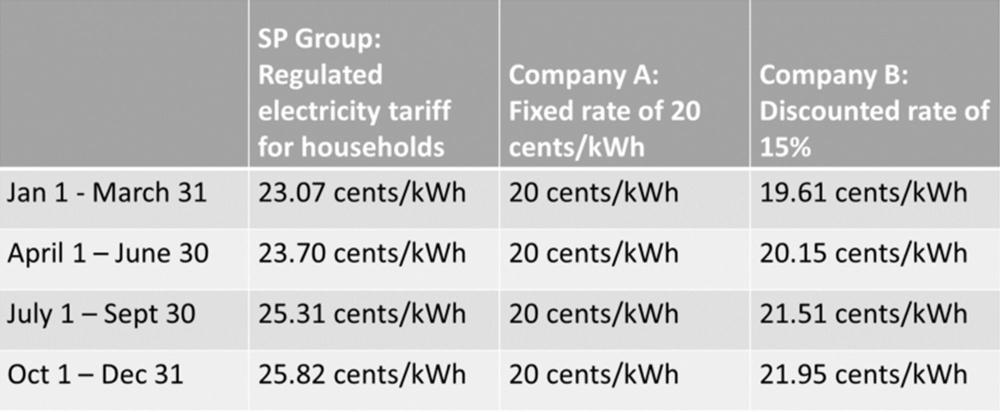 3. Which plan will save me more money?
As illustrated above, it all depends on the regulated tariff, which is reviewed every three months. The question here is, which plan suits you best?
Fixed Price Plans will see you pay a constant electricity rate throughout your contract duration, which means it is suitable for those who like certainty and do not believe that their retailer's rates will fall below the regulated electricity tariff.
Discount-Off-The-Regulated-Tariff Plans are suitable for consumers who do not mind that their electricity rates change every quarter, provided it is lower than the regulated tariff.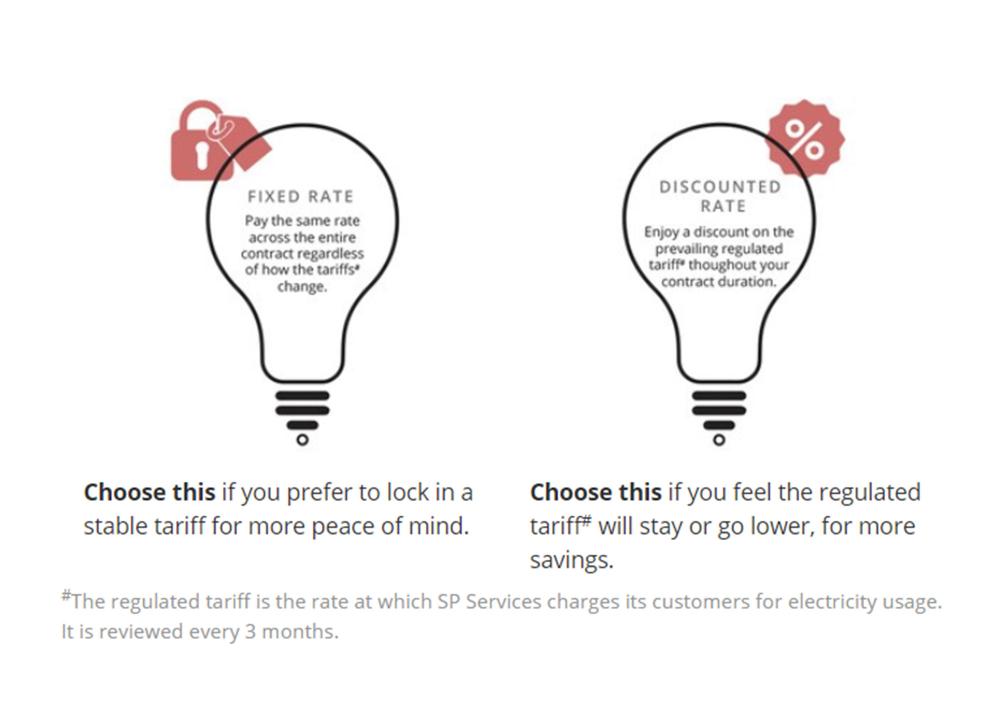 Presently the Fixed Price Plans range between 17.98 cents/kWh and 23.01 cents/kWh, while Discount-Off-The-Regulated-Tariff Plans offer between 10% and 23% off the regulated electricity tariff.
Some retailers also offer modified price plans, such as the peak and off-peak plan where you pay more for electricity during the peak period and vice versa. For the environmentally conscious, there are also plans that utilise renewable energy or carbon neutral electricity.
4. Where can I compare the prices?
The Open Electricity Market website has a list of the retailers and price plans, as well as attractive deals and promotions offered online.
The DBS Electricity Marketplace is a great option for consumers to compare various price plans and hunt for deals too. Seven electricity retailers will come onboard the portal by the end of November (three retailers iSwitch, Keppel Electric and Union Power are already onboard), with additional credit card promotions and perks to boot.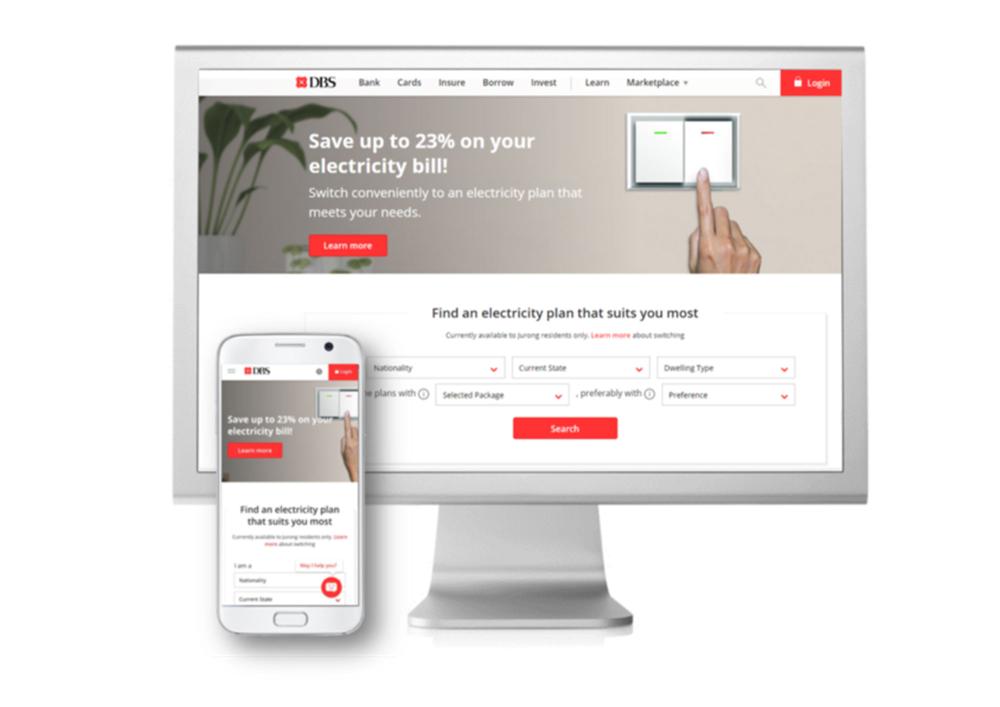 On the DBS Electricity Marketplace, switching to a new retailer is hassle free. Simply pick a plan that suits you, choose your preferred payment options via digibank, and we'll take care of the rest of the registration details.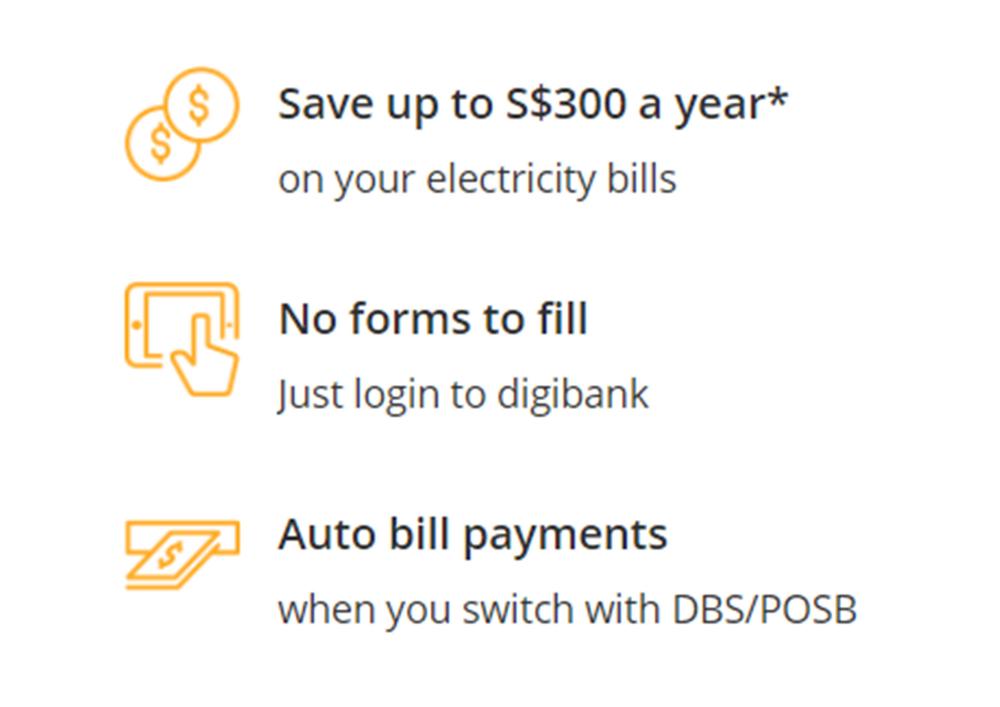 Once the switch is done, you can look forward to enjoying your new plan, without any service disruption!
Find out more here.
5. What happens if I change my mind?
You can always switch back to SP Group if you feel that the fixed or discounted prices are not your cup of tea. Do check on early termination charges if you do so however.
Regardless, your electricity supply will not be affected no matter what you choose to do. SP Group will continue to operate the national power grid and deliver electricity to everyone.
Your retailer also cannot cut off your electricity supply as and when it pleases. If your retailer wishes to stop selling electricity to you, your retailer is required to inform you at least 10 business days before terminating your contract. Thereafter, you will be automatically transferred back to SP Group at the regulated tariff unless you choose to switch to a new retailer. There will be no disruption to the physical supply of electricity to your premises when you change retailers.