A sprawling new employee cafe at DBS to inspire small actions towards a sustainable world through food
BY ANNETTE TAN, 24 DEC 2022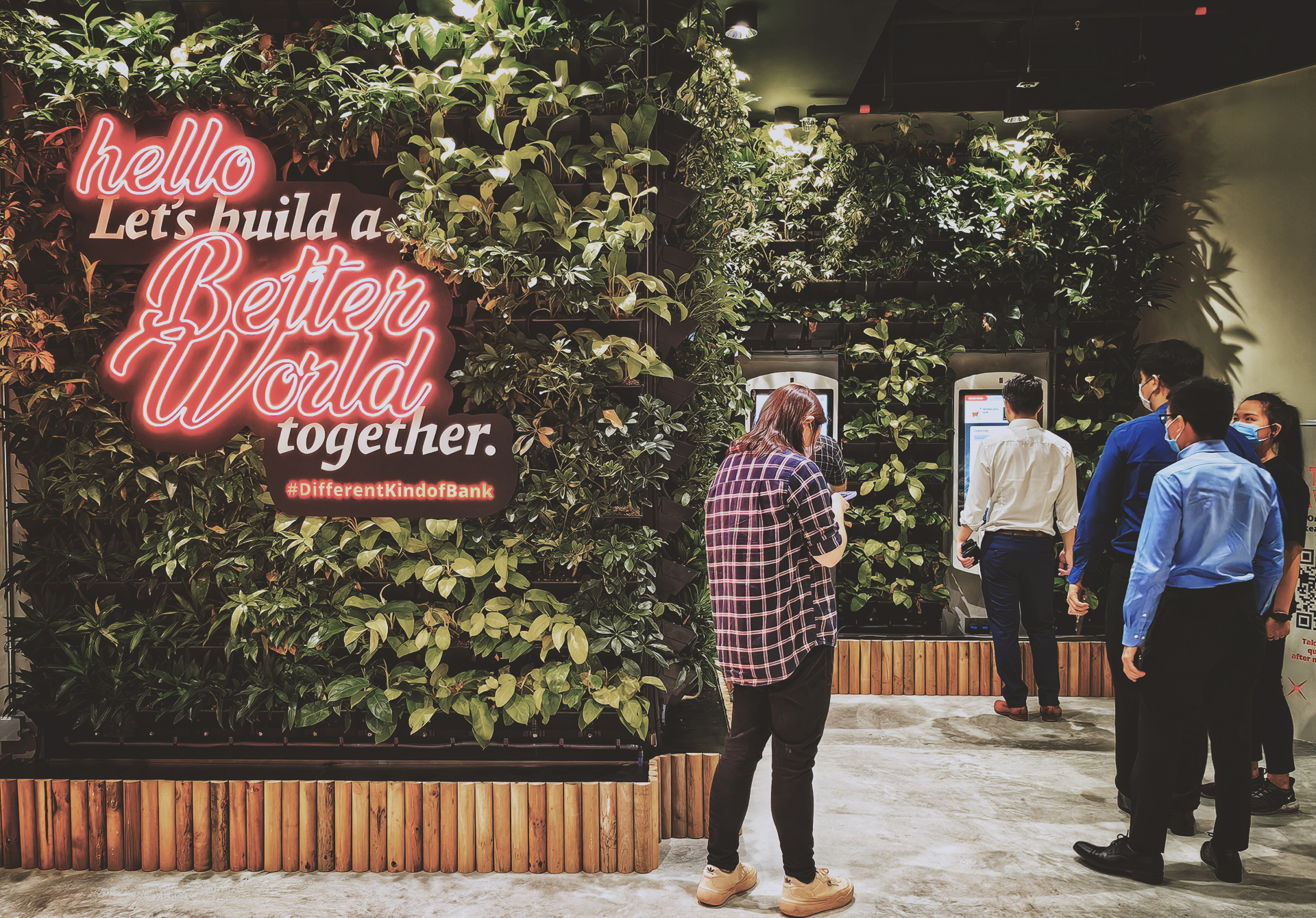 The Better World Cafe helps employees practise the principles of sustainability in easy, delicious ways
There's a curious new space lighting up the second level of Marina Bay Financial Centre Tower 3. Right across from the familiar food court Foodfare, and hovering above the usual salad and coffee hotspots for office crowds, sits the newly opened Better World Cafe, an impressive 11,300 square foot employee cafeteria for staff at DBS Asia Central.
Underpinned by the Eat Better, Do Better, Live Better ethos, the cafe boasts better food options, sustainable sourcing of ingredients, food waste reduction initiatives, more sustainable design, and partners that embody sustainable choices. Food is a beloved thread that binds people from all walks of life and DBS Better World Cafe was built to inspire employees to do their part for a more sustainable world through food.
For employees like Daphne Lim from Group Strategic Marketing and Communications, it simply translates to a great new experience within the workplace. "I love the spacious, modern vibes of the new cafe and all the wonderful options, from the more sustainable food choices to being able to live responsibly in small ways that make a big difference."
Eating well, eating better
Based on a survey in which employees shared their top three wishes, the cafe's quality and variety of food now encompasses vegetarian and plant-based options, multicultural cuisines and healthy foods like fruits and salads. It is also in the process of attaining Halal certification.
DBS worked with homegrown F&B company Chilli Padi Holding Pte Ltd to create a menu using ingredients sourced from local farms and suppliers with responsible agricultural practices. The hearty American Breakfast of scrambled eggs, baked beans and hash browns features cage-free eggs, while a Thai green curry serves up chicken certified 'Humane' by Humane Farm Animal Care (HFAC). Barramundi sourced from Best Aquaculture Practices (BAP)-certified aquaculture farms like Kuhlbarra is seared and served with a fancy tom yum beurre blanc.
Head Chef Ramesh of DBS Better World Cafe whips up a rich tom yum beurre blanc with commonly discarded vegetables such as onion head, celery leaves and thyme stem. 
Numerous options focus on plant-based and fresh plant produce to cut back on animal protein. When beef is served in offerings like a classic bourguignon, you can be sure it is carbon-free beef, which can be washed down with coffee made from responsibly-sourced beans by Bettr Barista, a social enterprise supported by DBS Foundation.
In the kitchen, job opportunities were created for disadvantaged individuals from local social enterprise The Social Kitchen. Discussions are underway to offer internship opportunities for students with mild intellectual disability studying at ASPN.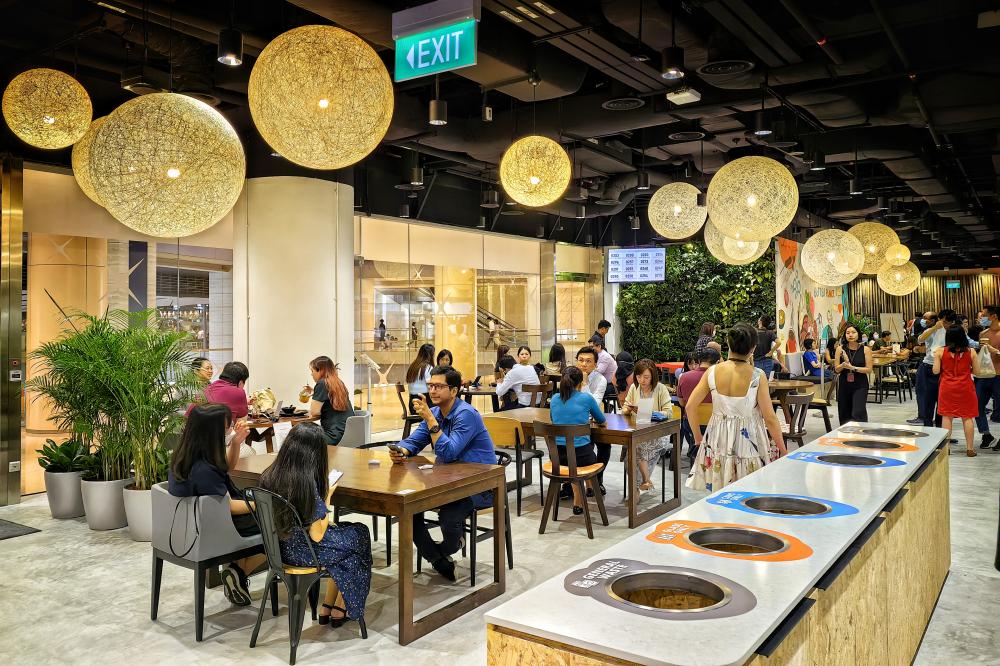 Waste not, want not
To reduce waste, portions come in Petite or Standard so that employees can choose a size that fits their appetite. A self-service composting station located at the wash area allows employees to compost their food scraps, which are parlayed to the DBS Food Forest and other edible gardens in Singapore.
Takeaway packaging is made from home compostable materials like bagasse pulp from Sanz Pte Ltd. Suffice it to say, there is no trace of plastic in any single-use packaging at the cafe. Instead, all crockery comes from Husks Green International Pte Ltd, which uses rice husks and modified starch that are fully compostable at the end of life.
Naturally, sustainability extends to Better World Cafe's Operations. In line with DBS' commitment to using as little energy as possible for its operations, the cafe is brightened by LED lights with occupancy controls. In other words, sensors detect when the space is unoccupied and automatically turn off or dim the lights to conserve energy.
Among numerous other operational efficiencies are special air-to-water heat pumps and storage heaters which harness ambient heat to produce hot water. The discharged cold air is used to cool the pump room. A demand-controlled ventilation system enables flexible control of kitchen equipment to reduce power consumption, especially during equipment standby.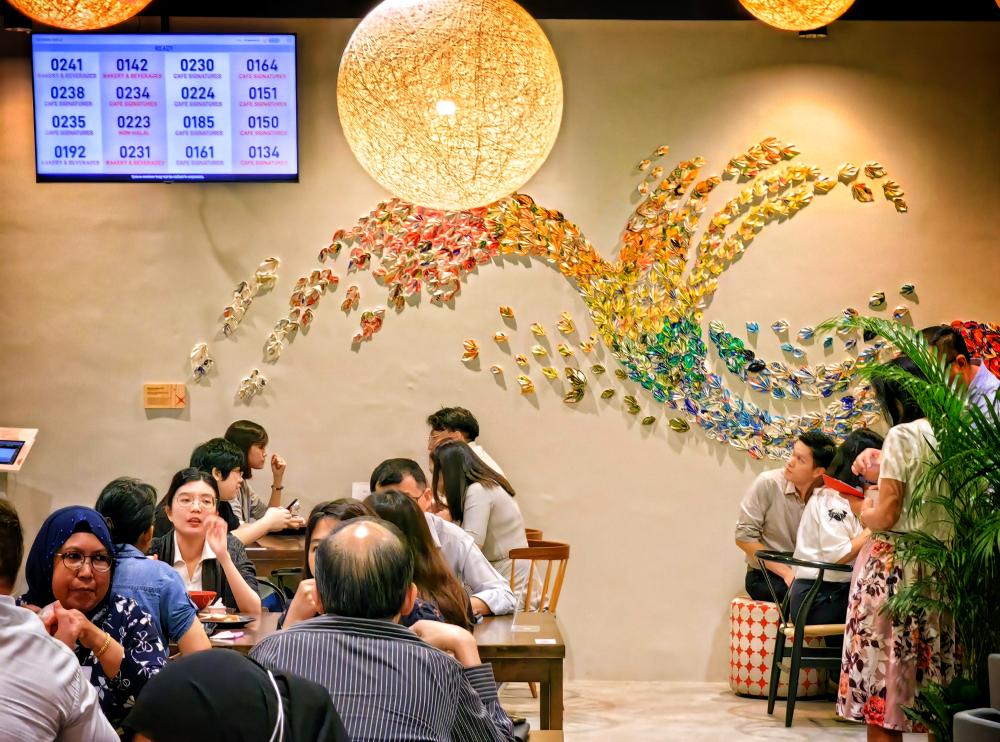 Pretty creative
Having been designed with circularity in mind, everything at the cafe is reused, recycled or repurposed where possible. Feature walls were created with ChopValue Singapore using disposable chopsticks collected from vendors around Singapore. Used coffee bean crates are repurposed as display shelves for the barista cafe area, while sustainable artworks made from recycled office waste materials like plastic bottles, coffee jute bags and beverage cartons beautify the space. Even the cafe's screeds are made of fly-ash concrete certified eco concrete by Singapore's Building and Construction Authority.
"I like how upcycled office waste is used creatively for the art pieces," said an employee from Group Transaction Services at Instuitional Banking Group. - "It not only beautifies the place but serves as a way to raise awareness about using what we have instead of buying new."
Erwin Chong, Group Head of Corporate Real Estate Strategy and Administration at DBS, would be glad to hear this sentiment. He said, "In conceptualising DBS Better World Cafe, we challenged ourselves to create a differentiated employee experience that goes beyond the functional. We hope that by incorporating sustainability elements in as many aspects of the cafe as possible, DBS Better World Cafe can serve as a beacon of inspiration for our employees and guests, and perhaps even encourage them to become sustainability advocates in their own lives."
Recommended for you
Based on your read
Based on similar interests
Recommended
Popular
Latest
Last Read