From healthcare professionals attending to patients in isolation wards to anonymous Singaporeans penning notes of encouragement for frontline workers, battling the coronavirus outbreak has brought out a certain esprit de corps in people around us. This week, we turn the spotlight on those working tirelessly in healthcare and the encouragement they receive from all walks of life.
Principal radiographer Sim Wei Yow is grateful for the sacrifices his colleagues make to cope with the outbreak
Mr Sim Wei Yow leads a team of over 100 radiographers at Singapore General Hospital (SGH) who are at the forefront of the nation's efforts to contain the coronavirus outbreak.
As specialists in executing and interpreting medical images such as X-rays and CT scans, their job helps to identify potential Covid-19 cases and track disease progression in confirmed cases. This means they are in close proximity to the infected patients, but a collective sense of duty overrides their personal fears of catching the virus.
"Our radiographers strongly believe that as long as strict infection control measures are in place, we will be able to get through this difficult time safely. During this outbreak, the radiographers have portrayed an excellent team spirit," says Mr Sim.
His own words of encouragement to his team: "Tough times don't last, but tough teams do."
"The pre-packed goody bags and lunch packs were great morale boosters for staff. I also felt that the handmade cards provided us with a lot of encouragement."
The 32-year-old explains that clear communication and strict guidelines are key to ensuring that patient and staff wellbeing are not compromised during this period.
He and his colleagues now have to wear full personal protective equipment (PPE), including N95 masks and goggles, when they are rostered to attend to confirmed and suspected Covid-19 patients.
Other measures in place to reduce the risk of infection include staff segregation, restrictions on staff movement and regular temperature-taking.
To cope with the Covid-19 outbreak, every member of the team has to follow a new roster of working a 12-hour shift on two consecutive days, followed by two days off. Even though the shifts are more physically demanding than before, the team remains committed to making sure that Singapore's healthcare services are running smoothly, round-the-clock.
Many members of the team cancelled their pre-planned holidays to be deployed to work. Some have even volunteered to serve the high risk areas such as the isolation wards and areas treating fever patients in the emergency department.
Like many of his colleagues, Mr Sim has stopped all social activities, including family gatherings.
The smiles, laughter and positive energy within the team have helped keep their spirits up, not to mention the support given to them by sponsors and members of the public. They have received bento meal sets, goody bags, pre-packed cakes, nicely decorated "Thank You" cards and words of encouragement.
While Mr Sim is thankful for the gestures of appreciation, he also urges the public to have faith in healthcare professionals and trust that they are doing the best they can to keep everyone safe and healthy.
When the outbreak eventually comes to an end, Mr Sim looks forward to a holiday in Japan with his wife, as well as having a good meal with the colleagues whom he is unable to meet due to current workplace segregation rules.
Hearts of gold
Paediatric emergency specialist Jade Kua, 41, shares that despite the distress the outbreak brings to those working in the hospital, she is grateful for the positivity and kind actions of people around her. For instance, a Gojek driver who accepted her request to drive her to work and the gifts of flowers and treats from members of the community.
This is an excerpt from Dr Kua's blog post "Hearts of Gold in DORSCON Orange" published on Feb 18, 2020.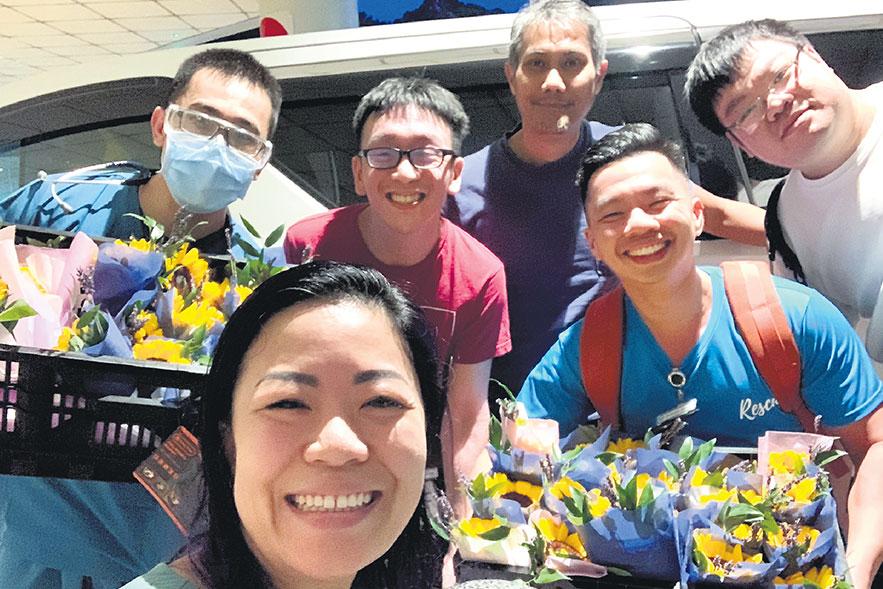 Grateful Hearts - This Amazing Community*
We were overwhelmed by the good wishes that flooded in from the community. Handwritten notes of encouragement, daisies and more bubble tea kept our spirits high. Week 2 of DORSCON Orange sure seemed less depressing than the week before. I think, because of these gestures of kindness, we were able to develop a strong sense of mental fortitude. This despite long hours and increasing cases of Covid-19, with no end in sight.
Although we receive these gifts with grateful hearts, there is something else everyone in the community can do. … And that is to trust us, healthcare professionals. ... specifically, when the screeners and triage nurses ask if your child has fever or cough, if so, please state this. … For instance if you don't disclose this information, doctors and patients around you might be affected because we're not in the right protective gear. … So please honestly declare your symptoms, travel and contact history.
* Reproduced with permission from Dr Jade Kua. The full blog post can be accessed here.
Refuelling our heroes
Boxgreen, a Singapore-based startup that curates and delivers healthy and natural snacks, is one of the social enterprises that worked with DBS to show support for healthcare workers.
More than 100 boxes of snacks were sent to public hospitals across the island last month. To get the snacks ready for distribution within a short period of time, Boxgreen extended its shifts and hired more workers.
Says Mr Walter Oh, 32, co-founder of Boxgreen: "Enriching people's lives and giving back has always been the core values of Boxgreen. Especially in times like Covid-19, we are happy to be able to be a part of the community that is giving cheer to the healthcare workers.
"We treasure the opportunity to partner with an organisation like DBS that has its heart in the right place. Its values, people, and network made this distribution happen very efficiently from start to finish."