When Ms Gillian Tee cofounded Homage in 2016, she was determined to make a positive social impact on the local eldercare industry. She and her team conceived an app that would use smart technology to manage and provide on-demand holistic home and community-based caregiving to seniors and adults, allowing them to age and recover at home with grace, control and dignity.
DBS Foundation saw the spark in Ms Tee and her budding business, and in 2016, awarded Homage the DBS Foundation Social Enterprise Grant. With the grant, Homage was able to strengthen its mobile platform, as well as build its infrastructure and marketing team.
"The grant helped us to cover a lot of the initial operating expenses, so that was a huge help," says Ms Tee, 37.
From working with a small pool of caregivers in the beginning, Homage has now established a fully-screened pool of close to 2,000 qualified care professionals in South-east Asia.
One of the families benefiting from the work of Homage is 31-year-old Shivani Durai and her 86-year-old grandmother Ganesiah Sathiapama.
Madam Ganesiah was diagnosed with dementia at the age of 81. Often left alone at home while her family members were at work, she would spend her days watching television programmes.
Her granddaughter, Dr Shivani, was her main caregiver, but she could not give her grandmother the necessary care and attention while juggling work and post-graduate studies.
Sometimes, Madam Ganesiah would ring Dr Shivani as many as 20 times to tell her about something important. Shortly after she put down the phone, she would forget having called, and would ring her granddaughter again.
Today, Madam Ganesiah's days are different. She does light physical exercises and mentally stimulating activities thanks to Homage, which linked Madam Ganesiah with one of its trained care providers, Ms Christina Quah.
Homage's smart matching system allocates the most suitable caregiver based on 50 variables, including the medical condition of the care recipient, location and experience, competencies and skillsets of the care professional. All it takes to schedule an eldercare service is to set up an account on the platform and fill up a detailed profile of the senior who will be receiving the care. Profiles of the care provider assigned to them can also be found on the platform.
Bringing eldercare to new heights
When Ms Quah and Madam Ganesiah first met, Dr Shivani knew that her grandmother was in good hands. "I could instantly see that they had that rapport with each other. So, I requested if we could have Christina all the time and Homage was happy to accommodate," says Dr Shivani.
Ms Quah visits Madam Ganesiah twice a week.
"She mentioned that she likes sewing and has played badminton before, so we play badminton using balloons, sew stuffed toys and do batik painting among other activities," says Ms Quah, 47.
She also discovered that Madam Ganesiah had a penchant for maths while they were working on questions in mathematical assessment books to keep the mind active.
During visits, Madam Ganesiah's family members can get real-time updates through the Homage app. Ms Quah also documents each visit, and records can be retrieved via the app.
Homage's services help to facilitate an environment where seniors can continue to live well and independently at home.
With the grant from DBS Foundation, Homage will be able to continue improving its home-care services.
Says Ms Tee: "For example, we are refining our mobile app to support multiple family members managing the same care recipients, which will help to reassure the family that their loved ones are in trusted hands."
Such innovative healthcare services within the eldercare industry have created opportunities to not only empower family caregivers to provide better care for their loved ones, but also allow seniors to age and recover at home with dignity.
Dr Shivani says that Ms Quah's visits have greatly improved her grandmother's quality of life and helped curb the deterioration of her condition.
The service has given Dr Shivani and her family peace of mind — knowing that Madam Ganesiah is well taken care of. Today, Dr Shivani no longer receives 20 phone calls from her grandmother each day.
"She hardly calls me now. I call her often instead," she says with a laugh.
Making waves in innovative healthcare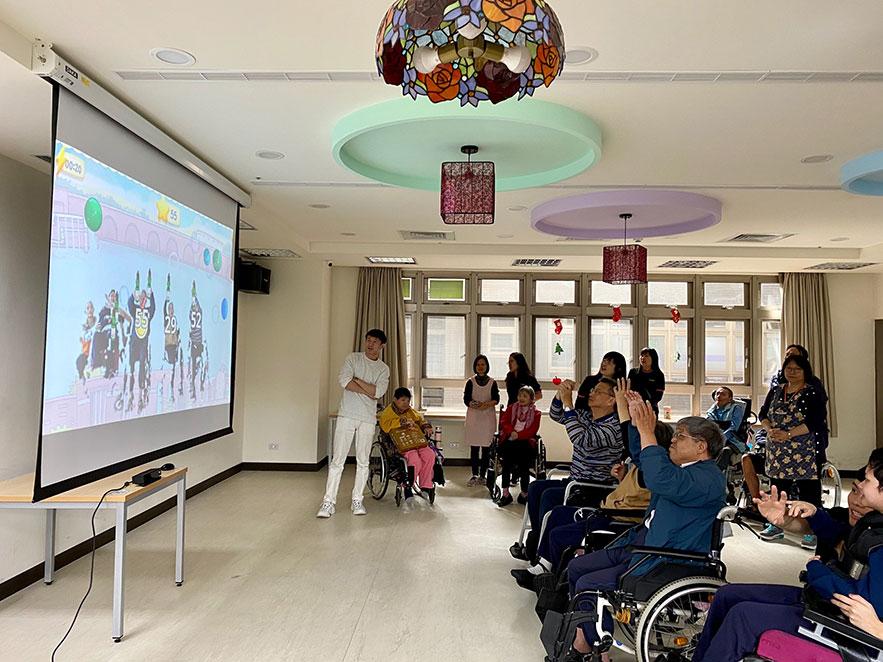 LongGood
This Taiwan-based start-up is Taiwan's first rehabilitation software development company. A DBS Foundation grant enabled LongGood to increase its manufacturing capabilities and marketing efforts. It has since expanded into other markets like Singapore. Its interactive program, known as PAPAMAMA, enables patients to access high-quality physiotherapy in the comfort of their own homes.
Recently, 20 elderly folks got the chance to try LongGood's PAPAMAMA telerehabilitation programme at a DBS People of Purpose Volunteering activity at the Eden Social Welfare Foundation elderly care centre in Taiwan (above). Along with DBS staff volunteers, the seniors tried their hands at a series of mini-games, which trains balance, muscular endurance, range of motion and more.
I'm Soul Inc
This homegrown social enterprise, also supported by DBS Foundation, utilises an inclusive technology made of very sensitive movement sensors and wireless switches that allows the elderly and people with disabilities to make music and sounds easily without a musical instrument. By moving just one part of their body, users can create music instantly. Talk about the healing power of music!
"The LongGood PAPAMAMA system helped the elderly folks improve their functions in such a riveting way that they didn't want to stop playing! It was truly an eye-opening experience to see how innovative technology can impact these seniors' lives."
This content is produced in partnership with ST Life.