As the battle against the coronavirus continues, front-line staff including healthcare workers, public transport workers and cleaning staff are working extremely hard to keep Singapore going.
Last week, we spotlighted healthcare workers at the forefront of Singapore's efforts to contain the spread of the coronavirus. This week, we feature individuals who put aside their fears to help ensure healthcare workers get to work on time, vulnerable groups stay safe and Singaporeans are able to carry on with their daily lives.
Gojek drivers stay committed to keeping the nation on the move
Mr Justin Lam, a driver-partner with Gojek, was among the first to sign up for GoHeroes, an initiative launched by the ride-hailing service to support healthcare workers.
As part of the initiative, Mr Lam pledged to continue driving healthcare workers to and from their workplaces safely and comfortably. Thousands of driver-partners have since joined the pledge.
"If these workers don't get to their positions of duty or if they waste too much energy doing so, how would they be able to serve the community well?" says the 40-year-old.
Mr Terry Ng, 38, is another Gojek driver-partner who supports GoHeroes. He admires healthcare workers for their sacrifices: The nature of their job puts them at an increased risk of getting infected, yet they still go all out to help their patients. "I understand what they are going through..…we really want to support the healthcare workers," he says.
Under GoHeroes, ride vouchers of $10 each have been distributed to hospital staff and charitable organisations that provide home care or nursing services since the initiative was launched in January.
To support its driver-partners, Gojek has been distributing surgical masks, hand sanitisers and anti-bacterial wipes to them. The ride-hailing company also strengthened its educational outreach to driver-partners and commuters on the precautions they can take to contain the spread of the virus.
The measures include temperature-taking, increasing ventilation of the car by not using the recirculation mode of the car's air-conditioning system, and regular cleaning of high human touch points such as door handles.
Says Mr Lien Choong Luen, general manager of Gojek Singapore: "We recognise and reward driver-partners who go above and beyond in their efforts and thank them for their dedication in being frontline heroes themselves and keeping the nation on the move."
Every effort counts
For Mr Benjamin Wah, it is basic human instinct to care for those in need during a crisis
Masks, hand sanitisers, thermometers and even toilet paper flew off shelves at the start of the Covid-19 outbreak.
When Mr Benjamin Wah saw that even alcohol swabs, which his diabetic mother needs for her daily insulin shots, also went out of stock, he felt he had to do something.
So he spent $1,500 to get surgical masks from a personal contact. The 26-year-old, who is co-founder of corporate gift services Engifts, recounts: "I told myself that I want to try to help within my means as I saw many people hoarding masks and selling them at higher prices."
He managed to get hold of 44 boxes, or 2,200 pieces, of surgical masks and roped in his friend, Mr Farhan Firdaus, 34, to help with the distribution.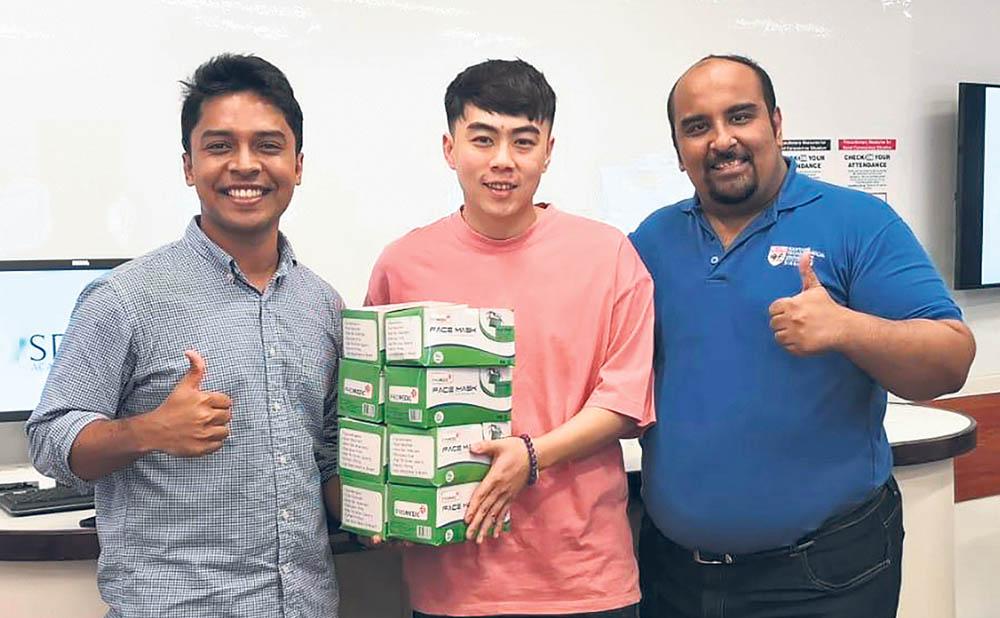 Based on the fatality rates of Covid-19 cases reported so far, they concluded those above 50 would need the masks more than others. Mr Wah also decided to distribute some masks to migrant workers whom he felt are often forgotten.
Eventually, an altruistic gesture from one man ended up benefitting more than 2,000 people from the Muslim Kidney Action Association, Home Nursing Foundation, SDI Academy, Parkinson Society Singapore, AWWA, EPIC Entrepreneurs Network and Youth Corps Singapore!
Their safety is in good hands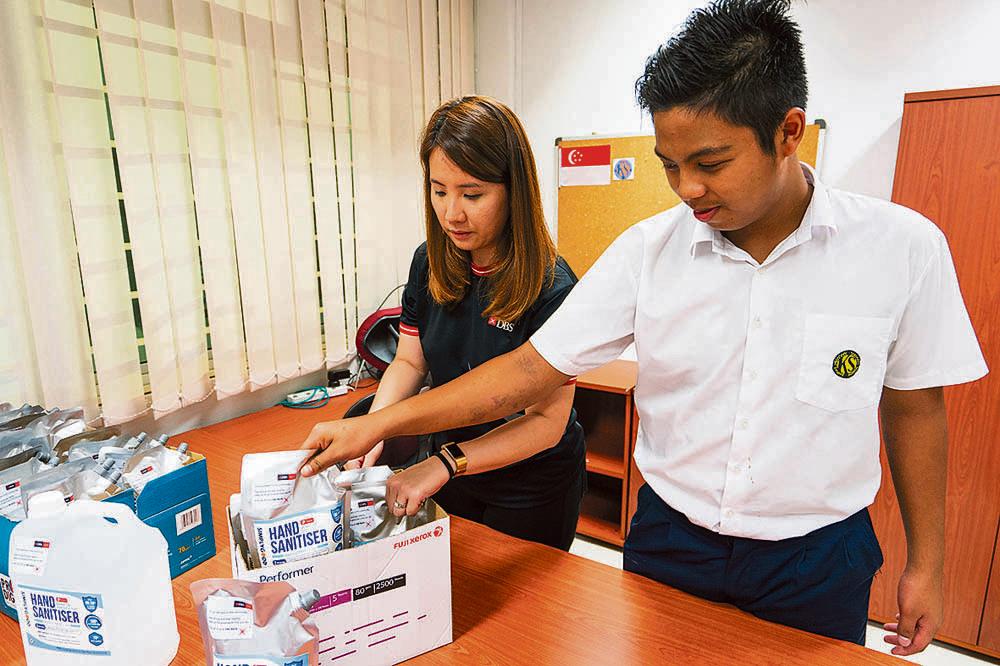 At the start of the Covid-19 outbreak, social service agencies and social enterprises such as Marymount Centre, MINDS and APSN Katong School were facing practical challenges such as the availability of cleaning supplies and sanitisers. DBS provided SimplyGood hand sanitisers from social enterprise UglyGood and distributed them to these partners so that they could keep supporting their beneficiaries.
Says Mr Bryan Lim Chong Chee, MINDS' deputy director of residential and community-based care services: "MINDS has been able to step up the fight against Covid-19 thanks to the support and help of our generous sponsors and partners. Our clients and staff are able to proceed with their activities with as little disruption as possible in a clean and safe environment, thanks to the hand sanitisers donated by DBS Singapore. We would like to thank them for their thoughtful gesture during this period."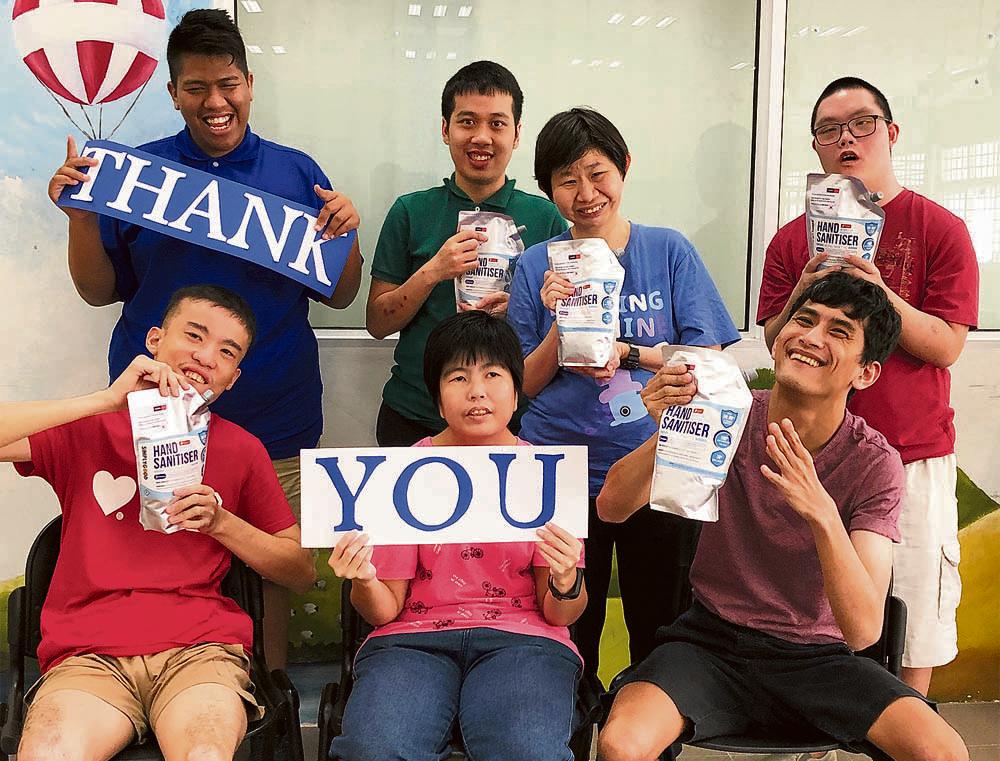 Cups of comfort
Together with DBS, Kopi Ong and Old Tea Hut make use of their businesses' raison d'être to show gratitude to frontline staff
Certain groups of frontline workers have had to work doubly hard to keep the surroundings virus-safe as more precautionary measures, such as increased sanitising of high human touch points and temperature monitoring of visitors, are being taken in public areas and offices.
To show support and gratitude, DBS worked with vendors to distribute care packages and food and beverages vouchers to these frontline workers at DBS premises at Marina Bay Financial Centre and Changi Business Park. The staff include cleaners, security guards, technicians, receptionists and couriers.
Kopi Ong and Old Tea Hut are two vendors that collaborated with DBS in providing free drinks to the frontline staff. Says Kopi Ong's director Mr Alfred Tan: "These unsung heroes silently send messages of confidence and assurance to members of the public, despite the fears and uncertainty in the community. We were thinking of how we could acknowledge their courage and commitment. When DBS suggested partnering up on this collaboration, we immediately agreed to be part of this initiative wholeheartedly."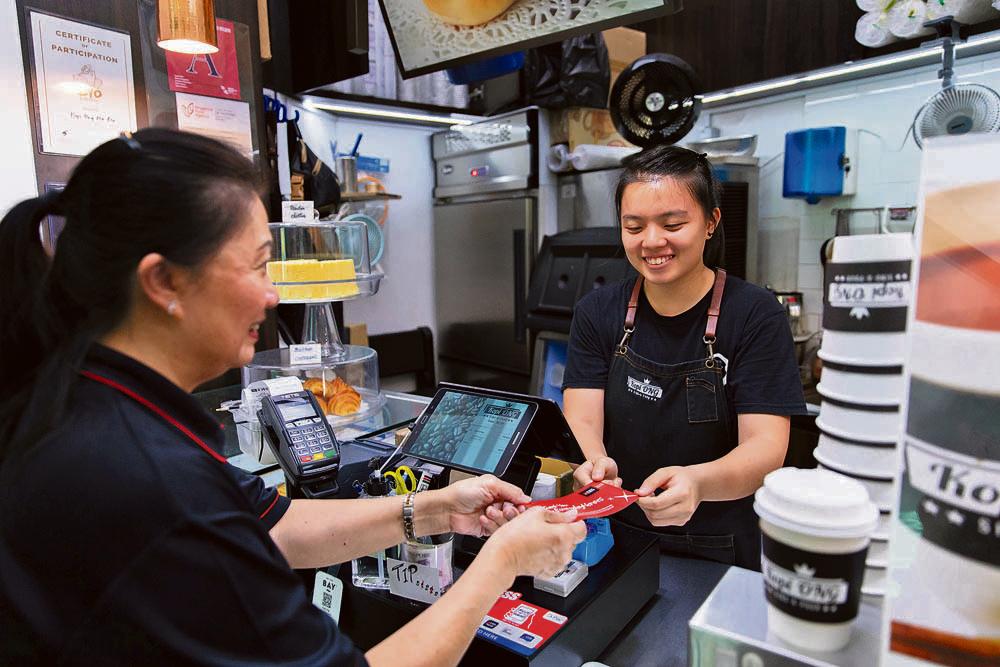 Mr Jumad bin Manaf, 46, a cleaning supervisor working at DBS Asia Hub, Changi Business Park, said he and his team were touched by the move. "The cleaners are thankful for the care packs and vouchers from DBS. I also tell my team that we should work hard to get through this crisis," he says.
This content is produced in partnership with ST Life.