Ageing is often linked to poorer health and a loss of independence, but that doesn't necessarily have to be the case. Technology can offer a helping hand.
In recent years, a slew of health techno­logies, from robotics to virtual reality, have hit the global market to help the elderly age in place, and improve their quality of life.
Such innovations are especially impor­tant as the number of people aged 60 and above is expected to double from 962 million in 2017 to 2.1 billion by 2050, based on estimates from the United Nations.
Here's a look at what some companies have embarked on to help the silver generation live long, happy and healthy lives.
Physical therapy goes virtual
LongGood, a Taiwan-based start-up, is a shining example of how health tech can be used to improve elderly care.
Founded in 2011, LongGood is Taiwan's first rehabilitation software develop­ment company.
With its interactive program, known as PAPAMAMA, patients can access high­quality physiotherapy in the comfort of their own homes.
The software uses gamification to offer more than 15 training programmes that cater to different needs. Its motion-sens­ing technology detects multiple points on a patient's body and projects images of the person onto a screen. Users are challenged to complete a range of tasks, which trains, for instance, balance, muscular endurance and range of motion.
The system is also able to "place" patients' in a simulated, real-life scenario, such as a supermarket, thereby helping them re-learn daily life skills.
The company uses 3D depth image sensors powered by deep vision techno­logy, which - combined with a cloud platform that generates real-time data - allow physiotherapists to remotely track patients' progress.
"As the global population ages, the healthcare systems of every country will face significant challenges to meet their needs. Our solutions help therapists and medical professionals increase efficiency, accuracy, and save time!"
Since its launch, the software has been adopted in more than half of Taiwan's top-tier hospitals.
With the support of DBS, LongGood gradu­ally expanded into South-east Asia and was able to offer its products to the needy elderly in Singapore at subsidised rates.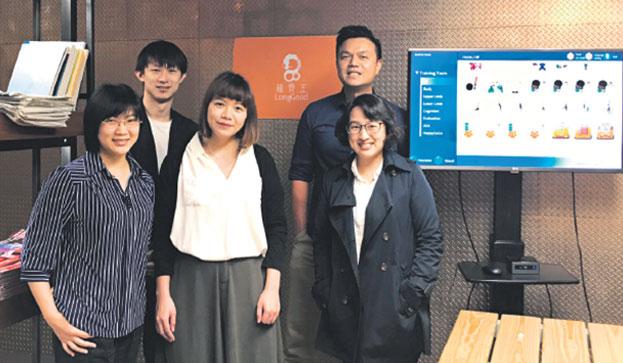 "Singapore is the first country, outside of Taiwan, where we successfully sealed a deal," says Ms Liang. "We received a lot of help from DBS, which referred us to care centres and hospitals so we could network and demonstrate our product."
Putting a spring in seniors' steps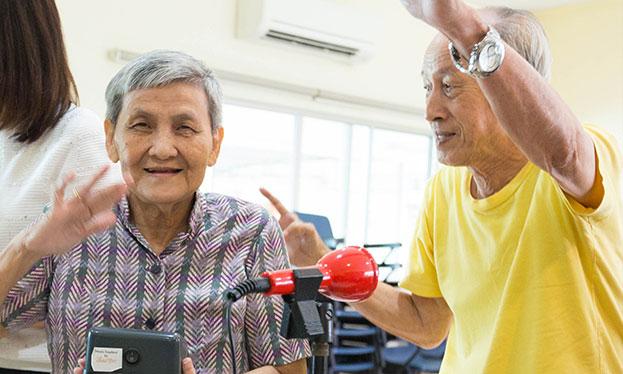 As the global population ages, there is a pressing need for healthcare that not only extends but also improves a person's quality of life.
Homegrown social enterprise I'm Soul Inc is tapping into the healing power of music to make this possible.
The company uses Sound beam 6, an inclusive technology that translates body movements into music and sounds, so anyone can write their own tunes easily and instantly- including older adults and those with disabilities.
The technology is made up of very sensi­tive movement sensors and wireless switches that can be programmed to emit any sound desired. By moving just one part of their body, users will be able to make music without a musical instrument.
Ms Michelle Lee, 62, founder of I'm Soul Inc, says her late father used to love playing the erhu but could no longer do so after a stroke.
"I wish I knew about this technology before he passed away. I could tell that he was not happy as he could not do the things that he wanted to," she says. "With this technology, we have seen clearly the positive impact it has on the people who use it, especially those who are facing certain physical or psychological challenges."
Take, for instance, Mr Sarna Rajah. The resident of St John's Home for Elderly Persons used to play the piano until he was stricken with Parkinson's disease. For 40 years, he was unable to play the instrument. In 2015, at the age of 88, he was finally able to play music again with the help of I'm Soul Inc.
Last month, I'm Soul Inc partnered with ComfortDelGro to launch the Magic Cares Van Community Programme, which encourages movement through music among people with limited mobility and lonely seniors. Weekly, SBS Transit bus captains transport the music equipment to two void decks in Toa Payoh and Ang Mo Kio, where some 30 senior citizens make music, sing and even dance.
"We have enabled hundreds to make music and touched their lives. We aim to create MAGIC Music Hubs. These communities will support the elderly and their caregivers and families. For those whose access to music is restricted or even deemed impossible previously, we open up a whole new world of possibilities!"
I'm Soul Inc is housed at DBS Asia X, where DBS staff collaborates with start-ups and the wider fintech community to create the future of innovation.
LongGood is a social enterprise supported by the DBS Foundation and is the first company in Taiwan to develop interactive rehabilitation software, providing innovative solutions with a vision that everyone can enjoy quality rehabilitation service anytime, anywhere.
This content is produced in partnership with ST Life.