Sport doesn't care who you are, what you've done, what a moment means to you. It will taunt you, challenge you, harass you.
It will take a happy person like Theresa Goh, a woman quick with a smile and a handshake, and make her weep. Make her feel like there's something broken inside her human machinery. Make her cry a stream of tears because in the biggest race of her life at the 2008 Paralympics, she couldn't find the best swimmer within her.
"I felt I had choked."
Goh, 31 now, is too plainspoken, too brave a person, to hide behind excuse. She'll tell you, straight up, that "on the big stage, I always tended to crumble", she'll admit that "I couldn't handle what I thought people would think if I didn't win".
As she sits by the Farrer Park pool in her wheelchair, still an active athlete chasing another medal, she is proof that the best athletes are coated in honesty. They know the clock doesn't lie: It tells you how fast you didn't go when you needed to.
But this story, about a girl who fell in love with water at five, started using a wheelchair at 13 because of spina bifida and became a world-record holder at 17, isn't a sad story. It's not some hand-wringing tragedy of an athlete beaten down by a sport which kicked her dream into the gutter.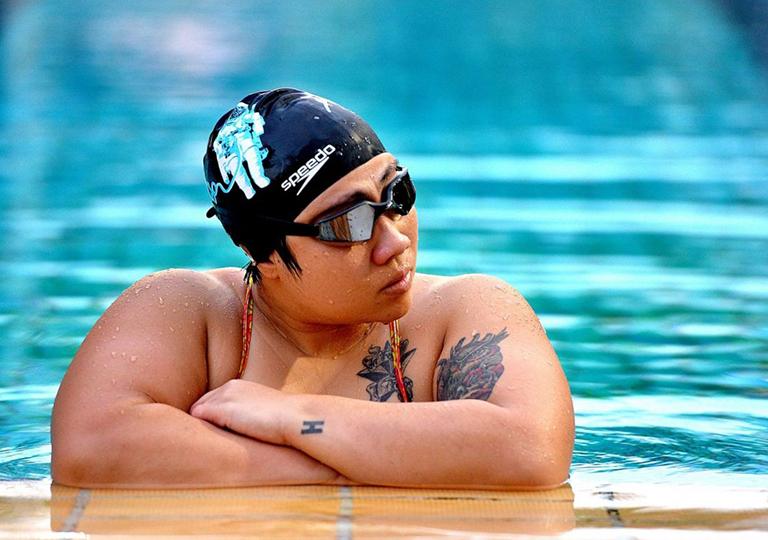 Well, yes, it did, but then she picked up that dream, polished it, held it close for 17 years, chased it across four Paralympics and eight losing finals, had incredible fun and felt awful despair and then one day, for less than two perfect minutes, she found her best. Theresa Goh persisted and in that word lies her tale.
If you require someone to give your school, your office, your battalion a lecture on tenacity, pick Goh. Some people like Marjorie Gestring win diving gold at their first Olympics at 13. Other people, and not just athletes, take a circuitous route - they fall, fail, flinch, but they push on, driven through the years by love, pride, willpower, ego and mad voices in their head.
Achievements
Rio Paralympics, 2016
100m breaststroke, Bronze
4th Asean Para Games, 2008
Berlin Open, 2007
IPC World Champs, 2006
100m breaststroke, Silver
Mountaineers trudge through fatigue and explorers trek through the pain of a cutting cold. This is their version of living more. In The New Yorker's heartbreaking account of Henry Worsley's walk across Antarctica which eventually killed him, it is written that his family had inscribed encouraging words on his skis, including these: "Success is not final, failure is not fatal: it is the courage to continue that counts."
Steadfastness has an allure to it, this ability to traverse adversity and not stop. Some writers fill drawers with rejection slips, but keep faith in their novels. Athletes push past criticism and self-loathing and continue, sometimes because it's all they know. Ian Millar, the equestrian, won his first medal, a silver, at his ninth Olympics. He was 61.
This isn't about victory, but about trying; it's not about reaching the peak, but about your own personal summit. The best of yourself. The fulfilling of potential. This was Goh's journey and she doesn't view it as "dramatic", but "long and hard".
It is a journey of two races. The first is that one from Beijing in 2008, the breaststroke, a hundred metres of heartbreak at her second Paralympics when she can feel the heat of her nation's spotlight.
Everything gets tight. You're not efficient in your stroke, you overthink.
She prepares furiously for that 2008 race. She sticks post-its on the bunk-bed she shares with her sister, which read No Matter What, No Regrets, Give Your Best. In practice she grinds, doing two sessions a day, and she'll tell you "it's the hardest I ever worked". Physically, she's a tuned instrument who owned world records in the 50m and 200m breaststroke in 2007; mentally, she's about to become a mess.
She's not instinctively competitive, not born with a raw rage to win. Now she laughs and says: "In the earlier years, I was OK if anyone were to overtake me, I didn't really care."
There's another thing. A big thing. If some athletes wear pressure like a halo, she sees it as a noose. Months before Beijing, she's pretty sure she's going to be first or second, but the closer she gets to Beijing, her confidence starts to leak and she thinks: "Just give me anything, any medal position, anything will do."
Pressure is like brake fluid in the veins, heavy and hindering. "Everything gets tight. You're not efficient in your stroke, you overthink." She comes fourth, by 0.7 of a second, and it's not that she has no medal that hurts, but that she couldn't find the great swimmer inside her.
And so she weeps.
After Beijing, she pulls down her post-its, tries powerlifting, wears self-doubt, is "sad that I didn't place higher because I felt I had put in 100 per cent and gotten nothing out of it". All that sweat and still her talent won't shine.
But stubbornness is imprinted in her genes and this is her uncompromising beauty. She's the explorer midway across a desert who won't turn back. She has a "feeling" of "unfinished business" and wonders, "10 years later when I think of this moment, will I regret not continuing?"
So Goh swims because she has to.
She goes to the 2012 Paralympics, but she's still healing and educating herself. Learning to "like pressure"; learning that if you want something "too badly", it can shackle you; learning that she's making the classic athlete's mistake of linking her self-worth to her results. She is, she knows, more than just a medal.
Eight years after Beijing, she comes to Rio 2016 to again swim the 100m breaststroke, but she's another woman, another swimmer, who is happier, more competitive, relaxed and with an altered appetite: In China, she's too nervous to eat; in Brazil, she's hungry.
In the heats, she swims four seconds faster than she ever has - so fast that she's sure the touchpads are faulty and so she waits, expecting the time to change, but it doesn't.
She is that fast.
On final day, she gets "chills", but not because of nerves - but because of an act of handsome grace from Inbal Pezaro, an Israeli rival who has eight Paralympic medals. No one appreciates struggle better than the person in the next lane and no one knows your luckless, medal-less story clearer than those who race with you. And so in this moment of tension, Pezaro reaches out to Goh before the race and says: "This is your time."
It is. Goh swims fast, trying not to rush her strokes, and when she touches the wall, she first looks at her time. "I was very happy with it," she says. Then she sees her position.
3. Bronze. Finally.
"Oh my God".
If her fourth place in Beijing was permanent, she thinks, so is this.
Everyone will find their own happy ending to this story. For some, it will be the medal, the reward for resolve. But, perhaps, the elemental appeal of this tale lies in a young woman's sense of purpose, her conquering of her fears, her refusal to slip away.
That day in Rio, when the race is done, the medal assured, you know what she does, don't you?
She cries. First into the waiting arms of Pezaro.
Living more is a celebration of life itself. Here's to the dreamers, the competitors and the champions - the ones who through character, heart and will have unlocked their potential and seized life's opportunities. DBS – Live more, Bank less.