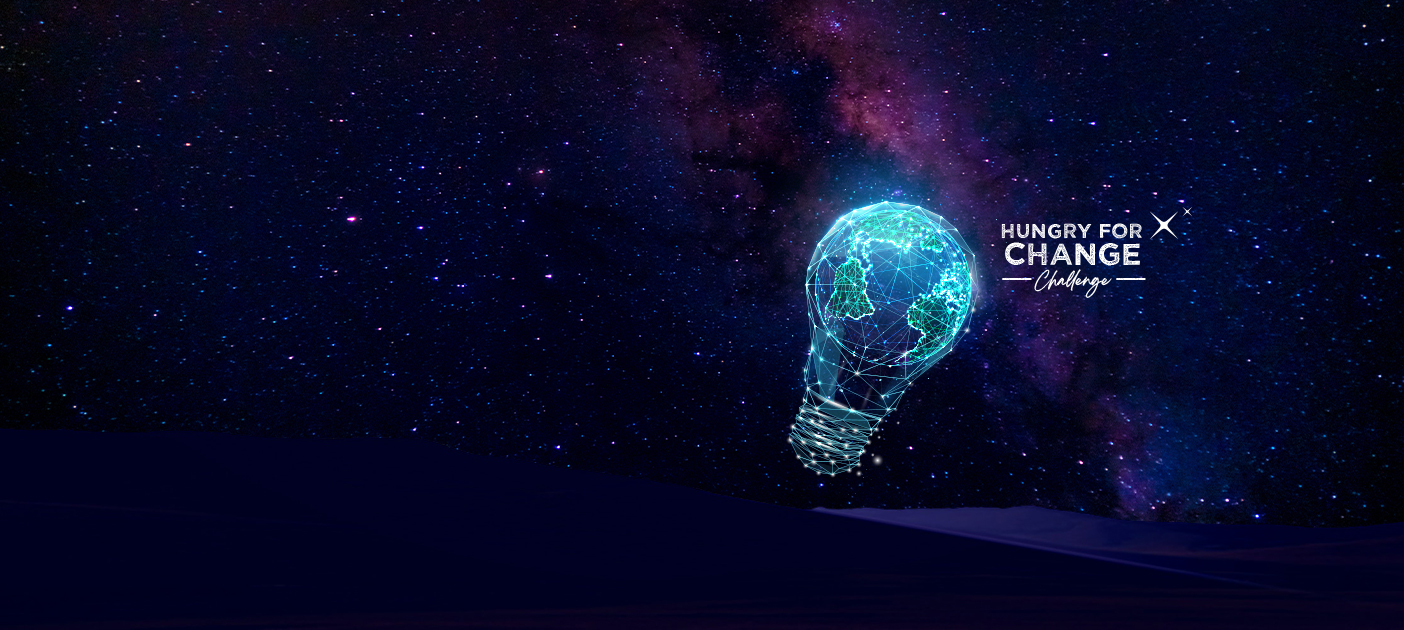 Hungry for Change Challenge
Change the World with One Idea

Did you know

About a third of the world's food is lost or wasted each year1

Up to 10% of global greenhouse emissions is from food waste1

In 2021, food waste in Singapore amounted to 817,000 tonnes2
As the world's population expands and environmental pressures increase, the global food waste crisis becomes increasingly dire. This has been further exacerbated by the pandemic that has upended supply chains and negatively impacted food security for many.
Food matters and food wastage, which includes both food loss and food waste, is a huge contributor to climate change. In Singapore, the Zero Waste Masterplan has identified food waste as one of the priority waste streams to be tackled. Last year alone, Singapore generated 817,000 tonnes of food waste, a 23% increase from the previous year, and about half of the food waste generated nationwide is from households.
Should food waste continue to escalate, Singapore will need to build more waste disposal facilities, such as waste-to-energy plants and landfills for incineration ash. When food is wasted, so are all of the resources used to grow and deliver the food to our tables, as well as to dispose of it. This increases the nation's carbon footprint, contributing to global warming and climate change.
 
About the Hungry for Change Challenge
DBS Foundation and the National Environment Agency (NEA) launched the inaugural Hungry for Change Challenge to empower our youth to develop and pilot innovative solutions that will prevent and/or reduce food waste in Singapore. The Hungry for Change Challenge is open to current students and recent alumni from the institutes of higher learning in Singapore.
Under the DBS Foundation X NEA Hungry for Change Challenge, the five most innovative and impactful ideas will be supported for piloting with a total funding of up to $125,000 from DBS Foundation. The teams will also have opportunities to consult with NEA and benefit from their expertise.
 
Evaluation Criteria
Criteria
Decriptions
Weightage

Innovation

Is the proposed idea or solution new and what is the unique value proposition?

How does the proposed idea or solution compare to the next best alternative?

20%

Financial feasibility and Scalability

Is the idea or proposed solution technically feasible and can be piloted within the next 6 months?

Is the idea or proposed solution scalable and, where relevant, have a reasonable chance to be developed as a finished product or service after the pilot, from a technical and economical point of view?

20%

Implementation

Does the team possess good understanding of the food waste issue and a clear and feasible implementation plan for pilot?

Does the team demonstrate the ability and capabilities to develop their idea or proposed solution into pilot and beyond?

30%

Impact

Does the idea or proposed solution deliver a significant and measurable impact (eg. environment, social) in addressing the food waste issue?

Does the idea or proposed solution include elements of community engagement/outreach to change behaviour and mindset?

Does the team have in place processes to track and report impact created?

30%
Ready to change the world with your idea?
The submission for the inaugural DBS Foundation X NEA Hungry for Change Challenge is now closed. Stay tuned for more information on the winning zero food waste ideas.
Thank you. Your feedback will help us serve you better.
Was this information useful?
Thank you for your feedback
Let us know how this article helped:
We're sorry to hear that.
We're sorry to hear that

Enter only letters, numbers or @!$&-/()',.