Young, Hungry & Female: Meet the entrepreneurs reinventing Singapore's food waste
BY DBS, 7 MARCH 2023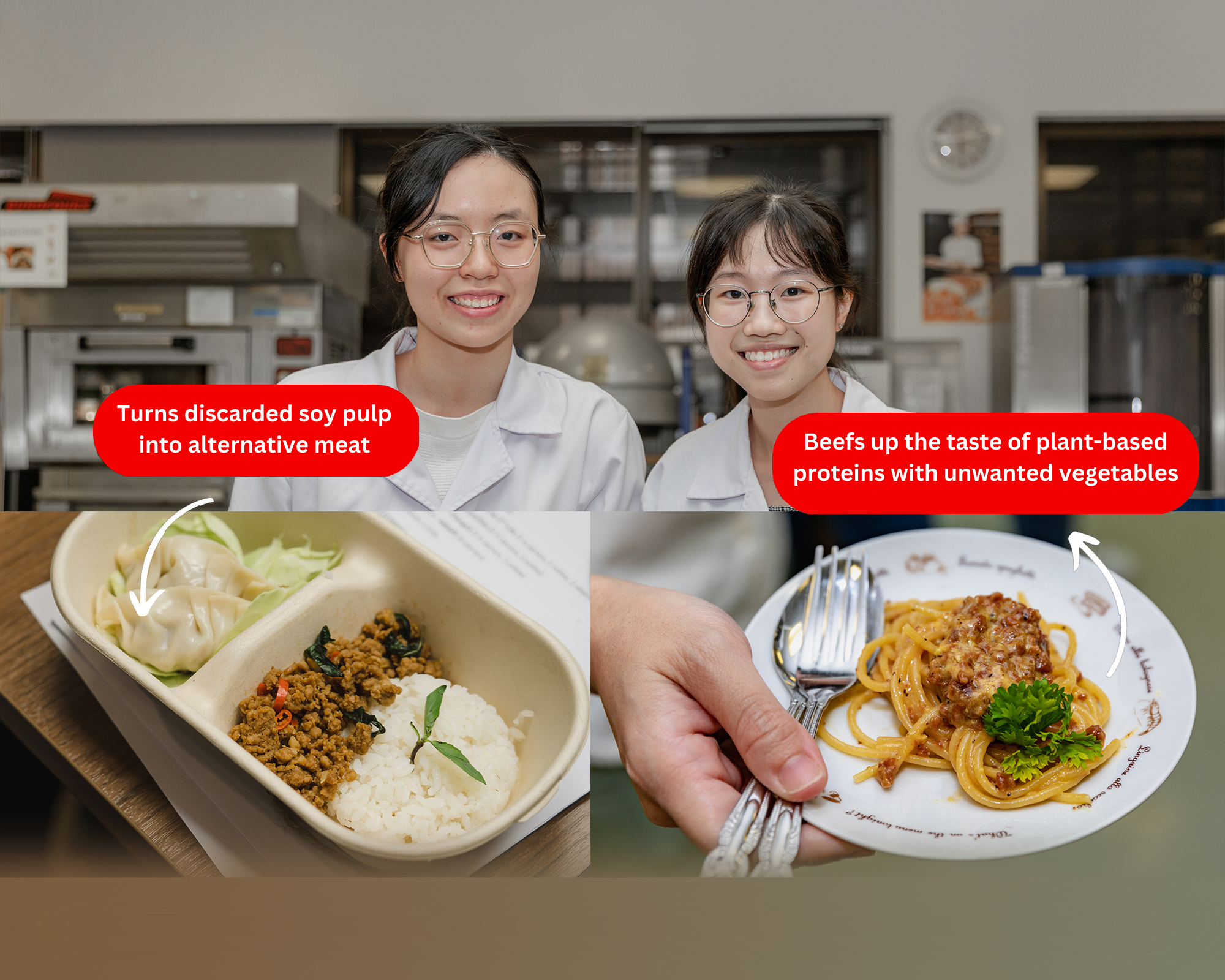 Singapore has a food waste issue, and these women have a beef with it. They want to change how Singaporeans eat, one zero-food-waste solution at a time.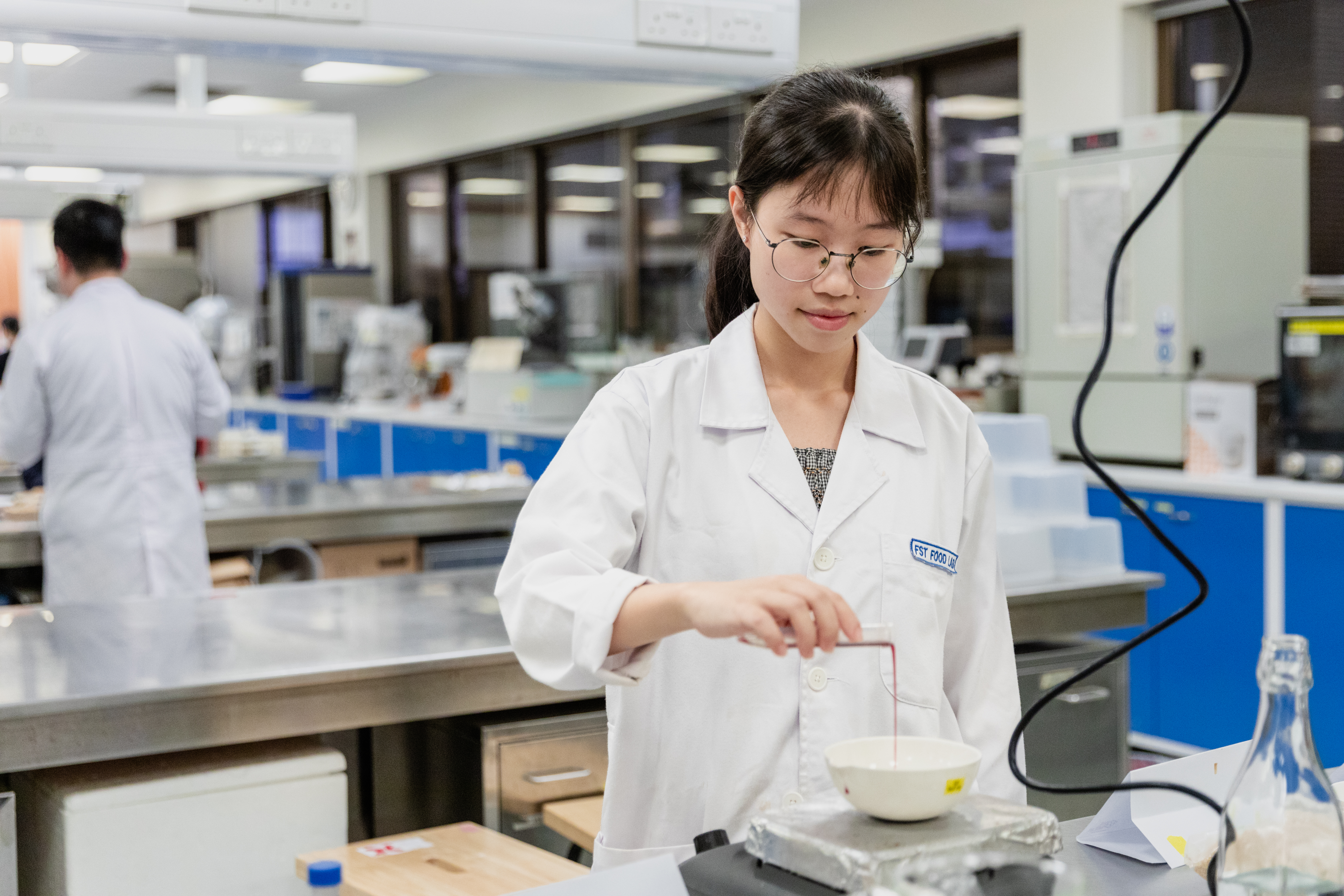 As a flavourist, Chia Jia Yang does not eat like a regular person. For example, when she eats her favourite snack - sweet potato fries with sour plum seasoning - her discerning tongue will dissect the chemical components that make up the complex flavours. To some, this may be an occupational hazard, but to her, each flavour opens a new world of experiences for her.
At 24 years old, she is already the lead flavourist of the VEME team. The food tech start-up, supported by DBS Foundation, valorises commonly discarded vegetables to produce food flavouring that replicates the taste and aroma of animal meat in plant-based proteins.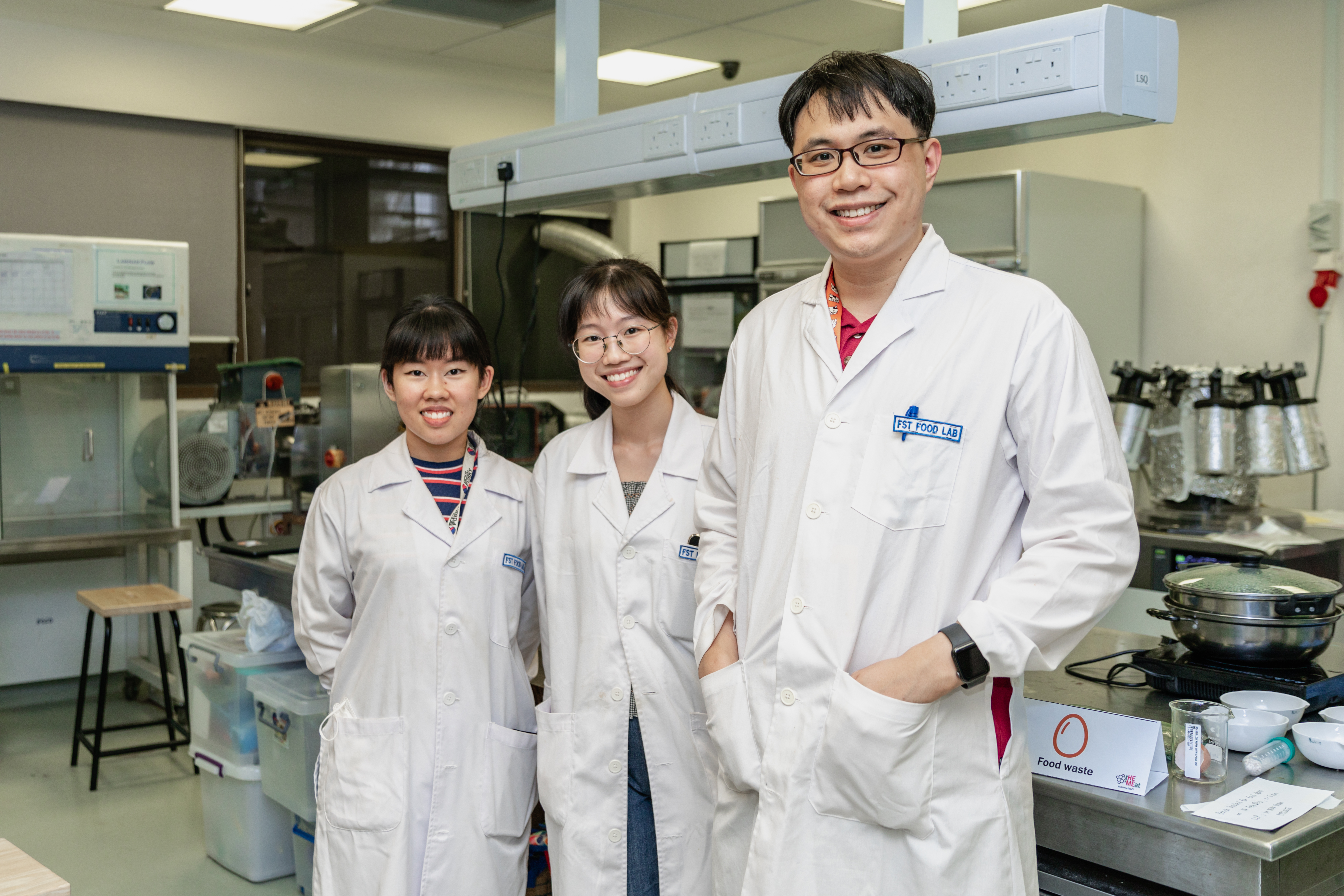 Jia Yang with her teammates, food scientist Trinda Ting and chemist, Dr Max Tham.
Together with chemist Dr Max Tham and an interdisciplinary team of scientists from the National University of Singapore (NUS), Jia Yang closes a gap in the market for affordable plant-based protein. Their secret: by extracting flavour catalysts from unwanted leafy vegetables, the production of their alternative meat can be more cost-effective than those of competitors.
First taste of ambition
Her foray into the flavour industry began when she was interning at Firmenich. During her short stint at the Swiss fragrance and flavour company, Jia Yang was inspired by Ms Yukiko Ando Ovesen, a principal flavourist who was highly skilled in designing flavour profiles.
She later embarked on her final year project with Max to beef up the taste of plant-based proteins while sharpening her craft, with the freedom to design her own experiments.
"I remember thinking, 'I want to do what she does' because she is recognised in the field and holds a high position that is usually held by men."
She later embarked on her final year project with Max to beef up the taste of plant-based proteins while sharpening her craft, with the freedom to design her own experiments.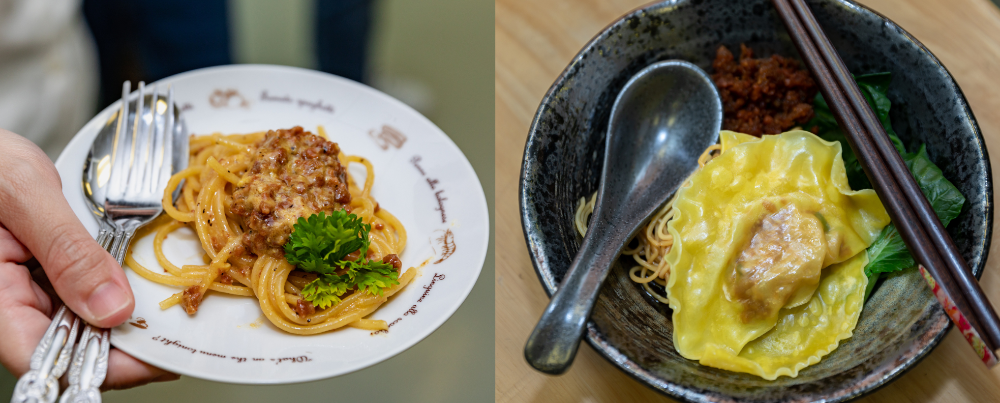 VEME's plant-based proteins are versatile to create both Western and Asian dishes.
"I am like a 'guinea pig' in the lab. My responsibility is to identify the right taste profiles and ensure they are safe for consumption. I would then have tasting sessions with the team to bounce ideas off them so we can improve the formulation together."
But research is not the toughest part of her work. To secure funding for their start-up, Jia Yang and her team have had to step out of their comfort zones and pitch their solution to leaders from various organisations.
Their pitching strategy involves distilling scientific information about their innovation to its simplest form and articulating confidence in the feasibility of their products. It paid off – the team secured SGD 25,000 funding from DBS Foundation to scale up production of their food flavouring.
Never soy never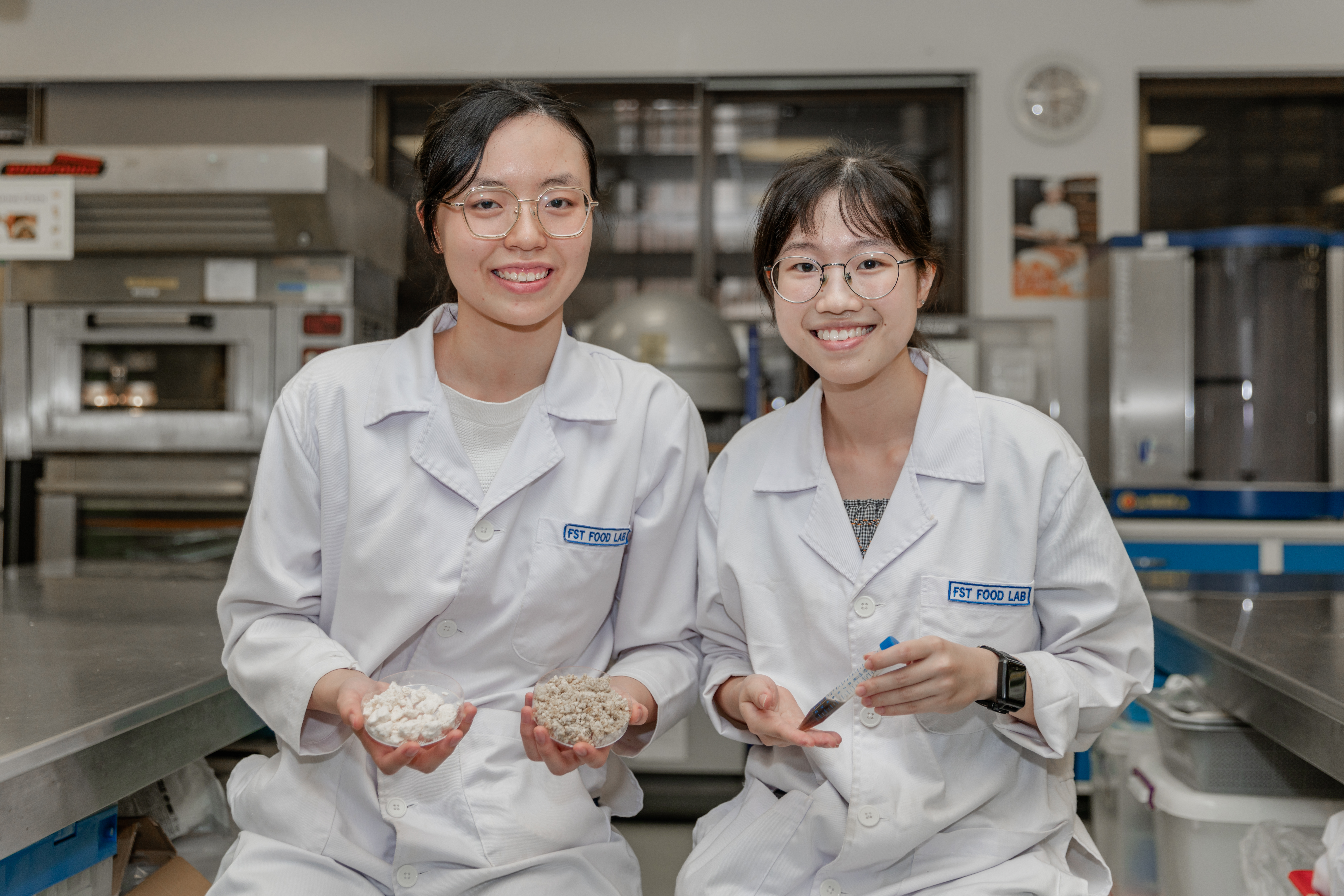 NUS food science alumni Oh Kai Ling and Chia Jia Yang are turning food waste into alternative meat with their start-ups.
Across the lab where Jia Yang works sits scientific officer Oh Kai Ling. Kai Ling, who is fan of soy milk desserts, has been tackling another food waste problem – soy pulp. As a by-product of soy milk and tofu production, it is usually thrown away for its unpleasant taste and texture.
The world of food science drew Kai Ling in as it presented opportunities for her to invent new products. For her final year project, she explored converting soy pulp into alcoholic drinks.
Eventually, Kai Ling explored other opportunities to reinvent soy pulp, and co-founded Jiro-meat with her team. Jiro-meat, a play on the word 'zero-meat', aims to spark curiosity for their product which valorises soy pulp into alternative meat.
The team collects soy pulp from local manufacturers, and with its proprietary fermentation method converts it into a tasty, protein-rich food.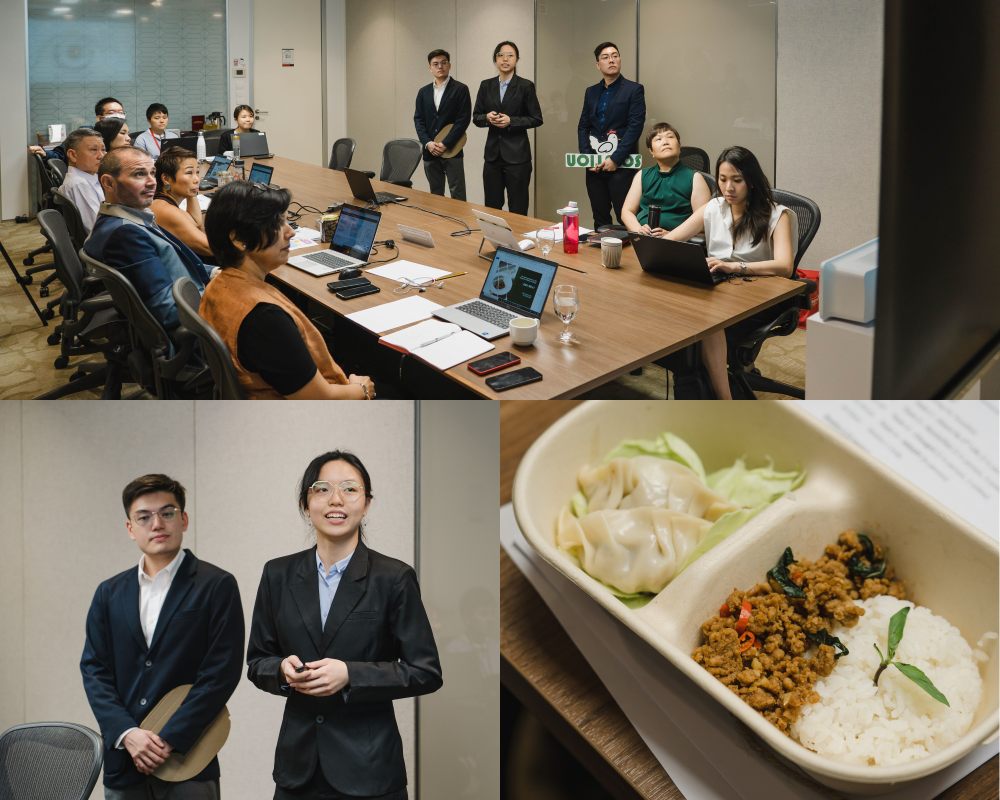 Kai Ling and her teammates pitching their zero-food-waste solution at the DBS Foundation X NEA Hungry for Change Challenge in January 2023.
While juggling research, the 24-year-old Scientific Officer also works closely with students from NUS Food Science and Technology. She trains them in the correct usage of lab equipment and supports them in their research.
"I was inspired by Senior Lecturer Dr Liu Mei Hui who is also my role model. She taught me the importance of building good relationships with students, being thorough with your subject matter, and simplifying difficult concepts to engage better with others."
Dr Liu's advice became Kai Ling's winning strategy when she pitched Jiro-Meat at the final round of the DBSF x NEA Hungry for Change Challenge. She believes that their samples instilled confidence among the panellists that the team is reliable and can scale up production with their industry partner, Tai Hua Food Industries.
The beer necessities to success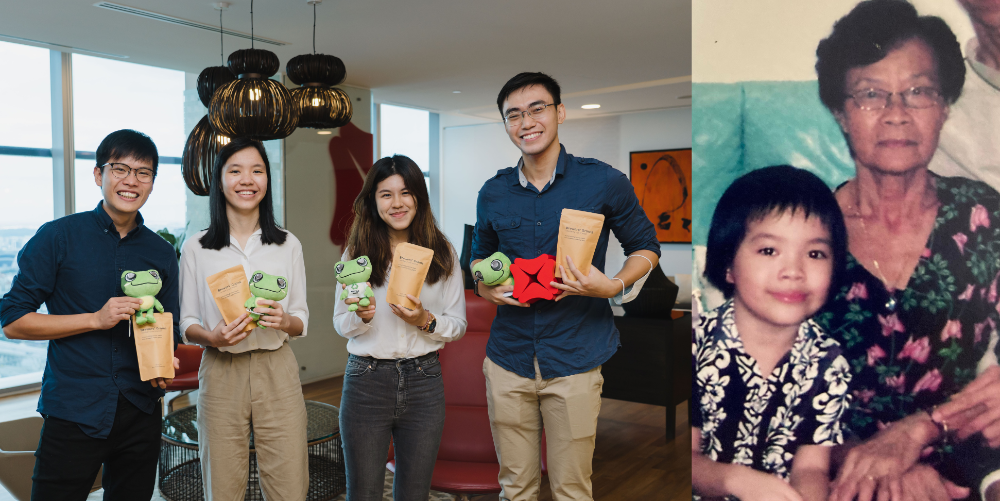 Lim Jie Qi, pictured second from left, with her teammates after pitching at the DBS Foundation x NEA Hungry for Change Challenge.
Growing up, NUS undergraduate Lim Jie Qi watched her grandmother reuse and repair their family's belongings as much as she could instead of throwing them away. The matriarch, who had limited resources after Singapore's independence from Malaya, instilled important lessons on being resourceful among her children and grandchildren.
When the 23 year old Philosophy, Politics and Economics student started working part-time as a waitress, she was disturbed by the amount of food thrown out at the end of the day.
"I saw bags and bags of food binned, it got me thinking how much waste we are generating as a country."
Driven by the need to tackle the problem head-on, Jie Qi joined the moonbeam co, a start-up that collects spent grains from local breweries and converts it into granola. While juggling her studies, she runs community engagement programmes such as workshops and lab visits to spark conversations about entrepreneurship and sustainable food.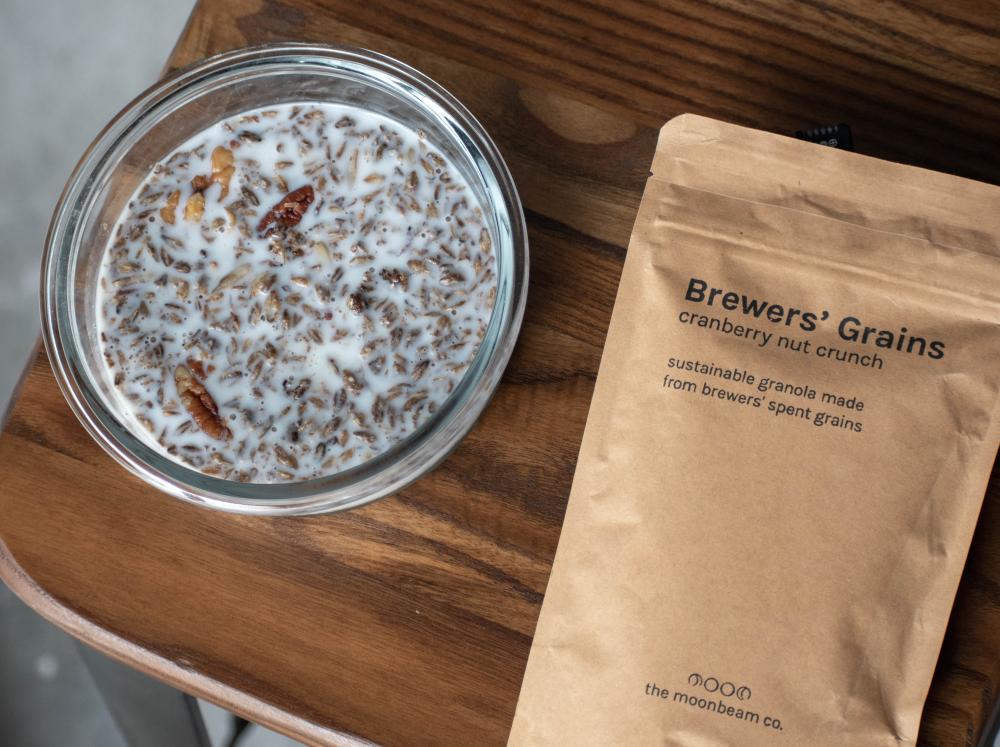 Photograph courtesy of food tech start-up, the moonbeam co.
Her grandmother may be her first role model, but Jie Qi is also empowered by the male co-founders in her team.
"I am lucky that they built a culture of mutual respect in our team from the start. I have been able to experience a different side of what a leader should be - someone who takes a consultative approach and encourages teammates to have a voice in discussions."
---
DBS Foundation is proud to support the next generation of impact makers tackling Singapore's food waste issue. The women entrepreneurs featured above are among five winning teams of the DBS Foundation x NEA Hungry for Change Challenge who will be deepening their zero food waste solutions with funding support of up to SGD 125,000.
Learn more about the other winners from the inaugural challenge here.