The road to sustainability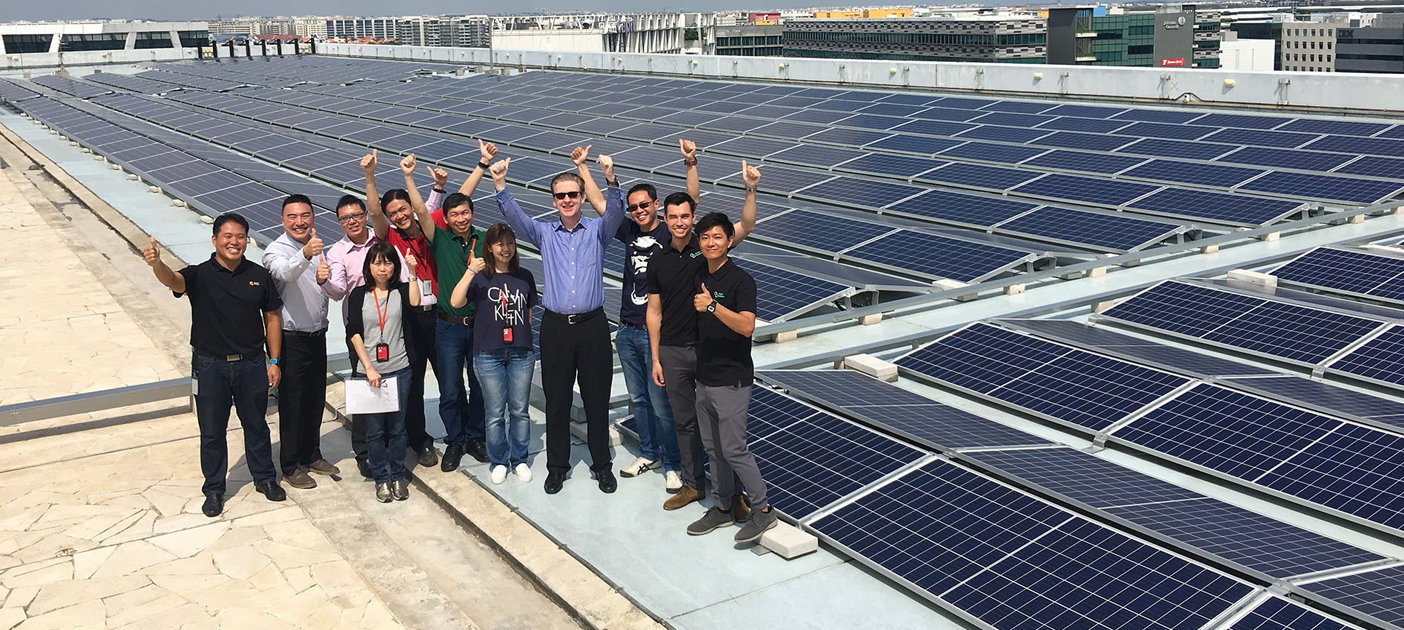 DBS Asia Hub is soaking up the sun with a rooftop solar panel installation the size of about half a football field in Changi Business Park.
Tackling the sustainability challenges of an increasingly complex world requires all hands on deck
Over at the DBS Bank building at Changi Business Park, some 1,200 solar panels - spanning the size of about half a football field - line its rooftop. Across the bank's offices, gone are plastic water bottles from meeting rooms. Laptops come bulk-packed into one box to save on packaging. More than 99 percent of DBS' new suppliers have committed to the bank's sustain-able sourcing principles.
The simple fact of the matter is: tackling the sustainability challenges of an increasingly complex world requires all hands on deck.
In acknowledging the responsibility that businesses have towards creating a more sustainable world, DBS has adopted a range of initiatives across its business to lower its carbon footprint.
For a brighter future
One key commitment that the bank made to tackle climate change was joining global renewable energy initiative RE100 in 2017, and committing to using 100 percent renewable energy in Singapore by 2030. It was, in fact, the first Asian Bank and Singapore company to do so.
"Joining RE100 underscores DBS' intent to contribute, as a responsible corporate citizen, towards the long-term sustainability of our planet," says Mike Power, chief operations officer, Technology and Operations, DBS Bank.
"Climate change is one of the most significant challenges facing everyone today and tackling it means it's essential that we dramatically reduce carbon emissions. Transitioning towards a low-carbon economy, powered by 100 percent renewable energy, is both techni-cally feasible and economically viable.
"To meet this target, we've embarked on three major initiatives: operating our own solar energy installation, procuring renewable energy, and driving energy efficiencies across our organisation."
Currently, 14 percent of the bank's total electricity consumption is generated from renewable sources. The 1,200 solar panels at DBS Asia Hub generate 460 megawatt hours of energy each year - enough to power 100 four-room Housing and Development Board flats - and help to offset DBS Asia Hub's power consumption.
By transforming its infrastructure, through a cloud-optimised data centre for instance, the bank further decreased electricity usage by nine percent in 2018. In addition, all Singapore retail branches and almost all offices are Green Mark-certified by the Building and Construction Authority.
Catalysing change
In 2017, DBS was the first Asian bank to make carbon-neutral shipments with logistics company DHL Express Singapore's GoGreen Climate Neutral Service.
Here's how it works: DHL Express calculates the carbon emissions of every DBS shipment based on its weight and distance travelled. These emissions are then offset through reinvestments into global climate protection projects, such as a biomass power plant in India and wind farms in the eastern and north-central regions of China.
Last year, DBS became the first Singapore company to implement circular procurement to keep resources in use for as long as possible. In partnership with Lenovo, new laptops are delivered to DBS in sustainable bulk packaging while old laptops are sold back to be reused by others or recycled in manufacturing. By packing up to seven laptops into one carton, instead of individual boxes, the bank has saved one tonne of packaging material thus far.
This year, DBS led the formation of the National Sustainable Procurement Roundtable, along with Singtel, Starhub and Mandai. The goal is to promote sustainable procurement in Singapore, with the aim of building an innovative and sustainable supply chain that efficiently meets sustainability objectives.
Sustainability across the bank
Beyond incorporating sustainability into its business practices, the bank also seeks to deliver products and services that promote sustainable development. It provided sustainability financing amounting to more than $2.4 billion in 2018 and launched Singapore's first green bond by a financial institution in 2017, among others.
It was also the first and remains the only bank with a social enterprise banking package to support the needs of businesses with a social mission. To step up its commitment to the growth of social entrepreneurship, the DBS Foundation was set up in 2014 and has given almost $5 million in grants to date. Last year, the bank's employees also contributed over 65,000 volunteer hours to create social impact in the areas of ageing, education and the environment.
In recognition of its efforts towards sustainable development, DBS was listed in the FTSE4Good Global Index this year for the third year running. The Index identifies companies that demonstrate strong environmental, social and governance practices measured against globally recognised standards. DBS was also the only bank in Southeast Asia and one of five Singapore-listed companies to be included in the Dow Jones Sustainability Index (DJSI) Asia Pacific 2019 for the second consecutive year.
Do well and do good?
Yes, you can.
SWITCH GEARS FOR A CLEANER TOMORROW
Shrink your carbon footprint and make your trips more climate-friendly with these tips
Go easy on the accelerator1


Your driving style has a big impact on the amount of petrol or diesel you use. To improve your fuel economy, ease onto the accelerator pedal gently. Harsh accelera-tion is particularly bad for fuel consumption and increases wear and tear on the engine.
Service your car regularly2


Many factors affect fuel consumption adversely, from clogged engine filters to misaligned wheels. Keeping your car serviced regularly can help it to run smoothly and help you identify potential problems early on. Check with your car dealer to find out what the proper servicing schedule is for your car model.
Travel for work via your laptop


The wonders of technologies, like video calls and screen sharing, mean that you no longer have to fly or trek cross-country for an important meeting. Do away with rides on trains, planes and automobiles (thus lowering your carbon footprint!) and connect with business associates using tools like FaceTime and Skype instead.
Be economical, fly economy


A business class ticket is responsible for almost 3.5 times3 as much carbon emissions as an economy class ticket. That's because in economy, the flight's carbon emissions are shared among more passengers. Taking first class, while swanky, can result in a whopping 5.5 times4 more carbon emissions than economy class.
Pack light for your flights5


... and not just for the sake of your lower back. Baggage constitutes a large portion of an aircraft's weight. The heavier an aircraft, the more fuel it consumes and the more carbon emissions it produces. If every passenger packed one less pair of sneakers (weighing approximately 1 kg), the amount of aircraft fuel savings made would be equivalent to taking 10,000 cars off the road for an entire year!
Source
1, 2Source: Carbon Care Asia
3, 4https://www.theguardian.com/environment/blog/2010/feb/17/business-class-carbon-footprint
5http://www.travelandleisure.com/articles/tips-eco-friendly-flights
This content is in partnership with ST Life.