Supplier Sustainability
Building a strong and reliable supply chain is fundamental to sustainable operations, which is one of the key components of DBS' overall sustainability framework. Sustainable procurement practices will help businesses to reduce waste, contribute to decent working conditions and enable economic growth.
Read about DBS Sustainability - Responsible Business Practices
We recognise that the actions of our suppliers contribute to the bank's sustainability performance and that we can influence and partner with them for mutual improvements. As a leading financial services group in Asia with a presence in 19 markets, we purchase a diverse range of products and services with the bulk being professional services, software, real estate and corporate services. Engaging with our suppliers may also carry financial, legal and reputation risks. As such, we are cognisant that when we make procurement decisions, we must also consider environmental and social matters alongside financial factors.
Read about DBS Sustainable Sourcing Principles
 
Decarbonising Spend
Climate change is one of the greatest challenges of our time. We believe that aligning our supply chain carbon emissions to a 1.5 degrees Celsius pathway, through our procurement practices, is both a big responsibility and opportunity.
To that end, we have developed a masterplan where we will progressively engage with key suppliers and collaborate on decarbonising DBS' spend over the long term.
From 2022, we intend to include carbon emissions scores in our supplier selection process for our most important purchases. We believe that in doing so, we are providing additional incentives for our suppliers to accelerate their decarbonisation efforts. We expect that some of our suppliers will need more help than others and we are prepared to assist where needed.
 
Supplier Development
We believe in growing together with our suppliers, especially with regards to our sustainability journey. Since 2020, we have supported the learning journey of 34 suppliers regionally by conducting sustainable operations training. We plan to expand on this training programme in 2022.
There are various other ways which we work with suppliers to develop their capabilities such as pilot projects, volunteering or grants.
 
Restorative Procurement
Since 2018 when we started our Circular Procurement practice, we have embedded circularity concepts in our procurement processes and department balanced scorecard.
In 2021, we built on that foundation and evolved the practice into the Restorative Procurement framework that aims at building a restorative enterprise through our supplier partnerships. This new framework brings together various sustainability aspects – circularity, carbon, biodiversity and the broader social agenda. It also provides a more holistic approach in the way we think about sustainability. In particular, the notion of doing "more good" vs "doing less harm" is also more pronounced.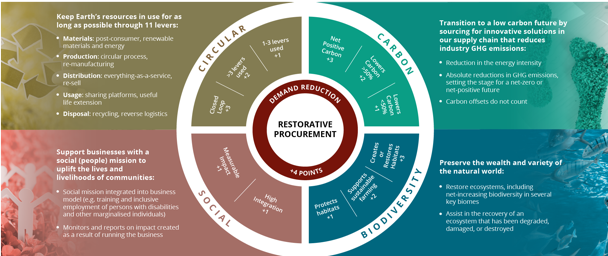 We believe that in the longer term, Restorative Procurement will scale further in DBS and become a key driving force in making DBS a restorative enterprise.
 
Awareness and Networking
DBS believes that working together is key to building a better world.
DBS organises internal and industry procurement events from time to time. Please contact us if you are interested in a speaking opportunity for upcoming events.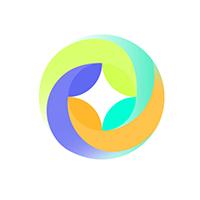 National Sustainable Procurement Roundtable
DBS is a founding member of the National Sustainable Procurement Roundtable. This is an industry-led workgroup that promotes sustainable procurement. The NSPR projects led by DBS includes
SG Sustainable Procurement Forum
Circular Procurement Playbook
Sustainable Gifts and Premiums