Yishun Riverwalk Residents' Committee (RC), POSB and Republic Polytechnic come together for the pilot launch of "POSB Smart Senior" programme
POSB Smart Senior is the world's first holistic health and payment programme developed for seniors, and is accessed via a POSB Smart Sleeve – a new digital device with fitness monitoring, contactless

Over 60 seniors from Yishun Riverwalk to participate in the fully subsidised programme
Singapore, 08 May 2018 - Yishun Riverwalk RC, POSB and Republic Polytechnic today came together for the pilot launch of "
POSB Smart Senior
", the world's first holistic health and payment programme developed for seniors. The innovative programme features a new digital device, the "
POSB Smart Sleeve
", which will enable various lifestyle conveniences with functions such as transit, payments, fitness and location-based tracking.
Minister Ong Ye Kung, Minister of Education and Adviser to Gambas Grassroots Organisations
, officiated at the launch event today which was held at Yishun Riverwalk.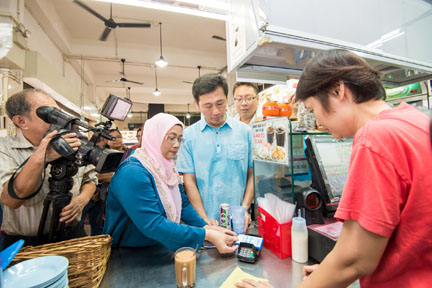 Developed for use together with a new contactless POSB ATM Card, the POSB Smart Sleeve allows users to make NETS contactless payments and conveniently doubles up as a NETS ABT (Account-Based Ticketing) card that can also be used to pay for public transport. It encourages seniors to maintain active, healthy lives by keeping track of their daily steps, and provides cashback incentives once the monthly goal of 100,000 steps is clocked.
During the three-month pilot, seniors will get to enjoy 50% unlimited cashback off adult fares on all buses and MRT rides. They can also enjoy up to 50% cashback (up to SGD50 per month) when they pay via NETS Contactless and clock 100,000 steps in a month.
Families with active seniors can have additional peace of mind as a SMS notification will be sent to a designated family member when seniors check in at the RC's Smart Kiosk using their POSB Smart Sleeve. In addition, the water-resistant device can be personalised with the senior's nickname and it also tells the date and time.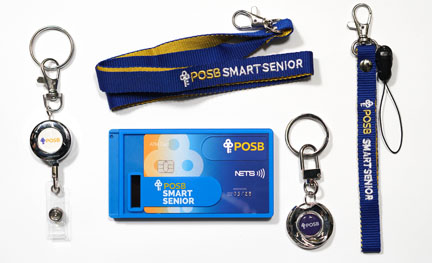 62 seniors in the pilot programme each received a customised set of the POSB Smart Sleeve and contactless POSB ATM Card. Several merchants around the district have also been equipped with contactless terminals with which the seniors can use their POSB Smart Sleeve to make purchases. POSB will draw on the feedback and insights provided by the participants at the end of the trial for future iterations of the initiative.
The programme was developed based on feedback gathered from seniors through briefing sessions organised by grassroots volunteers and student volunteers from Republic Polytechnic early this year. Most of the seniors expressed an eagerness to adopt digital conveniences and contactless payment options, and many have already been engaging digitally with their family and friends.
"I was very excited when I first heard of the POSB Smart Senior Programme, as I can do so many things with just one device! Now I can try using contactless payments when paying for my morning cup of coffee," said Mdm Morie Lim Teck Cheo, aged 60, who is one of the participants in the pilot launch. "I like it that it also tracks my daily steps so I am reminded to keep active and healthy. With the SMS notification function, my child will be reassured whenever I go and meet my friends at the RC."

Said Marianne Yam, Chairwoman of Yishun Riverwalk RC, "We have many seniors staying in our estate, and so it is important that we reach out to them with support on becoming digitally ready. The POSB Smart Senior pilot programme is a great induction for our seniors on becoming digitally savvy, and it is our hope that this will encourage them to learn to use other smart functions once they see and appreciate the various conveniences technology can afford them. The fact that our pilot programme is twice oversubscribed is a great start, and we look forward to partnering with POSB in the months ahead."
Said Jeremy Soo, Managing Director and Head of Consumer Banking Group (Singapore), DBS Bank, "The POSB Smart Senior pilot programme – a world's first – carries on a long and proud POSB tradition of pioneering innovative financial solutions that cater to the evolving needs of Singaporeans. We took special care to design the programme's mechanics and device functionalities so that our seniors can enjoy a seamless experience when using the POSB Smart Sleeve. We are heartened to hear them enthuse about how they can use the POSB Smart Sleeve together in their daily activities. I look forward to their feedback at the end of the pilot programme, which will help us to make future iterations even more useful with their desired functionalities."
In August 2017, the bank launched the "POSB Smart Buddy" programme, an initiative which uses wearable tech to teach students how to save and spend wisely by helping them track their savings and spending habits digitally. To date, more than 40 schools have already come onboard.
[End]
About DBS
DBS is a leading financial services group in Asia, with over 280 branches across 18 markets. Headquartered and listed in Singapore, DBS has a growing presence in the three key Asian axes of growth: Greater China, Southeast Asia and South Asia. The bank's "AA-" and "Aa1" credit ratings are among the highest in the world.
DBS is at the forefront of leveraging digital technology to shape the future of banking, and has been named "World's Best Digital Bank" by Euromoney. The bank has also been recognised for its leadership in the region, having been named "Asia's Best Bank" by several publications including The Banker, Global Finance, IFR Asia and Euromoney since 2012. In addition, the bank has been named "Safest Bank in Asia" by Global Finance for nine consecutive years from 2009 to 2017.
DBS provides a full range of services in consumer, SME and corporate banking. As a bank born and bred in Asia, DBS understands the intricacies of doing business in the region's most dynamic markets. DBS is committed to building lasting relationships with customers, and positively impacting communities through supporting social enterprises, as it banks the Asian way. It has also established a SGD 50 million foundation to strengthen its corporate social responsibility efforts in Singapore and across Asia.
With its extensive network of operations in Asia and emphasis on engaging and empowering its staff, DBS presents exciting career opportunities. The bank acknowledges the passion, commitment and can-do spirit in all of its 26,000 staff, representing over 40 nationalities. For more information, please visit www.dbs.com.