Top entrepreneurs of 2017 SVC Asia set to make social impact targeting educational, healthcare, agricultural and environmental sectors
Singapore, Regional
.

04 Oct 2017
Singapore, Regional, 04 Oct 2017 - Eight teams took home a total of S$180,000 in cash prizes from the 2017 DBS-NUS Social Venture Challenge Asia (SVC Asia) - the highest amount ever presented within the competition's four-year history. SVC Asia is an Asia-wide competition for social enterprises. It identifies and supports innovative ideas and social ventures that demonstrate positive, scalable and sustainable social impact within the region. Organised jointly by NUS Enterprise, the entrepreneurial arm of the National University of Singapore (NUS), and DBS Foundation, SVC Asia provides multi-dimensional support for social entrepreneurs through its learning platform, access to networks and mentorship assistance.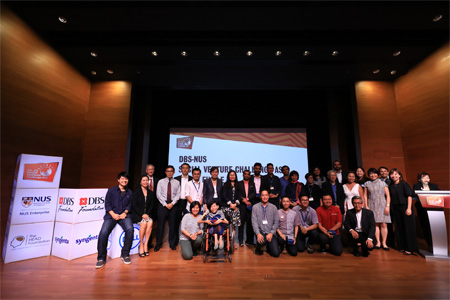 This year, SVC Asia brought in several corporate partners to provide additional experience, networks, mentorship support and resources for the competition. Besides the support from existing corporate partner, Syngenta, new partners included Dell and The HEAD Foundation, which provided sponsorship for additional cash prizes, while Experian provided business intelligence reports and insights.
The winning teams of the 2017 SVC Asia are divided into several categories:
SVC Asia Enterprise Category
Six teams took home cash prizes of S$20,000 each from DBS Foundation. This category was applicable for social ventures that are already generating revenues and seeking to scale their operations and impact. The teams are (in alphabetical order):
Amongst the six winners, HelpUsGreen stood out in particular and received the 'Judges Choice Award', as the judging panel was particularly touched by its founder's passion and its triple bottom-line business.
SVC Asia Idea Category
Two teams received cash prizes of S$5,000 each from DBS Foundation. This category was applicable for teams that are still validating their idea, trying to build a minimum viable product or conducting trials to test their concept. The winning teams are:
Evoware (Indonesia) – Indonesia is the second largest contributor of plastic waste in the world, with as much as 90 per cent of plastic waste being dumped into the ocean. Social enterprise Evoware aims to address this problem through developing edible, biodegradable and eco-friendly bioplastics. This is made from sustainably-produced seaweed, meaning the positive social impact is not only on the environment but also providing livelihood for seaweed farmers. As Evoware says – Eat your cup, save the earth!
CocoAsenso (The Philippines) – CocoAsenso is establishing a network of efficient, small-scale coconut processing facilities in remote regions in the Philippines, with the first facility in Samar to be set up by end of 2017. Coconuts are purchased directly from local farmers at fair prices. Farmers are also offered training/financing to improve crop production and employment in the processing facility. CocoAsenso products include virgin coconut oil, coconut jerky and desiccated coconut.
In addition, SVC Asia corporate partners sponsored cash prizes, as follows:
Syngenta Agriculture Social Enterprise Award
A cash prize of S$20,000 sponsored by Syngenta was awarded to the best agriculture-related social enterprise that demonstrated the most innovative business solution and positive, sustainable social impact. The winning team is Crowde (Indonesia). See description of Crowde under the Enterprise category.
The HEAD Foundation Innovative Social Enterprise Award (Education)
A cash prize of S$20,000 sponsored by The HEAD Foundation was awarded to the social enterprise team with the best proposed use of technology and innovation for education. The winning team is Imagtor (Vietnam). See description of Imagtor under the Enterprise category.
Dell Digital Award
Two cash prizes of S$5,000 each sponsored by Dell were awarded to social enterprise teams that demonstrated the best use of digital technologies to make positive social impact. In addition to cash prizes for the two winning teams, Dell's senior executives will be investing their time in mentoring them over the course of six months, to help them realise their ambitions through digital technology. The winning teams have demonstrated solutions with high societal impact that can be accelerated with the use of technology:
Imagtor (Vietnam) – See description of Imagtor under the Enterprise category. Imagtor's digital project aims to expand its connected workplace (home office and partner network) with an upgraded IT infrastructure and software.
TEMU (Indonesia) – See description of TEMU under the Enterprise category. TEMU's digital project aims to further improve its application in areas such as security and automation.
Dell also presented laptops to the top 16 SVC Asia teams, which included the Dell XPS 13 and Latitude 5280.
Asia For Good Reader's Choice Award
SLCO Community Resources
(Hong Kong), which provides a bilingual language development programme for parents and children who are both deaf and hearing, won the
Asia For Good
Reader's Choice Award, based on the highest number of votes by
Asia For Good
readers. The team will receive a full-length feature to be published on the Asia For Good website, which will be promoted on social media.
"This is the fourth year we have organised SVC Asia, and I am pleased to see the calibre of the teams and their business ideas improving every year. We are also heartened to see more corporations partnering with us this year to further enhance follow-on support and help to the finalist teams," said Professor Wong Poh Kam, Director, NUS Entrepreneurship Centre, who also chaired the final judging panel for SVC Asia 2017.
Said Karen Ngui, Head of DBS Group Strategic Marketing & Communications and Board Member of the DBS Foundation, "SVC Asia has come a long way since its inception in 2014 and we are delighted to see the platform extending its reach further every year. We are committed to developing the ecosystem in Asia for innovative social enterprises by providing mentorship, networking, access to marketplace and impact funding. This year, to provide even greater and more customised support to both early-stage and growth-stage social ventures, we introduced two separate submission categories and received a record number of applications."
SVC Asia 2017 was held from April to October 2017. Over 1000 entries from nearly 30 countries across Asia took part. Participants could access online resources and attend local workshops held in Singapore, China, Indonesia and Taiwan. The top 16 teams were flown to Singapore in early October 2017 for coaching, mentoring and judging. The panel of judges made their decision based on the strength of the teams' value proposition, social impact, market potential and economic/ financial model.
In August this year, SVC Asia was awarded the "Best Flagship Initiative" for the Sustainable Business Awards (SBA) 2017, organised by Global Initiatives in partnership with PwC Singapore.
Details on the 2017 SVC Asia can be found at
http://socialventurechallenge.asia
[End]
About DBS Foundation
As the only corporate foundation in Asia solely dedicated to championing social entrepreneurship, DBS Foundation contributes towards building a more inclusive society so that those at society's margins can enjoy productive and rewarding lives. DBS Foundation works with Social Enterprises and Social Entrepreneurs in Singapore, India, Indonesia, China, Taiwan and Hong Kong with programmes ranging from basic training & workshops to intensive incubation, project grant support, forums for knowledge sharing and senior management mentoring. The Foundation is an endeavor from DBS Bank to make an even greater impact in addressing Asia's evolving social needs.
For more information, please visit:
www.dbs.com/dbsfoundation