POSB new notes pop-up ATMs return for Chinese New Year 2020 (CNY 2020)
DBS/POSB customers can also get new notes via online reservation
Singapore, 08 Jan 2020 - Starting 9 January, DBS/POSB customers gearing up for Chinese New Year (CNY) will be able to get new and good-as-new notes at 40 POSB CNY pop-up ATMs across 20 community clubs islandwide. Customers will also be able to reserve time slots for new notes exchange via DBS' online reservation system. These services will be available to all DBS and POSB customers from 9 to 24 January 2020.
Said Jeremy Soo, Head of Consumer Banking Group (Singapore), "Spending quality time with loved ones remains as one of the most important parts of celebrating Chinese New Year. To ensure that our customers can focus on the things that matter, such as reunions and gatherings with families and friends, it is important that we provide seamless and accessible 'phygital' solutions which combine the familiarity of festive traditions and conveniences of digital technology. We also hope that providing recycling bins for used red packets at our branches throughout the year will make it easier for customers to do their part for the environment and help build a better world for future generations."
40 POSB new notes pop-up ATMs across 20 community clubs
Since 2015, POSB new notes pop-up ATMs designed to disburse new and good-as-new notes have been introduced every CNY to provide customers greater convenience and accessibility during the festive season, in partnership with the People's Association (PA). POSB remains the sole bank in Singapore to provide this service, now a mainstay of CNY. In 2019, more than 200,000 customers used the pop-up ATMs – almost four times higher than in 2015, the first year of launch.
Customers will be able to withdraw CNY new notes in sums of SGD 100 (SGD 2 x 50), SGD 300 (SGD 10 x 30), SGD 500 (SGD 50 x 10) and SGD 600 (SGD 10 x 20 + SGD 50 x 8). All POSB new notes pop-up ATMs are accessible 24 hours daily, except for those at Chong Pang and Teck Ghee Community Club, which will be available from 9am to 9.30pm daily. POSB ambassadors will be on hand to assist customers at various new notes pop-up ATM locations from 9 to 24 January, 9am to 9pm.
Please click
here
to view the full list of POSB new notes pop-up ATMs.
Reserve CNY new notes online
DBS/POSB customers can choose from denominations of SGD 2, SGD 10 and SGD 50 via the online reservation system, as well as collect their new and good-as-new CNY notes on their preferred dates and timings at all full-service branches. To do so, visit
go.dbs.com/sg-cnynotes.
Collect or exchange CNY notes at DBS and POSB full-service branches
DBS/POSB customers can also obtain new and good-as-new notes at all DBS/POSB full-service branches, except for DBS Marina Bay Sands branch and DBS Woodlands Service Centre branch. Special priority queues for the elderly and those with special needs will continue to be available. Customers will also be able to use the SMS 'Q' notification service option to request for a queue number via SMS prior to visiting the branch and receive notifications on the availability of new notes. For the nearest branch's SMS number, please visit
www.dbs.com.sg/personal/deposits/bank-with-ease/sms-q
.
DBS and POSB CNY 2020 red packets
Customers collecting and withdrawing new or good-as-new notes at all DBS/POSB branches or pop-up ATMs will receive two sets of DBS/POSB red packets. This year, the bank also launched its first-ever dual-branded DBS and POSB red packets, where DBS' Xing and Jaan and POSB's Smiley unite to give their festive well-wishes. The red packets are made of environmentally friendly paper derived from sustainable sources.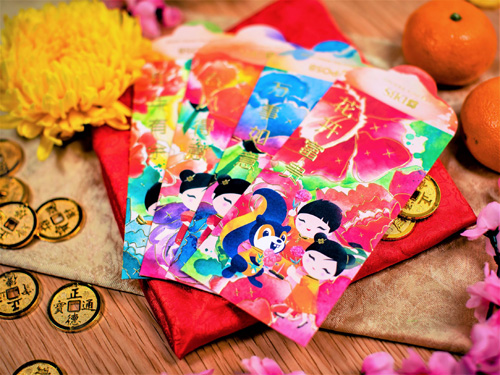 The red packets feature Xing, Jaan and Smiley set against vibrant watercolour floral motifs for a prosperous year ahead. Eco-themed greetings and tips are also printed on each packet. The paper sleeve holding the eight red packets features a homophone for a classic Chinese New Year greeting – "花开富贵", which means blooming flowers bring prosperity.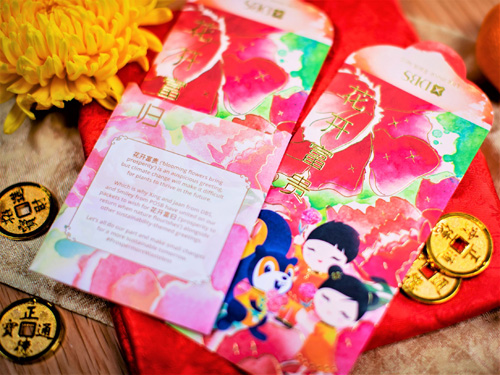 These uniquely designed red packets can be easily upcycled into decorative origami lanterns to liven up homes, or be reused for other special occasions such as weddings and birthdays.
Recycle used red packets at DBS/POSB branches year-round
From 28 January 2020 onwards, recycling bins for used red packets will be available at all DBS/POSB branches across Singapore, accessible during branch operating hours. Bins at selected branches will be accessible 24 hours daily.
In partnership with Tay Paper Recycling, DBS was the first bank in Singapore to launch a red packet recycling initiative in 2019. This year, the recycling bins will be available all year so customers can also recycle packets from other festive occasions, such as Hari Raya and Deepavali. For more information on the location of DBS/POSB branches, visit
https://www.dbs.com.sg/index/locator.page
.
[END]
About DBS
DBS is a leading financial services group in Asia with a presence in 18 markets. Headquartered and listed in Singapore, DBS is in the three key Asian axes of growth: Greater China, Southeast Asia and South Asia. The bank's "AA-" and "Aa1" credit ratings are among the highest in the world.
Recognised for its global leadership, DBS has been named "
World's Best Bank
" by Euromoney, "
Global Bank of the Year
" by The Banker and "
Best Bank in the World
" by Global Finance. The bank is at the forefront of leveraging digital technology to shape the future of banking, having been named "
World's Best Digital Bank
" by Euromoney. In addition, DBS has been accorded the "
Safest Bank in Asia
" award by Global Finance for 11 consecutive years from 2009 to 2019.
DBS provides a full range of services in consumer, SME and corporate banking. As a bank born and bred in Asia, DBS understands the intricacies of doing business in the region's most dynamic markets. DBS is committed to building lasting relationships with customers, and positively impacting communities through supporting social enterprises, as it banks the Asian way. It has also established a SGD 50 million foundation to strengthen its corporate social responsibility efforts in Singapore and across Asia.
With its extensive network of operations in Asia and emphasis on engaging and empowering its staff, DBS presents exciting career opportunities. The bank acknowledges the passion, commitment and can-do spirit in all of our 28,000 staff, representing over 40 nationalities. For more information, please visit
www.dbs.com
.