Digital Services Trade Platform (DSTP) and DBS Bank to Jointly Develop New Digital Finance for Foreign Trade | 繁體
Hong Kong, 13 Nov 2020 - Supported by a series of measures taken by the government to resolutely follow the path of trade globalisation and to open its market to the world, the 3rd China International Import Expo held in 2020 in Shanghai attracted more than 400,000 exhibitors and buyers from home and abroad, despite the ongoing global pandemic.
At the Expo, DSTP of the Top Ideal Group announced a strategic cooperation partnership with DBS bank. Mr. Li Yan, President of DSTP and Mr. Chen Hanrui, President of Guangzhou Branch of DBS, attended the signing ceremony and signed a memorandum of cooperation.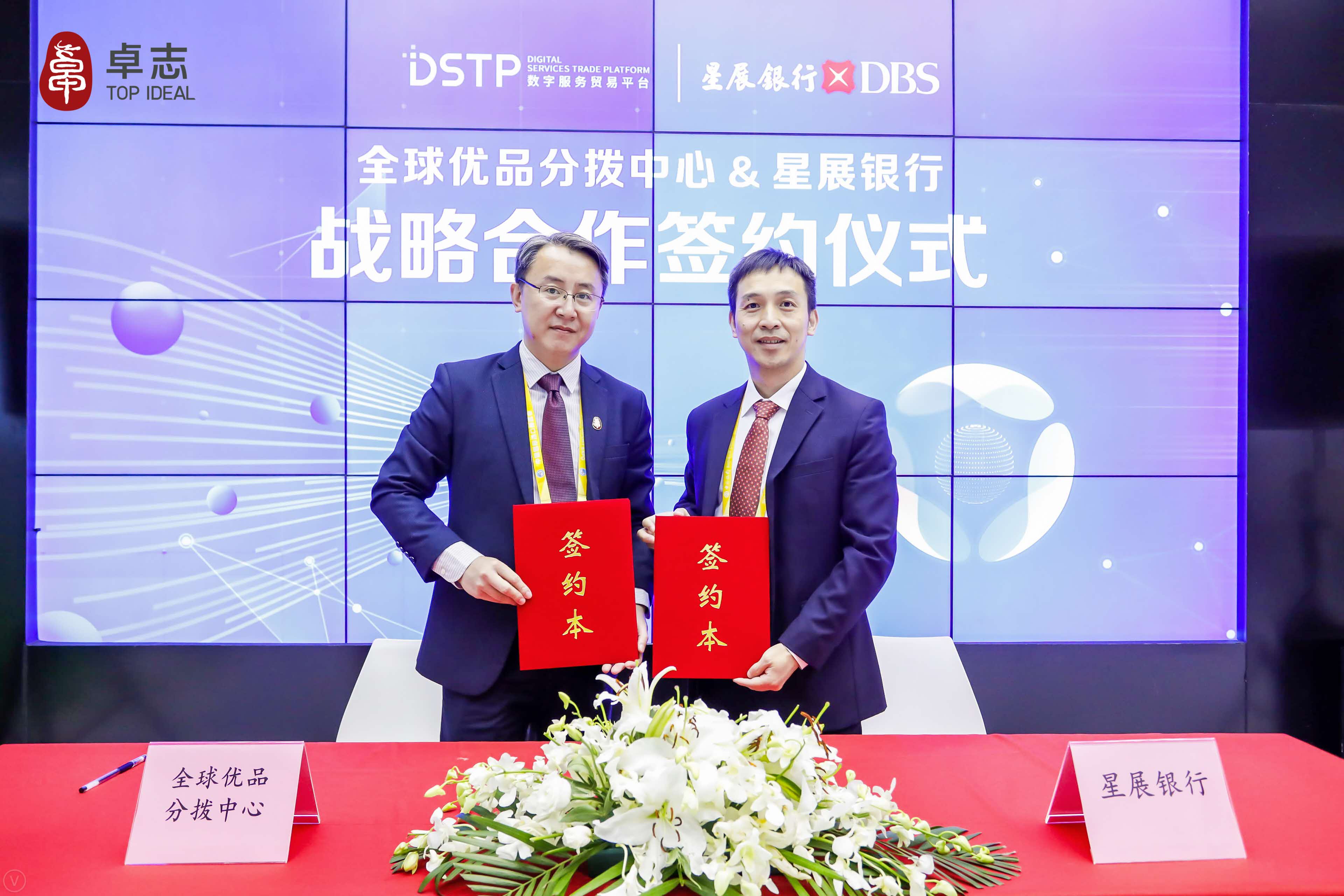 On the left is Li Yan, President of DSTP; on the right is Mr. Chen Hanrui, President of Guangzhou Branch of DBS Bank
DBS Bank and DSTP will focus on cooperation in the field of digital trade, providing users with efficient and convenient services in digital cross-border services, as well as the joint development and application of products.
Established and continuously operating in Asia, DBS is deeply rooted in the fastest growing market in the world. Its business covers Northeast Asia, Southeast Asia and South Asia, providing customers with seamlessly connected financial services. DBS has a good credit rating and is one of the institutions with the highest long-term credit rating in Asia. It has a deep government background, strong Asian network and connections, and has outstanding product development capabilities with respect to capital market, cash and trade. As a key foreign trade innovation project in Guangdong Province, DSTP is a digital cross-border industry service platform characterized by "ecosystem online, intelligent decision-making and global performance". The platform supports international brands to realize global operation and make trade more free with its nine functions: global operation decision-making, supply and demand smart contract, international trade compliance, global traceability, intellectual property protection, international logistics planning, global digital customs declaration, supply chain financial adaptation and international performance management.
As a key foreign trade innovation project in Guangdong Province, DSTP has built a digital service trade platform characterized by "an online ecosystem, intelligent decision-making and global compliance", working with upstream and downstream foreign trade service providers to build digital service scenarios, and help international brands operate globally.
The cooperation between the two sides will make the most of their respective advantages, increase resource investment, build a medium and long-term strategic cooperative relationship, accelerate the innovation of digital financial service models, and promote the high-quality development of the digital economy.
[End]
About DBS
DBS is a leading financial services group in Asia with a presence in 18 markets. Headquartered and listed in Singapore, DBS is in the three key Asian axes of growth: Greater China, Southeast Asia and South Asia. The bank's "AA-" and "Aa1" credit ratings are among the highest in the world.

Recognised for its global leadership, DBS has been named "World's Best Bank" by Euromoney, "Global Bank of the Year" by The Banker and "Best Bank in the World" by Global Finance. The bank is at the forefront of leveraging digital technology to shape the future of banking, having been named "World's Best Digital Bank" by Euromoney. In addition, DBS has been accorded the "Safest Bank in Asia" award by Global Finance for 12 consecutive years from 2009 to 2020.

DBS provides a full range of services in consumer, SME and corporate banking. As a bank born and bred in Asia, DBS understands the intricacies of doing business in the region's most dynamic markets. DBS is committed to building lasting relationships with customers, and positively impacting communities through supporting social enterprises, as it banks the Asian way. It has also established a SGD 50 million foundation to strengthen its corporate social responsibility efforts in Singapore and across Asia.

With its extensive network of operations in Asia and emphasis on engaging and empowering its staff, DBS presents exciting career opportunities. The bank acknowledges the passion, commitment and can-do spirit in all of our 29,000 staff, representing over 40 nationalities. For more information, please visit www.dbs.com.


About DSTP
Digital Services Trade Platform of Distribution Center for Global Superior Products (hereinafter referred to as DSTP) is a model and regulatory innovation project incubated in Nansha Free Trade Zone, and also the globally first Digital Cross-border Industry Platform with the characteristics of digital Eco Online, Intelligence Decision and Global Fulfillment. DSTP has integrated the international trade operations and service trade, gathered the ways and means of service and opened up to all clients for any cross-border business all over the world.