DBS works with Singapore's three healthcare clusters to transition all public hospitals, specialty centres and polyclinics to SGQR by end 2020
SGQR will be launched across 27 public hospitals, specialty centres and polyclinics with effect from today
Singapore, 11 Nov 2019 - In a push towards a cashless and chequeless society, DBS Bank is working with Singapore's three public healthcare clusters, the National Healthcare Group (NHG), National University Health System (NUHS) and Singapore Health Services (SingHealth), on the payment infrastructure to transition all public hospitals, specialty centres and polyclinics to the nation's unified payment code, Singapore Quick Response Code (SGQR), by end 2020. Currently, around one in five consumers pay for their bills via cash or cheque
[1]
.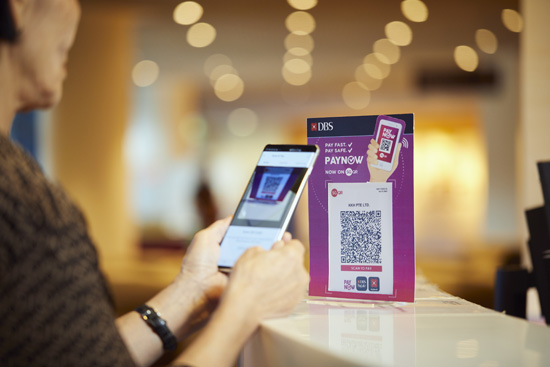 Adopting a phased approach to encourage a gradual shift in consumer behaviour to digital payments, SGQR will be first launched across 27 public hospitals, specialty centres and polyclinics with effect from today. All a consumer needs to do, is to use his/her mobile phone to scan the SGQR code at the counter and key in the bill reference number to make payment. By unifying a multitude of QR payment options available in Singapore today, SGQR helps save consumers and counter staff the hassle of deciding which QR code for payment and collections – making the customer and employee journey a more seamless one.
Mr Raof Latiff, Head of Digital, Institutional Banking, DBS Bank, said, "The unification of multiple QR codes into SGQR provides healthcare institutions and their customers greater freedom in the choice of payment platforms. With Singapore's ageing population, having an easy-to-use digital payment method like SGQR is a progressive step to encourage wider e-payment adoption across various age demographics. In particular, SGQR will be helpful for elderly patients who wish to learn to be more digitally-saavy as all they have to do now, is to look out for one QR code at the counter or in their paper bills to make payment through their mobile phones instantly – saving them the hassle of shuffling through loose notes and coins, or issue cheques to make payment."
Ms Lim Yee Juan, Group Chief Financial Officer, NHG, said, "At the National Healthcare Group, we are constantly innovating to improve patient and caregiver experience. The adoption of SGQR reinforces our ethos of bolstering patient-centred care and population health through technology. We believe that SGQR will help our patients and caregivers save time in the bill payment process, as well as optimise service levels at our hospitals and polyclinics."
Ms Wong Soo Min, Group Chief Financial Officer, NUHS said, "At NUHS, we believe in delivering value-added care and services. As part of the service transformation for our entire cluster, SGQR dovetails many of our other patient-centred initiatives to simplify processes and improve the overall patient and caregiver experience. This will enable them to focus on their recovery journey instead."
Mr Johnny Quah, Deputy Group Chief Financial Officer (Shared Services and Research), SingHealth, said, "With an increasing number of e-payments options available in Singapore, patients may encounter multiple QR codes for different e-payment options when paying their bills in the hospital. SGQR allows SingHealth institutions to consolidate all eWallets in just one QR code, providing more options, convenience and a better payment experience for our patients. Additionally, it frees up counter space in the clinics for important patient care-related notices."
DBS' efforts to encourage corporates to transition towards SGQR
DBS has been working closely with statutory boards and corporate clients over the last 12 months to educate and encourage them to transition towards SGQR.
"Payment transaction volumes via SGQR have been increasing steadily since its launch last year. Today, more than 32,000 SGQR codes have been deployed, representing one in five retail acceptance points nationwide
[2]
. To build on the momentum, we have spent close to 300 workshop hours with clients across multiple sectors this year to advise them on the benefits of the digital payment scheme and how to get started on their digitalisation journeys. These efforts have paid off translating to healthy traction in SGQR registrations across our customers, with one in two DBS PayNow Corporate
[3]
clients planning to transition to the unified payment code by end 2019," said Mr Latiff.
To spur more corporates to go digital, DBS was the first bank in Singapore to waive PayNow and FAST fees for corporate clients for their first 30 transactions every month until January 2020 and extend its waiver of inward PayNow fees till December 2021. This has led to a healthy pick-up in adoption rates for DBS digital payment solutions, such as QR-enabled DBS MAX, which has seen transaction volumes more than quadruple year-to-date.
[1] Based on SingHealth's statistics
[2]
https://www.mas.gov.sg/news/parliamentary-replies/2019/reply-to-parliamentary-question-on-the-adoption-rate-of-e-payments-in-singapore
[3] DBS has around 40 per cent market share for PayNow Corporate registrations and half of the industry's market share in terms of transaction volumes and value

[END]
About DBS
DBS is a leading financial services group in Asia with a presence in 18 markets. Headquartered and listed in Singapore, DBS is in the three key Asian axes of growth: Greater China, Southeast Asia and South Asia. The bank's "AA-" and "Aa1" credit ratings are among the highest in the world.
Recognised for its global leadership, DBS has been named "
World's Best Bank
" by Euromoney, "
Global Bank of the Year
" by The Banker and "
Best Bank in the World
" by Global Finance. The bank is at the forefront of leveraging digital technology to shape the future of banking, having been named "
World's Best Digital Bank
" by Euromoney. In addition, DBS has been accorded the "
Safest Bank in Asia
" award by Global Finance for 11 consecutive years from 2009 to 2019.
DBS provides a full range of services in consumer, SME and corporate banking. As a bank born and bred in Asia, DBS understands the intricacies of doing business in the region's most dynamic markets. DBS is committed to building lasting relationships with customers, and positively impacting communities through supporting social enterprises, as it banks the Asian way. It has also established a SGD 50 million foundation to strengthen its corporate social responsibility efforts in Singapore and across Asia.
With its extensive network of operations in Asia and emphasis on engaging and empowering its staff, DBS presents exciting career opportunities. The bank acknowledges the passion, commitment and can-do spirit in all of our 28,000 staff, representing over 40 nationalities. For more information, please visit
www.dbs.com
.