DBS works with National Council of Social Service, Media Literacy Council, Institute of Technical Education & Chubb to launch cyber wellness movement
The partnership serves to raise awareness of internet dangers such as cyber bullying, online privacy invasion and identity theft
Singapore, 15 Nov 2018 - DBS today announced a partnership with the National Council of Social Service (NCSS), Media Literacy Council (MLC), Institute of Technical Education (ITE) and Chubb to raise awareness of the risks of cyber bullying and identity theft in Singapore. It will see 500 ITE College West students trained on the basics of cyber safety, with the students in turn educating their peers and community to increase impact and awareness. Additionally, DBS will run a cyber wellness-themed awareness campaign across the bank's social media platforms that leverages on education materials provided by MLC and Help123
[1]
– a one-stop platform for youth cyber wellness issues initiated by NCSS – to reach out to the rest of the community.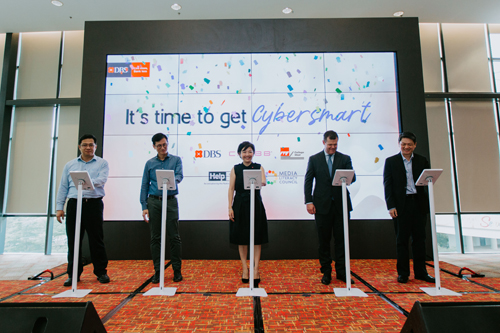 As one of the world's most tech-savvy countries, Singapore has also been witnessing a rise in cyber threats.
[2]
In a recent and latest survey on the issue, three in four youths in Singapore admitted to being bullied online, and almost all of the victims did not inform their parents.
[3]
A recent survey of Asian parents also indicate that 79% have or know a child that has been threatened with physical harm while playing online games specifically on websites or on social media.
[4]
The partnership seeks to counter this rise by teaching the students how to protect themselves in cyberspace and empower them to take responsibility for their own cyber well-being. The training course, which is developed and facilitated by service providers of Help123, namely Fei Yue Community Services and TOUCH Community Services, will also cover related topics such as cyber bullying and online privacy, and impart practical tips on preventing identity theft and the handling of online content. In addition, through education materials on cyber wellness by MLC and Help123 made available on DBS' social media platforms, the partnership seeks to promote cyber wellness awareness to the rest of the community, in particular youths, parents and educators.
Said Goh Mong Song, Principal of ITE College West, "ITE College West is happy to be a partner in this CyberSmart Partnership Programme. The knowledge gained from the workshops will benefit our students and further raise their level of awareness of cyber bullying and identity theft. As part of this Programme, our students will also help train their peers and our community around the campus on cyber wellness. This is especially important as we become more susceptible to cyber threats, in our highly connected society."

Lock Wai Han, Chairman of the Media Literacy Council said, "We are glad to partner DBS on this programme to raise awareness of online risks, which includes cyber-bullying, identity theft, scams and fake news, which are of critical importance given the pervasive use of digital devices among Singaporeans today. We hope that the incorporation of MLC's resources within this programme will help to bring more attention to these issues."
Said Pearlyn Phau, Deputy Group Head of Wealth Management and Consumer Banking at DBS, "With usage of online devices such as smartphones among the young on the rise, the need to educate them on the risks of social media and other online platforms becomes even more pressing. We at DBS hope to make a difference within our communities with this partnership. We aim to reach those who are vulnerable to online hostility and security threats and let them know that there are tangible actions they can take to protect themselves."
500 ITE students will also be given a free one-year CyberSmart insurance policy by DBS. Underwritten by Chubb Insurance Singapore Limited, CyberSmart provides coverage against cyber bullying, online privacy invasion and identity theft. Customers have access to a dedicated 24-hour concierge service hotline and can tap on a team of trauma counselling specialists, legal experts and 24/7 IT/tech support.
According to Paul McNamee, Regional President for Chubb in Asia Pacific, "We developed CyberSmart in collaboration with DBS as we share the vision of being at the forefront of insuring Singaporeans. We have customised affordable plans to appeal to parents who are keen to protect their children and themselves against cyber risks in addition to individual plans for young adults. At Chubb, we believe in supporting this partnership to promote cyber wellness which will become increasingly important as Singapore transforms into a Smart Nation."
For tips on cyber bullying and identity theft prevention, as well as to find out more about CyberSmart, visit:
https://www.dbs.com.sg/personal/insurance/protection/cyber-protection/cybersmart
.
[1]
Help123 is designed to be a one-stop platform linking students, caregivers and educators to available resources. Help-seekers can have easy access to cyber wellness tips and cyber-counselling service via the Help123 webchat or the Help123 toll-free hotline. Besides basic counselling, counsellors manning Help123 can link those who display signs of emotional distress to intervention programmes.
[2]
https://www.straitstimes.com/singapore/tenfold-jump-in-local-phishing-web-links-increase-in-cybercrime-csa-report
[3]
https://www.channelnewsasia.com/news/cnainsider/3-in-4-teens-singapore-cyberbullying-bullied-online-survey-10001480

[4]
https://www.telenor.com/asias-parents-speak-up-on-cyberbullying/
[End]
About DBS
DBS is a leading financial services group in Asia, with over 280 branches across 18 markets. Headquartered and listed in Singapore, DBS has a growing presence in the three key Asian axes of growth: Greater China, Southeast Asia and South Asia. The bank's "AA-" and "Aa1" credit ratings are among the highest in the world.
Recognised for its global leadership, DBS has been named "
Best Bank in the World
" by Global Finance. The bank is at the forefront of leveraging digital technology to shape the future of banking, having been named "
World's Best Digital Bank
" by Euromoney. In addition, DBS has been accorded the "
Safest Bank in Asia
" award by Global Finance for ten consecutive years from 2009 to 2018.
DBS provides a full range of services in consumer, SME and corporate banking. As a bank born and bred in Asia, DBS understands the intricacies of doing business in the region's most dynamic markets. DBS is committed to building lasting relationships with customers, and positively impacting communities through supporting social enterprises, as it banks the Asian way. It has also established a SGD 50 million foundation to strengthen its corporate social responsibility efforts in Singapore and across Asia.
With its extensive network of operations in Asia and emphasis on engaging and empowering its staff, DBS presents exciting career opportunities. The bank acknowledges the passion, commitment and can-do spirit in all of our 26,000 staff, representing over 40 nationalities. For more information, please visit
www.dbs.com
.