DBS woos startups in Software, Internet and Emerging Tech industries
Rolls out "DBS Startup Unleashed", a zero-cost business toolkit that addresses high-growth startups' key banking and professional services needs
Singapore, 01 Nov 2019 - Asia is well-placed to create many of the future unicorns of the world, but support for unicorn-potentials in the technology space is lacking. Recognising this, DBS Bank is making available a comprehensive suite of banking and professional services – at zero cost – that high-growth startups in the Software, Internet and Emerging Technology industries need.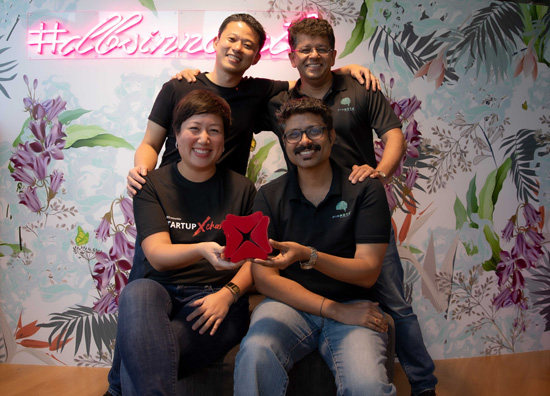 'DBS Startup Unleashed', a business toolkit, is being launched on the back of venture investors pouring an estimated SGD13.4 billion into startups
[1]
based in Singapore in the first nine months of 2019.
Tan Su Shan, Managing Director and Group Head, Institutional Banking Group, DBS said that startups work hard to bring exponential ideas to life in the marketplace but often face considerable challenges as they also shoulder the daily responsibilities of running and growing a business.
"DBS wants to bank Asia's unicorns of tomorrow, today, as we believe that the startups in the Software, Internet and Emerging Technology industries will be the linchpin of the future economy. Due to the rapid adoption and availability of new technology, these startups are on the cusp of exponential growth as they develop next-generation solutions that meet the rapidly changing consumption needs in Asia and across the globe. To help these startups make headway as quickly as possible, DBS is doing whatever we can, from linking them to our ecosystem partners to providing relevant banking services to help them succeed."
The 'DBS Startup Unleashed' business toolkit will address the most pressing needs of these startups. It will comprise a broad suite of solutions for:
•
Everyday banking
– startups will benefit from a fee-free multi-currency account across 13 currencies for day-to-day transactions and complimentary international funds transfers
[2]
;
•
Transaction management and payments
- complimentary set-up of DBS MAX
[3]
, a payment collection and cash management solution;
•
Co-creating digital solutions
- complimentary access to DBS' team of digital solution experts to design solutions powered by DBS APIs to help startups create plug and play impact from the get-go;
•
Accounting
- complimentary access to online accounting software
[4]
so that cashflow and business projections can be managed through a one-stop digital dashboard;
•
Co-working spaces
- complimentary co-working and co-creation space at DBS Asia X
[5]
(DAX), the Bank's award-winning innovation facility;
•
Mentorship and networking through priority access to the DBS Startup Xchange programme
– startups will benefit from partnership and co-creation opportunities to pilot their proof of concepts with DBS. The Startup Xchange programme will also open the door for startups to network and gain access to DBS' ecosystem partners and test their latest solutions on segments of the DBS client base
[6]
.
FINBOTS, a Singapore-based Intelligent Automation firm
[7]
who is already in the DBS Startup Xchange programme
[8]
is one company that is looking forward to benefitting from the solutions offered through the 'DBS Startup Unleashed' business toolkit.
Sanjay Uppal, Founder and CEO, FINBOTS said, "As a startup, we are a business that has to constantly think of innovating our solutions, nurturing the talent that we have and ensuring that our customers get the best service and solutions possible. With the 'DBS Startup Unleashed' business toolkit, the banking solutions will help us save on everyday transactions even across borders. In addition, as we continue to tap into the DBS' ecosystem through their Startup Xchange programme, we are already experiencing increased business momentum. We expect a significant uplift in revenue not just from our customers in Singapore but around the region as well."
Koh Shiyan, Managing Partner, Hustle Fund, a venture capital fund that invests in pre-seed software startups said that speed to market is the name of the game. "DBS' Startup Unleashed toolkit is timely as it frees up resources for founders to focus on building their businesses instead of being stuck managing old-school administrative issues. We're excited about this development as Hustle Fund is constantly looking for ways to accelerate the development of businesses that can become Asia's next unicorn."
Startups in the Software, Internet and Emerging Technology industries who are interested in signing up for the 'DBS Startup Unleashed' business toolkit can register their interest here –
www.go.dbs.com/unleashed
.
[1] Source – Enterprise Singapore, 18 October 2019 – Singapore startups bag S$13.4b funding in first nine months
[2] Terms and conditions apply. www.go.dbs.com/unleashed
[3] DBS MAX is a payments and collections solutions that allows collections in real-time, enables access to funds instantly and facilitates easy reconciliation with real-time notifications and end-of-day reports
[4] Complimentary six-month access to Financio
[5] All applications to enjoy complimentary co-working space at DBS AsiaX will be assessed on a case-by-case basis
[6] DBS banks nine in 10 retail customers and one in two SMEs in Singapore
[7] FINBOT is a Singapore-based Intelligent Automation firm focused on Intelligent Automation, Data Science and Machine Learning solutions for Finance, Risk and Operations teams
[8] The DBS Startup Xchange programme is part of a five-year SGD 10 million investment made by the bank in 2015 to support the development of startups
[END]
About DBS
DBS is a leading financial services group in Asia with a presence in 18 markets. Headquartered and listed in Singapore, DBS is in the three key Asian axes of growth: Greater China, Southeast Asia and South Asia. The bank's "AA-" and "Aa1" credit ratings are among the highest in the world.
Recognised for its global leadership, DBS has been named "
World's Best Bank
" by Euromoney, "
Global Bank of the Year
" by The Banker and "
Best Bank in the World
" by Global Finance. The bank is at the forefront of leveraging digital technology to shape the future of banking, having been named "
World's Best Digital Bank
" by Euromoney. In addition, DBS has been accorded the "
Safest Bank in Asia
" award by Global Finance for 11 consecutive years from 2009 to 2019.
DBS provides a full range of services in consumer, SME and corporate banking. As a bank born and bred in Asia, DBS understands the intricacies of doing business in the region's most dynamic markets. DBS is committed to building lasting relationships with customers, and positively impacting communities through supporting social enterprises, as it banks the Asian way. It has also established a SGD 50 million foundation to strengthen its corporate social responsibility efforts in Singapore and across Asia.
With its extensive network of operations in Asia and emphasis on engaging and empowering its staff, DBS presents exciting career opportunities. The bank acknowledges the passion, commitment and can-do spirit in all of our 27,000 staff, representing over 40 nationalities. For more information, please visit
www.dbs.com
.