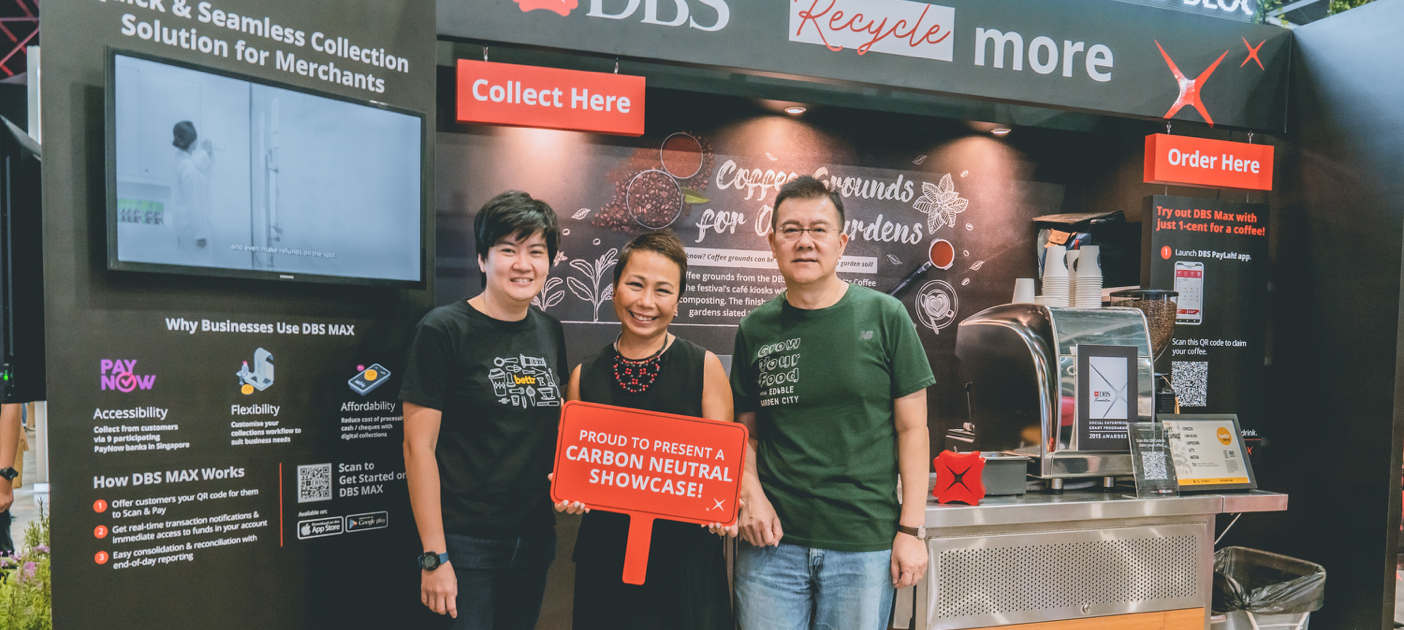 DBS walks the talk on sustainability at Singapore Fintech Fest; showcases carbon-neutral booth and spearheads coffee recycling efforts
Taps into DBS Foundation's Social Enterprise network to recycle coffee grounds into fertiliser for edible gardens to be built at DBS Asia Hub in 2020
Singapore, 12 Nov 2019 - As an advocate for sustainable practices, DBS Bank is proud to showcase its first carbon-neutral booth at the 2019 Singapore FinTech Festival (SFF). The Singapore Environment Council
[1]
(SEC), a recognised member of the Global Ecolabelling Network
[2]
, has been appointed as independent evaluator to calculate carbon emissions at the bank's booth.
To achieve carbon neutrality, DBS adopted the use of eco-friendly materials in the booth's set up, such as flooring made from 95% compressed recycled straw. The bank also ensured that all furniture used at the booth were either from internal inventory or built sustainably with organic material from mushrooms by
Mycotech
, a social enterprise supported by the DBS Foundation.
In addition, to ensure minimal waste, steel wires and pieces of carpentry used for showcases will be returned to suppliers and reused for other events. To offset the carbon footprint
[3]
from construction, a key feature at the DBS booth is its 'hanging gardens'. Comprising a mix of lipstick plant and ivy, all greenery will be rehomed to the bank's employees following the close of the festival this week.
Karen Ngui, Managing Director and Head of Group Strategic Marketing and Communications at DBS Bank, said, "Creating a world that will last for generations to come will require individuals, organisations and nations to change mindsets and shift priorities, starting with simple changes in everyday habits. At DBS, we believe in sparking initiatives that will help to make meaningful and lasting impact in the communities which we operate in."
DBS has also teamed up with two other social enterprises supported by the DBS Foundation to tackle the issue of coffee waste at SFF. In collaboration with
Bettr Barista
and
Edible Garden City
, DBS will be collecting and recycling all used coffee grounds from the bank's booth and across the three SFF cafes for use as compost
[4]
. The finished compost will subsequently be used as fertiliser for the bank's edible gardens
[5]
which will be built at DBS Asia Hub (DAH) in 2020.
Today, more than two billion cups of coffee are consumed across the globe every day, resulting in six million tonnes of used coffee grounds being sent off to landfill each year
[6]
. This is detrimental to the environment as decomposing coffee grounds release methane into the atmosphere due to anaerobic digestion in landfills and the lack of oxygen. Methane is known to be more harmful than carbon dioxide, as it has a global warming potential up to 86 times greater than carbon dioxide.
DBS expects to collect 60 kilograms of used coffee grounds over three days, which is estimated to be able to fertilise its edible gardens at DAH for a year.
DBS' holistic approach to sustainability
Since February, DBS has formed four sustainability interest groups which are focused on initiatives to reduce food, fashion, plastic and paper waste. In addition, Sparks, DBS' industry-first mini-series about banking and bankers, which launched since 2016, has recently launched its second season. Themed "Everyday Heroes for a Better World", the new season of Sparks is inspired by social enterprises that are finding ways to address pressing social and environmental issues. The mini-series can be viewed at
www.dbs.com/sparks
as well as on Facebook and YouTube.
[1] The Singapore Environment Council was established in 1995 as an independently managed, non-profit, non-governmental organisation (NGO). It is the only recognised member of the Global Ecolabelling Network (GEN) in Singapore. The GEN is a non-profit association of leading eco labelling organisation worldwide. In 2017, SEC was granted United Nations Environment Programme (UNEP) accredited environmental NGO status.
[2]
https://globalecolabelling.net/
[3] Carbon offsetting is a way to compensate for emissions by funding or creating an equivalent carbon dioxide saving elsewhere
[4] Compost is decomposed organic matter comprising food waste, shredded twigs and leaves, and animal manure, which help improve soil structure and prevent erosion, reducing the need for fertilisers and pesticides. This helps extend the life of the world's landfills and reduce the amount of methane produced.
[5] An edible garden is a garden that contains flowers, herbs, seeds, fruits and plants that can be eaten.
[6]
https://www.weforum.org/agenda/2018/11/5-surprising-ways-coffee-grounds-can-be-reused/
[END]
About DBS
DBS is a leading financial services group in Asia with a presence in 18 markets. Headquartered and listed in Singapore, DBS is in the three key Asian axes of growth: Greater China, Southeast Asia and South Asia. The bank's "AA-" and "Aa1" credit ratings are among the highest in the world.
Recognised for its global leadership, DBS has been named "
World's Best Bank
" by Euromoney, "
Global Bank of the Year
" by The Banker and "
Best Bank in the World
" by Global Finance. The bank is at the forefront of leveraging digital technology to shape the future of banking, having been named "
World's Best Digital Bank
" by Euromoney. In addition, DBS has been accorded the "
Safest Bank in Asia
" award by Global Finance for 11 consecutive years from 2009 to 2019.
DBS provides a full range of services in consumer, SME and corporate banking. As a bank born and bred in Asia, DBS understands the intricacies of doing business in the region's most dynamic markets. DBS is committed to building lasting relationships with customers, and positively impacting communities through supporting social enterprises, as it banks the Asian way. It has also established a SGD 50 million foundation to strengthen its corporate social responsibility efforts in Singapore and across Asia.
With its extensive network of operations in Asia and emphasis on engaging and empowering its staff, DBS presents exciting career opportunities. The bank acknowledges the passion, commitment and can-do spirit in all of our 28,000 staff, representing over 40 nationalities. For more information, please visit
www.dbs.com
.