DBS upskills employees in Artificial Intelligence & Machine Learning through gamified learning
DBS collaborates with Amazon Web Services to run AWS DeepRacer League to train more than 3,000 employees in AI and ML this year
Bank flies Singapore's flag high on the world stage, with its employee team emerging tops at recent AWS DeepRacer League F1 ProAm Event
Singapore, 17 Aug 2020 - DBS is taking innovative steps to futureproof its workforce, announcing a collaboration with Amazon Web Services (AWS) to develop a critical mass of employees equipped with fundamental skills in Artificial Intelligence (AI) and Machine Learning (ML) by the end of the year.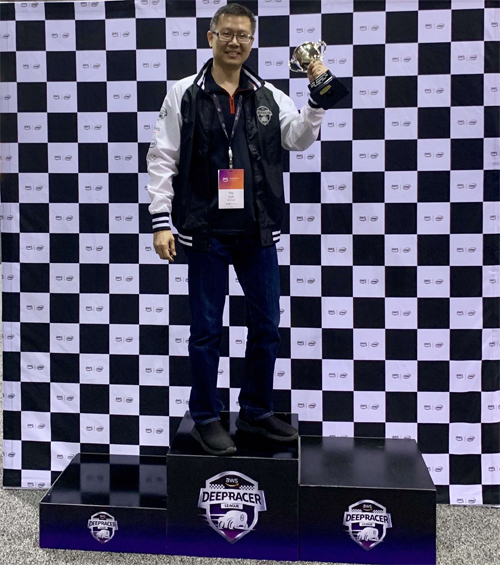 DBS Ray Goh emerged global champion in the recent virtual AWS DeepRacer League F1 ProAm Event
DBS has set its sights on accelerating the use of AI and ML across its business. To enable this, DBS and AWS have jointly launched the DBS x AWS DeepRacer League. DBS employees will learn the basics of AI and ML by participating in a series of hands-on online tutorials before putting their new knowledge to the test by programming their own autonomous model race car. These ML models are then uploaded onto a virtual racing environment where employees can experiment and iteratively finetune their models as they engage each other in friendly competition.
Paul Cobban, Chief Data and Transformation Officer at DBS, said, "As a technology company that provides banking services, we are keenly aware of the need to stay ahead of the technology curve to continue exceeding our customers' expectations. We have never believed in limiting digital expertise to a small team. Instead, we passionately believe in democratising technology skillsets among all employees, so that they can run alongside the company as we advance on our digital transformation together. Additionally, we wanted to adopt a different approach from our previous digital and data skills revolutions. In line with our ethos of keeping work and learning fun, we sought to introduce gamification elements to better engage our employees, and the AWS DeepRacer League platform presented the perfect opportunity."
Through the DBS x AWS DeepRacer League, DBS expects at least 3,000 employees, including the bank's senior leadership, will learn new AI and ML skills this year. The DBS x AWS DeepRacer League will also be run completely online powered by AWS, from classroom to racetrack, as part of DBS' drive to ingrain digital learning behaviours among employees. This comes on the back of DBS' effort to scale up its digital learning tools and platforms to enable its employees to upgrade their skills and pick up new knowledge even when they are not physically in the office.
While smaller corporate AWS DeepRacer Leagues have been organised in other parts of the world, this is the largest among Asian-headquartered enterprises and one of the first in the world to be organised at scale by a financial institution.
"The financial services industry is rapidly evolving, and DBS is again demonstrating why they are a global award-winning bank by transforming their workforce for the digital age and equipping them with the latest knowledge on cloud technology. We are excited to collaborate with DBS to develop a talent pool that can further unlock the flexibility and power of cloud technology," said Conor McNamara, Managing Director, AWS ASEAN. "Congratulations to the DBS employees who have qualified to compete in the AWS DeepRacer Championship Cup later this year."
Employees who develop a flair and passion for AI and ML are encouraged to stretch themselves beyond the DBS x AWS DeepRacer League and to pit their skills at global competitions. Ray Goh, Executive Director of Technology & Operations at DBS, flew Singapore's flag high when he emerged global champion in the recent virtual AWS DeepRacer League F1 ProAm Event run in May 2020, even beating Renault F1 Team driver Daniel Ricciardo. Another four DBS employees were placed in the global Top 20, and a total of six employees have qualified for the AWS DeepRacer Championship Cup to be held in Las Vegas at the close of the year.
Ray Goh said, "When I first got involved with the AWS DeepRacer on my own last year, it was to satisfy my own hunger to learn more about AI and ML. I wanted to challenge myself by participating in the AWS DeepRacer League, but I certainly did not expect to come this far! I'm delighted to be able to do Singapore and DBS proud, and more importantly, to inspire my colleagues to join me in developing a deeper level of mastery in AI and ML, which are both important skills for the bank and the digital economy."
Since the start of its digital transformation seven years ago, DBS has invested heavily in upskilling its employees' digitally so that no one is left behind on bank's digital transformation journey. The bank's investments have laid a strong foundation for everyone in the bank, from teller to executive, to leverage digital capabilities and data skillsets in developing innovative banking products and delivering exceptional service to customers.
DBS is now revving up for the next stage of its digital transformation efforts as it continues experimenting with emerging technologies. For instance, in 2019, DBS digitalised and simplified end-to-end credit processing, setting the foundation for advanced credit risk management using data analytics and ML. It has also deployed an AI-powered engine to provide accurate self-service digital options to its retail customers based on their digital footprint.
[END]
About DBS
DBS is a leading financial services group in Asia with a presence in 18 markets. Headquartered and listed in Singapore, DBS is in the three key Asian axes of growth: Greater China, Southeast Asia and South Asia. The bank's "AA-" and "Aa1" credit ratings are among the highest in the world.
Recognised for its global leadership, DBS has been named "
World's Best Bank
" by Euromoney, "
Global Bank of the Year
" by The Banker and "
Best Bank in the World
" by Global Finance. The bank is at the forefront of leveraging digital technology to shape the future of banking, having been named "
World's Best Digital Bank
" by Euromoney. In addition, DBS has been accorded the "
Safest Bank in Asia
" award by Global Finance for 11 consecutive years from 2009 to 2019.
DBS provides a full range of services in consumer, SME and corporate banking. As a bank born and bred in Asia, DBS understands the intricacies of doing business in the region's most dynamic markets. DBS is committed to building lasting relationships with customers, and positively impacting communities through supporting social enterprises, as it banks the Asian way. It has also established a SGD 50 million foundation to strengthen its corporate social responsibility efforts in Singapore and across Asia.
With its extensive network of operations in Asia and emphasis on engaging and empowering its staff, DBS presents exciting career opportunities. The bank acknowledges the passion, commitment and can-do spirit in all of our 29,000 staff, representing over 40 nationalities. For more information, please visit
www.dbs.com
.