DBS to roll out conversational banking in mobile messaging apps by year end
First bank in Asia Pacific to enable customers to bank conversationally from their preferred mobile messaging app by the end of the year
Customers will be able to manage their money across accounts, track expenses and make payments without leaving their favourite mobile messaging app
Singapore, 17 Aug 2016 - DBS, Singapore's largest bank and a leading bank in Asia, has once again upped the ante in the innovation space, and plans to enable customers to bank conversationally from their preferred mobile messaging app by the end of the year. For the first time in Asia Pacific, DBS customers will be able to use natural language to converse with DBS from their favourite mobile messaging app, manage their money across accounts, track expenses and even make payments in the process.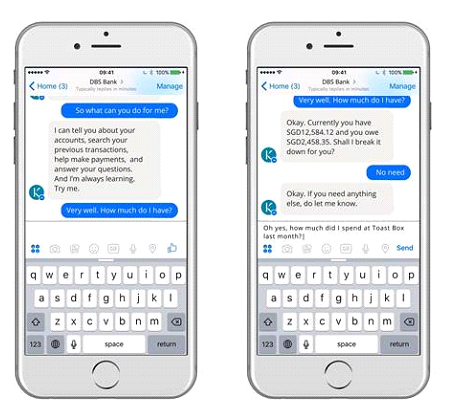 DBS is working with US-based Kasisto, a spin-off from SRI International which created the technology behind Siri (Apple's voice assistant), to deliver this service. Kasisto's conversational AI platform, KAI, powers smart bots and virtual assistants with deep banking knowledge.
For a start, the conversational AI technology will allow DBS customers to access banking services quickly on Facebook Messenger by the end of the year. The service will first be launched in Singapore and India, followed by DBS' other key markets. DBS also plans to extend this service to other mobile messaging apps like WhatsApp and WeChat in the future. To view video on how it works, please click here.
The launch of this service will give DBS customers another convenient option of accessing their bank accounts. For example, if customers want to check their balance in their bank accounts, they can simply text "How much do I have?" which will be answered promptly.
DBS customers can also pay bills easily via this service. For example, by simply texting "Can you please pay my mobile bill?", the request will be processed, but not before identifying the correct payee.
Said Sandeep Lal, Regional Head of eBusiness, DBS Bank, "At DBS, we seek to seamlessly integrate banking into customers' everyday lives, making banking simpler and more convenient for them. We know that our customers are spending time conversing on their favourite mobile messaging app, and we are immersing ourselves in the customer journey by making it easier and more convenient for them to engage us. With the launch of this service, they no longer have to leave their favourite mobile messaging app to conduct their banking. Customers can converse with their bank as they would their contacts, and we will handle the rest with a strong focus on security – it's that simple."
Research has shown that people are spending more time on messaging apps and the launch of this service will allow DBS to connect with customers in a more direct and responsive manner[1].
In April, DBS launched "digibank", India's first mobile-only bank, a revolutionary offering which brings together an entire suite of ground-breaking technology – from biometrics to artificial intelligence (AI) – to enable customers to enjoy a whole new way of banking.
Said Olivier Crespin, Group Head of Digital Bank, DBS Bank, "With increasingly tech-savvy customers and rising smartphone usage, we have designed our digital banking services to be innovative and nimble enough to address customer needs, and be able to provide an intuitive and relevant banking experience. Today, Kasisto's KAI already powers an artificial-intelligent virtual assistant in DBS digibank, India's first mobile-only bank. We are looking forward to rolling out banking via messaging to our customers in our key markets and we believe they will find this service to be useful and relevant to them."
In 2014, the bank made a commitment to investing SGD 200 million over three years in digital banking regionally and has since rolled out various initiatives to weave banking into the everyday life of its customers so that they can spend more time with their loved ones or doing the things that they care about. Some of these recent initiatives in Singapore include:
• DBS digibank in Singapore – a breakthrough mobile app designed to make banking simpler, smarter and faster for customers in Singapore launched in March 2016. For the first time in Asia, customers are able to view their account balances with a simple swipe on their mobile devices or Apple Watch. This function, called the "Peek Balance", does not require any pre-login and customers can choose to "peek" at any of their DBS/POSB deposit or credit card accounts.
• DBS FasTrack – A first-of-its-kind app to be introduced by a bank in Singapore in September 2015, it provides a seamless ordering and payments solution for businesses while eliminating or drastically shortening customers' wait time.
• DBS SMS Banking – In October 2014, DBS introduced SMS Banking, allowing customers to perform simple banking transactions including checking account balances, performing card payments and fund transfers to their own accounts outside of the internet banking environment.
• DBS PayLah! – A mobile wallet introduced in May 2014 to make peer to peer payments easier, now has more than 300,000 registered wallets. The bank also brought this app to Apple Watch, making it the first wearable bank in Singapore.
DBS' efforts to be at the forefront of banking innovation have also been recognised industry-wide through various accolades, testament to the strides that the bank has made in embracing the digital world. Most recently, DBS was named the 'World's Best Digital Bank' by Euromoney, the first time an Asian bank has won an award in a global category by this publication. Earlier this year, the bank was named "Best Retail Bank in Asia Pacific" for the first time by The Asian Banker. DBS was also recognised as "Asia's Trailblazer of the Year" for the fourth year running and for "Excellence in Internet Banking, Asia" at the Retail Banking International Awards.
[1] "Messaging apps and their future potential"
http://wearesocial.com/sg/blog/2016/03/messaging-app-market-future-potential
Additional materials
Videos of DBS banking via mobile messaging
[END]
About DBS
DBS - Living, Breathing Asia
DBS is a leading financial services group in Asia, with over 280 branches across 18 markets. Headquartered and listed in Singapore, DBS has a growing presence in the three key Asian axes of growth: Greater China, Southeast Asia and South Asia. The bank's capital position, as well as "AA-" and "Aa1" credit ratings, is among the highest in Asia-Pacific. DBS has been recognised for its leadership in the region, having been named "Asia's Best Bank" by The Banker, a member of the Financial Times group, and "Best Bank in Asia-Pacific" by Global Finance. The bank has also been named "Safest Bank in Asia" by Global Finance for seven consecutive years from 2009 to 2015.
DBS provides a full range of services in consumer, SME and corporate banking activities across Asia. As a bank born and bred in Asia, DBS understands the intricacies of doing business in the region's most dynamic markets. These market insights and regional connectivity have helped to drive the bank's growth as it sets out to be the Asian bank of choice. DBS is committed to building lasting relationships with customers, and positively impacting communities through supporting social enterprises, as it banks the Asian way. It has also established a SGD 50 million foundation to strengthen its corporate social responsibility efforts in Singapore and across Asia.
With its extensive network of operations in Asia and emphasis on engaging and empowering its staff, DBS presents exciting career opportunities. The bank acknowledges the passion, commitment and can-do spirit in all of our 22,000 staff, representing over 40 nationalities. For more information, please visit www.dbs.com.