DBS to help SMEs simplify bill payments
DBS' SME customers will now be able to track payments in real-time, allowing them to reap productivity gains
Singapore, 23 Jan 2018 - DBS Bank and Xero today announced that they have expanded their partnership to help SMEs simplify bill payments by launching an industry-first online payments solution to help start-ups and SMEs manage their cashflow needs better.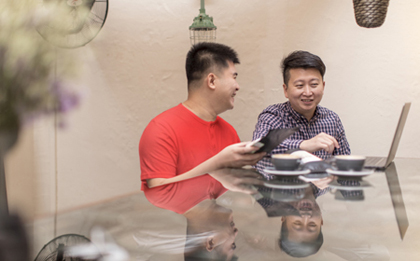 The DBS-Xero payment solution addresses payment problems among SMEs caused by finance-related concerns such as cash flow problems. This is an issue which plagues more than 1 in 3 SMEs in Singapore[1].

The new payments solution is a straight-through one as it eliminates an SME's administrative burden of having to manually enter payment details on multiple platforms, which could potentially lead to costly human errors during the process. With this API[2]-driven banking service, payments can be initiated on Xero and approved through the bank's corporate internet banking platform, DBS IDEAL, all in a few clicks.

SMEs form the backbone of the Singapore economy. 99% of the companies incorporated in Singapore are SMEs, who in turn employ more than 80% of the workforce.

Joyce Tee, DBS Group Head of SME Banking said, "SMEs have so much on their plate, they grapple daily with challenges such as rising manpower costs, hiring difficulties and fast-changing market dynamics. And so, it is more important than ever that they manage their cashflow effectively. A payments solution like the one we are launching today means that SMEs can now have a real-time view of their cash position which in turn allows them to up their productivity and tap into the latest business opportunities."

DBS and Xero's new payments solution will be made available to existing DBS-Xero customers in Singapore at no cost. The bank also plans to introduce this solution to SMEs in Hong Kong by the end of the year. The launch of this solution also marks the next step in regional strategic partnership between DBS and Xero to enable SMEs to transform their businesses using technology.

Making payments are traditionally a tedious paper-intensive process that take up the bulk of SME owners' time. "Small businesses all around the world, who adopt new technology and digitise the way they work to drive growth, can now expect to manage cash flow and access capital in entirely new ways," commented Alex Campbell, Managing Director Asia at Xero. "With DBS, we have found the perfect partner for enabling small businesses to achieve exactly that across the Asia region. This new payment service is another milestone in building our financial network of trusted organisations and institutions sharing financial data securely with the purpose of helping our more than one million small business customers do business easier via Xero's global platform and their banks."

In recent years, DBS has helped many SMEs go digital, helping them save time and costs. In 2017, nine in ten new SME accounts were opened online.

This has led to a 2.5 times increase in customers using DBS IDEAL to make online payments to vendors and suppliers. DBS has also reduced the cost of making payments online by 90% so that SMEs benefit from cheaper online payments.

Mr Keyis Ng, CEO and Co-Founder of Cafebond.com said, "Being a business owner in Singapore is challenging, but having the right tools and partners makes it easier. I'm excited to try out the new online payment service by DBS and Xero. By getting rid of the administrative tedium and creating a more efficient invoicing, payments and collections process, I'll have more time to focus on what we do best, which is sharing the love of specialty coffee with our customers across Asia."

Cafebond.com was one of the start-ups that took part in DBS' Hotspot Accelerator Programme in 2016, and received mentorship, access to investors as well as free workshops and skills enablement classes.
"As a bank that supports and finances over 60% of SMEs in Singapore, we are committed to empowering business owners by making banking simpler, faster and more convenient for them," said Tee.

1 DP Information Group - SME Development Survey 2017
2 Application programming interface
[End]
About DBS
DBS is a leading financial services group in Asia, with over 280 branches across 18 markets. Headquartered and listed in Singapore, DBS has a growing presence in the three key Asian axes of growth: Greater China, Southeast Asia and South Asia. The bank's "AA-" and "Aa1" credit ratings, is among the highest in the world.
DBS is at the forefront of leveraging digital technology to shape the future of banking, and has been named "World's Best Digital Bank" by Euromoney. The bank has also been recognised for its leadership in the region, having been named "Asia's Best Bank" by several publications including The Banker, Global Finance, IFR Asia and Euromoney since 2012. In addition, the bank has been named "Safest Bank in Asia" by Global Finance for nine consecutive years from 2009 to 2017.
DBS provides a full range of services in consumer, SME and corporate banking. As a bank born and bred in Asia, DBS understands the intricacies of doing business in the region's most dynamic markets. DBS is committed to building lasting relationships with customers, and positively impacting communities through supporting social enterprises, as it banks the Asian way. It has also established a SGD 50 million foundation to strengthen its corporate social responsibility efforts in Singapore and across Asia.
With its extensive network of operations in Asia and emphasis on engaging and empowering its staff, DBS presents exciting career opportunities. The bank acknowledges the passion, commitment and can-do spirit in all of its 23,000 staff, representing over 40 nationalities. For more information, please visit www.dbs.com.