DBS to acquire ANZ's wealth management and retail banking business in Singapore, Hong Kong, China, Taiwan and Indonesia
Singapore, China, Indonesia, Taiwan, Regional
.

31 Oct 2016
Singapore, China, Indonesia, Taiwan, Regional, 31 Oct 2016 - DBS Bank Ltd (DBS) announced today that it has agreed to acquire the wealth management and retail banking business of ANZ in five markets for approximately SGD 110 million
[1]
above book value.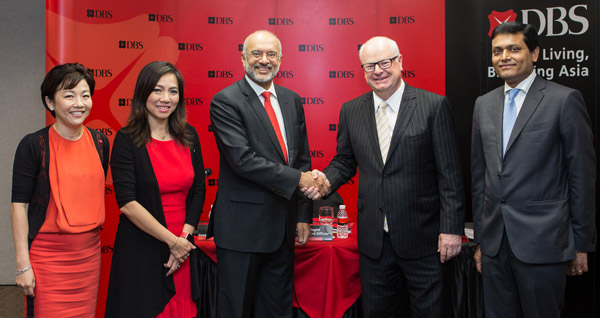 The portfolio of businesses being acquired is in Singapore, Hong Kong, China, Taiwan and Indonesia, representing total deposits of SGD 17 billion, loans of SGD 11 billion, investment AUM of SGD 6.5 billion and total revenue of SGD 825 million for FY2016. They serve about 1.3 million customers, of which over 100,000 are affluent/ private wealth customers and 1.2 million are retail customers.
This transaction makes strategic sense for the following reasons:
• Cements DBS' position as a leading wealth manager in Asia
• Enables rapid scale-up of digital strategy in Indonesia and Taiwan
• Creates financial value – ROE and earnings accretive one year after completion
Over the past five years, DBS has consistently grown its wealth management business and is today among the top five private banks in Asia. With the acquisition, DBS will add SGD 23 billion in wealth AUM[2] to its books, with high net worth clients accounting for SGD 6 billion. This will take DBS' high net worth AUM and total wealth AUM to SGD 115 billion and SGD 182 billion respectively.
The acquisition will also add a large customer franchise to DBS in Indonesia and Taiwan, which are key markets for the bank. In Indonesia, DBS will gain about 410,000 customers, effectively increasing its base by six times. In Taiwan, DBS will add around 530,000 customers, expanding its base by 2.5 times. A significant portion of these are credit card customers. With a larger scale in both markets, the bank will be able to fast-track the build-out of its digital strategy.
DBS expects the transaction to create significant value for the bank. With its scale in the five markets, it will be able to bolt on the ANZ business to its existing platform, and benefit from efficiencies especially in technology and branch distribution. The transaction is expected to be ROE and earnings accretive one year after completion.
Said Tan Su Shan, Group Head of Consumer Banking & Wealth Management of DBS, "Over the years, DBS has made significant strides in the wealth business, and recently became the first Singapore and Asian bank to break into the top five private banks in Asia-Pacific. This acquisition will further cement our leadership position. It also gives ANZ's wealth customers access to more tailored solutions and a full suite of universal banking products supported by Asian insights, research and investment advice. At the same time, the transaction provides us with a significant consumer platform in Indonesia and Taiwan that will enable us to more quickly build out our digital agenda."
Said David Hisco, ANZ Group Executive Asia Retail and Wealth, "Having built up a strong retail banking and wealth management franchise in Asia over the years, it was important for us to find a buyer that could take the business to the next level for customers. DBS is the best choice – its Singapore pedigree, strong Asian footprint, commitment to Asia and financial strength were key for us. This transaction represents a great opportunity for our customers and the majority of our staff in the region to fully benefit from a progressive and dynamic bank."
Transaction Terms and Funding
The transaction is not expected to have a material impact on DBS' capital position, earnings or net asset value per share this year. The acquisition of the businesses in each jurisdiction is independent of each other. Subject to obtaining regulatory approvals, the transaction is anticipated to be completed progressively from 2Q2017 onwards, and the target is for full completion in all markets by early 2018.
[1] Assumes AUD 1= SGD 1 to align press communications by both parties. Based on latest exchange rate of 1.06, revenue, loans, deposits, AUMs and purchase consideration would be 6% higher in SGD terms
[2] Wealth AUM comprises SGD 16.3 billion of deposits and SGD 6.4 billion of investment AUM.
To view the presentation deck, please click here.
DBS and ANZ senior executives at DBS media briefing on the bank's agreement to acquire the wealth management and retail banking business of ANZ in five markets for approximately SGD 110 million above book value. (L-R) Pearlyn Phau, Deputy Group Head, Consumer Banking & Wealth Management, DBS Bank (星展银行财富管理部董事总经理兼副主管潘燕明); Tan Su Shan, Group Head, Consumer Banking & Wealth Management, DBS Bank (星展银行财富管理部董事总经理兼主管陈淑珊); Piyush Gupta, Chief Executive Officer, DBS Group (星展集团总裁高博德); David Hisco, ANZ Group Executive Asia Retail and Wealth (澳新银行新西兰总裁熙思高); and Sanjoy Sen, Managing Director, Retail Banking, Asia Pacific, ANZ (澳新银行亚太区零售银行董事总经理沈胜卓)
[End]
About DBS
DBS - Living, Breathing Asia
DBS is a leading financial services group in Asia, with over 280 branches across 18 markets. Headquartered and listed in Singapore, DBS has a growing presence in the three key Asian axes of growth: Greater China, Southeast Asia and South Asia. The bank's capital position, as well as "AA-" and "Aa1" credit ratings, is among the highest in Asia-Pacific.
DBS is at the forefront of leveraging digital technology to shape the future of banking, and has been named "World's Best Digital Bank" by Euromoney. The bank has also been recognised for its leadership in the region, having been conferred "Asia's Best Bank" by The Banker and Euromoney, and "Asian Bank of the Year" by IFR Asia. The bank has also been named "Safest Bank in Asia" by Global Finance for eight consecutive years from 2009 to 2016.
DBS provides a full range of services in consumer, SME and corporate banking. As a bank born and bred in Asia, DBS understands the intricacies of doing business in the region's most dynamic markets. DBS is committed to building lasting relationships with customers, and positively impacting communities through supporting social enterprises, as it banks the Asian way. It has also established a SGD 50 million foundation to strengthen its corporate social responsibility efforts in Singapore and across Asia.
With its extensive network of operations in Asia and emphasis on engaging and empowering its staff, DBS presents exciting career opportunities. The bank acknowledges the passion, commitment and can-do spirit in all of our 22,000 staff, representing over 40 nationalities. For more information, please visit www.dbs.com.