DBS sets the pace for Singapore's corporate sustainability efforts with plans for nation's first net zero building by a bank
Retrofitted building expected to see zero net energy consumption, compared to current 845,000 kWh annually
Project supported by a grant awarded by Singapore's Building and Construction Authority under the Green Buildings Innovation Cluster Programme
Singapore, 09 Jul 2021 - Building on its commitment to achieve net zero operational carbon emissions by 2022, DBS today announced plans to transform an existing four-storey office building located at 135 Bukit Timah Road into Singapore's first net zero development by a bank.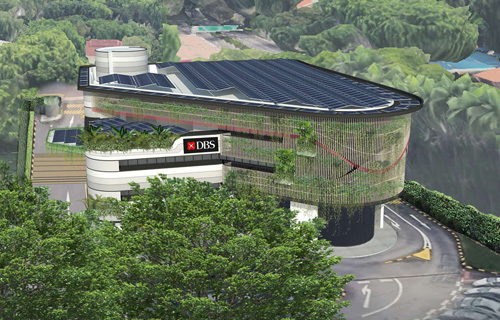 Artist's impression of retrofitted DBS Newton building that will be ready by Q1 of 2022
When completed, the building, located a stone's throw from the Newton MRT station, will join the rarefied but growing ranks of zero energy buildings in the world – as there are currently only over 500 net zero commercial buildings globally, according to estimates by the World Green Building Council. This is in line with Singapore's national agenda to green 80% of its buildings by Gross Floor Area by 2030 under the Singapore Green Building Masterplan, which is part of the Singapore Green Plan 2030
[1]
.
DBS will invest over SGD 5 million to retrofit the office block, with a portion of the cost covered by a grant awarded by Singapore's Building and Construction Authority (BCA) under the national Green Buildings Innovation Cluster (GBIC) Programme
[2]
, attesting to the extensive integration of innovative sustainable technologies throughout the building.
Erwin Chong, Group Head of Corporate Real Estate Strategy and Administration at DBS, said, "As a purpose-driven company, in everything we do, we ask ourselves if we're making a positive impact. With this as our guiding principle, we quite naturally landed on a net zero design when we drew up plans to retrofit our Newton development. A net zero office building fits nicely into DBS' continuous effort to minimise our direct environmental impact as part of our sustainability agenda. We are excited at the opportunity to deploy some of the most cutting-edge net zero technologies in our Newton development and are privileged to have BCA's strong support as we bring to fruition Singapore's first net zero building by a bank. We believe that the future of the office needs to be sustainable, and our aim is to eventually scale these innovative technologies across the rest of our offices, branches and lobbies."
Retrofitting an operating building to become net zero is inherently more challenging than building a net zero building from the ground up, as architects and engineers need to work around site, space and structural constraints.
Commenting on this, Cheng Tai Fatt, Managing Director, Built Environment Research and Innovation Institute (BERII) of BCA, said, "We understand the challenges that come with transforming an existing building to net zero. Therefore, we applaud DBS for their aspirations and commitment with their retrofitting project at Newton where they will be demonstrating how innovative technologies can be used to future-proof our built environment for a more sustainable future. We hope that DBS' effort will spur more building owners to similarly make the shift towards Super Low Energy (SLE) buildings, in line with the Singapore Green Building Masterplan, for a low-carbon Singapore."
DBS makes zero the hero with strategies to maximise power production and minimise energy consumption
DBS plans to incorporate a slew of net zero technologies and design features to ensure that its Newton development produces as much energy as it consumes. When completed, the retrofitted building's net energy consumption is projected to be brought down from about 845,000 kWh annually, equivalent to the energy consumed by about 200 four-room HDB homes in Singapore for an entire year, to zero. This will be achieved through a reduction in energy consumption by over 580,000 kWh annually, with the balance energy requirements generated via an on-site solar panel array.
One innovative design feature is a newly created overhang to expand the amount of rooftop space for solar panels. With this extension, the building will be able to house over 1,000 square metres of solar panels. Cavity spaces will be incorporated into the overhang's structure to allow for the building's air handling units to be housed externally, allowing previous mechanical space to be covered with solar panels. The overhanging roof also provides additional shade cover to shield the building from the heat of direct sunlight.
To further enhance the energy generation capability of the rooftop solar panels, bi-facial modules will be deployed to harvest sunlight reflecting off the roof surface. This is expected to boost energy production by about 5%. In addition, solar optimisers with Internet of Things (IoT) components will be incorporated to enhance the operating performance of the solar panel array. Collectively, the rooftop solar panel array could yield around 250,000 kWh annually.
Additionally, close to 10% of the floor area that is currently air-conditioned in the existing building will be converted to naturally ventilated spaces that do not need air-conditioning.
Other net zero features include:
A slatted façade that serves the dual duty of shading the building while encouraging natural ventilation;
Intelligent occupancy-based lighting and air-conditioning systems to minimise energy consumption;
A biophilic exterior with living plants covering more than half of the DBS Newton's perimeter façade to reduce heat gain. Condensate water from the air-conditioning systems will be used to water the plants. DBS is collaborating with the Nature Society of Singapore to select plants that provide suitable refuge for threatened native butterfly and bird species;
Low energy appliances such as heat pump water heaters, self-powered solar refrigerators, and energy efficient ceiling fans in the lobbies and corridors to reduce the power consumption from air conditioning; and
Energy recovery ventilators which pre-cool incoming fresh air with previously cooled air, all controlled by CO2 sensors. This ventilation system also features air purging options for fresh air flush outs when necessary.
DBS' Chong added, "Our net zero office retrofit at Newton is an important step forward in understanding how best to deploy net zero technologies so as to truly move the needle towards our objective of achieving net zero operational carbon emissions. We look forward to sharing our project outcomes and experience with BCA and other like-minded organisations so that we can collectively realise a greener, more sustainable future for Singapore."
The Newton development is expected to be completed in Q1 2022 and will house over 400 employees from various functions across the bank's Consumer Banking Group.
The design of the Newton project was developed together with architecture house KAIA Architects, mechanical and electrical engineering firm CCA & Partners, and sustainability consultancy GreenA Consultants – all homegrown firms actively involved in Singapore's net zero space.
[1]The Singapore Green Building Masterplan is an action plan that sets out Singapore's environmental sustainability ambitions for the Built Environment. It is part of the Singapore Green Plan 2030.
[2]Administered by BCA, the GBIC Programme aims to accelerate the development and adoption of promising building energy efficient technologies and solutions in the Built Environment.
[END]
About DBS
DBS is a leading financial services group in Asia with a presence in 18 markets. Headquartered and listed in Singapore, DBS is in the three key Asian axes of growth: Greater China, Southeast Asia and South Asia. The bank's "AA-" and "Aa1" credit ratings are among the highest in the world.
Recognised for its global leadership, DBS has been named "
World's Best Bank
" by Euromoney, "
Global Bank of the Year
" by The Banker and "
Best Bank in the World
" by Global Finance. The bank is at the forefront of leveraging digital technology to shape the future of banking, having been named "
World's Best Digital Bank
" by Euromoney. In addition, DBS has been accorded the "
Safest Bank in Asia
" award by Global Finance for 12 consecutive years from 2009 to 2020.
DBS provides a full range of services in consumer, SME and corporate banking. As a bank born and bred in Asia, DBS understands the intricacies of doing business in the region's most dynamic markets. DBS is committed to building lasting relationships with customers, and positively impacting communities through supporting social enterprises, as it banks the Asian way. It has also established a SGD 50 million foundation to strengthen its corporate social responsibility efforts in Singapore and across Asia.
With its extensive network of operations in Asia and emphasis on engaging and empowering its staff, DBS presents exciting career opportunities. For more information, please visit
www.dbs.com