DBS partners sgCarMart and Carro to create Singapore's largest direct buyer-to-seller car marketplace
A Singapore milestone: First bank here to launch online consumer marketplace that matches buyers and sellers
DBS Car Marketplace is a one-stop solution for car buyers & sellers – providing all the relevant services and information customers might require in their car purchase or sales journey

Singapore, 10 Aug 2017 - DBS today announced the official launch of
DBS Car Marketplace (go.dbs.com/car)
– Singapore's largest direct seller-to-buyer car marketplace, in partnership with sgCarMart and Carro. With some 3,500 direct-owner car listings, DBS Car Marketplace's official launch makes it Singapore's first online consumer marketplace helmed by a bank. This follows the Monetary Authority of Singapore's (MAS) announcement in June this year proposing to allow banks to operate digital platforms that match buyers and sellers of consumer goods or services.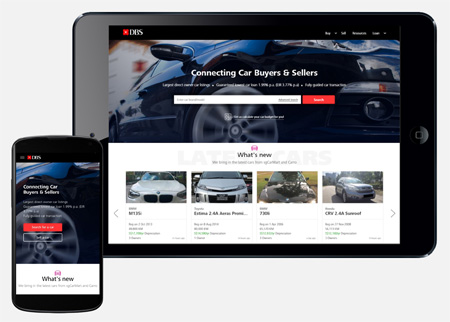 Said Jeremy Soo, Head of Consumer Banking (Singapore) / 星展银行新加坡消费银行部董事总经理兼主管苏孝进, "DBS Car Marketplace exemplifies how we are reimagining banking, using digital technology and innovation to extend our reach. Our insights indicate that consumers increasingly value transparency and simplicity, particularly in large purchases such as cars. We've therefore designed the marketplace so buyers and sellers are seamlessly guided throughout their purchase or sales journey – from start till completion – and provided relevant financial and product information. DBS Car Marketplace provides a one-stop solution for those looking to purchase or sell cars: it connects buyers and sellers together at a marketplace that contains the largest number of direct-owner car listings, and ensures that they have full control and transparency over every stage of the process."
DBS Car Marketplace also provides several exclusive benefits for buyers and sellers (see Appendix for more information). Sellers can list on both sgCarMart and Carro at one go for free (listing fees are waived till 4 October 2017). Buyers will enjoy DBS' competitive interest rate of 1.99% p.a. (EIR 3.77% p.a. over a 7-year loan) on their DBS car loan when they buy a car through the DBS Car Marketplace, till 31 August 2017. An on-site car budget calculator provides the estimated loan amount the buyer is eligible for, and then serves them a list of cars based on their budget. If they find a car they are interested in, they can arrange for a test drive online with the seller directly. Finally, both buyers and sellers will be fully guided and enjoy free paperwork services for car ownership transfers.
Said Vincent Tan, General Manager of sgCarMart / sgCarMart总经理陈文杰, "End consumers are smarter and more technologically savvy now, which means more of them are choosing to deal with buying or selling their cars themselves. The number of direct owners trying to sell their car on sgCarMart has been steadily increasing by at least 10% every year. We see a huge opportunity to tap into this growing market given this trend, and help speed the growth along. Listings on DBS Car Marketplace will also be visible to the 2.6 million visitors that visit sgCarMart each month until the car is sold. In 2016, 79% of all direct owner car transactions were completed on sgCarMart."
Said Aaron Tan, CEO of Carro / Carro总裁陈伟程, "There is definitely an increased interest and awareness for direct owners to transact between themselves, and we have seen our listings double over the past year and transactions through our platform have been steadily increasing. We believe that the trend to democratise the buying and selling of vehicles will continue and will become the preferred choice for consumers looking to get better returns and more assurance for their sale and purchases."
DBS Car Marketplace began its pilot in December 2016, when the bank tied up with Carro to launch a platform leveraging DBS' website traffic to connect potential car buyers and sellers. To visit the DBS Car Marketplace, go to
https://go.dbs.com/car
.  
APPENDIX
How to buy or sell cars on DBS Car Marketplace
Please see enclosed guide
[End]
About DBS
DBS is a leading financial services group in Asia, with over 280 branches across 18 markets. Headquartered and listed in Singapore, DBS has a growing presence in the three key Asian axes of growth: Greater China, Southeast Asia and South Asia. The bank's "AA-" and "Aa1" credit ratings, is among the highest in the world.
DBS is at the forefront of leveraging digital technology to shape the future of banking, and has been named "
World's Best Digital Bank
" by Euromoney. The bank has also been recognised for its leadership in the region, having been named "Asia's Best Bank" by several publications including The Banker, Global Finance, IFR Asia and Euromoney since 2012. In addition, the bank has been named "
Safest Bank in Asia
" by Global Finance for eight consecutive years from 2009 to 2016.
DBS provides a full range of services in consumer, SME and corporate banking. As a bank born and bred in Asia, DBS understands the intricacies of doing business in the region's most dynamic markets. DBS is committed to building lasting relationships with customers, and positively impacting communities through supporting social enterprises, as it banks the Asian way. It has also established a SGD 50 million foundation to strengthen its corporate social responsibility efforts in Singapore and across Asia.
With its extensive network of operations in Asia and emphasis on engaging and empowering its staff, DBS presents exciting career opportunities. The bank acknowledges the passion, commitment and can-do spirit in all of our 22,000 staff, representing over 40 nationalities. For more information, please visit
www.dbs.com
.