DBS named Social Enterprise Champion of the Year at President's Challenge Social Enterprise Awards 2019
DBS Foundation recognised for significant contributions made to growing the social enterprise sector
Singapore, 05 Dec 2019 - In recognition of its efforts to nurture social enterprises in Singapore and the region, DBS has been named the inaugural winner of the "Social Enterprise Champion of the Year (Corporation)" award at the President's Challenge Social Enterprise Awards (PCSEA) 2019. The PCSEA, conferred biennially by the President's Office, honours outstanding businesses and their partners within the social enterprise (SE) sector in Singapore for contributions made to the local community. PCSEA 2019 winners received the awards from President Halimah Yacob at a ceremony at the Istana earlier this evening
The "Social Enterprise Champion of the Year" is a new award introduced this year. It recognises corporations and individuals who have made significant contributions to SEs in Singapore, with DBS being conferred the award in the corporation category.
Armed with a belief that businesses play a central role in contributing to a more sustainable and inclusive society, DBS established DBS Foundation in 2014 with a sum of SGD 50 million. To date, DBS Foundation has reached out to more than 54,000 budding social entrepreneurs and nurtured over 300 SEs across Asia.
Said Karen Ngui, Board Member of DBS Foundation and DBS' Head of Group Strategic Marketing & Communications: "At DBS, we believe that social enterprises are innovative, purpose-driven businesses that can help to address pressing social and environmental issues, and we are honoured to receive the inaugural President's Challenge 'Social Enterprise Champion of the Year' award for corporations. DBS Foundation was formed five years ago to help social enterprises to scale their businesses, and correspondingly, their ability to deliver social impact. In addition to providing grants, we also provide mentorship, networking opportunities and capacity building programmes. Going forward, we hope that we can work together with even more young social entrepreneurs and their ecosystem partners to help create a better, more sustainable world."
To further its support of innovative social enterprises, DBS Foundation introduced the inaugural DBS Foundation Social Impact Prize in conjunction with the Singapore Management University (SMU) Lee Kuan Yew Global Business Plan Competition earlier this year. The Prize, which includes SGD150,000 worth of funding and support, aims to identify sustainable, scalable and enterprising business solutions that help address crucial social problems and make cities of the future more inclusive, healthier and greener. Over 850 submissions have been received, with representation from 650 universities spanning more than 60 countries worldwide.
DBS Foundation also recently announced in November 2019 that it was awarding SGD 1.3 million in grants to nine SEs, as part of its 2019 DBS Foundation Social Enterprise Grant Programme. The grant funding will support the awardees from Singapore, China, Hong Kong, India, Indonesia and Taiwan to deploy social innovations in areas such as healthcare, nutrition, employability and income generation, education, energy, environment protection and waste management. Since its inception, DBS Foundation has provided over SGD 5 million in grant funding.
Claire Wong, Head of DBS Foundation, said: "DBS has been a committed proponent of social enterprises for over a decade, starting with the first of its kind DBS Social Enterprise Package that offers free transaction banking services and loans at discounted rates to social enterprises. We will continue our efforts to nurture and grow SEs, and to integrate SEs into the culture and operations of DBS. By leveraging the bank's resources, expertise and network, we are in a unique position to provide much needed holistic support to social enterprises in Singapore and across the region."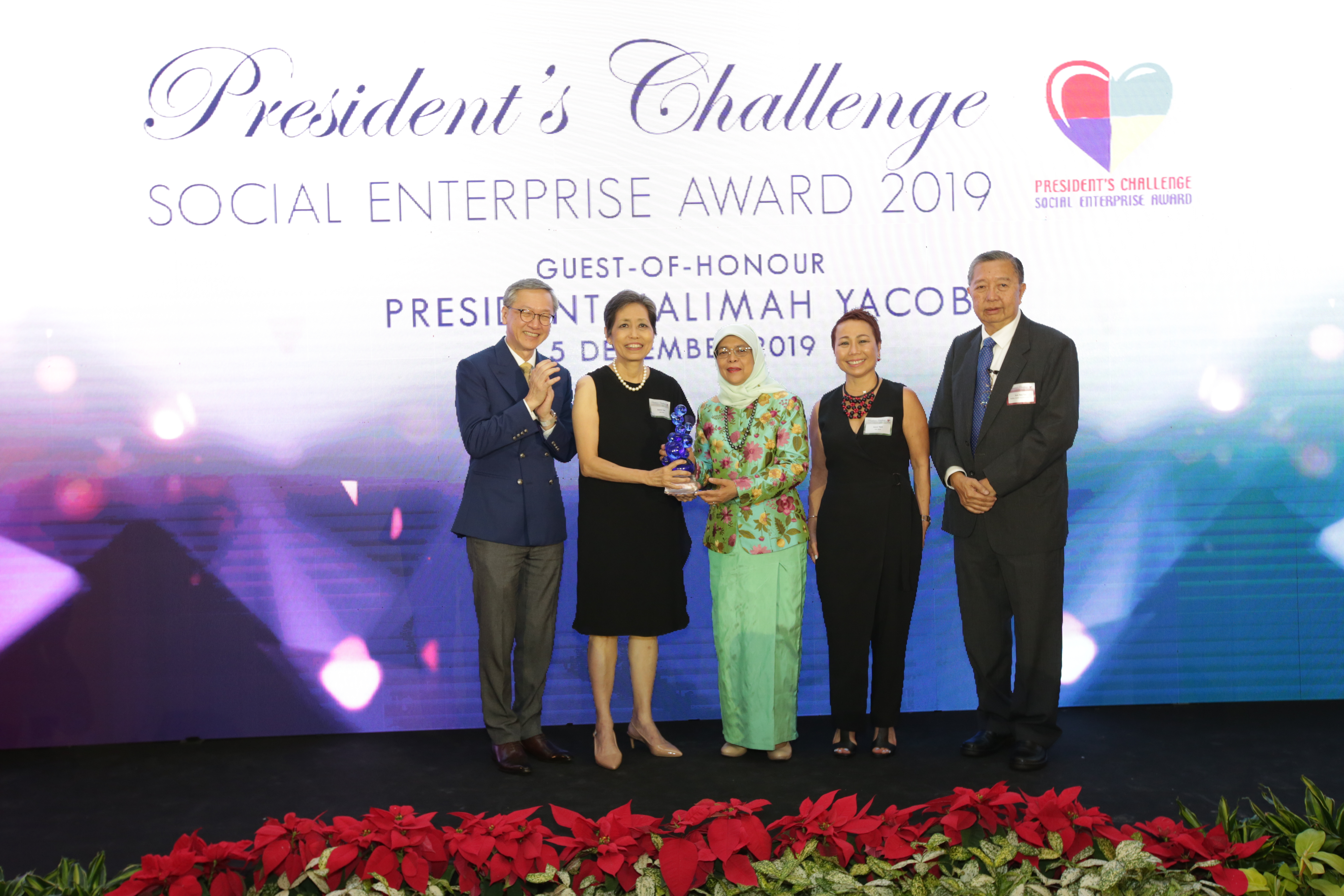 (L to R) Sam Tan Chin Song, Minister of State, Ministry of Foreign Affairs & Ministry of Social and Family Development; Euleen Goh, Chairperson of DBS Foundation; President Halimah Yacob; Karen Ngui, Board Member of DBS Foundation and DBS' Head of Group Strategic Marketing & Communications; and Tan Soo Nan, Chairman, PCSEA2019 Committee, at the President's Challenge Social Enterprise Awards (PCSEA) 2019. DBS has been named the inaugural winner of the "Social Enterprise Champion of the Year (Corporation)" award.
[End]
About DBS
DBS is a leading financial services group in Asia with a presence in 18 markets. Headquartered and listed in Singapore, DBS is in the three key Asian axes of growth: Greater China, Southeast Asia and South Asia. The bank's "AA-" and "Aa1" credit ratings are among the highest in the world.
Recognised for its global leadership, DBS has been named "
World's Best Bank
" by Euromoney, "
Global Bank of the Year
" by The Banker and "
Best Bank in the World
" by Global Finance. The bank is at the forefront of leveraging digital technology to shape the future of banking, having been named "
World's Best Digital Bank
" by Euromoney. In addition, DBS has been accorded the "
Safest Bank in Asia
" award by Global Finance for 11 consecutive years from 2009 to 2019.
DBS provides a full range of services in consumer, SME and corporate banking. As a bank born and bred in Asia, DBS understands the intricacies of doing business in the region's most dynamic markets. DBS is committed to building lasting relationships with customers, and positively impacting communities through supporting social enterprises, as it banks the Asian way. It has also established a SGD 50 million foundation to strengthen its corporate social responsibility efforts in Singapore and across Asia.
With its extensive network of operations in Asia and emphasis on engaging and empowering its staff, DBS presents exciting career opportunities. The bank acknowledges the passion, commitment and can-do spirit in all of our 28,000 staff, representing over 40 nationalities. For more information, please visit
www.dbs.com
.
About DBS FoundationChampioning Social Entrepreneurship
As a corporate foundation in Asia solely dedicated to championing social entrepreneurship, DBS Foundation contributes towards building a more inclusive society so that those at society's margins can enjoy productive and rewarding lives. DBS Foundation works with Social Enterprises in Singapore, India, Indonesia, China, Taiwan and Hong Kong with programmes ranging from venture challenges, learning forums, grant support, financing and skills-based volunteer mentoring. The Foundation is an endeavor from DBS Bank to make an even greater impact in addressing Asia's evolving social needs. Please visit
www.dbs.com/dbsfoundation
or reach us at
dbsfoundation@dbs.com
.