DBS launches digital logistics solutions package for SME customers
Initiative will help them overcome expansion challenges overseas
Singapore, 09 Oct 2019 - With e-commerce on the rise
[1]
, DBS will launch a digital logistics solutions package for SME customers in the space. The package will help Singapore-based SMEs in the logistics sector overcome expansion challenges and stay ahead of evolving consumer consumption patterns and emerging business trends across Asia.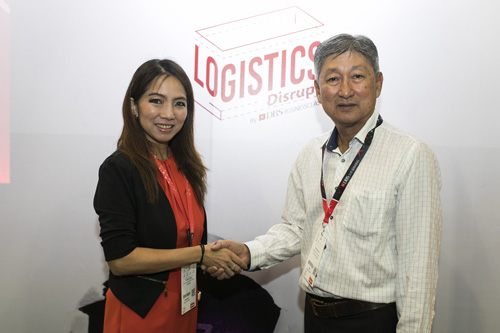 The logistics sector in Singapore contributes around 7% to Singapore's GDP
[2]
. As the Singapore market becomes more saturated and profit margins get tighter, SMEs in the logistics sector are looking to expand overseas. By growing their footprint regionally, they will be able to broaden their customer base and grow their revenue. However, they often face challenges such as access to trade financing solutions, operational inefficiencies from paper-based and manual processes, lack of supply chain traceability, as well as payments and collection inefficiencies.
Launched at the Logistics Disrupt by DBS BusinessClass event, the DBS digital logistics solutions package will have digital solutions powered by DBS RAPID (Real-time APIs with DBS), such as supply chain financing and traceability, real-time trade financing application and funds settlement directly through their ERP or internal systems. It also includes instant payment collections and refund via the customers' online portal, mobile app or DBS MAX.
"Customers looking to expand overseas need more advisory services
[3]
and solutions and we are here to help them make the first step. We hope to make banking simpler and more seamless for our customers, so they have a more structured approach to their regionalisation plans," said Tan Su Shan, Group Head of Institutional Banking, DBS Bank.
"The needs of SMEs in the logistics sector are diverse as they have to keep their eye on everything from inventory, timing of goods shipped and received, cash flow and expansion needs. As a responsible banking partner, we want to provide a greater selection of solutions that will help them grow their footprint," said Joyce Tee, Group Head of SME Banking, DBS Bank.
Yang Kee Logistics, a Singapore-based company set up in 1990 and a DBS customer since 2002 is the first to sign up for the package. The company is currently present in 12 markets and is looking to grow its footprint in the region.
Said Ken Koh, Group CEO of Yang Kee Logistics, "Expanding into new markets is always challenging, we lack market knowledge and understanding of regulatory requirements. Partnering with DBS gives me the confidence to take our regionalisation plans to the next phase."
[1] According to a Google/Temasek study, Southeast Asia's e-commerce is projected to grow to USD 100 billion by 2025.
[2] Logistics is classified under the Transport and Storage sector. Full report can be found here - https://www.singstat.gov.sg/modules/infographics/economy
[3] In a DBS survey conducted earlier this year, DBS found that 55% of SMEs cited the lack of market knowledge and understanding of regulatory requirements as the main challenges of overseas expansion. A quarter said that they could not find the right partner to collaborate with.
[END]
About DBS
DBS is a leading financial services group in Asia with a presence in 18 markets. Headquartered and listed in Singapore, DBS is in the three key Asian axes of growth: Greater China, Southeast Asia and South Asia. The bank's "AA-" and "Aa1" credit ratings are among the highest in the world.
Recognised for its global leadership, DBS has been named "
World's Best Bank
" by Euromoney, "
Global Bank of the Year
" by The Banker and "
Best Bank in the World
" by Global Finance. The bank is at the forefront of leveraging digital technology to shape the future of banking, having been named "
World's Best Digital Bank
" by Euromoney. In addition, DBS has been accorded the "
Safest Bank in Asia
" award by Global Finance for eleven consecutive years from 2009 to 2019.
DBS provides a full range of services in consumer, SME and corporate banking. As a bank born and bred in Asia, DBS understands the intricacies of doing business in the region's most dynamic markets. DBS is committed to building lasting relationships with customers, and positively impacting communities through supporting social enterprises, as it banks the Asian way. It has also established a SGD 50 million foundation to strengthen its corporate social responsibility efforts in Singapore and across Asia.
With its extensive network of operations in Asia and emphasis on engaging and empowering its staff, DBS presents exciting career opportunities. The bank acknowledges the passion, commitment and can-do spirit in all of our 27,000 staff, representing over 40 nationalities. For more information, please visit
www.dbs.com
.