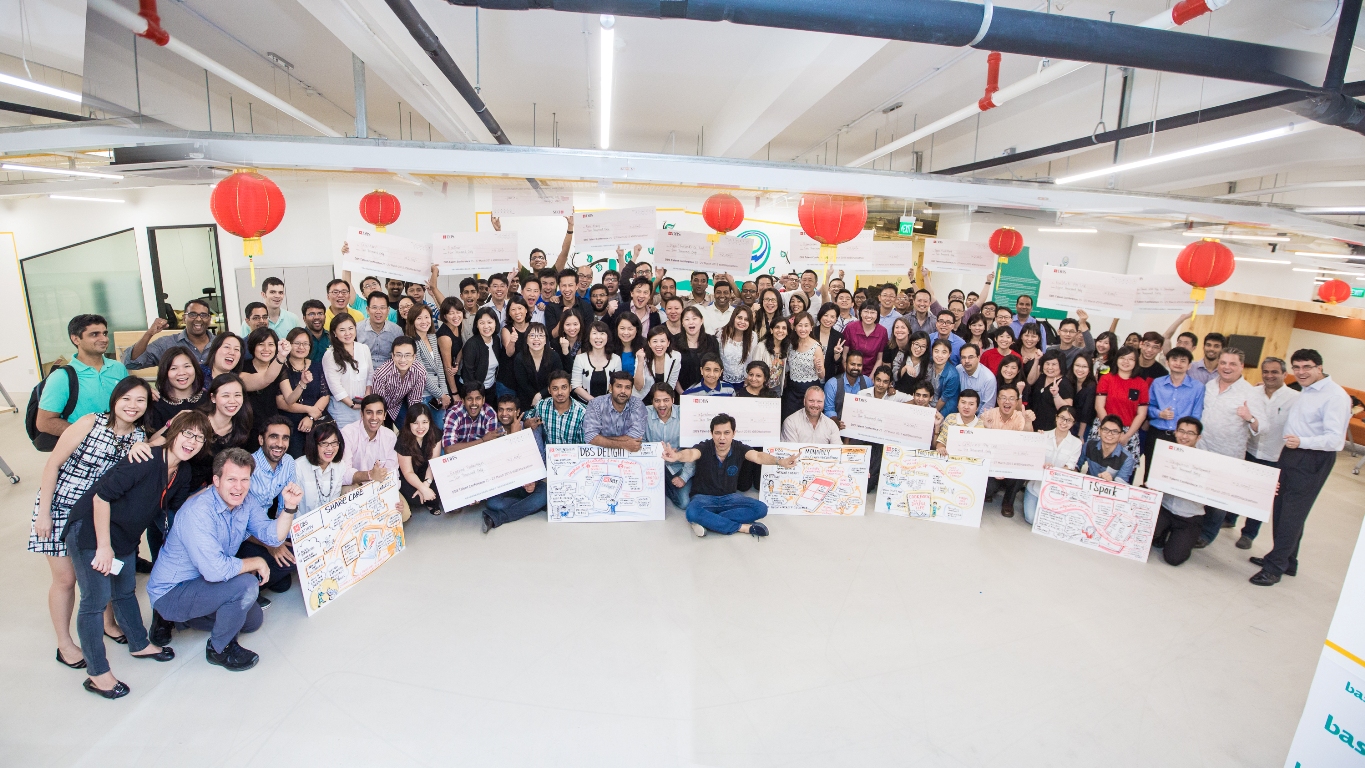 DBS first in Singapore to incorporate hackathons into its talent development programme
New breed of hackathons to encourage further collaboration between organisations and startups; help build the startup ecosystem in Singapore
Singapore, 01 Apr 2015 - DBS has initiated a brand new approach to hackathons. At the DBS MegaHackathon last week, the bank brought together 150 DBS employees and startups from around the region to tackle business and societal challenges. This makes DBS the first organisation in Singapore to build hackathons into its talent development programme, with employees creating prototypes alongside startups.
This initiative by DBS is driven by a desire to create a more digital mindset among its employees. The hackathon serves as a sandbox for employees to experiment like a startup, utilising lean startup methodology and human-centred design to identify and act on opportunities quickly. It also provides startups with the opportunity to interact with like-minded peers, understand business realities and showcase their capabilities.
Today, technology drives 99% of DBS' interactions with its customers, and with more FinTechs entering the traditional banking space, the digital agenda is a key priority for the bank. In addition to building technology infrastructure to support a more nimble organisation, DBS is also focused on making sure staff embrace innovation.
Said Dave Gledhill, Head of Group Technology & Operations at DBS: "Our industry is seeing an unprecedented pace of change and if we wish to remain relevant to our customers, our employees must embrace a culture of innovation and be intrapreneurs. At events such as the DBS MegaHackathon, our employees and startups can benefit from each other's knowledge and expertise, as well as have a cultural exchange. This fresh approach to hackathons has generated a number of viable working prototypes for the bank. We believe it will also help shape the startup ecosystem in Singapore by creating business opportunities for them."
By making innovation a key focus of its talent development programme, DBS is also equipping its employees with skills and knowledge to shape the future of banking.
Said Lee Yan Hong, Head of Group Human Resources at DBS: "We are committed to providing opportunities for our employees to learn, develop and excel in their careers. As the bank embarks on its digital journey, it is essential for us to innovate and find new ways to groom the next generation of digitally-minded leaders through exposure, education and experiential learning."
The five-day DBS MegaHackathon took place from 23-27 March at Block 79, Ayer Rajah, part of the newly expanded JTC Launchpad @ One-North startup cluster. The event kicked off with a two-day workshop to help DBS employees adopt a digital mindset and an outside-in approach to the customer journey. This was followed by a three-day hackathon where bank staff and startups teamed up to create 19 prototype mobile apps to better engage customers in an increasingly mobile world.
Judges at the DBS MegaHackathon included DBS CEO Piyush Gupta, DBS Chief Innovation Officer Neal Cross, DBS Head of Group Human Resources Lee Yan Hong and Venture Capitalist Jeffrey Paine. The three winning startups walked away with prizes of SGD 8,000, SGD 6,000 and SGD 4,000 respectively, while the rest were awarded SGD 2,000 each. (For details on challenges and winners, please see Appendix A and B)
The bank piloted its first hackathon in Singapore last October and has organised three more, including the DBS MegaHackathon, since then. More than 250 DBS employees and 160 startup members across the region have participated in the hackathons to co-create 50 prototypes.
Photos:
1) DBS MegaHackathon_Ideation: Participants brainstorm on ideas to tackle business challenges
2) DBS MegaHackathon_Experimentation: Participants experiment with the technology behind mobile apps
3) DBS Hackathon_Collaboration: Participants fostering stronger relationships in a new learning environment
4) DBS MegaHackathon_Interaction: Making learning fun and creating a conducive environment for innovation
For more photos, go here: http://go.dbs.com/19CTOH2
[End]
About DBS
DBS - Living, Breathing Asia
DBS is a leading financial services group in Asia, with over 250 branches across 17 markets. Headquartered and listed in Singapore, DBS has a growing presence in the three key Asian axes of growth: Greater China, Southeast Asia and South Asia. The bank's capital position, as well as "AA-" and "Aa1" credit ratings, is among the highest in Asia-Pacific. DBS has been recognised for its leadership in the region, having been named "Asia's Best Bank" by The Banker, a member of the Financial Times group, and "Best Bank in Asia-Pacific" by Global Finance. The bank has also been named "Safest Bank in Asia" by Global Finance for six consecutive years from 2009 to 2014.
DBS provides a full range of services in consumer, SME and corporate banking activities across Asia. As a bank born and bred in Asia, DBS understands the intricacies of doing business in the region's most dynamic markets. These market insights and regional connectivity have helped to drive the bank's growth as it sets out to be the Asian bank of choice. DBS is committed to building lasting relationships with customers, and positively impacting communities through supporting social enterprises, as it banks the Asian way. It has also established a SGD 50 million foundation to strengthen its corporate social responsibility efforts in Singapore and across Asia.
With its extensive network of operations in Asia and emphasis on engaging and empowering its staff, DBS presents exciting career opportunities. The bank acknowledges the passion, commitment and can-do spirit in all of our 21,000 staff, representing over 40 nationalities. For more information, please visit www.dbs.com.